Investors Watch Out For The Auto Industry…
Companies
/
US Auto's
Nov 24, 2015 - 06:08 PM GMT


If you're looking into buying your dream car in the next few months – think twice!

At the bottom of the stock crash in early 2009, I bought a dream car – a 2008 Maserati GranTurismo – at 22% off. I got the manufacturing margin and the dealer margin completely taken off. Six months earlier, I would've paid a slight premium. Instead, I got a discount.


So hear me out – if you've really got your eyes on that Chevy Corvette Stingray or Mercedes-Benz convertible or whatever, wait!
Car sales are going to be demolished when they fall off the demographic cliff in the next year or so.
Two of the most successful investors in the world, Warren Buffett and Steve Soros,
have recently made major investments
in auto dealerships.
Are they going to live to regret that!
They just bought a sector at its top. Doh!
Little do they know, auto companies are going to crash as bad or worse as housing did.
That's right – as retail sales
have continued to weaken
, now the brightest sector is about to go out as well!
Only demographics would've told you that… just like they did with Japan's peak in late 1989, and our own recession in 2007.
Here's the deal: new cars are the last major durable goods and financed purchase that consumers make.
New car sales peak at age 54. Before that it's furniture, age 46. Earlier on, it's home buying – age 37 to 41.
After the kids leave the nest between age 46 when their kids graduate from high school, or 51 for the more affluent whose kids graduate from college, parents no longer have to buy a boring ol' minivan to cart them to school, soccer practice, ecstasy parties… or whatever it is they're doing!
Finally, they buy their dream car: a four-door luxury sedan, a high-end sports car – or a really badass pickup truck.
Sure enough, these are the segments that have done so well in recent years as the boomers marched toward age 54 into this year.
And look what happens after: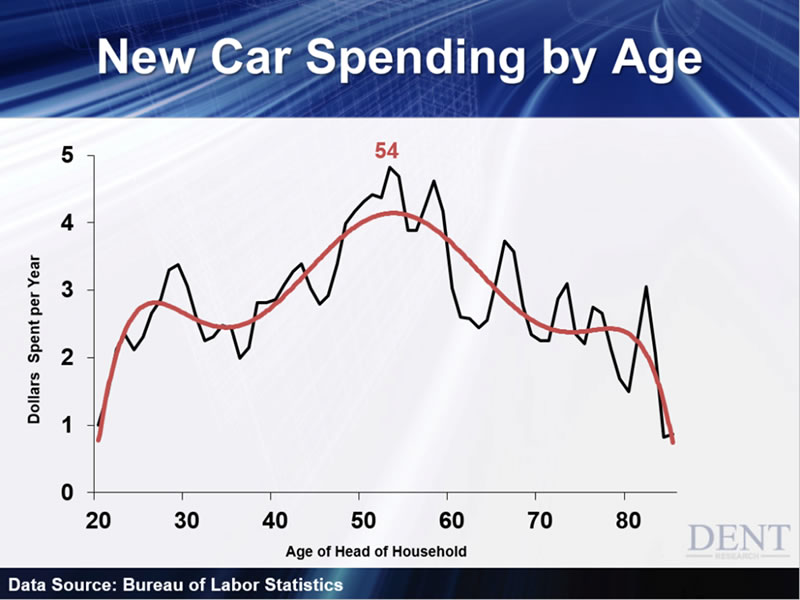 That car goes right off a cliff!

Right now we're seeing the peak in the auto sector, after which it will drop off dramatically. To make matters worse, there are a lot of subprime loans that have been made against automobiles in the last several years. Those will just add to all the massive consumer debts that need to deleverage.

Then it's a vicious cycle.

Those cars will get repossessed and added to excess inventories…

That will lead to more layoffs in sales and production…

And to top it off, in a worsening economy, people won't buy as many new cars! They'll wise up and buy a used one.

But the millennials are coming! Yes… but they don't drive as much as their parents did, and many are still below driving age. Of those that are, only 50% get a driver's license by 18.

What!?

Having a license was one of the biggest priorities when I was a teenager!

But these kids are different. They're more likely to telecommute and work from home. They shop more online, hitch a ride with a friend, call an Uber, or ride bikes or whatever. They value experiences over things like I've said.

In 1963, 59% of teens age 16-19 had a license. That peaked in 1983 with the height of the baby boom at 71% (no coincidence there).

Since, it's fallen to 50%!

But I'll say again – what!?

It's simply unimaginable to me to not have a driver's license by the time you're 19. The 70+ crowd, on the other hand, has gone from 35% in 1983 to 77% today!

One study showed that in 2009, people age 16-34 drove 23% less than in 2001. The Michigan Transportation Institute also found that in 2013, vehicle registrations had declined 8% since the 2008 recession.

So it's not everyday car purchases that are fueling this car boom. It's been increasingly dominated by high-end vehicles and their affluent consumers. The most profitable car companies are ones like Porsche, BMW and Mercedes. Ferrari just went public at sky-high valuations.

All of this is about to end as boomers slow their spending and millennials fail to amp theirs up.

If I had a car dealership, I would sell it and buy an RV dealership. Those are the last vehicles that get a boom in the consumer spending lifecycle. But I'd wait until the recession sets in and get a better deal. Ditto if I were a car salesman – switch to an RV dealership, stat!

If you have car stocks, sell them now. And if you're looking to buy your dream car, wait until at least late 2016 or early 2017.

I timed my present lease to end in late 2016 on purpose.
Harry
Follow me on Twitter @HarryDentjr
Harry studied economics in college in the '70s, but found it vague and inconclusive. He became so disillusioned by the state of the profession that he turned his back on it. Instead, he threw himself into the burgeoning New Science of Finance, which married economic research and market research and encompassed identifying and studying demographic trends, business cycles, consumers' purchasing power and many, many other trends that empowered him to forecast economic and market changes.
Copyright © 2015 Harry Dent- All Rights Reserved Disclaimer: The above is a matter of opinion provided for general information purposes only and is not intended as investment advice. Information and analysis above are derived from sources and utilising methods believed to be reliable, but we cannot accept responsibility for any losses you may incur as a result of this analysis. Individuals should consult with their personal financial advisors.
© 2005-2019 http://www.MarketOracle.co.uk - The Market Oracle is a FREE Daily Financial Markets Analysis & Forecasting online publication.

Only logged in users are allowed to post comments.
Register/ Log in