Paulson: Financial Institutions Must Be Allowed To Fail
Stock-Markets
/
Credit Crisis 2008
Jul 10, 2008 - 12:58 PM GMT


The Crypt is reporting Paulson and Bernanke: Economic Melt-Down "Ongoing"
Treasury Secretary Henry Paulson and Federal Reserve Chairman Ben Bernanke told Congress that their agencies need greater regulatory powers to deal with the current economic meltdown in the financial and housing markets.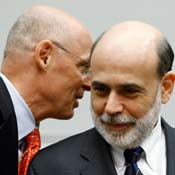 "The financial turmoil is ongoing, and our efforts today are concentrated on helping the financial system return to more normal functioning," said Bernanke to the House Financial Services Committee on Thursday morning.
Paulson had an equally dreary report for homeowners worried about tumbling home prices.
"Many of today's unusually high number of foreclosures are not preventable," he said. "Due to the lax credit and underwriting standards of the past years, some people took out mortgages they can't possibly afford, and they will lose their homes."
Homeowners should not anticipate a government bail-out, said Paulson.
"These borrowers can and should be living up to their mortgage commitment—government intervention here would be inappropriate."
Paulson extended the same advice to large financial institutions. Banks should not expect to be bailed-out by government, despite intervention by the Federal Reserve in the near-collapse of Bear Stearns in March.
For market discipline to be effective, market participants must not expect that lending from the Fed, or any other government support, is readily available," Paulson said. "For market discipline to effectively constrain risk, financial institutions must be allowed to fail.
" Paulson: "Financial Institutions Must Be Allowed To Fail"

That's quite a change from the Fed Looking To Bend Rules To Aid Banks and the shotgun marriage of Bear Stearns and JPMorgan.

My Translation: Paulson is saying banks must be allowed to fail, because this mess has finally gotten "Too Big For The Fed To Bail".

The $1 Trillion Taxpayer Bailout Doomsday Scenario

Fortune Magazine is discussing The Fannie and Freddie doomsday scenario.
"If Fannie or Freddie failed, it would be far worse than the fall of [investment bank] Bear Stearns," says Sean Egan, head of credit ratings firm Egan Jones. "It could throw the economy into depression or something close to it."

"The major issue is that these are very leveraged financial institutions, leveraged much more than any other bank, and they have lots of mortgage assets. As real estate values decline every day, the value of [the mortgages that it bundles, guarantees, and sells] are called into question," says Dalton Investments co-founder Steve Persky, who has been focused on distressed mortgage assets.

The possibility of government aid looms because it's hard to see how the private market can help the companies. Their stock market values have dropped so low that it would be difficult for them to raise money. For example, Egan estimates that Freddie alone will need to raise $7 billion over the next two quarters due to writedowns and losses. But the company's market capitalization - the number of outstanding shares times the share price stands at $8.7 billion.

"An investment banker would be hard pressed to raise an amount of money nearly equal to the value of the entire company," Egan says.

It's debatable where the legal obligations lie, but as a practical matter, the government can't let these institutions fail because they are being counted up on to help fix the mortgage mess. If Fannie and Freddie were unable to buy and back loans, banks would stop originating them and the pool of homebuyers would shrink, causing home prices to fall even further.

The doomsday scenario could cost taxpayers more than $1 trillion, says the S&P report. The report went so far as to say that a government bailout of Fannie or Freddie could force the agency to lower its rating on the creditworthiness of the United States.
Is Nationalization Coming Up?

I would like clarification from Paulson on what "fail" means. What it should mean is Fannie and Freddie go bankrupt, the government gets out of the GSE sponsorship business, and home prices are allowed to fall to their natural level.

What I suspect he means is We're All Homeowners Now, Nationalization of Fannie, Freddie Unavoidable in which the share price of Fannie and Freddie drops to zero but taxpayers foot the bill to keep Fannie and Freddie in business.

By Mike "Mish" Shedlock
http://globaleconomicanalysis.blogspot.com
Click Here To Scroll Thru My Recent Post List
Mike Shedlock / Mish is a registered investment advisor representative for SitkaPacific Capital Management . Sitka Pacific is an asset management firm whose goal is strong performance and low volatility, regardless of market direction.

Visit Sitka Pacific's Account Management Page to learn more about wealth management and capital preservation strategies of Sitka Pacific.
I do weekly podcasts every Thursday on HoweStreet and a brief 7 minute segment on Saturday on CKNW AM 980 in Vancouver.

When not writing about stocks or the economy I spends a great deal of time on photography and in the garden. I have over 80 magazine and book cover credits. Some of my Wisconsin and gardening images can be seen at MichaelShedlock.com .
© 2008 Mike Shedlock, All Rights Reserved
© 2005-2019 http://www.MarketOracle.co.uk - The Market Oracle is a FREE Daily Financial Markets Analysis & Forecasting online publication.

Only logged in users are allowed to post comments.
Register/ Log in