Gold Miners Nub is the Sweat of the Sun
Commodities
/
Gold and Silver Stocks 2016
Apr 24, 2016 - 06:29 PM GMT


Gold miners, because the number of discoveries was falling and existing deposits were being quickly depleted, have had to diversify away from the traditional geo-politically safe gold producing countries, ie Canada, the U.S. and Mexico. The move out of these "safe haven" countries has exposed investors to a lot of additional risk.
In many parts of the world capitalist hating Marxist governments are becoming greedy. Many countries might come to mind as places where shareholders could, without warning, receive news that their operations have been taken over, expropriated, by the government and/or its friends, or that permits are suddenly suffering delays or have been cancelled outright.
One of the most serious and unpredictable risks facing mining operations and investor interests is "country risk" - where the political and economic stability of the host country is questionable and abrupt changes in the business environment could adversely affect profits or the value of the company's assets.
We've seen far too many instances of companies losing assets that were lawfully theirs.
If the management side of the companies we invest in is so important then maybe we should start regarding the management of the country they operate in as at least as important? There is nothing quite so heartbreaking to an investor as having his company's flagship project taken over, nationalized, by the "El Presidente for life" of the country they're working in.
Gold Production
Below is a chart from statista.com showing slowing global gold mine production.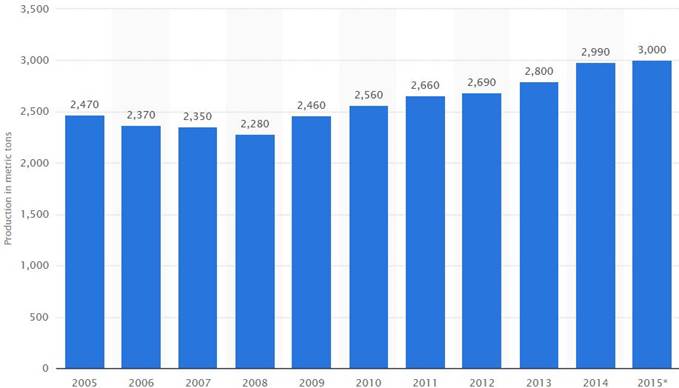 According to the World Gold Council; Gold demand rang in at 4,212t for 2015, virtually the same as in 2014. Annual gold mine production increased at the slowest rate since 2008 and re-cycling has dropped to multi year lows.
Gold Demand
Gold demand growth rose in the fourth-quarter 2015 - demand was 1,117.7 tons, up 4% from the same period a year earlier.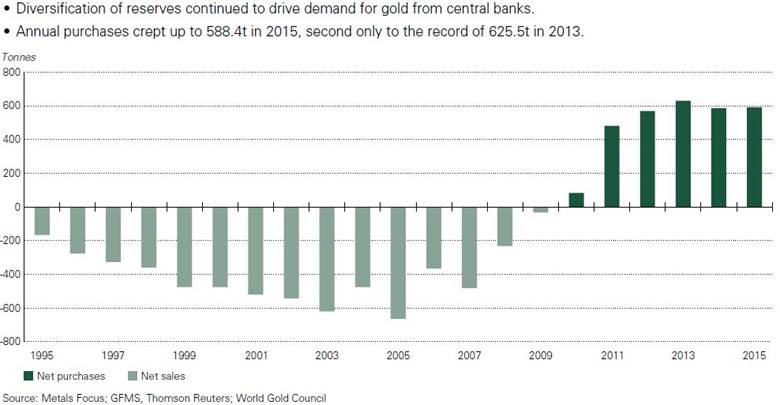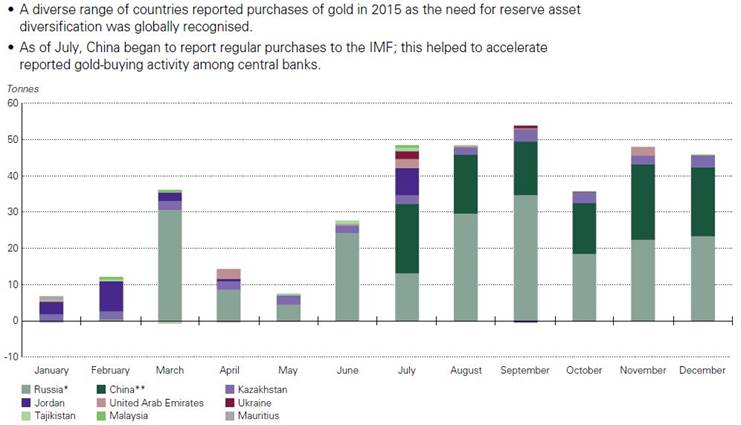 World Gold Council
"Back in 2012, mining companies slashed their corporate costs, their exploration and development budgets [and so] the pipeline of new gold mines is really thin." Alistair Hewitt, World Gold Council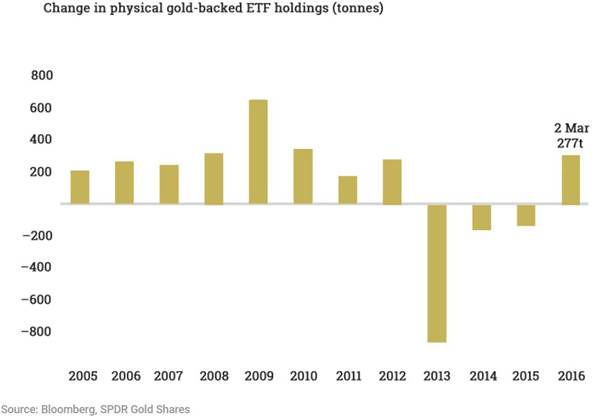 Mining.com
Juniors, Company stage – risk v. reward
I believe junior resource companies offer the greatest leverage to increased demand and a rising gold price.
Juniors, not majors, own the worlds future mines and juniors are the ones most adept at finding these future mines. They already own, and find more of, what the world's larger mining companies need to replace reserves and grow their asset base.
Juniors are risky, managing that risk is what investing in the junior resource sector is all about – in a nutshell it's all about when you invest. Some people invest extremely early because of management, some on the possibility of what a property might host, some people will wait and invest as you start to drill and build resources thus reducing their risk. Only you can decide the level of risk you can tolerate and how much patience you have to sit while developments, the story, plays out.
The greatest risk, and by far the most upside, comes from buying a junior when they are exploring and make an initial discovery. Great drill assay results can send a juniors share price skyrocketing. The reverse can also be true. Junior explorers, the green field plays, are the riskiest plays by far.
My favorite stage junior's mediate some of the risk, these juniors are in the post discovery resource definition stage. Our chosen junior has already discovered something, and they are going in to see what they have – to hopefully produce a 43-101 compliant resource estimate, or build upon an existing resource. The risk for an investor at this stage has been greatly reduced, the waiting time for a discovery non-existent and the reward very nice considering the much lower amount of risk. If there's still enormous blue-sky discovery potential on the rest of the claims, so much the better.
New Carolin Gold Corp. TSX.V – LAD, OTC - LADFF has acquired 100 per cent of the Ladner gold project just outside of Hope, British Columbia Canada. New Carolin has consolidated, after 4 years and considerable effort, a 100 per cent ownership of the 144-square-kilometre contiguous land package, which includes the Carolin mine, under one roof.
Near-term plans include:
Updating a 3-D geological model created in the fall of 2014 with detailed geological and structural mapping and surveying of the underground and surface areas. The preliminary 3-D model has provided a more thorough understanding of the Carolin mine gold mineralization and, with the additional work during this program, will provide clear exploration targets for drilling of new areas, as well as within the resource areas.

Recommendations in the current technical report indicate that a 3-D geological model will assist with grade and geological controls to the resource estimate. The 3-D model was not available to assist with guiding estimation in the company's latest resource estimate. As a result, not all available data were used, as potential grade boundaries were established without key structural and geological controls.

A diamond drill program with specific targets and objectives will follow the first phase of mapping and surveying at the Idaho zone (which includes the Carolin mine and former Aurum mine) and at the McMaster zone, which is 1.2 kilometers northwest of the Carolin mine along the Hozameen fault.
The company also plans to undertake exploration work at two of the several additional known mineralized gold zones located on the Ladner gold project.
Consolidating ownership of what your author believes is a new gold district is a major milestone for the company. New Carolin's Ladner gold project has been vastly underexplored and has considerable upside potential for increasing the existing global gold resource of over 700k ozs.
Conclusion
The Incas believed gold was the "Sweat of the Sun." Gold represented the glory of their sun god, Inti.
In ancient Egypt, gold was considered the skin or flesh of gods, in particular the Egyptian sun god Ra. Gold was unavailable to anyone but the Pharaohs.
The Egyptian word for gold was "nub," taken from gold-rich Nubia - shown on the Turin Papyrus as a major gold producer in antiquity.
Consider these two facts:
The world's governments and central banks are buying gold, a lot of gold
The supply of fiat paper money is infinite while the supply of gold is finite
It's my opinion New Carolin Gold Corp (TSX.V - LAD, OTC – LADFF), should be on every precious metal investors radar screen.
Let's leave the last words to King Ferdinand of Spain who said, in 1511; "Get gold, humanely if possible - but at all hazards, get gold.
If not, maybe it should be.
By Richard (Rick) Mills
If you're interested in learning more about the junior resource and bio-med sectors please come and visit us at www.aheadoftheherd.com
Site membership is free. No credit card or personal information is asked for.
Richard is host of Aheadoftheherd.com and invests in the junior resource sector.
His articles have been published on over 400 websites, including: Wall Street Journal, Market Oracle, USAToday, National Post, Stockhouse, Lewrockwell, Pinnacledigest, Uranium Miner, Beforeitsnews, SeekingAlpha, MontrealGazette, Casey Research, 24hgold, Vancouver Sun, CBSnews, SilverBearCafe, Infomine, Huffington Post, Mineweb, 321Gold, Kitco, Gold-Eagle, The Gold/Energy Reports, Calgary Herald, Resource Investor, Mining.com, Forbes, FNArena, Uraniumseek, Financial Sense, Goldseek, Dallasnews, Vantagewire, Resourceclips and the Association of Mining Analysts.
Copyright © 2016 Richard (Rick) Mills - All Rights Reserved
Legal Notice / Disclaimer: This document is not and should not be construed as an offer to sell or the solicitation of an offer to purchase or subscribe for any investment. Richard Mills has based this document on information obtained from sources he believes to be reliable but which has not been independently verified; Richard Mills makes no guarantee, representation or warranty and accepts no responsibility or liability as to its accuracy or completeness. Expressions of opinion are those of Richard Mills only and are subject to change without notice. Richard Mills assumes no warranty, liability or guarantee for the current relevance, correctness or completeness of any information provided within this Report and will not be held liable for the consequence of reliance upon any opinion or statement contained herein or any omission. Furthermore, I, Richard Mills, assume no liability for any direct or indirect loss or damage or, in particular, for lost profit, which you may incur as a result of the use and existence of the information provided within this Report.
© 2005-2019 http://www.MarketOracle.co.uk - The Market Oracle is a FREE Daily Financial Markets Analysis & Forecasting online publication.

Only logged in users are allowed to post comments.
Register/ Log in