Billionaire Gross: Jubilee Debt Relief as Prelude to New Global Economic Order
Interest-Rates
/
Global Debt Crisis 2016
May 29, 2016 - 12:22 PM GMT


Bill Gross just made headlines by explaining that Japan was bankrupt and its central bank would have to acquire the nation's debt and then "forego repayment."
What billionaire Gross is talking about here is a debt jubilee. And we're not surprised. We've predicted this after all. I've often said that Japan will be the first to fall.
Nearly a year ago, we launched our Shemitah analysis by predicting near-term market chaos. Markets promptly crashed late in August. Then at the beginning of 2016, we explained that the upcoming year was a historical "Jubilee" and that it would continue to worsen until the end day on October 2, 2016 – though larger Shemitah Trends would be ongoing.
We've been tracking the events of 2016 and they have conformed to our predictions, beginning with a massive stock market pullback and a significant rise in the price of gold against the dollar in the first few months of the year.
Along the way we've taken note of statements about Jubilee 2016, including one from a top executive of the Bank for International Settlements, William White. Just a few months ago, in an explosive statement reported by the UK Telegraph, he said that world debt was impossible to pay down and that a debt jubilee would be necessary to give the world a fresh start.
Now billionaire bond investor Gross has basically said the same thing. In a Bloomberg interview he said that Japan was out of options and would have to reduce debt by using the central bank to acquire it and "forego repayment." This approach will likely have to be taken with other countries as well.
The forgiveness that Gross is talking about is basically a debt jubilee. Central banks acquire debt-laden instruments from bankrupt nation-states and retire them. Maybe they will do the same with the world's biggest corporations and financial entities such as Deutsche Bank. It's not an easy process of course, but it may be the only alternative at this point. Europe is reeling. China is plunging into a depression and no matter what Janet Yellen may say, the US is not headed toward recovery: It's stuck in a perma-depression.
If White and Gross are both talking about a jubilee publicly, you can bet that there are plenty of others discussing it privately. And just in the past few months a series of billionaires -Soros, Druckenmiller, Rogers and Icahn – have warned of an imminent collapse and have taken massive positions in gold. The world's situation is getting worse, not better.
Who is Bill Gross? He cofounded PIMCO and managed its huge Total Return bond fund before departing in 2013. When he left, he received a $290 million bonus, large even by Wall Street standards. His total fortune is supposedly around $2.3 billion.
Gross was known for his eccentricities at PIMCO, where he ran a trading floor that was "graveyard silent." He preferred traders use electronic communication to talking. But Gross does not shirk public appearances, unlike some Wall Streeters. He enjoys speaking to the media, comparing it to taking "truth serum." He likes telling the truth as he sees it to the media, maybe because he enjoys the shock value. His statement about central bank debt retirement certainly rings true.
Of course there's much more to a jubilee than debt forgiveness. It sounds merciful enough but there is another idea behind it. Those organizing these jubilees have in mind moving the world toward a single monetary market.
So it's not really merciful at all. It's manipulative. And it will cause a crisis and loss of wealth never before imagined.
It will have to be done on an international scale. And those organizing these reductions will inevitably create a new system once the debt reductions have taken place and most people have lost everything in its wake. The new system will be global. Sound familiar?
This "debt crisis" is no coincidence. Those behind it, caused it. Now they are beginning to propose the solution they have in mind.
Perhaps events will intercede and a formal jubilee will not be implemented worldwide. Perhaps they will lose control… but even in that case it will result in chaos and crisis on a biblical level as things come apart at the seams.
Barring some miracle, those managing the jubilee destruction will have the power to take the international economy in the direction they choose. And this is how you end up with full-fledged economic globalization.
They will need to create a new bank, and this new bank will serve as a global central bank. Or perhaps it will be done under the auspices of the International Monetary Fund. But this is the direction in which the world is headed.
We predicted the disasters of Shemitah 2015. And now we've predicted the ramifications of Jubilee 2016. That's because the key to world affairs has been hidden inside the timeline of these events.
And to the best of my knowledge, we're the only financial publisher that tracks this information on a regular basis. Behind closed doors, many people are aware of what is going on but no one is willing to say it publicly.
As a result, thousands have recently subscribed to our TDV newsletter. Once you understand the code, you can get a pretty good idea of what's coming next. It was why we were in gold in the first half of this year and why we pared our positions before this most recent downturn. Our TDV subscribers went along for the ride and they've seen for themselves just how effective our Jubilee 2016 info can be. We continue to get kind comments posted to our private, subscriber's only Facebook Group: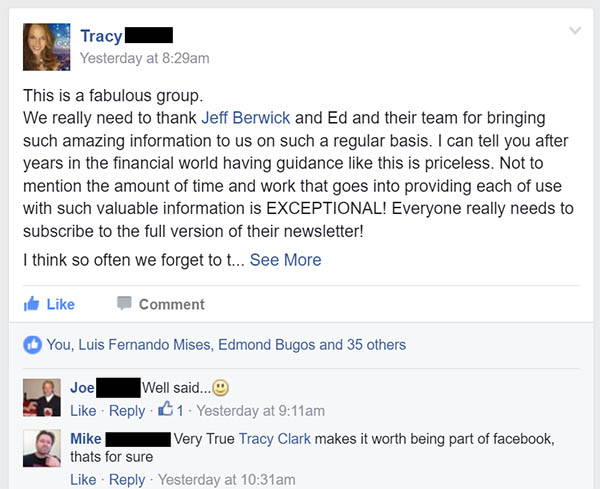 Another one: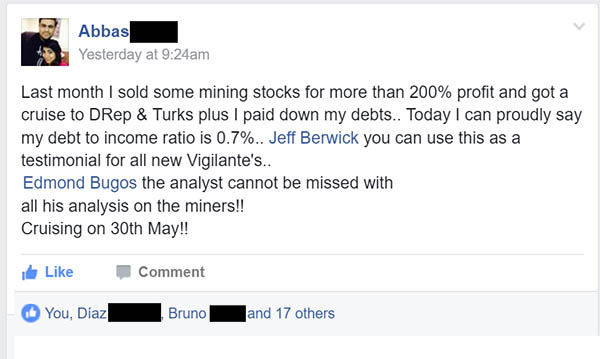 This Jubilee Year is a critical turning point in world history. Unfortunately, you won't find anything about it even in the alternative media. It's just too much beyond the mainstream for most to grasp let alone write about. But we've never discounted even the most "far out" insights in our search for truth. And when some of the most influential individuals in the world are speaking up about debt jubilees, you can bet it's not a coincidence.
We hope you join with us and thousands of other dollar vigilantes across the world to not only navigate and survive this coming crisis but also potentially make massive profits. You can join us here.
Anarcho-Capitalist. Libertarian. Freedom fighter against mankind's two biggest enemies, the State and the Central Banks. Jeff Berwick is the founder of The Dollar Vigilante, CEO of TDV Media & Services and host of the popular video podcast, Anarchast. Jeff is a prominent speaker at many of the world's freedom, investment and gold conferences as well as regularly in the media.
© 2016 Copyright Jeff Berwick - All Rights Reserved Disclaimer: The above is a matter of opinion provided for general information purposes only and is not intended as investment advice. Information and analysis above are derived from sources and utilising methods believed to be reliable, but we cannot accept responsibility for any losses you may incur as a result of this analysis. Individuals should consult with their personal financial advisors.
© 2005-2019 http://www.MarketOracle.co.uk - The Market Oracle is a FREE Daily Financial Markets Analysis & Forecasting online publication.

Only logged in users are allowed to post comments.
Register/ Log in