Financial Stocks Bottom, is Wall Street Living in Fantasy land?
Stock-Markets
/
Credit Crisis 2008
Jul 26, 2008 - 10:47 AM GMT


Mike Larson writes: My daughters love Fantasyland at Walt Disney World. The two-and-a-half year old is a fan of Cinderella's merry-go-round, while my five-and-a-half year old likes Dumbo's flying elephant ride. Heck, if they had their way, my girls would go to Fantasyland every year.
But even that wouldn't be enough for Wall Street's big money managers. They seem to head back to "Financial Fantasyland" once every few months. And the latest trip has been a real doozy.
Just look at the EARNINGS and FUNDAMENTAL NEWS coming out of the financial and real estate sectors ...

American Express reported a startling 38% year-over-year plunge in second-quarter profit. Earnings per share of 56 cents were far below the Wall Street consensus of 83 cents.
The company's CEO Kenneth Chenault didn't pull any punches when describing the state of the financial business, either:
"Consumer spending slowed during the latter part of the quarter and credit indicators deteriorated beyond our expectations ... The scope of the economic fallout was evident even among our longer term, superprime cardmembers."

Megabank Wachovia was practically swimming in red ink, recording a loss of $8.9 billion, or $4.20 per share, in the second quarter. Analysts were looking for a loss of just 78 cents per share. The bank said it plans to slash almost 11,000 jobs. It also took the knife to its quarterly dividend, cutting it 87% to just 5 cents a share.
Wachovia and other financial firms are bleeding red ink ...

What about the smaller regional banks? More bad news. Regions Financial turned in a 55% drop in profit. Fifth Third of Cincinnati lost $202 million, a huge swing from a year ago, when it generated $376 million in net income. KeyCorp of Cleveland did much worse. Its quarterly loss: $1.13 billion, vs. year-ago income of $334 million.
So what does the Financial Fantasyland gang say?
"Financial news stinks! Buy financial stocks!"
Despite the news, shares of finance and real estate companies haven't been tanking. In fact, they've been surging.
Wachovia was up as much as 148% from its recent intraday low to intraday high. Bank of America surged 86%, while JPMorgan Chase gained 47%.
Investors are ignoring all the bad news for a few different reasons:
First, they figure that the Fannie Mae and Freddie Mac rescue program being put into place will be enough to backstop those firms. The Treasury Department is getting authority to extend an unlimited amount of credit to the two Government Sponsored Enterprises, and to buy an unspecified amount of their shares.
Second, some of the banks that have reported earnings have said they don't need to raise capital immediately. Many have opted instead to sell off assets. Merrill Lynch unloaded its stake in the Bloomberg news service for $4.43 billion, for instance, while SunTrust Banks is liquidating 40 million shares of Coca-Cola.
Third, a housing support bill is finally making it into law. The bill has several provisions, including a tax credit of as much as $7,500 for first-time home buyers and a property tax deduction for certain homeowners. It will also authorize a mortgage program that requires lenders to recognize some losses on their existing loans, but that gives them an out by allowing them to then be paid off with new, lower-balance loans backed by the Federal Housing Administration.
All of this has translated into a gigantic flood of money betting that the bottom is in for financial and real estate stocks.
But is that the case? Is the credit crisis over? I don't think so. And I ask you to consider, for a minute, Wall Street's forecasting track record on this issue ...
They said the same thing when the Fed started cutting rates last fall ...
They said the same thing when the Treasury rolled out the HOPE NOW mortgage modification program ...
They said the same thing in January when the Fed stepped up the pace of rate cuts ...
And they said the same thing in March when the Fed helped engineer the rescue of Bear Stearns.
In fact, a prominent analyst — Richard Bove, then of Punk Ziegel and now of Ladenburg Thalmann — published a report in late March saying "the financial crisis is over." And he urged financial stock investors to take advantage of this "once in a generation opportunity to buy."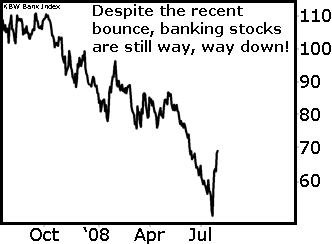 We all know what happened after that. The major financial stocks tanked again, with the broad KBW Bank Index recently hitting its lowest level since 1996.
I'm not picking on Bove. He's a smart guy. But I think it makes all the sense in the world to point out that Wall Street loves a bullish story. They love to visit Fantasyland, because in Fantasyland, stocks always go up, every dip is a buying opportunity, and most importantly — investors don't yank their money away, cutting off their stream of commissions and fees!
If ... IF ... this is a real, lasting turn, it will be one accompanied by "retests" of the recent lows. It will be a gradual "U" shaped recovery, rather than a sharp "V." After all, today's crisis in the housing and lending markets was YEARS in the making, not a few quarters.
The bottom line from where I sit? The risk of jumping in now ... and catching another leg down ... far outweighs the potential reward from betting that the bottom — the REAL bottom, not the four or five Wall Street already told you to buy — is in.
Until next time,
Mike
This investment news is brought to you by Money and Markets . Money and Markets is a free daily investment newsletter from Martin D. Weiss and Weiss Research analysts offering the latest investing news and financial insights for the stock market, including tips and advice on investing in gold, energy and oil. Dr. Weiss is a leader in the fields of investing, interest rates, financial safety and economic forecasting. To view archives or subscribe, visit http://www.moneyandmarkets.com .
© 2005-2019 http://www.MarketOracle.co.uk - The Market Oracle is a FREE Daily Financial Markets Analysis & Forecasting online publication.

Only logged in users are allowed to post comments.
Register/ Log in