Gold price to 2 month high as fiery Trump declares New American Order
Commodities
/
Gold and Silver 2017
Jan 24, 2017 - 10:18 AM GMT


– 'Trumponomics': Politics and economic policy in 140 characters
– The 'intelligence' according to Trump
– Trump, Putin and Russia – the great bromance
– Trump – Bull in a China shop
– Trade and currency wars with China and other nations
– Trump – Fan of gold and golden tweets
– Conclusion – Trump may be the 'Golden Ticket'
by Jan Skoyles, Editor Mark O'Byrne

On Friday Donald J Trump became the 45th President of the United States of America.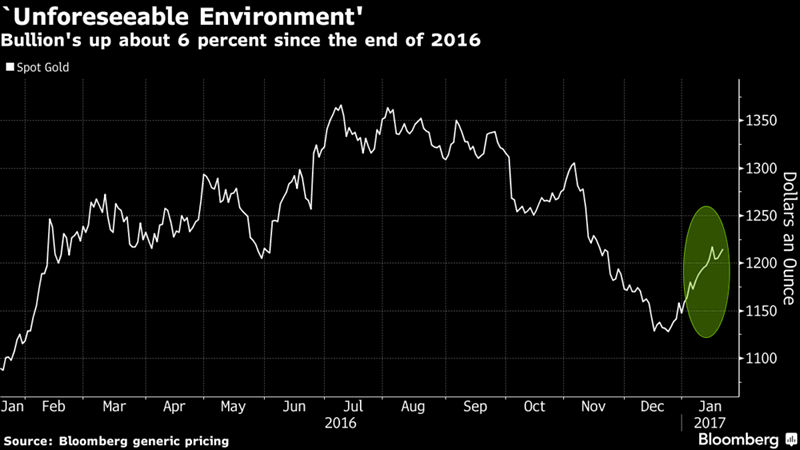 Gold prices were surprisingly muted on Friday but did begin to rise towards the end of trading and rose from below $1,200 to over $1,212 per ounce before closing slightly lower at $,207.60 per ounce.
Gold is looking very healthy technically and has risen for four weeks in a row and reached a two month high this morning at $1,219.43 per ounce – its highest since November 22nd. According to Bloomberg holdings in gold-backed ETFs climbed for the fifth day in a row by 0.9 tons.
Gold is gaining on increasing investor concern about the Trump Presidency and uncertainty regarding what is set to be his radically different term in office. The dollar has continued to weaken as markets prepare for major changes to US trade, economic and foreign policies.
The British pound has hit a five week high, along with the yen and 10 year US Futures. Shares fell across most markets, the dollar fell 0.5%, which RBS Capital markets blame on "the lack of economic policy detail in President Trump's inauguration speech coupled with concerns over his potential protectionist stance."
"The market is now worrying about what would come out from the new administration," Bob Takai, chief executive officer and president of Sumitomo Corp. Global Research Co., told Bloomberg. "In this kind of very unforeseeable environment, people want to buy gold," he said, adding the biggest factor was the strength of the dollar and the outlook for interest rates.

More on Trump's like of gold and golden tweets below
Trump's fiery inauguration speech was a significant step away from the more presidential-tones of his November acceptance speeches. It was full of protectionism, promises to 'hire' and 'buy' American and strident nationalism.
The weekend was not full of any shocking declarations such as currency manipulation or border taxes, however Trump did tweet yesterday that he would be sitting down with Canada and Mexico to discuss NAFTA.
Across the world, most people aren't sure what to think. Markets seem disappointed that Trump's inauguration speech contained few details on fiscal policy, tax cuts and infrastructure spending. For the first time following a Presidential election we are more likely to feel uncertain post inauguration than we were in the run-up to the vote.
With Trump we are facing something new and radically different. His tweets are not only emotional and reactive but the subject of them combined with his general message go against the status quo, or international order (of the West) that we have seen supported in political America for so long.
The status quo opinions on Russia, free trade, strong dollar, China and war – has long been supported throughout Western politics, regardless of party leanings since the end of World War Two.
Politicians, policy makers, markets and the general public around the world are now having to come to terms with what this might mean. And whilst they figure it out, we expect heightened uncertainty.
For gold investors this is likely good news in both the long and medium term. We expect to see severe volatility due to Trump's unexpected actions and tweets. Markets will be very nervous and wait with baited breath to see how the affected party, be it the EU, China, Russia or Congress, decide how to react.
'Trumponomics': Politics and economic policy in 140 characters
It was generally expected that we would see markets pull back in the week running up to the inauguration as confusion tends to surround anticipated policy from the new administration.
That is precisely what has happened, but it was exacerbated by both Trump's direct comments to the press and his own tweets. Trump's tweets and comments, clearly have an impact on sentiment. GM, Boeing and Toyota have all felt the wrath of the market following a Trump Tweet.
And, when companies thought it could not get much worse for them, this week Trump told the Wall Street Journal that the US Dollar was too strong, breaking the unwritten rule that Presidents do not comment on the currency.
The dollar headed south following the comments. This surprised markets who were getting used to the Trump Trade that had seen equity markets and the dollar embark on a rally since the election result.
On a political note, Trumps' comments to Bild on NATO being obsolete have put the first military alliance that combines both Second World War agreements and post-Soviet Union countries on an awkward and unstable position. Comments against NATO flies in the face of US foreign policy.
Trump reconfirmed his views, by tweeting "My statement on NATO being obsolete and disproportionately too expensive (and unfair) for the U.S. are now, finally, receiving plaudits!"
The above is just a recent reminder of the power of a Trump statement and that his favoured medium of communication, one that is un-vetted and seemingly unadvised, continues to take some getting used to.
There seems to be some thinking that once Trump takes office, the tweets will calm down.
Trump has no plans to stop, telling the Sunday Times, "…I can put out Twitter — and it's not 140, it's now 280 — I can go bing bing bing… and they put it on…"
Everyone is aware of how Trump is changing how Presidents will rule and make statements, Wei Li, iShares head of investment strategy EMEA, said in a recent interview with TradngFloor:
"There are some really unexpected things happening with the Trump administration and there are no doubt a lot more people paying attention to Twitter at 2am in the night…We are operating in a very different environment where markets are reacting and adapting to changes that have not been seen for a good decade or more."
The CIA's outgoing director, John Brennan, has also warned Trump that his tweets are not only bad for markets but also for national security:
"Spontaneity is not something that protects national security interests…So therefore when he [Trump] speaks or when he reacts, just make sure he understands that the implications and impact on the United States could be profound."
In all likelihood, Brennan's advice will not be heeded by Trump.
The 'intelligence' according to Trump
John Brennan had been feeling Trump's wrath for a long time. The new President has long criticised the intelligence services in the US, at one point suggesting Brennan was the 'leaker of fake news' following the Golden Shower story.
Trump had previously likened the intelligence services the Nazi regime, tweeting
"Intelligence agencies should never have allowed this fake news to "leak" into the public. One last shot at me. Are we living in Nazi Germany?"
As Zerohedge pointed out recently, no president since JF Kennedy has dared to take on America's seemingly untouchable intelligence agency. The website writes, "If his refusal to take intelligence briefings, or follow CIA advice is serious, then serious consequences will follow. If Trump is serious about peace with Putin when they insist on war, there will be a problem."
Trump has already announced that he will be replacing Brennan with Mike Pompeo, something which may be seen as a smart move for Trump, but whether it is so for the rest of the world, time will tell. Either way there is a changing of the guard from deep within the national security state that has, until now, been widely listened to when it comes to geopolitical, international and domestic threats.
Trump's lack of desire to toe the status quo party line is something intelligence services around the world will seemingly have to get used to. This has become acutely apparent when it comes to matter of Russian relations, which was what triggered the most recent bout between Trump and the intelligence community.
Trump, Putin and Russia – the great bromance
Trump's desire to improve relations with Putin and the Kremlin is the most glaring difference between his ideas and those of the status quo, and alongside his thoughts on NATO has much of the Western community nervous.
When CIA Director John Brennan responded to Trump's comments comparing the US Intelligence Agencies to Nazi Germany he not only said that the then President-elect had crossed the line but also warned him about Russia:
"Mr. Trump has to understand that absolving Russia of various actions it has taken in the past number of years is a road that he, I think, needs to be very, very careful about moving down …"
It wasn't until last week that Trump admitted it was likely that Russia had been involved in cyber-attacks and hacking, having previously expressed doubts over US Intelligence Agencies assertions in this regard.
A US Intelligence Report, seen by both outgoing President Obama and President Trump alleged that Russia had tried to sway the outcome of the 2016 election. However, there was little hard evidence and it did not state if the measures specifically had been successful.
In an interview with the Wall Street Journal, Trump vowed to improve relations with Putin and Moscow. He stated that the sanctions imposed by Obama last month, may be removed in exchange for support in fighting terrorism and meeting other US goals.
He reiterated his desire to work with Russia again in an interview with the Sunday Times, claiming that he wanted both the nuclear powers of the US and Russia to be
"reduced very substantially…They have sanctions on Russia — let's see if we can make some good deals with Russia. For one thing, I think nuclear weapons should be way down and reduced very substantially, that's part of it."
In the same interview in The Times, Trump also criticised Putin and his country, for their involvement in Syria's war, describing it as "a very bad thing" that had led to a "terrible humanitarian situation."
It is no secret that Poland and Finland have been preparing themselves, with some international support, for a possible attack from Russia. Whilst neither Russia nor Europe have commented directly on any potential threat, Kremlin spokesman Dmitri Peskov says "threatens our interests, our security".
Trump's comments on both Russia and China, and apparent planned-policies regarding them, are very different to current foreign policies stances of the U.S., the EU, the UK and NATO.
Trump – a bull in a China shop
At various points during Trump's campaign he managed to rile China, accusing them of currency manipulation and of 'raping American jobs'. Then, he really made sure they were paying attention and increased tensions even more when he accepted a call from Taiwan's President, on his birthday.
For just some of Trump's issues with China, it's worth looking at yet more of his tweets:
January 3: China has been taking out massive amounts of money & wealth from the U.S. in totally one-sided trade, but won't help with North Korea. Nice!
December 18: We should tell China that we don't want the drone they stole back.- let them keep it!
December 17: China steals United States Navy research drone in international waters – rips it out of water and takes it to China in unprecedented act.
December 5: Did China ask us if it was OK to devalue their currency (making it hard for our companies to compete), heavily tax our products going into…their country (the U.S. doesn't tax them) or to build a massive military complex in the middle of the South China Sea? I don't think so!
Anti-China and anti-free trade and globalisation rhetoric is something that is becoming louder, not just because of Trump's victory but also because of discontent in the EU. China is likely to be one of the biggest victims of this change in trade, and a trade and currency war may be on the cards.
Prior to the election Trump signaled that he would label China a currency manipulator, whether he will do so or not is obviously unknown, but he has still drawn attention to their currency. In a recent interview Trump complained about the strong US dollar and China's weak yuan.
"Our companies can't compete with them [Chinese companies] now because our currency is too strong. And it's killing us". In the same interview Trump said that China's currency was "dropping like a rock."
The election of Donald Trump has seen the US Dollar climb to 13 year highs and made gains of nearly 5% in the period since November. But now, just one week ahead of the inauguration, the President has signaled that he will be dropping the strong dollar policy.
It isn't just China's currency that Trump is likely to have a say on, in 140 characters or perhaps more. Some pundits believe is about to upset China by not only announcing his intention to abandon the one-China policy but also to declare the move by China to build artificial islands in the South China Sea, as illegal.
China remains unimpressed, the English-language paper China Daily wrote, ""If Trump is determined to use this gambit in taking office, a period of fierce, damaging interactions will be unavoidable, as Beijing will have no choice but to take off the gloves."
"China and the U.S. can find ways to solve problems through dialogue and negotiation," Ministry of Commerce spokesman Sun Jiwen said Thursday at a briefing in Beijing. "Bilateral trade and economic cooperation have made the two nations inseparable since relations were established more than three decades ago, and that's reinforced every day", Sun said.
According to Jim Rickards, this anti-China rhetoric could lead to a new currency war between the US and China.
President Xi Jinping, is also aware of the risks, speaking at his first address at Davos, China's President spoke against businesses and political elites engaging in trade wars and protectionism:
"Pursuing protectionism is like locking yourself in a dark room, which would seem to escape the wind and rain, but also block out the sunshine and air…Waging a trade war will only cause injury and loss to both sides."
Trade and currency wars with China and other nations, a civil war with Democrats and much of civil society in the U.S., combined with a weakening or dismantling of NATO, all in all points to uncertainty and volatility on a grand scale.
Trump – Fan of gold and golden tweets
We know (and not just from his taste in interiors) that Trump is a fan of gold and he is aware of the role in plays in both dollar hegemony and currency wars.
Tweets over the last four to five years have shown an interest in the gold price and trade, tweeting in 2012:

"With Obama and Bernanke destroying the value of the dollar, gold and real estate should continue to rise in value."
He is also not a fan of QE, tweeting in 2011 "The Fed continues to flood the market with US dollars. Wrong move." and has since commented on gold purchases by China and Russia.
But what about the gold price? As we explained last week, the fundamentals supporting the gold market look good, regardless of who is about to take the US Presidency.
This year the gold price has already climbed by around 5%, fuelled by what appears to be a perfect storm coming together of Trump worries, Brexit angst and brewing tensions on trade and globalisation, generally.
Axel Merk told Bloomberg that uncertainty will support gold, "We have no idea what's going to happen with some of Trump's policies — everybody is a little nervous," said Axel Merk, San Francisco-based founder of Merk Investments LLC, pointed out that
"Gold is relatively undervalued and will push higher."
We concur and believe that the next four years of the Trump Presidency will be good for gold. If we assume gold takes a similar journey to that it took following Obama's inauguration, we can expect:
A similar performance in the coming month would see gold rise from $1,200/oz to $1,392/oz.
A similar performance in the coming year would see gold rise from $1,200/oz to $1,555/oz
According to Bloomberg, gold has averaged gains of almost 15% in the inauguration years since the 1970s. It has made gains in five of the last seven inaugurations, and declined only in the year of Reagan's.
Whilst events regarding China, Russia, NATO and even potential Civil War are unknown in how they will play out, one thing we can be fairly sure of is that Donald Trump is likely to preside over a significant budget deficit.
Conclusion – Trump may be the 'Golden Ticket'

Whilst the run up to Trump's inauguration has proven to be box office viewing, it is important to tune out the noise surrounding the short-term hype and to consider the real world consequences of his Presidency for investors and savers. We should be aware that what he says/tweets may impact and have lasting results, around the world.
A man who is against many of the financial, economic and foreign policies of most Western nations, has been democratically elected to run the West's most powerful country. Policy may now be issued via Twitter and with little consultation.
Expect some serious volatility and prepare by diversifying and owning safe haven gold which has protected investors and savers from economic and political uncertainty in recent times and throughout the ages.
Due to ongoing requests for higher credit and debit card transactions, we have increased our maximum card transaction sizes from 5,000 to 50,000 GBP, EUR or USD.
You can now lock in prices online and transact immediately for up to 50,000 (GBP, EUR or USD) on your Visa and Mastercard credit cards (not American Express) for one transaction

We do not limit card payments to 50,000 per day but to 50,000 per individual transaction. This means that clients can do a number of transactions for 50,000 on a single day. Certain banks may have restrictions in this regard.

In the volatile markets of today, this added liquidity is advantageous and, to our knowledge, these are the highest credit and debit card transaction limits in the bullion market. This will be attractive to investors seeking to lock in prices without having to wait for funds to clear first.

Credit and debit card rates have come down significantly and are now 1.9% for credit cards and 0.45% for debit cards. Please keep in mind that this is subject to your own credit card limits.
KNOWLEDGE IS POWER
10 Important Points To Consider Before You Buy Gold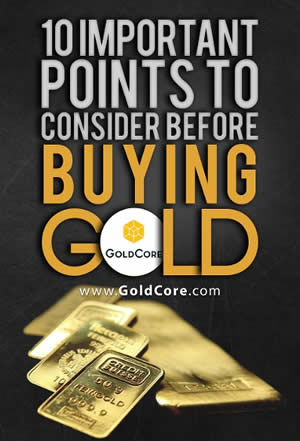 Please share our research with family, friends and colleagues who you think would benefit from being informed by it.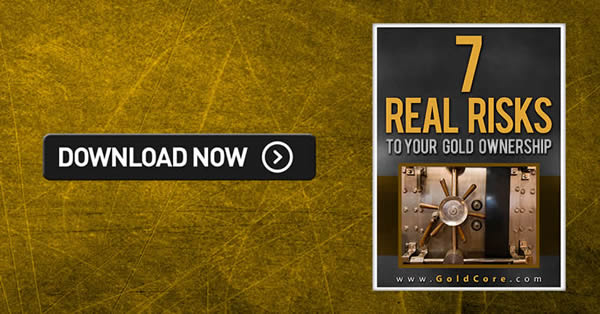 Gold Prices (LBMA AM)
23 Jan: USD 1,213.75, GBP 974.03 & EUR 1,130.12 per ounce
20 Jan: USD 1,199.10, GBP 974.87 & EUR 1,127.03 per ounce
19 Jan: USD 1,203.35, GBP 976.76 & EUR 1,129.34 per ounce
18 Jan: USD 1,212.50, GBP 984.91 & EUR 1,134.78 per ounce
17 Jan: USD 1,217.50, GBP 1,003.59 & EUR 1,141.65 per ounce
16 Jan: USD 1,202.75, GBP 997.56 & EUR 1,135.40 per ounce
13 Jan: USD 1,196.35, GBP 978.85 & EUR 1,123.25 per ounce
12 Jan: USD 1,206.65, GBP 984.39 & EUR 1,135.82 per ounce
Silver Prices (LBMA)
23 Jan: USD 17.14, GBP 13.78 & EUR 15.97 per ounce
20 Jan: USD 16.89, GBP 13.73 & EUR 15.87 per ounce
19 Jan: USD 16.95, GBP 13.75 & EUR 15.89 per ounce
18 Jan: USD 17.12, GBP 13.93 & EUR 16.01 per ounce
17 Jan: USD 17.00, GBP 13.91 & EUR 15.87 per ounce
16 Jan: USD 16.82, GBP 13.94 & EUR 15.87 per ounce
13 Jan: USD 16.76, GBP 13.76 & EUR 15.74 per ounce
12 Jan: USD 16.91, GBP 13.77 & EUR 15.87 per ounce
Mark O'Byrne
Executive Director
This update can be found on the GoldCore blog here.
IRL
63
FITZWILLIAM SQUARE
DUBLIN 2

UK
NO. 1 CORNHILL
LONDON 2
EC3V 3ND

IRL +353 (0)1 632 5010
UK +44 (0)203 086 9200
US +1 (302)635 1160
WINNERS MoneyMate and Investor Magazine Financial Analysts 2006
Disclaimer: The information in this document has been obtained from sources, which we believe to be reliable. We cannot guarantee its accuracy or completeness. It does not constitute a solicitation for the purchase or sale of any investment. Any person acting on the information contained in this document does so at their own risk. Recommendations in this document may not be suitable for all investors. Individual circumstances should be considered before a decision to invest is taken. Investors should note the following: Past experience is not necessarily a guide to future performance. The value of investments may fall or rise against investors' interests. Income levels from investments may fluctuate. Changes in exchange rates may have an adverse effect on the value of, or income from, investments denominated in foreign currencies. GoldCore Limited, trading as GoldCore is a Multi-Agency Intermediary regulated by the Irish Financial Regulator.
GoldCore is committed to complying with the requirements of the Data Protection Act. This means that in the provision of our services, appropriate personal information is processed and kept securely. It also means that we will never sell your details to a third party. The information you provide will remain confidential and may be used for the provision of related services. Such information may be disclosed in confidence to agents or service providers, regulatory bodies and group companies. You have the right to ask for a copy of certain information held by us in our records in return for payment of a small fee. You also have the right to require us to correct any inaccuracies in your information. The details you are being asked to supply may be used to provide you with information about other products and services either from GoldCore or other group companies or to provide services which any member of the group has arranged for you with a third party. If you do not wish to receive such contact, please write to the Marketing Manager GoldCore, 63 Fitzwilliam Square, Dublin 2 marking the envelope 'data protection'
© 2005-2019 http://www.MarketOracle.co.uk - The Market Oracle is a FREE Daily Financial Markets Analysis & Forecasting online publication.

Only logged in users are allowed to post comments.
Register/ Log in