Duterte Under Fire, Philippines 'The Punisher' Takes a Beating
Politics
/
Asian Economies
Apr 03, 2017 - 12:59 PM GMT

Forecast
Challenges to Philippine President Rodrigo Duterte's hold on power, whether in the form of an impeachment or a coup, are unlikely to gain momentum while he remains broadly popular.
But China's unrelenting attempts to extend its maritime boundaries will complicate its detente with the Philippines and undermine Duterte's political support at home.
Meanwhile, the president's contentious domestic agenda will test the mettle of his ruling coalition.
Analysis
Nine months after surging into office on a wave of popular support, Philippine President Rodrigo Duterte is on shaky ground as he pushes ahead with his controversial agenda. At home, "The Punisher's" brutal campaign against drug dealers and crackdown on corruption among bureaucrats and police forces are still widely supported by Philippine citizens. But the extrajudicial killings, which so far have claimed around 8,000 lives, have begun to draw criticism from the Catholic Church, civil society groups and Western governments. His political opponents have seized upon the condemnations, along with his threats to impose martial law, to try to mobilize the public against his young administration.
Duterte's attempt to overhaul Manila's foreign policy is not going much more smoothly. The president's efforts to spearhead a detente with China while pulling back from close ties with the United States have been undermined by Beijing's creeping maritime claims and Duterte's own conflicting statements. This has raised accusations that Duterte is compromising the country's sovereignty for economic gain and put the president somewhat at odds with the country's military and foreign policy establishment, including, at times, his hand-picked leaders of the Defense and Foreign ministries.
For now, at least, the consternation building against Duterte is not enough to hamstring him. His overwhelming popularity, control of Congress and support among the Philippines' biggest political power brokers will enable him to fend off any threats to his rule, including a recent impeachment bid submitted by a member of the opposition. Moreover, despite the occasional rumor of a coup in the making, the military for the most part still supports the president — and is far too fragmented to take action against him without broad, grassroots push for his removal. Nevertheless, as a political outsider who is still working to consolidate power across the fractured country, Duterte will have to take care to ensure that his populist theatrics and devil-may-care diplomacy do more to advance his contentious policies than stall them.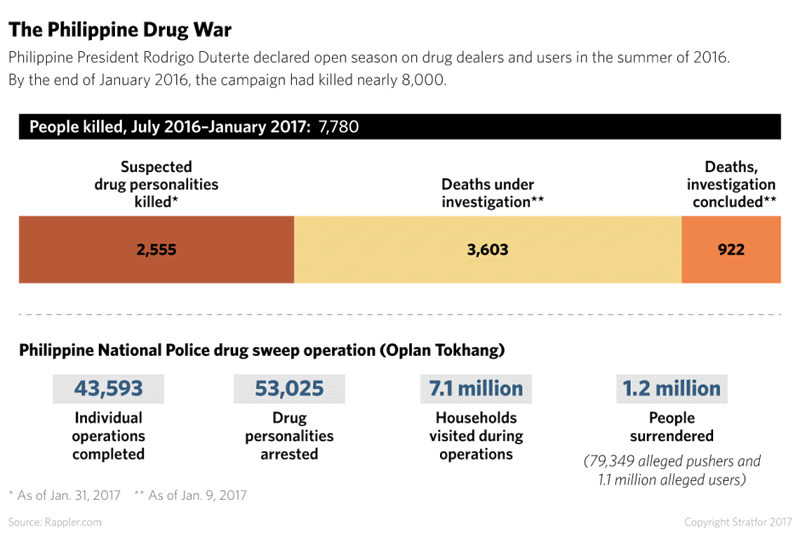 Befriending a Regional Rival
Though Duterte's ruthless counternarcotics campaign continues to earn him points with the public, his foreign policy tactics have begun to backfire. On March 8, Philippine Defense Secretary Delfin Lorenzana revealed that Chinese survey vessels repeatedly engaged in unauthorized activities near the Benham Rise last year. Located just east of Luzon — beyond the territories traditionally disputed between China and the Philippines — the area is believed to be rich in mineral and natural gas deposits. And though a U.N. commission confirmed that Benham Rise is part of the Philippines' extended continental shelf in 2012, effectively giving Manila exclusive rights to exploit hydrocarbon and mineral resources on the underwater plateau, the revelation has raised concerns that Beijing may not honor the ruling much longer.
Duterte's subsequent claim that Manila had permitted the vessels' research — a direct contradiction of the statements made by his defense and foreign affairs officials — only increased the public's misgivings. To make matters worse, a local Chinese official then suggested that Beijing plans to build a monitoring station on the Scarborough Shoal, the submerged rock that once lay at the heart of Manila's maritime dispute with its northwestern neighbor. (Ironically, the flashpoint shoal had become a symbol of the Sino-Philippine reconciliation in recent months as the two countries agreed to joint fishing and patrol mechanisms in the waters around it.) Though the Chinese Foreign Ministry denied the validity of the remark a few days later, it did little to ease the anxiety spreading throughout the Philippines.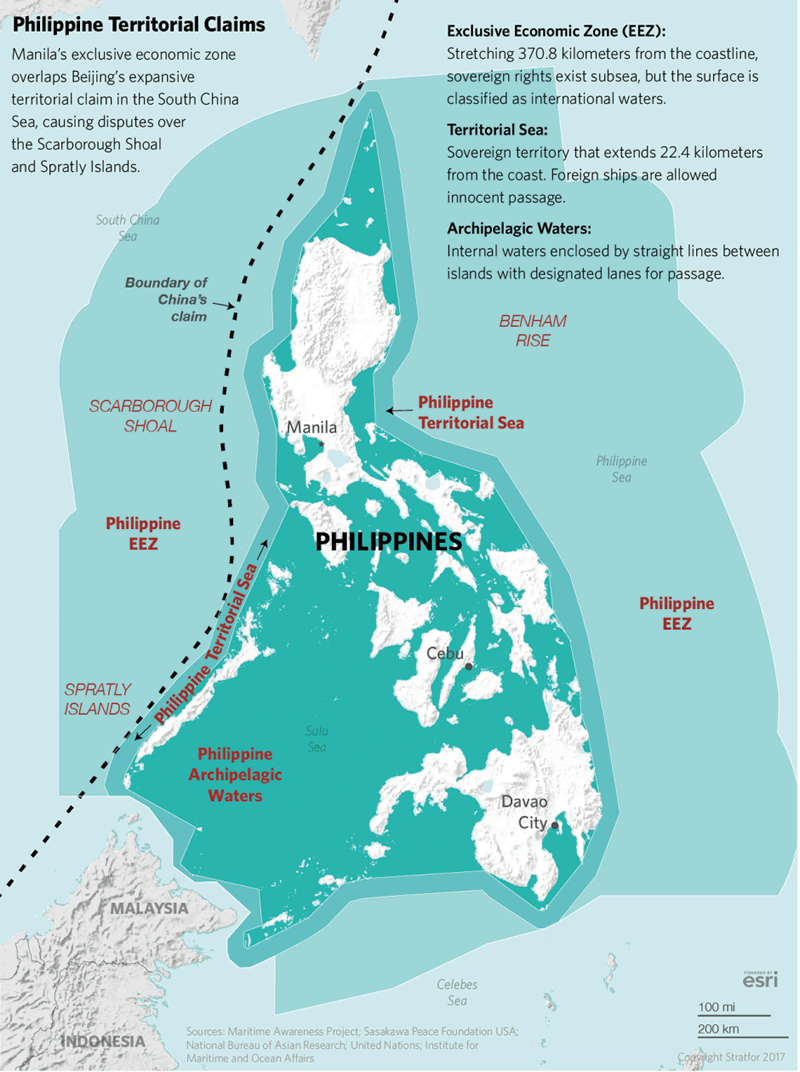 In some ways, China's interest in stepping up its underwater surveying in the Pacific Ocean is not a surprise. Nor is its longer-term goal of someday building up its infrastructure at the Scarborough Shoal. As Beijing works to tighten its grip on the South China Sea, expanding its presence in the waters beyond would be the next logical step. After all, a navy more capable of operating far from home requires familiarity with the deep-sea environment, particularly for surface and undersea operations.
Nevertheless, China's moves around the Scarborough Shoal could greatly undermine the joint mechanisms it has in place with the Philippines, as well as Manila's broader reorientation toward Beijing. Though its research missions near the Benham Rise do not necessarily violate the U.N. Convention on the Law of the Sea, they did revive Philippine fears surrounding the country's unresolved maritime disputes with China — and frustration with Duterte's stance toward them, which many Philippine citizens believe is too weak.
Neither China nor Duterte appears willing to jeopardize the momentum behind their warming of ties. Both have repeatedly tried to downplay the recent string of controversies while working to boost their economic and defense relationships. And from China's perspective, Manila's reorientation has brought several strategic advantages in its pursuit of an evolving South China Sea policy and other regional imperatives. But despite Beijing's best efforts to remedy the situation — and Duterte's subsequent decision to bolster the Philippines' naval presence around the Benham Rise — they have not been enough to quell the backlash against the president's erratic rhetoric or dispel his image as a leader soft on China. Having shown no intention of backing down from his rebalancing act, Duterte will likely only encounter more obstacles ahead as rising nationalism, a persistent risk of maritime skirmishes, and constitutional restrictions stand in the way of closer relations with Beijing.
A High-Stakes Gamble
At first Duterte's unorthodox approach to diplomacy seemed to have paid off, particularly as the rise of a new administration in the White House called into question Washington's Asia-Pacific policy. The Philippine president's newfound friendship with China has already yielded a multibillion-dollar economic deal that includes much-needed infrastructure investment, aid and trade pacts. At the same time, he has boosted the Philippines' economic and defense ties with Japan and Russia, all while maintaining the protection and power that an alliance with the United States provides. But as the latest incidents have shown, Duterte's success is by no means certain to last forever.
Striking a delicate balance between great powers such as the United States and China requires room to maneuver and a high tolerance for risk. After all, the economic benefits of deals reached with Beijing will take years to materialize, and there is no guarantee that they will fulfill Duterte's promise to deliver sustained and equitable growth to the Philippine economy. Unlike in his more popular drug war, moreover, Duterte will not be able to count on the public's backing to shield his foreign policy initiatives from military, legislative or judicial scrutiny — particularly if he is perceived to be trading Philippine sovereignty for Chinese trains and trade. Already wary of Duterte's determination to cooperate with China, the Philippine defense establishment and population have grown all the more suspicious of Beijing's incursions into previously untouched waters.
And so, Duterte's options are gradually narrowing. Manila understands that it cannot check China's unrelenting ambitions in the Pacific or rely on Beijing's goodwill to preserve its maritime claims, just as it cannot afford to alienate Washington to the point of breaking its alliance with the United States. But the president's choices will be constrained by public sentiment and powerful stakeholders across the political spectrum. And if his popularity starts to notably decline, the most ambitious items on his agenda will be put in jeopardy.
A Familiar Conundrum
To some extent, Duterte's predicament reflects the Philippines' larger geopolitical dilemma. Burdened by a weak state, the island nation has struggled to maintain its unity, protect its territorial integrity and guard against external threats. Yet, located at the heart of the Pacific Rim — and the center of the South China Sea dispute — Manila has long sought to leverage its geographic advantages for domestic gain. Duterte's administration is no exception, and it has tried to capitalize on its position to boost the Philippine economy, upgrade the nation's dilapidated infrastructure, quash the many insurgencies along the country's regional and religious divides, and secure critical sea lanes and maritime buffer zones.
Compared with many of its mainland neighbors such as Cambodia, Thailand and, to a lesser extent, Vietnam, the Philippines has a competitive edge, even if it is largely untapped. Its young population and easy access to maritime trade routes have vastly improved its prospects for economic growth, in spite of its persistent problems with unemployment, deteriorating infrastructure and weak governance. But the Philippines' fractured landscape and demographic rifts have also revealed weaknesses that foreign actors can easily exploit. In fact, as China asserts itself in Southeast Asia, as Japan slowly remilitarizes, and as the United States' security guarantees remain clouded by uncertainty, the Philippines — more than any other Southeast Asian state — is poised to bear the consequences of rising tensions in the region.
With challenges to the Philippines' diplomatic reorientation mounting, so, too, will the threats to Duterte's position in power. This will not stop the president from trying to advance the more controversial items on his agenda, such as introducing a federal system of governance and pursuing peace deals with the country's Communist and Muslim Moro rebels. But it will certainly make them harder to achieve — and the cohesion of Duterte's ruling coalition more difficult to protect.
"In the Philippines, 'The Punisher' Takes a Beating is republished with permission of Stratfor."
This analysis was just a fraction of what our Members enjoy, Click Here to start your Free Membership Trial Today! "This report is republished with permission of STRATFOR"
© Copyright 2017 Stratfor. All rights reserved
Disclaimer: The above is a matter of opinion provided for general information purposes only. Information and analysis above are derived from sources and utilising methods believed to be reliable, but we cannot accept responsibility for any losses you may incur as a result of this analysis.
© 2005-2019 http://www.MarketOracle.co.uk - The Market Oracle is a FREE Daily Financial Markets Analysis & Forecasting online publication.

Only logged in users are allowed to post comments.
Register/ Log in