Soaring Global Demand for Lithium Presents Triple-Digit Profit Scenario
Commodities
/
Lithium
Jul 11, 2017 - 01:38 PM GMT

Historic Shift in Energy Markets – Combined with Little-Known Company's High-Grade Lithium Projects – Offers High Upside Profit Potential
The lithium revolution has arrived.
Thanks to an explosion in demand for electric vehicles, lithium prices have skyrocketed – more than tripling since 2015.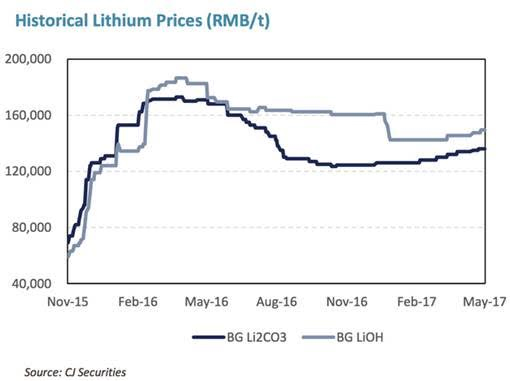 That's because worldwide demand for lithium – the silvery-white metal dubbed "The New Gasoline" by Goldman Sachs – is projected to continue rising by as much as 16% per year over the next ten years!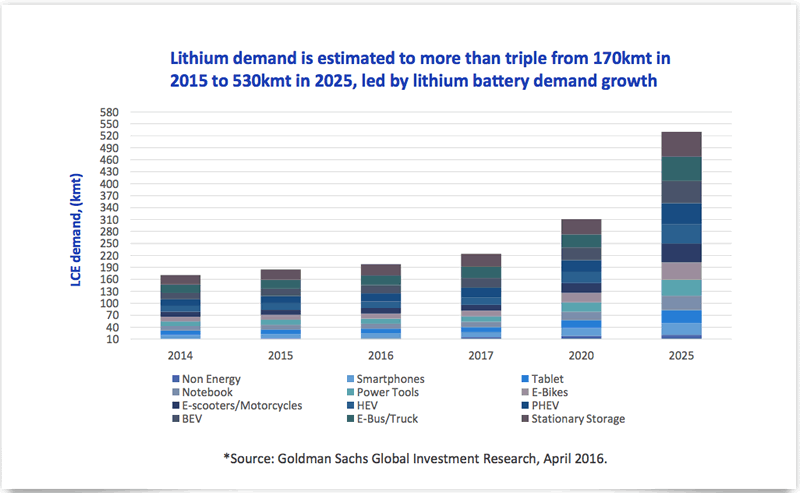 Governments all over the world are pushing hard for an increase in the number of electric vehicles – and that has fueled the continued rise in lithium prices.
"Projections of skyrocketing demand for the metal have sent prices soaring by thousands"
— Financial Post
The tripling we've seen in lithium prices since 2015 has come before the huge lithium "gigafactories" began operation.
Tesla has already opened their gigafactory in Nevada – and the company is planning on opening as many as 11 more gigafactories in the months ahead…
And each one of those "gigafactories" will require a significant amount of lithium in order to sustain production.
But there's another side to this story that virtually ensures higher lithium prices over the next several years:
Lithium supply is right now considerably behind global demand.
"Electric Car Demand Sparks Lithium Supply Demand"
— Financial Times
According to the Economist magazine, "Companies are scrambling for supplies of lithium" to meet the ever-growing demand for electric vehicle batteries:
Governments all over the world see electric vehicles — and the lithium that fuels them — as the key to a carbon-free future that will slow the pace of climate change.
For every 1% uptake in electric vehicle use, the increase in battery demand will require 70,000 tons of lithium production per year.
That's means the equivalent of five new mines will need to be brought online for every 1% increase in electric vehicle usage.
But a 1% increase in electric vehicle usage is just a fraction of expected demand – with Germany, Norway and other nations announcing plans to ensure that all new cars sold there are emissions-free by 2030.
In fact, by 2030, analysts predict that more than 50% of all new vehicles sold will be electric cars.
All of this adds up to mean that more supply needs to be brought online – and quickly – to meet this growing demand!
Soaring Demand…Limited Supply…and a
Once-in-a-Generation Profit Opportunity
This extreme imbalance – with soaring demand yet limited supply – has created an opportunity for lithium mining companies to grow at a staggering pace…if they are able to bring a new supply of lithium to market.
For early investors in "junior" lithium exploration companies that can help feed the world's growing demand…a potential once-in-a-generation profit windfall could await.
One promising company – Millennial Lithium Corp. (TSX: ML ; OTC: MLNLF) – presents an attractive investment opportunity due to its large pipeline of lithium projects located in a lithium-rich region known as "The Lithium Triangle."
The company's projects cover 35,000 hectares strategically located near existing major producers in Argentina.
And just recently – on June 27 – the company reported positive analytical results from drilling on its Pastos Grandes Project in Salta, Argentina.
The results announced confirmed a high grade of lithium beneath the surface…much higher than had been encountered in previous drilling.
This news – combined with future drilling results – could mean that "little-known" Millennial Lithium Corp. (TSX: ML ; OTC: MLNLF) may soon see a sharp rise in share price as the market becomes aware of the company's outstanding lithium potential.
Lithium Grades 500% Higher Than in Nevada
South America's "Lithium Triangle" is a vast area straddling Argentina, Chile and Bolivia…and it's where more than half of the world's identified lithium resources are located.
In fact, Argentina has been called "The Saudi Arabia of Lithium" by Forbes because of its vast amount of lithium reserves.
But it's more than just the amount of lithium in the ground that makes property in the Lithium Triangle so attractive – it's also the grade.
Grades in the lithium triangle average 500% higher than in Nevada. This is why the region is home to several world-class lithium mines, which are the most profitable in the industry.
And this is precisely where Millennial Lithium Corp. (TSX: ML ; OTC: MLNLF) has a pipeline of highly prospective lithium projects covering 35,000 hectares.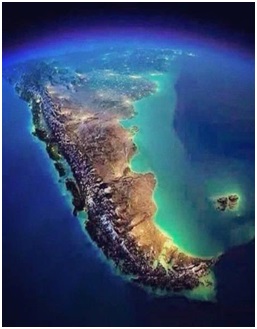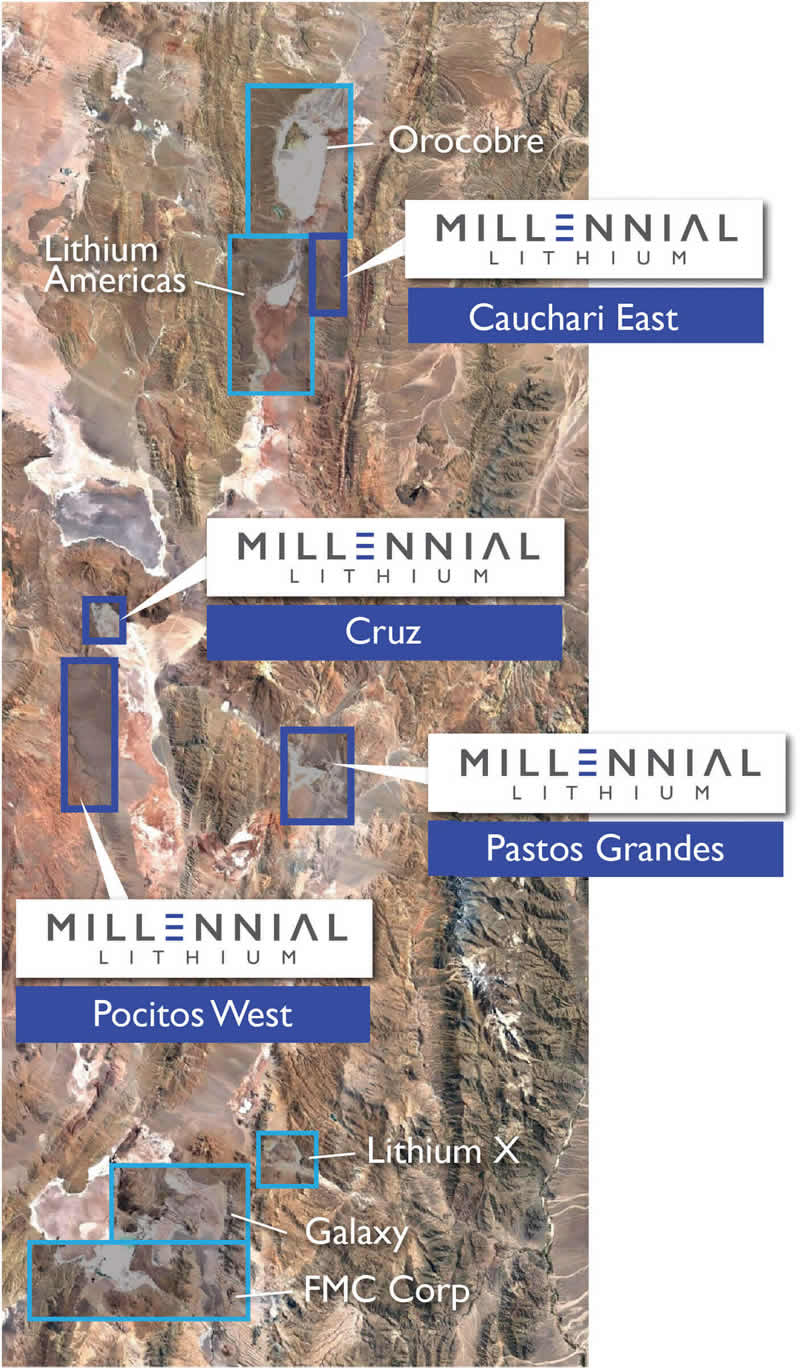 Argentina offers a regulatory environment where mining and investment is encouraged…and the country is home to two producing mines and a third in construction:
FMC Corp. – Hombre Muerto Salar (producing)
Orocobre Ltd. – Olaroz Salar (producing)
Lithium Americas/SQM – Cauchari Salar (producing 2020)
Four Projects Strategically Located in a Lithium-Rich Region
Millennial Lithium Corp. (TSX: ML ; OTC: MLNLF) has acquired four projects strategically located in Argentina covering 35,000 hectares:
Pastos Grandes – The company's flagship project is an advanced stage project that covers over 6,000 hectares of the Pastos Grandes Salar and which contains lithium brines ranging from 400 mg/l to 600 mg/l lithium. This region has some of the best infrastructure in the Lithium Triangle and is the project where the company recently announced very positive drilling results.
Cauchari East – This project covers 11,000 hectares in the Cauchari Salar, adjacent to and contiguous with both Lithium America's Cauchari Project and Orocobre's producing Orlaroz mine.
Cruz Project – The Cruz project covers over 2,500 hectares of the northern portion of the Pocitos Salar. The project lies 11 kilometers south of ADY Resource Ltd.'s lithium brine resource in the Salar del Rincon basin.
Pocitos West – The most recently acquired property, Pocitos West covers 15,857 hectares and is 60 kilometers long.
Why Millennial Lithium Corp. (TSX: ML ; OTC: MLNLF) Could Quickly Become the Next 145% Winner
Investors in some of the world's most well-known lithium companies have already seen a profit windfall. For example…
Albemarle Corp. (NYSE:ALB) has soared 145.29% since September 2015 ALB was at $42.59 on 9/1/15 and closed at $104.47 on 6/27/17
Orocobre (ORL.TO) has seen its shares spike 138.78% over the last 20 months ORL.TO was at $1.47 on 11/1/15 and closed at $3.51 on 6/27/17
FMC Corp. (NYSE:FMC) has shot up 124% since September 2015 FMC was at $33.04 on 9/1/15 and closed at $74.01 on 6/27/17
And right now Millennial Lithium (TSX: ML ; OTC: MLNLF) stands poised to be the next potential 145% winner.
Long-term investors who are looking to take advantage of the extraordinary supply-demand scenario now unfolding for lithium should consider adding shares of Millennial Lithium (TSX: ML ; OTC: MLNLF) as soon as possible.
Experienced Management Team is Ready to Deliver Results
One of the most important factors in evaluating any exploration company is the quality of its management.
In the case of Millennial Lithium (TSX: ML ; OTC: MLNLF), the company is led by an experienced technical team that has achieved worldwide fame for their impressive track record.
This is a world-class group of exploration professionals who possess the crucial technical skills needed to quickly move the company to the next level.
Farhad Abasov, MBA – CEO / Director
Mr. Abasov has over 15 years of experience founding and managing natural resource companies. Mr. Abasov founded and managed a number of mining assets with successful exits in the last few years.
President & CEO of Allana Potash sold to Israel Chemicals Ltd. for $170M (2015)
Executive Chairman of Rodinia Lithium, developing lithium brine projects in Argentina (2016)
Co-founder of Potash One acquired by German potash company K+S for $430M (2010)
Senior Vice President, Strategy at Energy Metals acquired by Uranium One for $1.8B (2007)
Iain Scarr, MBA BSc. Geology – COO / Vice President—Development & Exploration
With over four decades of lithium mining experience, Mr. Scarr has an accomplished track record for advancing lithium deposits toward commercialization. Mr. Scarr has a wealth of experience in lithium brine development and operations.
Worked at Rio Tinto, industrial minerals including lithium resource development in Serbia (1979-2009)
Led feasibility work at Sal de Vida lithium brine project (Galaxy Resources, Argentina),
Completed the Rincon lithium brine project feasibility study (Enirgi, Argentina).
Iain is a resident of Salta and has established b relationships in Argentina
Dr. Vijay Mehta, Ph.D – Advisory Board
Dr. Mehta brings Millennial 45 years of R&D and manufacturing experience in ore and brine based technology for the recovery of lithium, potash, magnesium and boron, Dr. Mehta has expert insight on lithium process technologies for the development of Li2CO3, LiOH and more than 20 other lithium products.
This is Your Opportunity to Bring Home Maximum Returns from the Explosion in Demand for Lithium
Millennial Lithium Corp. (TSX: ML ; OTC: MLNLF) is an up-and-coming lithium exploration company that combines four critical elements:
The Right Time – Lithium is in the early stages of a red-hot bull market – and demand is projected to continue soaring in the years ahead. This makes bringing new supplies of lithium online both critical and potentially highly lucrative…and that's precisely what this company is now working hard to do.
The Right Place – Millennial Lithium Corp's properties in the heart of the "Lithium Triangle" offer an opportunity to invest in a "high-grade" region where more than half of the world's lithium resources are found.
The Right Prospects – With a pipeline of projects covering 35,000 hectares – and lithium production nearby – Millennial Lithium Corp's projects have outstanding potential. And early drilling results have been even better-than-anticipated!
The Right People – The company is led by a world class technical team and supported by a team of industry professionals with b political and business relationships within Argentina.
Investors looking to take advantage of soaring worldwide demand for lithium would be wise to investigate the potential for Millennial Lithium Corp. (TSX: ML ; OTC: MLNLF) as soon as possible.
With a number of projects moving forward quickly – and favorable early drilling results – this "little-known" exploration company may not remain undiscovered for long.
5 Reasons Investors Should Consider Adding Shares of Millennial Lithium Corp. (TSX: ML ; OTC: MLNLF) Right Away
1.

Millennial Lithium Corp. (TSX: ML ; OTC: MLNLF)

is right now the best way to invest in soaring global demand for lithium thanks to the worldwide shift toward electric vehicles. Lithium prices have skyrocketed recently – more than tripling since 2015.

2.

Millennial's prima

ry property in the Argentinian province of Salta is located within the famed Lithium Triangle. The Lithium Triangle is home to more than half of the world's lithium resources with extremely high-grade lithium deposits.

3.

Just recently – on June 27 – the company reported positive analytical results from drilling on its Pastos Grandes Project. The results announced confirmed a high grade of lithium beneath the surface…much higher than had been encountered in previous drilling.

4.

Lithium stocks have already delivered triple-digit profits to investors over the past several months – with gains of 138%, 145% and 124% already seen.

Millennial Lithium Corp. (TSX: ML ; OTC: MLNLF)

offers investors a chance to get in early on what could be the next triple-digit winner.

5.

Millennial Lithium Corp. (TSX: ML ; OTC: MLNLF)

is led by an experienced technical team with a proven track record for taking exploration companies to the next level. This expert guidance is one of the most critical factors in the success of any exploration play.
Disclaimer:
This release/advertorial is a commercial advertisement and is for general information purposes only. This is a Native Advertisement, meaning it is an informational paid marketing piece. Wallstreetnation.com makes no recommendation that the securities of the companies profiled or discussed on this website should be purchased, sold or held by viewers that learn of the profiled companies through our website. Please review all investment decisions with a licensed investment advisor. This Advertorial was paid for a third party, Winning Media LLC in an effort to enhance public awareness of Millennial Lithium Corp. and its securities. Winning Media has or expects to receive seventy five thousand dollars by the issuer, Millennial Lithium Corp. for this advertising effort. Neither WallStreetNation nor Winning Media currently holds the securities of Millennial Lithium Corp. and does not currently intend to purchase such securities. This Advertorial contains forward-looking statements that involve risks and uncertainties. This Advertorial contains or incorporates by reference forward-looking statements, including certain information with respect to plans and strategies of the featured Company. As such, any statements contained herein or incorporated herein by reference that are not statements of historical fact may be deemed to be forward-looking statements. Without limiting the foregoing, the words "believe(s)" "anticipate(s)", "plan(s)" "expect(s)" "project(s)" "will" "make" "told" and similar expressions are intended to identify forward-looking statements. There are a number of important factors that could cau se actual events or actual results of the Company to differ materially from these indicated by such forward-looking statements. Certain statements contained herein constitute forward-looking statements within the meaning of Section 27A of the Securities Act of 1933 and 21E of the Exchange Act of 1934. Such statements include, without limitation, statements regarding business, financing, business trends, future operating revenues and expenses. There can be no assurance that such expectations will prove to be correct. Investors are cautioned that any forward-looking statements made by the Company, or contained in this advertorial are not guarantees of future performance, and that the Issuer's actual results may differ materially from those set forth in the forward-looking statements. Difference in results can be caused by various factors including, but not limited to, the Company's ability to be able to successfully complete planned funding agreements, to successfully market its products in competitive industries or to effectively implement its business plan or strategies. To reiterate, information presented in this advertorial contains "forward-looking statements". Any statements that express or involve discussions with respect to predictions, expectations, beliefs, plans, projections, objectives, goals, assumptions, or future events or performance are not statements of historical fact and may be "forward-looking statements." Forward-looking statements are based on expectations, estimates, and projections at the time the statements are made that involve a number of risks and uncertainties which could cause actual results or events to differ materially from those presently anticipated. Forward-looking statements in this advertorial may be identified through the use of words such as "expects," "will," "anticipates," "estimates," "believes," "may," or by statements indicating certain actions "may," "could," or "might" occur. More information on the Company may be found at
www.sec.gov
readers can review all public filings by the Company at the SEC's EDGAR page. Wallstreetnation.com is not a certified financial analyst or licensed in the securities industry in any manner. The information in this Advertorial is subjective opinion and may not be complete, accurate or current and was paid for, so this could create a conflict of interest.
© 2005-2018 http://www.MarketOracle.co.uk - The Market Oracle is a FREE Daily Financial Markets Analysis & Forecasting online publication.

Only logged in users are allowed to post comments.
Register/ Log in