Industry Trends: Online Casinos & Online Slots Game Market Analysis
Companies
/
Gambling
Mar 24, 2020 - 05:12 PM GMT

Online gambling has been steadily climbing in market capitalization since the early 2000s – breaching $60 billion in 2019. Along with mobile games and social apps, it's one of the fastest-growing markets in the world. Online gambling didn't have many regulatory barriers in its way, which is one of the reasons why it quickly gained traction over the past decades.
Most online casinos merge table games, slots, sports betting, and other forms of gambling – making it difficult to separate individual niches under the iGaming umbrella. Recent lift of US federal ban on Sports Betting has opened tens of billions in potential revenue, creating an incentive for online casinos to expand into the newly opened niche.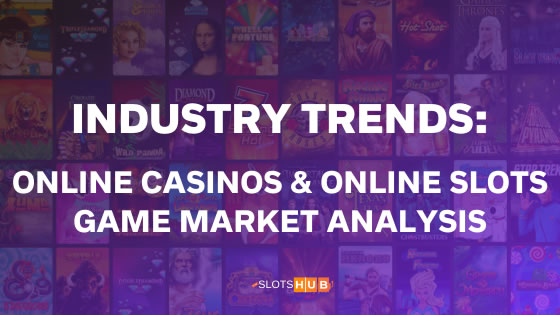 However, 2020s aren't looking as hot for the industry. Gambling has traditionally been the financial whipping boy of Western governments, and taxmen are salivating over its newfound digital success. iGaming might be the canary in the coalmine for a new wave of digital regulations – creating a precedent for the entire online economy to follow shortly.
Let's take a look at the data before making the case.
Market Overview: Online Casinos & Online Slots Game
The online gambling market is projected to reach $102.96 billion by 2025. More than 1.6 billion people globally are engaged in gambling on the regular, and each year a larger percentage of them do so online (~30% currently). Moreover, Social Casino applications are on the rise. While nominally not considered gambling, they offer casino experiences via virtual currencies purchased for real money. That market alone is valued at over $7 billion.
No install and sign up games have conquered the free slots segment of iPhones, iPads, and Tablets in the United Kingdom, Australia, Canada and even New Zealand. South Africa also gambles quite a bit. They take the free slots no download no registration with instant play option with bonus games to play just for fun.
Discussing the global situation, online casinos have less overhead costs, so their yield generally tends to be more favorable. It is clearly seen via Gross Gambling Yield growth which is casino profits after payouts for tax purposes.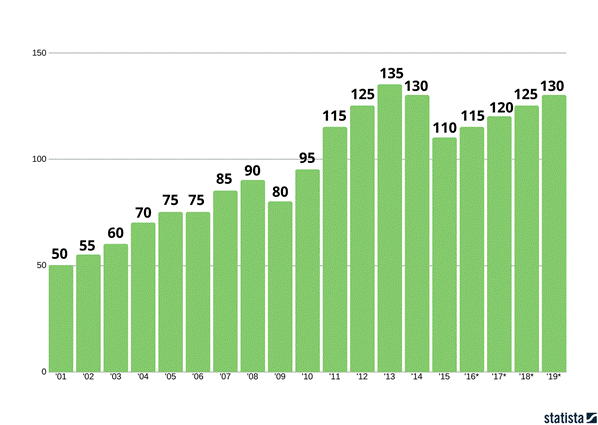 As the financial figures climb up, so do the incentives for governments to intervene. It means increased taxes for Remote Gaming, regional website blocks like in Australia and Canada, or several other restrictions. The United Kingdom, in particular, has introduced a multitude of iGaming regulations since 2017. As the financial situation in the country worsened, gambling regulations increased – this could become a global trend if the global economy takes a plunge.
Using «vice industries» like gambling, alcohol, tobacco, and others for a financial boost during economic downturns is nothing new. What changed today is the global nature of iGaming and the ease of moving website servers to more lenient countries – a practice that's becoming less reliable as internet regulation tightens around the globe.
For a more detailed analysis, let's turn to specific countries and look at their financial figures as well as recent regulatory trends:
Australia traditionally tops the charts with the highest percentage of the population engaging in gambling. Over 80% of Australians gamble. The most popular activities are lotteries, scratch cards, and pokie slots. Aussie total gambling spending amounts to just over $16 billion a year, a significant amount of which is done online. Problem gambling is cited as the main reason for a recent credit card ban from one of the largest Australian banks – Macquarie.
This event led to the entire banking industry, considering a broader ban on debt-based gambling. At the same time, the Australian Communications and Media authority engage in country-wide domain blocking schemes to restrict illegal online gambling. Moreover, the government is contemplating new anti-money laundering policies for the new decade.
Added taxes were imposed on the Online Betting industry in 2018. Gambling in Australia already brings over $6 billion in tax revenue annually, so the government has a direct incentive in blocking offshore gambling sites in favor of local pokie machines.
New Zealand, similarly to Australians, often engage in betting on Races and pokie play. 41.3% of Kiwis regularly gamble, over 85% tried it at least once. Remote interactive gambling, as well as its advertising, are prohibited in New Zealand – making it yet another country where such activities are done in a legally grey area of overseas registered companies.
Lottery Tax Act has traditionally been a major source of revenue for the New Zealand government – it's not restricted to lotteries, unlike the name might suggest. The act taxes all gaming providers. Its rate was raised to 12% in 2012, and at the moment, the NZ government is looking for new ways to impose restrictions on offshore gambling in particular.
New casino website regulations and restrictions are widely debated, aiming to stop citizens from pouring money into overseas accounts. IGaming will likely come out of its legal grey zone within this decade.
Canada grows gambling industry at roughly 5% annually. Thirty million Canadians regularly engage in these activities, with the total industry revenue at just over $14 billion. Most gambling is done at venues in Quebec and Ontario. Canadians prefer to engage in table games such as poker, with sports betting coming at a close second.
Most online gambling companies that operate in Canada are based abroad – this is a result of confusing corporate regulations. They're technically not allowed to work within the borders of the country, but such laws are rarely enforced. Website domain bans are the only type of retaliation that the Canadian government engages in.
This status quo is unlikely to last – online gambling isn't going to stay in the legislative grey area for long. Whether the government uses it to bring additional tax revenue or brings down the hammer on overseas casinos remains to be seen.
Gambling in South Africa has been steadily climbing up since 2016, growing at rates from 3 to 11% annually. Gross gambling revenue is at RS 32 billion, roughly $2.5 billion. Unlike other countries, Bingo is the fastest-growing category here, betting coming at a close second. Online casinos aren't legal in South Africa – most providers operate outside the country.
Some online betting sites are exceptions to this rule, possessing licenses from the South African government. Gambling taxes and levies are projected to expand by 5% between now and 2021. Overall, the same gambling trends can be observed here as anywhere else – iGaming is getting regulatory attention as its market share grows within the country's borders.
So while the industry is continuing its growth, it'll keep attracting attention to itself, much like other digital activities. Ahead of mobile games, video games, and social media – iGaming is likely to be the testing ground of financial and regulatory policies for online industries.
Casino Market Analysis
Online casinos offer a wide variety of gambling options. Unlike their physical counterparts, they don't require to install multiple licenses, machines, or betting terminals for this functionality. It's done by connecting third-party software to an existing website or platform. It means that the costs of launching an online casino are lower, making it possible to offer higher RTP (return-to-player) for gamblers on different activities.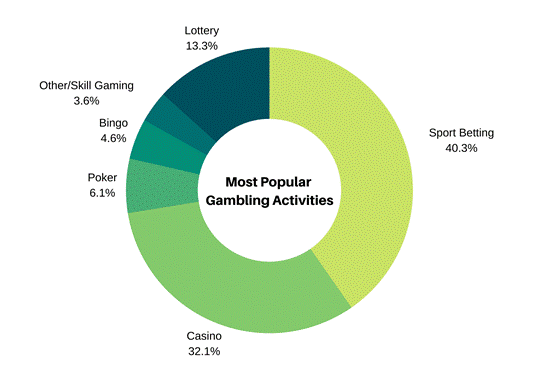 The chart above shows the relative popularity of iGaming activities. Casino game popularity is especially worth noting – these include everything from roulette to slot machines. Online casino gambling grows at an annual rate of 8,7%, which puts it just slightly behind Gaming (10-12% depending on the estimate).
What's interesting is the overlap between casino applications and games on the mobile market. Major iGaming corporations such as Aristocrat Leisure also own mobile game studios and create casual games such as RPGs, Match 3, puzzles, and other genres. They also create Social Casino applications that allow virtual betting without real money options.
Mobile games account for up to 50% of revenue for some of these companies. While strictly not classified as gambling activities, they tend to have design similarities to casino games with random rewards and engagement mechanics. It is part of a more significant trend – matching of online table games, betting, eSports, and casual mobile applications.
Online casinos are offering more activities as software becomes streamlined and easily available. It is gamification gambling and making it more engaging and interactive. However, it also carries the risk of wagering expanding into industries that were traditionally free of such practices – videogames, mobile applications, and so on.
This kind of expansion can be shown in better detail on the Slot Games market.
Slot Games Market Analysis
Slot games are online versions of traditional one-armed bandits and fruit machines. Players make a wager, spin the reels, and get a random result that may or may not result in a win. What's different about online slots is the ease of installation – they don't require a physical machine and can be integrated into a website with a piece of code. Their development is relatively cheap, which is why major iGaming companies such as Microgaming and Playtech can launch 10+ slot games a year and install them on hundreds of casino websites.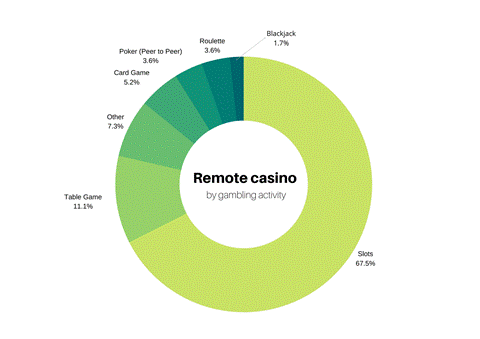 According to the chart above - slots account for almost 70% of all online casino activities, they also make up the bulk of casino Gross Gambling Yield. It means that players who do engage in slots spend and win/lose 3-5 times more than all other users. There are multiple reasons for this:
Free demos – online slots are purposefully developed in a way that gives users free unlimited virtual currency, letting them try the game before wagering money.
Ubiquitous advertising – ease of installation drove the rise of websites that host slot games and make money on Search Engine Optimization and affiliate links.
Casino Incentives – online casinos widely advertise Free Spins and bonuses on games from various providers, making them the «gateway drug» for casino activities.
Engagement – online slots borrowed a lot of practices from video games, along with arcade-like bonuses and incentives to keep playing for extended periods.
About 18% of players who try the online demo versions of slots end up signing up for online casino accounts. It is significant because it offers an alternative look for the social casino mobile games – even a «free to play» a mobile game that doesn't feature gambling whatsoever can feature slot machines and end up driving traffic to a casino.
It is why iGaming companies purchase licenses for popular properties – movies, bands, TV shows, and videogame characters. They develop slot machine games with the likeness of Lord of the Rings, Game of Thrones, Star Trek, Lara Croft, Guns and Roses, and other IPs.
Financially, this creates an interdependent market. Any changes in iGaming will also reflect on mobile games, digital technology investments, and even sports. While this market expansion is taking place, technology also offers new ways to engage online players – marrying gambling with social media and video game practices.
Now for a more in-depth look at major online casino providers.
Key online casino market players
It isn't a stock performance review, but citing figures makes sense to understand the overall trends within iGaming. It will be focusing on large European betting/gambling websites and applications, especially those operating in the UK since it's one of the most highly regulated economies. Therefore, it is a good example of what to expect in a legislation-heavy market.
Bet365 [Private company, no stock share graph provided]
This British company is particularly tied to betting in the Football industry, especially when it comes to team sponsorships and advertising. The UK has seen a lot of controversies regarding using the likeness of football players in gambling endorsements. Bet365 is one of the first gambling companies to start sponsoring teams and featuring gambling on their T-shirts.
Bet365 added 665 new employees in under three years and made £2.98 billion in revenue throughout 2019 alone.
This Swedish publicly-traded company was one of the first to establish iGaming in Europe. It uses subsidiaries in Malta for licensing and registration purposes. They own multiple casino websites such as Betsafe, Nordicbet, and Rizk. It's a good indicator of how iGaming technology (user cabinet) can be developed once and then white-labeled for dozens of brands across the web.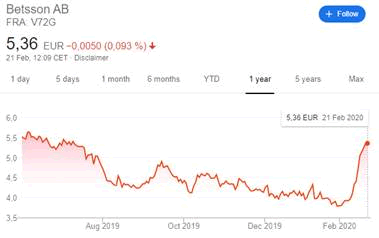 Betsson recently took an almost 10% plunge during 2019, with annual revenue at £103m. Despite that, the firm continues to acquire new intellectual properties and expands operations.
Originally a London-based bookmaking firm operating since 1934, William Hill moved into online casino activities during the early 2000s. Similarly to Bet 365, they're known for sponsoring Sports teams and using mobile apps to go after younger Millennial players. William Hill reported operating profits in the UK at £148 million for 2019.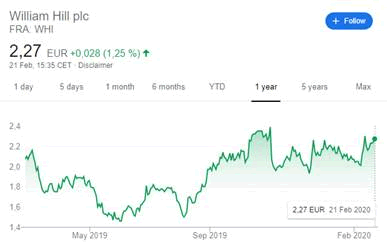 Their worldwide online casino business is expanding. After new betting terminal restrictions were introduced in the UK, William Hill had to focus more on iGaming in particular.
The fourth largest on this list is another Swedish company, coming at €88.2m in 2019 revenue. LeoVegas is mainly focused on mobile games – actively pursuing the slot game market described earlier in the article. They offer 700+ games from various technology providers.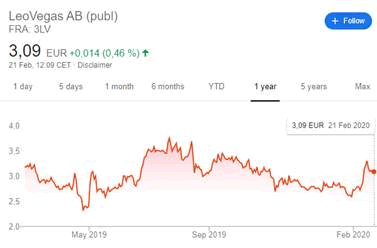 LeoVegas raised questions from legislators worldwide by engaging in large scale Facebook campaigns earlier in the last decade. They engage heavily in online affiliate marketing and digital advertising, creating financial ripples across the internet.
It is a virtual gambling corporation based in Gibraltar and traded on London Stock exchange. They have over 25 million registered users, with a particular focus on online poker tournaments as well as live table games. While the fears of Brexit drove their profit margin down, the firm recently applied for a Malta license to hedge their bets.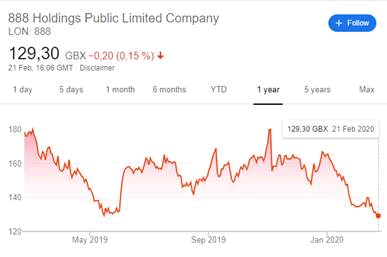 Reporting income at $94 million, 888 brands are unique in their global distributed nature. The firm employs just over 1,000 people – almost 10 times less than most others on this list.
Key free online slots market players
Online traffic driven to these casino websites is its economy. Hundreds of sites integrate free slot games and create content for gamblers to earn advertising and affiliate revenue. All these sites use Search Engine Optimization, advertising, and integrated slot games to drive traffic for featured affiliates.
Askgamblers. 670K monthly visits. Large casino affiliate website that hosts gambler reviews. The main selling point is a community of gamblers who share opinions on forums.
Slotsup. 510K monthly visits. Hosts 5,000 online slot games and focuses mostly on integrating free demos along with YouTube guides for slots.
Vegasslotsonline. 500K monthly visits. A slot review website that started as a hobbyist endeavor. Registered in Malta and hosts slot reviews for all major technology providers.
Slots.com. 140K monthly visits. Slot aggregator website turned cryptocurrency casino. Offers a library of slot games and anonymous play for online users.
Pokieslab.com 100k monthly visits. One of the top Australian websites on the topic, it offers pokies reviews and strategies for online play.
All these companies have a similar business model and build on their internet presence. They're global – with registrations either in offshore havens or online registries. This «side economy» rose as a consequence of iGaming and is set to spread further as online slots become more prevalent in developing countries such as India.
Online Slots Market Forecasts & Trends
Global economic trends and the iGaming role in them
Based on all the data presented above, trends in the Online Gambling Markets are pointing toward expansion anywhere between 6% and 9% annually. However, there's a caveat with regulation and the global economy at large. Any downturn in the global financial markets could result in the massive burden imposed on all digital industries – starting with iGaming.
The iGaming is a financial canary in the coal mine, and its rapid growth warrants attention – especially in countries where the practice is done as an offshore with legal grey zone statuses like in Australia, Canada, and South Africa. Even the US is considering online gambling restrictions on a federal level, which would result in a massive ripple effect.
As the UK experience showed with Brexit, economic instability in a country often brings new internet regulations. Since the public at large doesn't support gambling, it only makes sense for regulators to focus on it. While something like a credit card ban imposed on online gambling websites makes sense, it's a matter of time before similar technology is used to control other online industries that are more controversial.
Technology trends and iGaming
It is a shortlist of all the main developments within the market that drive its expansion and directly show overlap between iGaming and other emerging technology markets – such as video games, Software-as-a-Service, mobile applications, and others.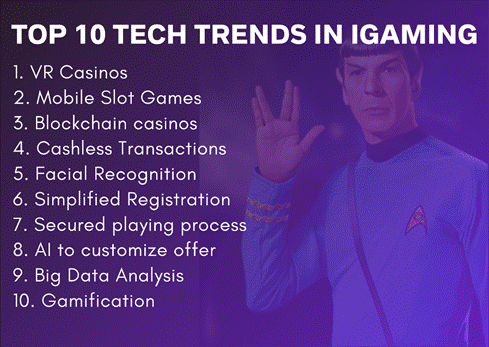 Ten most prominent tech trends within iGaming:
VR Casinos. Virtual Reality is big in video games, with Oculus Rift and Samsung Gear dominating the market. Online casinos are already developing games and applications to take advantage of this gaming trend.
Mobile slot games. Most major casino tech development companies also own mobile game studios. It means they can put out mobile slot games at a rate of 10+ titles a year.
Blockchain. Cryptocurrencies such as Bitcoin are only one application of this new technology. Smart Contracts and provably fair systems might be another feature of upcoming Blockchain casinos.
Cashless Transactions. While already a feature at any online casino website, options are continually expanding. As new payment systems are introduced into the economy, deposits and withdrawals become faster and easier.
Facial Recognition. Face scanning can be used to prove several things about any given casino player from identity to age and even scanning their expression during various experiences for further game development.
Simplified registration processes. Building on the previous point, registrations on casino websites usually take 24+ hours due to KYC requirements. It could be bypassed with new registration process technologies.
Security. As dedicated technology companies develop casino games, their security improves. Combined with Blockchain for payments and registrations, this could mean the end of hacking scandals.
Artificial Intelligence. It has numerous applications across all industries and on all levels – from development to daily use. For example, RTP (Return to Player) could become provably fair and even customizable due to AI.
Big Data Analysis. Player preferences and interests can be codified in ways that weren't available before. Big Data allows for personalized experiences geared towards specific demographics based on how they like to play.
Gamification. Another approach borrowed from video games, which rewards players for continual engagement. As they play, they receive rewards, levels, and special offers based on performance and length of stay on a website.
The iGaming is a highly innovative space due to its global nature and prevalence of disruptive technologies. Almost any new approach created within the digital space is tried and tested in this space – from online advertising to web application design, security, and so on.
It is an important market to look at to gauge the health of the digital economy at large. Whenever iGaming providers take a plunge or receive a new wave of regulations in any given country, it's only a matter of time before a similar effect can be seen in other online markets.
It's a testing ground for both technologies and regulations, rapidly evolving and changing based on many factors. The iGaming has both grassroots private websites and casinos with revenues in the billions – which makes it a perfect microcosm of digital economies of scale.
By Jessica Mason
© 2020 Copyright Jessica Mason - All Rights Reserved Disclaimer: The above is a matter of opinion provided for general information purposes only and is not intended as investment advice. Information and analysis above are derived from sources and utilising methods believed to be reliable, but we cannot accept responsibility for any losses you may incur as a result of this analysis. Individuals should consult with their personal financial advisors.
© 2005-2019 http://www.MarketOracle.co.uk - The Market Oracle is a FREE Daily Financial Markets Analysis & Forecasting online publication.

Only logged in users are allowed to post comments.
Register/ Log in