Barratt Smith Brown - How Britains' Debt Collectors Actually Operate, Treat Victims of Energy Firms
ConsumerWatch
/
Debt & Loans
Oct 12, 2022 - 09:45 AM GMT

Firms such as Barratt Smith and Brown are literally a law onto themselves, wracking up self imposed 'penalties' onto NONE EXISTENT DEBT! All courtesy of Administrators such as ENSORS ACCOUNTANTS. As this article illustrates how they play their milk the debt victim game which includes PREVENTING victims from being able to pay off 'debts' all whilst the so called Financial Ombudsman and Financial Conduct Authority sleep,
Firstly how does one cross paths with Debt Collecting outfit such as this if one has NO debt?
In step Britain's Energy companies that walked away from fixed rate tariff contracts, dumping their customers onto the regulator to parcel off onto the the likes of EDF resulting in huge hikes in tariffs. For instance I paid in advance above the market rate to fix my Gas tariff at 2.5p per kwh with Zog Energy who instead of honouring their contract took the money and ran, dumping their customers onto the regulator who ditched all onto EDF that hiked the tariff rate to 7.5p per kwh, three times the fixed rate! So triple the gas bill!
1st Dec.
Zog Energy Ltd has today announced it is ceasing to trade.
Zog Energy supplies around 11,700 domestic customers.
Under Ofgem's safety net, customers' energy supply will continue and funds that domestic customers have paid into their accounts will be protected, where they are in credit. Domestic customers will also be protected by the energy price cap when being switched to a new supplier.
Customers of Zog Energy will be contacted by their new supplier, which will be chosen by Ofgem.
Then in steps the paper pushing Insolvency company ENSORS ACCOUNTANTS LLP who clearly don't give a shit about what the firm they are administrating did to their retail customers. Who only have one remit which is to collect their pound of flesh from the corpse of the defunct Energy provider, so there is no leeway given to the public, they basically don't give a shit about ordinary people! Blindly focused on chasing every penny they can squeeze out of retail customers, In my case there was £52 owing to Zog, and so I PAID the balance owing LESS £30 which is what ZOG would have charged me if I had ended the contract early, instead ZOG expected to break their fixed rate contracts with customers without similarly incurring a £30 penalty which screams volume of the firm, the Administrators and whom they contracted to collect debts on their behalf.
So ENSORS ACCOUNTANTS instead of allowing for the fact that their client broke the contracts followed their blinkered script to the letter and turned out to be just as big a ass holes as Zog Energy were by passing balances on to a debt collection agency apparently without any vetting, so in step Barratt Smith Brown who sent the victims of Zog a letter late September requesting that the outstanding balance be paid which in my case was £30.
Knowing that Debt Collectors tend to operate like a bunch of baskets, I decided to make payment on the 3rd of October using their online payment service. However despite several attempts they failed to take payment, it was as though the online payments system was 'non functional' by design.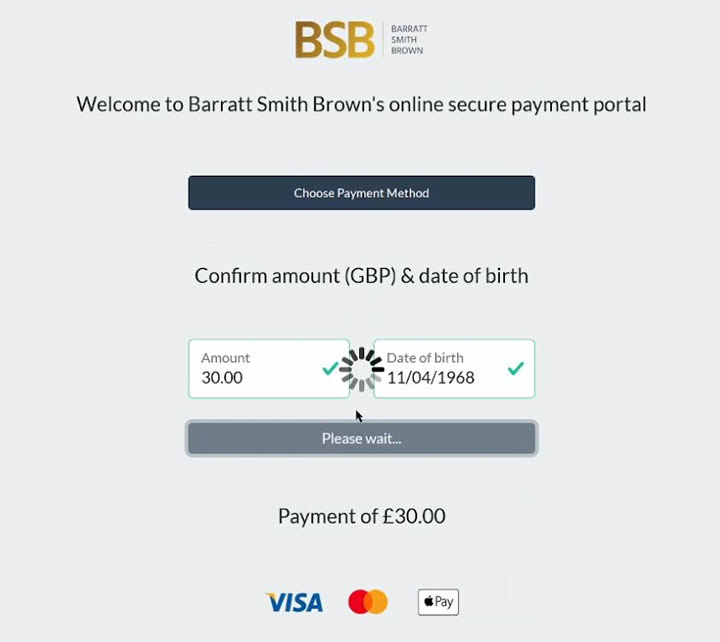 So some days later on the morning of 10th of October at about 2.30am I made payment of the 'none debt' via faster payments service (instant) direct into their bank account so as to pre-empt any nefarious activity that they likely had in the pipeline.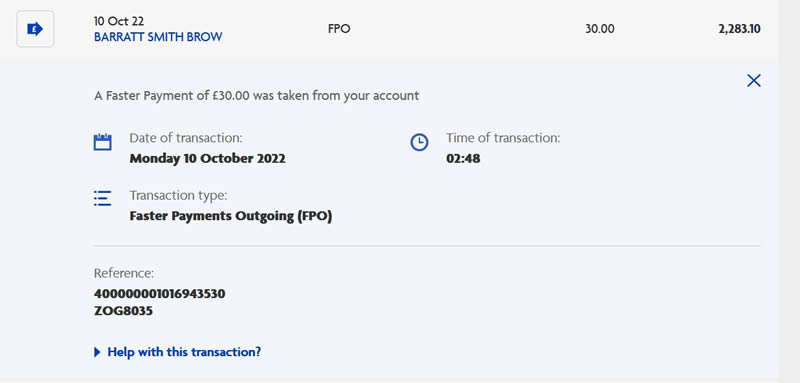 We'll what did Barratt Smith and Brown do on opening shop monday morning after checking their bank account and seeing Oh SHIT a victim just cleared their debt before they were able to rack up any charges on the account ! Quickly send the victim a text message that we are adding £50 to his balance anyway and pretend we don't know any thing about his payment.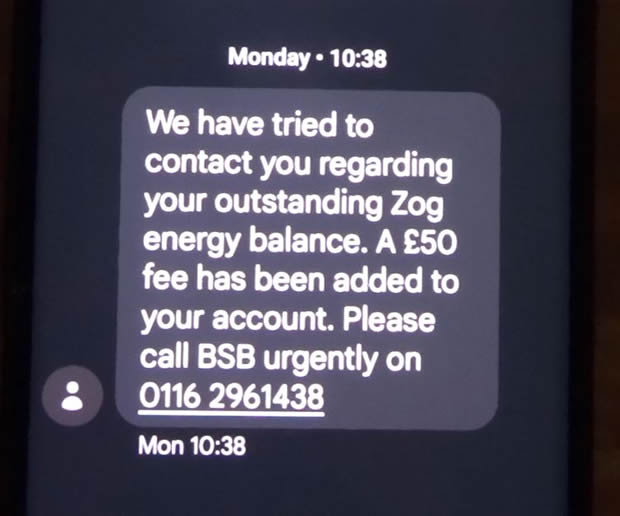 What's the word for such behaviour? extortion? What's the word I am looking for where a company is a law onto itself to add fees to victims accounts as soon as they realise that the victim has cleared the debt, even if the debt was in dispute as clearly there was no debt, those who operated ZOG ENERGY cashed in their chips and ran away from their fixed rate contracts with customers, who I suspect are planning to return under a different name to rinse and repeat which was the focus of my efforts but in step the Barratt Smith Brown outfit to demonstrate how Britain's Debt Collectors actually operate, like blood sucking vampires preying on victims of the likes of defaulting energy firms!
This also explains the failure of their online payments section to accept payments because apparently they do not want victims to PAY the DEBT until the victim has been milked through bolted on fees!
So who are Barratt Smith and Brown and why would they operate in such a manner that risks bringing down the wrath of the regulator and worse all of their victims banding together to reclaim falsely applied fees.
Companies house data is revealing, very revealing, in fact reveling to such an extent that I am surprised they are still in business!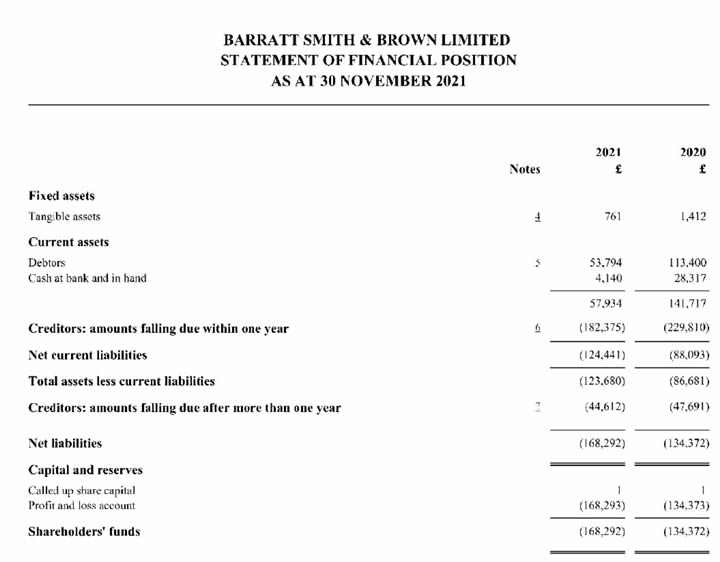 They began trading in 2016 since which time it appears the company has accrued a mountain of debt. Look at the liabilities! What the hell are they doing? That's not how one run's a sustainable business! The company is insolvent i.,e. total liabilities far exceed total assets. I am definitely glad not to be one of their creditors, how are they going to cover those liabilities, by adding bogus fee's onto victims of energy firms? ERIN!

This is how a company is supposed to be run, the exact mirror opposite of Barratt Smith Brown.

BSB Net assets minus 168k! Any accountant out there will know full well what that means. What kind of accountants are ENSORS? Didn't they vet who they contracted?
This explains their blaze attitude towards victims, why they block payments from going through on their website (videoed) why they add random amounts without any prior warning to victim balances as soon as the victim has cleared the outstanding balance it's because they themselves appear to be in worse financial shape than many of their victims! A 10 employee company with net worth of -168k is no joking matter!
It looks like these DEBT COLLECTORS will soon be getting paid a visit by DEBT COLLECTORS themselves!
So I am sat here eagerly awaiting visit from Barratt Smith and Browns Debt Collectors, despite there being NO debt, as I trawl through their social media accounts for images for my forthcoming series of videos on Britains Debt collectors and how they actually operate. Erin!
So what should you do if you are a victim of such practices by debt collectors such as by Barratt Smith and Brown?
Do not waste any precious time dealing with such outfits instead submit a complaint to the Financial Ombudsman ASAP so that they are held to the account for bad practices as illustrated above.
1. Send the debt collector a message detailing your complaint of how you have been wronged i.e. that they added a bogus fee to an account that had been cleared etc.
2. Submit a complaint to the Financial Ombudsman. https://www.financial-ombudsman.org.uk/consumers/how-to-complain/complain-financial-business
I will do a how to video in as part of a series of videos as this are held to account for their actions as will the successor to Zog Energy. This saga also begs the question why did ENSORS ACCOUNTANTS (Zog Administrators) contract BSB? One would have thought accountants would know how to read a companies accounts which speak volumes of how that company operates. Something that warrants a separate investigation.
By Nadeem Walayat
Copyright © 2005-2022 Marketoracle.co.uk (Market Oracle Ltd). All rights reserved.
Disclaimer: The above is a matter of opinion provided for general information purposes.
© 2005-2022 http://www.MarketOracle.co.uk - The Market Oracle is a FREE Daily Financial Markets Analysis & Forecasting online publication.

Only logged in users are allowed to post comments.
Register/ Log in