The INTEL Empire Strikes Back! 13th Gen Raptor Lake Beats AMD Ryzen 7000 CPUs
Companies
/
INTEL
Nov 15, 2022 - 10:27 PM GMT

Intel is BACK! RAPTOR LAKE!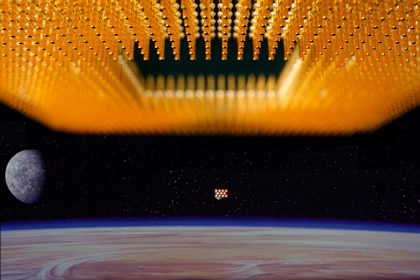 The benchmarks speak for themselves when one puts Intel's latest 13th Gen processors up against AMD's latest Ryzen 7000 then Intel either matches or even beats AMD as the cinebench R23 scores illustrate. Earlier in the year AMD had been crowing at having taken gaming crown from Intel with the 3800X3D , not anymore 13th gen edge out AMD's Ryzen 7000 so now it's a no brainier for gamers looking to upgrade to new systems where single core performance is paramount that Intel's higher clock speeds deliver over Ryzen 7000, of as much as 15% difference which is not marginal!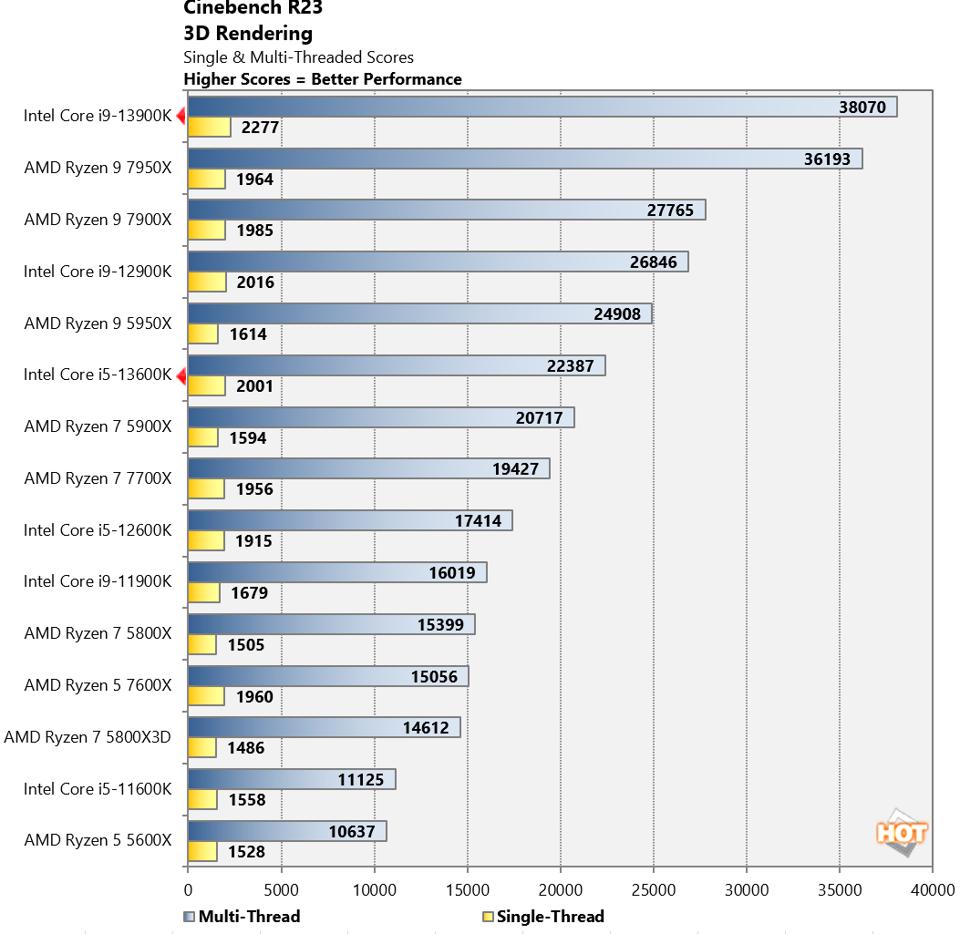 It's all about the P & E Cores
Intel's new Performance and Efficiency core architecture (that's copying Apple M1 processors) so as to limit power draw and thus thermal throttling which is what had crippled 11th Gen rocket lake, Intel has now managed to catch up to AMD in terms of the raw processing power that one can only deliver by having more cores, i.e. the 13900k's 8 performance and 16 efficiency cores totaling 24 cores are now a match for AMD's 16 performance core flagship 7950x. And the story is similar across the sku's, an increase in the number of cores resulting in catching up to AMD in terms of processing power as clearly AMD missed a trick by NOT increasing their core counts which have remained the same since 2019 i.e. I had speculated during 2020 that Ryzen 5000 could see a a new 20 core processor in it's line up, never happened, nor has it for Ryzen 7000,so AMD have let Intel catchup up to them. Of course 16 cores is over kill for 90% of users, still operating systems and software and even gamers are playing catchup so as to better utilise the higher core counts which means today's entry level systems should start with 8 cores (16 threads), which greatly diminishes the value of AMD's 7600x and other 6 core processors as being dated regardless of what the benchmarks state. So I would not go with a 6 core processor in this day and age and see 8 cores is being minimum which is probably the calculation that many prospective buyers are making that further gives advantage to the Intel 13600x as being an hybrid 6+8 20 thread processor, which roughly equates to being a 10 core processor. And in steps the 13700k which is what I would consider as being Intel's 'optimum' processor for gaming and productivity, 8+8 24 thread, effective 12 core processor, on par with AMD's 7900x, though those 2 extra performance cores carry a 33% higher price!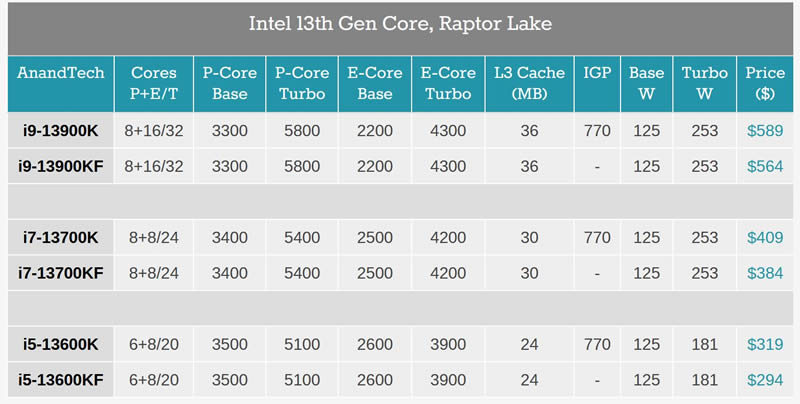 Thus Intel is actually finally delivering that which the consumer seeks! Whereas for AMD the choice for most would currently be either the 7700x (until the 7800x is released) or the 7950x as those who can afford to buy the 7900x will skip straight to the 7950x which carry a higher cost than Intel equivalents, thus advantage Intel.
Ryzen 9 7950X – $699
Ryzen 9 7900X – $549
Ryzen 7 7700X – $399
Ryzen 5 7600X – $299
The key difference between 13th Gen over 12th Gen is the increase in clock speeds and e-cores per CPU sku -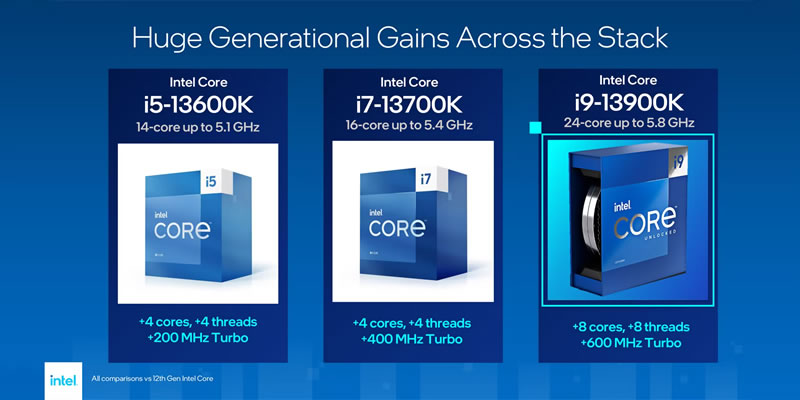 A recap of Intel's recent history, the 2020 11th Gen Rocket lake processors were a complete disaster, Intel's 14nm+++++ processor's ran hot, thermal throttling as soon as any load was put on them as Intel tried to extend ancient architecture to a another generation that only acted to light the fuse under AMD's stock price as it literally did a moon shot all the way to $165 by late 2021, all whilst Intel saw it's stock price stagnate as it lost huge market share to AMD as there was no comparison between Rocket lake and Ryzen processors..

Then there was Intel's 12th Gen Alder lake 10nm processors, whilst a huge advance on 11th Gen garbage, unfortunately they were now up against Ryzen 5000 processors which blasted Intel out of the water, as Intel failed to match AMD in terms of core counts, so whilst Intel was neck and neck in single core performance which is important for gaming, their processors were out of their league in terms of productivity tasks, Intel's 6P and 8E cores of the 12900k just could not compete aghast AMD's 16 full core 5950x which is the system I personally went with in early 2021, a 5950x, RTX 3080, 64gb ram desktop system, and likewise many consumers would do similar during 2021 by going for AMD's far superior processors over Intel's that remained a generation behind and so AMD stock price continued to soar, whilst Intel's stagnated. I paid £750 for the 5950x 18 months ago, current price on Amazon is £530.
Of course all bubbles eventually burst, and we'll a stock selling on 60X earnings was never sustainable and so AMD's stock price has had a spectacular collapse during the great valuation reset which I WARNED WOULD HAPPEN during the whole of the 2nd half of 2021! Of course I did not for see AMD's stock price trading down to $55, nor Intel falling to $24! I thought AMD may get to to as low as $72l, Whilst Intel may nudge below $40, i.e. $37 after all unlike AMD it was never over valued in terms of the P/E ratio, just that it was producing inferior products so was failing to compete.

So here we stand with the AMD stock price at $58 and Intel at $27, now BOTH stocks have experienced a huge drop in their valuations so I consider both stocks as cheap no brainier long-term buys. Intel is finally BACK in the game so will give AMD a run for it's money over the coming quarters and for probably the whole of 2023 as all one needs to do to use 13th Gen processors is take the old 12th gen processor out and slot the 13th Gen CPU into existing 12th Gen systems, whereas Ryzen 7000 requires a complete new build, expensive motherboards so advantage to Intel who after 7 years are finally able to compete against AMD which should show through in corporate earnings beats during 2023 thus Intel is a bargain buy right now and I would not be surprised if it's stock price more than double from here during 2023.
However, don't take any of this to suggest that Intel has now beaten AMD, we are nowhere that stage as AMD processors are on TSMC 5nm architecture, whilst Intel's on their own 10nm process which means Intel processors consume a lot more power and thus run a LOT hotter than AMD's and thus require better cooling and wattage power supplies to get the full performance out of them. Intel rates the 13900k as a 125 watt TDP processor which is frankly a lie as at 125watts the 13900k performs at about 60% of stated, so to get the most out the processor requires 200watts more power i.e. around 325wattts! which translates into higher system temps and the requirement for much larger power supplies of at least 1000 watts and preferably 1200 watts. This is the problem with Intel, they repeatedly lie about the amount of power their processors will consume to get the most out of them. Whereas AMD tends to be more truthful, for instance the 7950x is rated at 170watts which typically requires 200 watts for optimum performance. What this basically means is that AMD processors have much greater headroom for overclocking whilst Intel's' don't have any! For instance my 5950x is rated at 105 watts, but the system has been configured to allow the CPU to draw as much as 200watts if needs so as to maximise performance under load, given that it has adquate cooling. Which one cannot do with the likes of the 13900k as it will need to run flat out just to match AMD at near half the power consumption. So this is why despite what the benchmarks state AMD is still well ahead of Intel, just that to the masses it now looks like a more level playing field.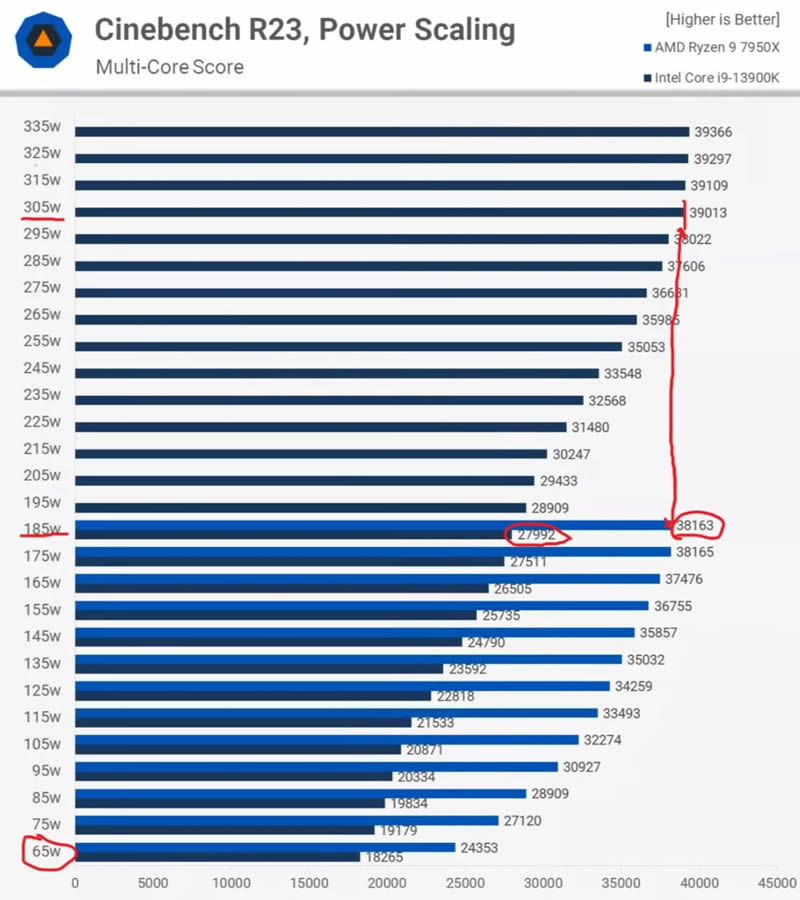 AMD understands it's enemy (Intel) as it demonstrated with the 5800X3D processor specifically aimed at gamers that floored everything out there, including Ryzen 7000 and Intel 12th Gen, with the Zen 4 7800X3D variant due to be released during Q1 2023 that will literally wipe the floor in terms of raw gaming performance and so will put AMD once more firmly in the lead, there will be no competition for the 7800X3D! So again don't take any of this as meaning that AMD is no longer the top dog for unlike Intel AMD understands what each segment of the market demands and then seeks to deliver on it via TSMC's superior tech.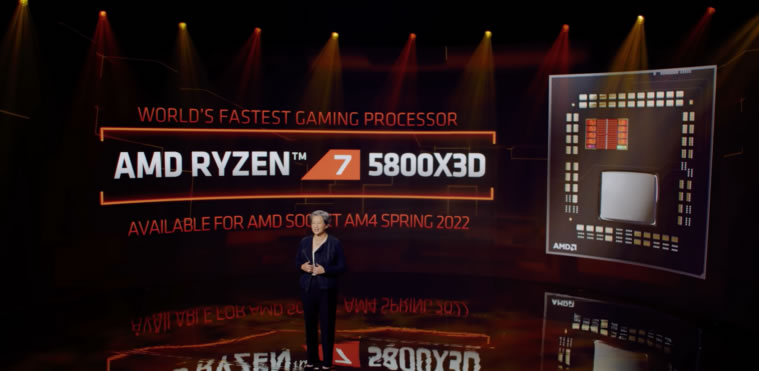 Thus the real CPU battle is not being fought at the top end of the market i.e. regardless of what the benchmarks state in that the 7950x IS far superior to the 13900K that only manages to stand its ground at the expense of huge power draw that won't fool any one who actually understands computers, maybe the retail crowd will get confused and buy an Intel 13900k system instead of an AMD 7950x on the backs of a smooth sales pitch and benchmarks. No the real battle is taking place in the mid range CPU's that's the 13600K vs the 7600x which is the focus of cost conscious gamers in respect of which the gaming benchmarks in for instance the highly popular CyberPunk 2077 has the 13600k smoking the competition as this FPS comparison illustrates.
13900k 238
13600k 223
12900k 212
7950x 209
7600x 196
5800X3D 194
12600k 192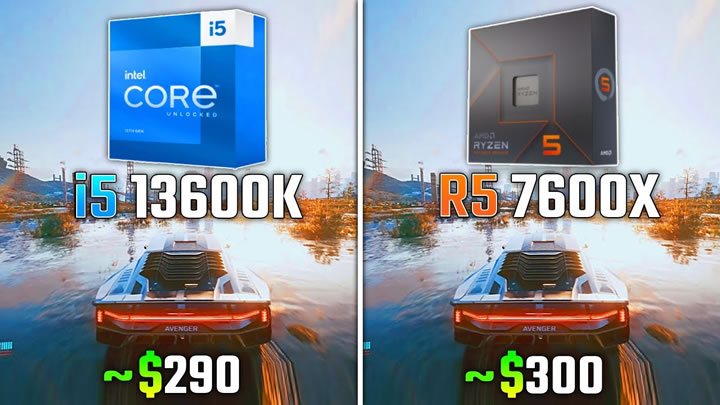 The 13600k is beating the previous the Gen 12900k and AMD's best gaming processor the 58003D! And even beating the 13900k in some games which illustrates that the 13900k thermal throttles. Even in productivity tasks the 13600x rivals the 12900k AND in some cases matches AMD's previous gen 5950x, which is amazing given the 5950x has 16 full cores.
So where 13th Gen is concerned the 13600k looks like Intel's winning processor, and not the 13900k, where under volting tricks of the trade results in higher performance at lower wattage as a cooler system runs faster for longer.
The bottom line is that Intel now matches AMD in the benchmarks and even outright beats AMD where the 13600k is concerned and thus in media terms is back in the game even if in reality we are still dealing with Intel 10nm vs AMD 5nm, thus until Intel starts shipping TSMC 5nm processors AMD retains a huge technological advantage as we wait for Intel 14th Gen to see what difference TSMC 5nm makes in terms of performance uplift for Intel CPUs, until then my preference will remain for high full core count AMD CPU's as hopefully Ryzen 8000 will see an increase at the top end to at least 20 cores as it is likely that Intel will continue to increase core counts as well.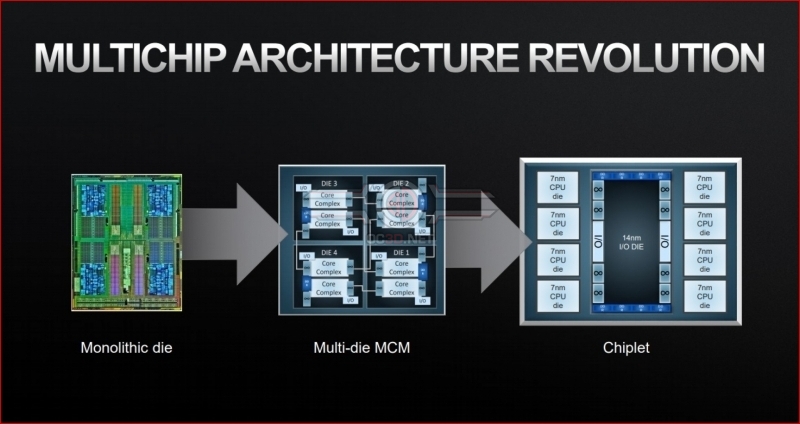 Where processing power is concerned the last 2 years have seen amazing advances after the market having effectively stagnated from 2015 to 2020, where the big innovation has been the implementation of chiplets rather than all in one CPU dies in which AMD has led the way that Intel is attempting to play catchup to, the importance being in terms of costs as smaller chiplets over larger dies results in LESS silicon wafer wastage, this is why AMD's flag ship 7950x which they sell for $750 only actually costs about $70 to produce! Whereas if AMD used a single die then the cost would be at least $100 per processor.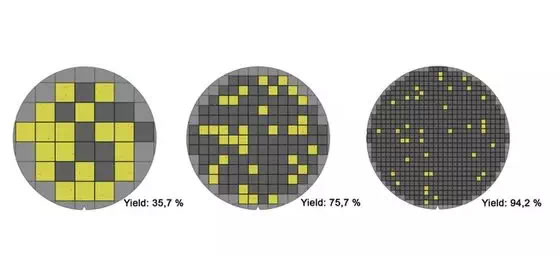 Intel's next big leap will come with next years 14th Gen Meteor lake processors that look set to achieve ann 20% IPC uplift over Raptor Lake. What this means is that consumers are now likely to upgrade systems more often as used to be the case in the 2000's. Because now processing power tends to increase by approx 30% to 40% with each new generation, instead of the period of stagnation that was 2014 to 2019 that saw barely a 10% uplift in processing power each year. So this should result in increased demand for new processors than used to be the case. I used to replace my main system once every 4 to 5 years given the lack of performance increase, now that's going to be once every 2nd generation (about every 2.5 years) if the current performance uplifts continue i.e. I expect the 8950x to deliver at least an 80% uplift on the 5950x in multi core performance.
In terms of what would I buy today if I was looking for a new build, then I would go with AMD, I would want the best which is STILL AMD, thus the 7950x. Whilst for me to consider switching to Intel I would need to see Intel producing processors that match AMD in performance with similar or better POWER consumption because I know hotter CPU's are less reliable CPUs and what one seeks above all else is system stability, that raptor lake lacks which I am sure will show in reviews over the coming months as users complain of system instabilities due to the processors running too hot. So AMD processors provide for a smoother experience than Intel processors.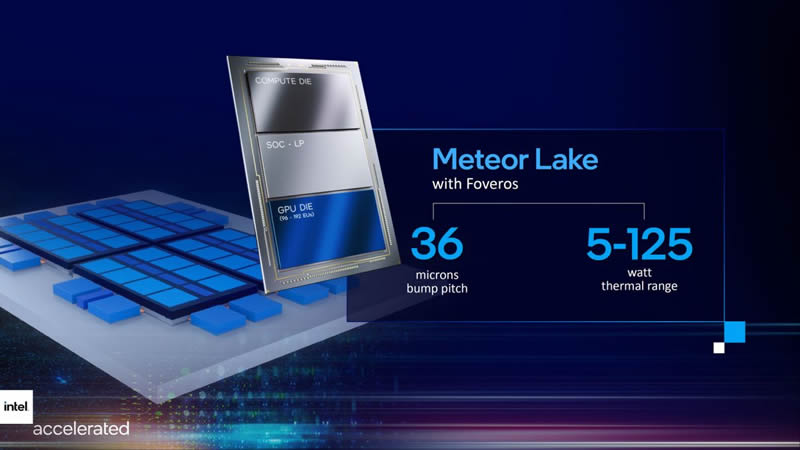 Metoeri lake will probably see processors with upto 8 Performance cores and 16 effiency cores, so upto 24 cores / 32 threads which should be able to compete against AMD's Zen 5!
However Intels great leap foward, their ZEN moment will be 15h Gen Arrow Lake due some time late 2024 which will likely be the same as Meteor rate in terms of max cores and threads. The break through here will be in terms of IPC uplift, that could be as high as 30% which would put Intel ahead of AMD on TSMC's 3 nanometre node. So the Intel Empire IS FINALLY FIGHTING BACK! With Lunar Lake in 2025, and Panther Lake in 2026.
All of this real world innovation after 7 years of stagnation should be reflected in Intel's stock price during 2023 where I would not be surprised if Intel goes from today's crushed like a bug stock price of $27 per share to end 2023 north of $50 a share and maybe even to above $65 when I am sure many will look back with the benefit of hindsight and wish they had bought Intel at 10 year lows during late 2022 because when the FOMO gets going it truly gets going for which we only need to look at AMD trading at X60 earnings late 2021! Even at half that Intel would FOMO to $100, of course during FOMO NO ONE will want to SELL, just as at $27 few will consider buying Intel, whilst i am 123% invested of target, where the greatest risk for investors is that they SELL EARLY, say on a rally back to $40, Instead of holding out for the big prize of $100!

Get Rich SLOW
This article is an excerpt form my recent analysis on the current state of the embryonic bull market Intel Empire Strikes Back! The IMPOSSIBLE Stocks Bull Market Begins! that was was first made available to patrons who support my work.So for immediate first access to ALL of my analysis and trend forecasts then do consider becoming a Patron by supporting my work for just $4 per month. https://www.patreon.com/Nadeem_Walayat.
Also access to my extensive analysis that concludes in detailed stock market trend forecast into the end of 2023 Stocks Bear Market Max PAIN - Trend Forecast Analysis to Dec 2023 - Part1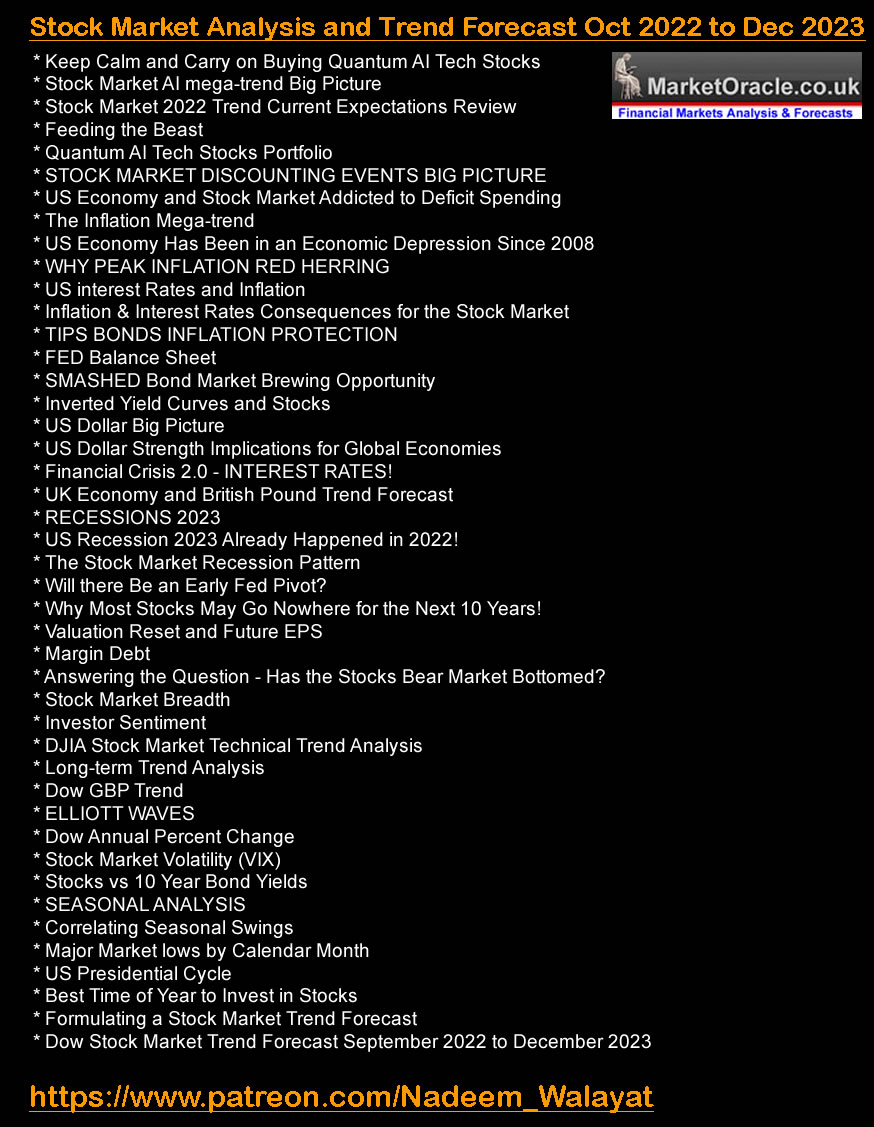 Recent analysis includes -
So for immediate first access to to all of my analysis and trend forecasts then do consider becoming a Patron by supporting my work for just $4 per month. https://www.patreon.com/Nadeem_Walayat.
My Main Analysis Schedule:
UK House Prices Trend Forecast - Complete
Stock Market Trend Forecast to December 2023 - Complete
US House Prices Trend Forecast - 80%
Global Housing / Investing Markets - 50%
US Dollar / British Pound Trend Forecasts - 0%
High Risk Stocks Update - Health / Biotech Focus - 0%
State of the Crypto Markets
Gold and Silver Analysis - 0%
How to Get Rich - 85%
Again for immediate access to all my work do consider becoming a Patron by supporting my work for just $4 per month. https://www.patreon.com/Nadeem_Walayat.
And ensure you are subscribed to my ALWAYS FREE newsletter for my next in-depth analysis.
Your mega-trend investing analyst.
By Nadeem Walayat
Copyright © 2005-2022 Marketoracle.co.uk (Market Oracle Ltd). All rights reserved.
Nadeem Walayat has over 30 years experience of trading derivatives, portfolio management and analysing the financial markets, including one of few who both anticipated and Beat the 1987 Crash. Nadeem's forward looking analysis focuses on UK inflation, economy, interest rates and housing market. He is the author of five ebook's in the The Inflation Mega-Trend and Stocks Stealth Bull Market series that can be downloaded for Free.

Nadeem is the Editor of The Market Oracle, a FREE Daily Financial Markets Analysis & Forecasting online publication that presents in-depth analysis from over 1000 experienced analysts on a range of views of the probable direction of the financial markets, thus enabling our readers to arrive at an informed opinion on future market direction. http://www.marketoracle.co.uk
Disclaimer: The above is a matter of opinion provided for general information purposes only and is not intended as investment advice. Information and analysis above are derived from sources and utilising methods believed to be reliable, but we cannot accept responsibility for any trading losses you may incur as a result of this analysis. Individuals should consult with their personal financial advisors before engaging in any trading activities.
© 2005-2022 http://www.MarketOracle.co.uk - The Market Oracle is a FREE Daily Financial Markets Analysis & Forecasting online publication.

Only logged in users are allowed to post comments.
Register/ Log in