Stock Markets Rise Wall of Worry as Consumer Spending Slumps
Stock-Markets
/
Financial Markets
Nov 01, 2008 - 11:31 AM GMT


The consumer votes " No Confidence ." - "The October survey recorded the largest monthly decline in consumer confidence in the history of the surveys. "Consumer confidence had already declined by mid 2008 by more than prior to any past recession and the steep October loss indicates that accelerated cutbacks in spending can be expected during the months ahead," according to Richard Curtin, the Director of the Reuters/University of Michigan Surveys of Consumers. Overall, the data indicate that this will be the bleakest holiday spending season since 1980. "Consumers held the least favorable assessments of their finances in more than a half century and viewed their job prospects more negatively than at any other time since the end of 1980," according to Curtin.


The data indicate that a long and deep recession is likely to occur, with spending expected to decline through most of 2009. Consumers anticipated an unemployment rate reaching 8% by the end of 2009. Total real personal consumption expenditures are expected to fall by -0.50% to -0.75% in 2009 compared with 2008, followed by unusually slow paced recovery in 2010.
The Index of Consumer Sentiment was 57.6 in the October 2008 survey, a record 12.7 points below the 70.3 in September, and 23.3 points below last October's 80.9. Since the cyclical peak was set in January 2007, the Sentiment Index has declined by 41%, the largest peak to trough decline in history . The Index of Consumer Expectations, a closely watched component of the Index of Leading Economic Indicators that is noted for its ability to foreshadow recessions, was 57.0 in October, down from 67.2 in September and 70.1 last October."
No Confidence translates into no purchases.
WASHINGTON ( MarketWatch) -- Reluctance on the part of consumers to shop for big-ticket items like cars led U.S. consumer spending to its biggest drop in over four years, the Commerce Department reported Friday.
A report from Bridgewater's daily report states , " The economy is in free-fall and the engine is accelerating the descent. We are likely to hear increasing reports such as Volvo's last week; they only sold a net of 115 trucks in the third quarter in Europe, down from 42,000 in the same period of last year. Volvo is the second largest truck manufacturer in the world and after netting canceled orders (many due to financing problems) against a 55% drop in new orders, net sales amounted to only 115 trucks."
Slope of Hope…or Wall of Worry?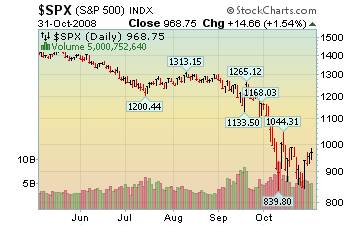 One would think that, after all of these negative reports, the market would be considerably lower. But remember, there is a presidential election straight ahead. Having an election during a declining market would be unprecedented. You better believe that the President's Working Group on the Financial Markets is hard at work, attempting to keep the markets stabilized through election day. In my opinion, they are making matters worse. Trick or treat! Check out our videos on YouTube
Bonds are joining the sell-off?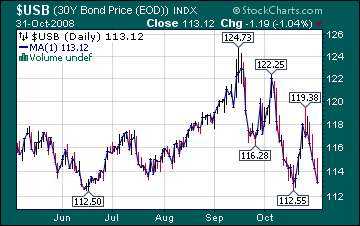 NEW YORK ( MarketWatch ) -- Treasury prices rose early Friday, pushing yields sharply lower, as two reports on economic data showed the largest drop in U.S. consumer spending in four years and a plunge in manufacturing in the Chicago region.
The Chicago Purchasing Managers reported that its Chicago-area business barometer plummeted to 37.8 in October, marking the lowest reading since May 2001 . It seems that, despite all the flow of money to bonds, the trend is still down.
Gold has reversed down.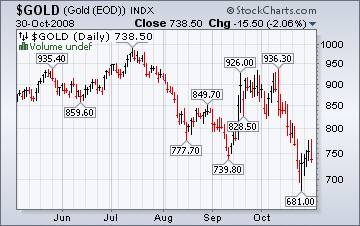 (MarketWatch) -- Gold futures fell Friday, set for their biggest monthly loss since early 1983, as a strengthening U.S. dollar and fund liquidations pounded the precious metal and other commodities. Gold is now 27% lower than its high above $1,000 an ounce hit in March, as the dollar rose and investment funds unwound their positions for much-needed cash.
There is the potential for more deleveraging to come.
Japan's decline not over yet?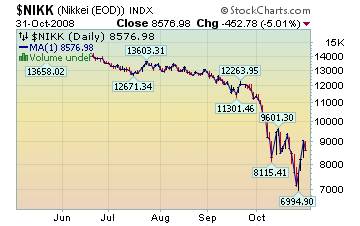 "Financial (Bloomberg) -- Japan's Stocks retreated, capping the Nikkei 225 Stock Average's worst monthly drop on record, as lower company earnings forecasts overshadowed the central bank's first rate cut in seven years. The Nikkei 225 fell 452.78, or 5 percent, to close at 8,576.98 in Tokyo. Despite the rally, things still don't look good in Japan. Could there be another 4,000 point drop ahead for Japanese stocks? It seems unbelievable, but it appears possible.
Government stimulus ramping up to save economy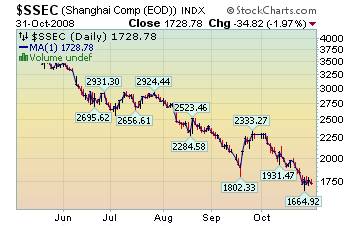 ( Bloomberg ) -- China's stocks fell, capping the worst month for the Shanghai Composite Index in more than 13 years, after a spate of companies reported lower profit. China's central bank cut borrowing costs for the third time in two months this week, as the economy expanded in the third quarter at the slowest pace in five years. Property transaction fees were reduced earlier in the month to encourage purchases, while export rebates on textiles, toys and furniture will be raised from Nov. 1 to help struggling manufacturers. Even China is affected by the downturn.
The dollar is in short supply overseas.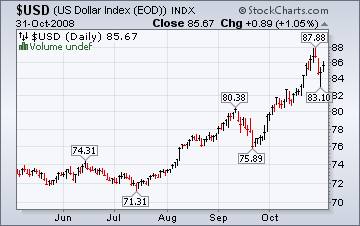 ( Bloomberg ) -- Imre Apostagi says the hospital upgrade he's overseeing has stalled because his employer in Budapest can't get a foreign-currency loan. Foreign-denominated loans helped fuel eastern European countries including Poland, Romania and Ukraine, funding home purchases and entrepreneurship after the region emerged from communism. The elimination of such lending is magnifying the global credit crunch and threatening to stall the expansion of some of Europe's fastest-growing economies. There's more room for the dollar to rally.
Now they're bailing out homeowners! Is this a good thing?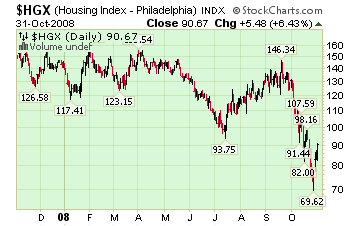 The government is preparing to unveil a plan that would help around 3 million homeowners avoid foreclosure, sources briefed on the matter said. A final deal had not been reached as of Wednesday afternoon and negotiations could still fall apart, but government agencies were contemplating using around $50 billion from the recently passed bailout of the financial industry to guarantee about $500 billion in mortgages.
You may wish to email the treasury with your views about the matter. Attached is a sample .
6 weeks of declining prices at the pump…keep it coming!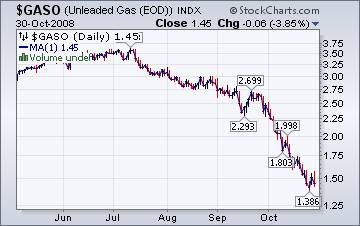 The Energy Information Administration reports that, "The U.S. average price for regular gasoline dropped for the sixth consecutive week, falling 25.8 cents to 265.6 cents per gallon. After cumulative drop of 117.9 cents since September 15, the average price was 21.6 cents lower than year ago and the lowest since March 26, 2007." It's about time!
Winter heating is more affordable.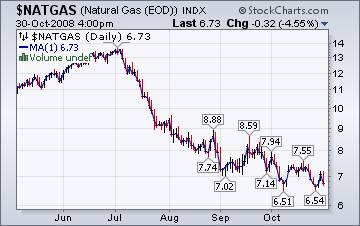 The Energy Information Agency's Natural Gas Weekly Update tells. " Spot natural gas prices at trading locations across the country tumbled this week amid concerns over the economy, which may limit demand, and a perception of a healthy outlook for supplies this winter. Even though production losses of about 2.5 Bcf per day from hurricane-related damages offshore Gulf of Mexico continue and a cold front has moved into the Northeast, prices fell as underground storage levels indicate a healthy supply picture for heating demand this winter and an economic downturn likely would limit industrial demand
Did you ever see a spending program you didn't like? Read on…
Instead of spending Uncle Sam's rescue billions to spur business deals, banks are squandering a good chunk of it on dividend checks for thousands of well-heeled shareholders.
Banks were already under fire for cautiously hoarding their cash from the nearly $1 trillion rescue package from the US Treasury and Federal Reserve.
But now it appears that of the first batches of rescue money handed out - $168 billion - more than half will be used to pay dividends to shareholders instead of resuming lending to cash-starved businesses.
"The whole purpose of the program is to increase lending and inject capital into Main Street," said Sen. Chuck Schumer (D-NY). "If the money is used for dividends, it defeats the purpose of the program."
We're on the air every Friday.
Tim Wood, John Grant and I are back in our weekly session on the markets. The market has been a real roller coaster ride this week. You will be able to access the interview by clicking here .
New IPTV program going strong.
This week's show on www.yorba.tv is packed with information about the direction of the markets. I'm on every Tuesday at 4:00 pm EDT . You can find the archives of my latest programs by clicking here .
Please make an appointment to discuss our investment strategies by calling Claire or Tony at (517) 699-1554, ext 10 or 11. Or e-mail us at tpi@thepracticalinvestor.com .
Anthony M. Cherniawski,
President and CIO
http://www.thepracticalinvestor.com
As a State Registered Investment Advisor, The Practical Investor (TPI) manages private client investment portfolios using a proprietary investment strategy created by Chief Investment Officer Tony Cherniawski. Throughout 2000-01, when many investors felt the pain of double digit market losses, TPI successfully navigated the choppy investment waters, creating a profit for our private investment clients. With a focus on preserving assets and capitalizing on opportunities, TPI clients benefited greatly from the TPI strategies, allowing them to stay on track with their life goals
Disclaimer: The content in this article is written for educational and informational purposes only. There is no offer or recommendation to buy or sell any security and no information contained here should be interpreted or construed as investment advice. Do you own due diligence as the information in this article is the opinion of Anthony M. Cherniawski and subject to change without notice.
© 2005-2019 http://www.MarketOracle.co.uk - The Market Oracle is a FREE Daily Financial Markets Analysis & Forecasting online publication.

Only logged in users are allowed to post comments.
Register/ Log in