The Ultimate ETF Investment Portfolio
Stock-Markets
/
Exchange Traded Funds
Apr 17, 2007 - 11:33 AM GMT

Tony's busy planning his next trip to China. So we've asked Dan Ascani, Executive Vice President of our separate affiliate, Weiss Capital Management, to give you some new insights into his specialty — ETFs.
Dan knows ETFs like the back of his hand. He is a pioneer in the development of mutual-fund and ETF models. And now he's created what could be the ultimate ETF portfolio. Here's his report …
The Ultimate ETF Portfolio
by Dan Ascani
When I scan the investment horizon, I see a historic convergence of two unusual events:
First, I see an urgent need for all Americans, young and old, to spread their risk and take advantage of new opportunities that go beyond the traditional mainstay of investment portfolios —
Not just stocks, but also income investments …
Not just stocks and bonds, but also natural resources …
Not just in the slower-growing U.S. economy, but also in the faster-growing economies of Asia, Europe and Latin America.
Second, during the past few years, we've witnessed a breakthrough of an investment vehicle that, for the first time ever, makes it easy for investors to do just that — and do it all with lower costs and greater flexibility.
You know what I'm talking about — the large, rapidly growing and immensely diverse world of domestic and international exchange-traded funds (ETFs).
Just look at the attractive, rising pattern of some of my favorites: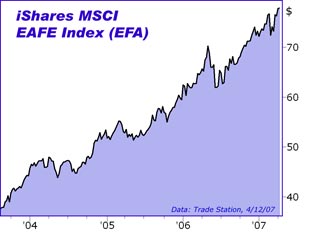 The iShares MSCI EAFE ® Index (EFA) provides the best diversification overseas I've seen to date.
It targets coverage of 85% of the market cap of countries in Europe like the United Kingdom, France, Germany, Ireland and Switzerland; and in the Far East like Australia, Hong Kong, Japan, New Zealand and Singapore.
It offers investors a nice stake in what I consider some of the most economically promising — and politically stable — stock markets of the world today. And it's a stake that has nearly doubled in value in less than four years. Of course, there is no guarantee that this trend will continue in the future … but I really like the long-term prospects for the iShares MSCI EAFE ® ETF.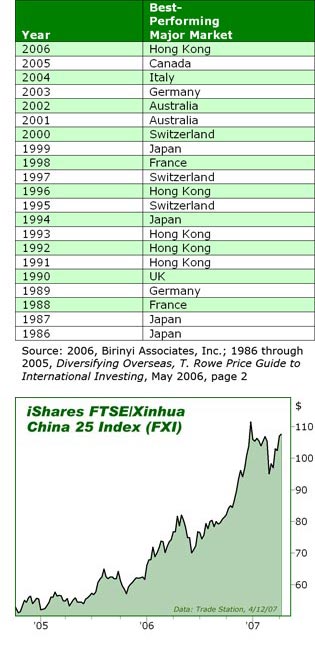 Most revealing of all, in my view: Among the major markets in the world, the U.S. has not been the number one performer in over 20 years.
All this is why I like the fact that this ETF covers such a wide range of foreign markets. I use EFA not only as an investment to buy, but also I use its underlying index, MSCI EAFE ® as a benchmark for evaluating the performance of my favorite ETFs tied to individual countries.
Another one of my favorite ETFs is iShares FTSE/Xinhua China 25 Index , giving investors a broad stake in one of the most rapidly growing large economies in the world today — China.
This ETF has almost doubled in value since it was launched in late 2005. That's over twice the return of the S&P 500 Index — just the kind of thing I look for when picking ETFs to power up the portfolio during global stock market rallies, and when deciding which ETFs to take out of the portfolio to help preserve capital during global market declines.
Of course, as with any investment, past performance is no assurance of future results. But with continuing high GDP growth rates, I believe that China — and the 25 leading Chinese companies held by this ETF — offer great long-term growth potential.
This illustrates one of my basic principals for what I consider the ultimate ETF portfolio: Diversify globally — overseas and in the U.S.
My other guiding principal: Diversify across different asset classes — including bonds and natural resources such as precious metals.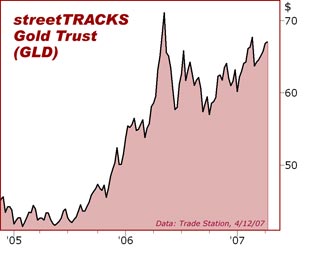 The streetTRACKS Gold Trust (GLD) , for example, offers what I consider to be one of the best protections against a declining dollar and the real possibility of worldwide inflation.
After a consistent and rapid rise in 2005 and early 2006, gold has been mostly moving in a sideways pattern. But I believe this pattern is the prelude to a new rise that could match the earlier performance. And, even though gold can be quite volatile, the recent uptrend since fall 2006 may be the first phase of that new rise.
I am not saying you should go out and buy these ETFs right now. That should depend on the current conditions in the market place and on the circumstances of your finances.
Plus, I'm also not saying you should exclude ETFs that invest in the U.S. Quite to the contrary — if you target the strongest domestic sectors, you have the opportunity to enhance the diversification and achieve better results overall.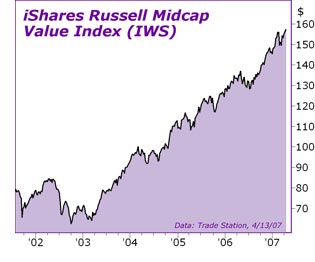 Case in point: The iShares Russell Midcap Value Index (IWS) , which I like for two reasons:
First, the stock selection: iShares takes the Russell Midcap Index and invests strictly in the 52% of the companies that they consider to have the best value. And that's the group of domestic mid-cap companies I believe perform the best in global stock market rallies. 1
Second, the historical performance: While we can't guarantee that this performance will be repeated, this ETF is up 121% in the five years ending April 12, 2007. That's over three times the return of the S&P 500 Index — another great candidate for powering up portfolios during global stock rallies.
With ETFs Like These, it is Now Easy For Average Investors to Assemble A More Broadly Diversified Portfolio Than at Almost Any Time in the Past
As you can probably see by now, I believe strongly in broad diversification. History shows that broad asset-class diversification is one of the greatest contributors to investment success. And as I see it, ETFs now offer some of the greatest opportunities for diversification we've ever seen.
Using exclusively ETFs — and in a single brokerage account — you can own a broadly diversified stake in what I believe to be …
Some of the most-promising industry sectors in the United States today.
Some of the most-reliable income-producing investments, with our favorite bond ETFs and high-dividend ETFs.
In-demand natural resources, such as gold, silver and energy ETFs.
Rapidly growing foreign economies, with ETFs tied to countries like China or Brazil as well as more developed economies in Europe and Asia.
Even some of the most-solid foreign currencies, with ETFs linked to the euro, the Swiss franc or the Japanese yen.
This, to me, is the ultimate in diversification . And ETFs are my chosen vehicle for their lower cost and greater flexibility.
Look. In the past five years ending March 31, 2007 …
The S&P 500 Index was up only 35.5% and the Lehman Aggregate Bond Index was up only 29.8%. So, most investors who limited their diversification strictly to U.S. stocks and bonds were likely to see performance that was generally limited to that range. 2
But in the same five-year period, the MSCI EAFE ® Index rose 108.1% and the Goldman Sachs Commodity Index was up 82.8%. So investors who expanded their horizons to these asset classes had the opportunity to not only diversify more broadly but also to significantly enhance their overall returns during major market advances. As for major declines … the diversification into several asset classes helps manage the risk. 3
You can't buy these indices directly. But you can invest in ETFs that represent these indexes, giving you access to similarly broad diversification.
My view:
More diversification , especially when based on a prudent allocation method, is associated with reduced risk . And,
Still more diversification , especially when encompassing such a broad range of asset classes all over the world, can open up greater opportunity for growth.
Those are the three simple goals of our new Weiss ETF Strategic Allocation Portfolio : Broader diversification. Risk management. Greater opportunity.
And those are also the overarching goals of Weiss Capital Management.
We've been managing money for individual investors and institutions for 26 years. We are registered with the SEC as an investment adviser. And with our individually managed accounts, we have the ability to customize your investment program to match your personal needs.
Invest $250,000 * in our Weiss ETF Strategic Allocation Portfolio. And if you invest before May 31, 2007, you can permanently lock in our introductory management fee of just 1% (one percent). (For investments made after June 1, the fee will be higher.)
The number to call for more information is 1-800-814-3045. Or just click here to send us an email.
Best wishes,
By Dan Ascani,
Portfolio Manager
Weiss ETF Strategic Allocation Portfolio
DAscani@WeissCM.com
* New or additional investments only
P.S. And for our data sources, as well as important disclaimers, please click here .
This investment news is brought to you by Money and Markets . Money and Markets is a free daily investment newsletter from Martin D. Weiss and Weiss Research analysts offering the latest investing news and financial insights for the stock market, including tips and advice on investing in gold, energy and oil. Dr. Weiss is a leader in the fields of investing, interest rates, financial safety and economic forecasting. To view archives or subscribe, visit http://www.moneyandmarkets.com .
© 2005-2019 http://www.MarketOracle.co.uk - The Market Oracle is a FREE Daily Financial Markets Analysis & Forecasting online publication.

Only logged in users are allowed to post comments.
Register/ Log in