Are you happy with your 2008 Investments?
Commodities
/
Gold & Silver 2009
Jan 09, 2009 - 02:24 PM GMT

Now that 2008 is in the rear-view mirror it is worth reviewing the performance of various investments. 2008 - Was "The Year of Reckoning" and a tipping point. As a massive wave of deleveraging swept across the world the torrent of borrowed money came under severe pressure.


This unprecedented borrowing had almost begun to seem normal to anyone under 60 years old. But it historically was absolutely not normal. It had to end.
Without as much borrowed money flooding the world a lot of things started to suffer. Stocks, real estate, almost nothing was spared.
The key word is almost.
Not to rub it in for those that have not invested in precious metals yet, but did you know that if your investments were in gold last year you would have actually had a positive year? Gold was up modestly for the year and outperformed the Dow by 36.5% and the S&P by 41.2% in 2008.
Volatile Silver, while having a negative year in terms of dollars still outperformed the Dow by 6.0% and the S&P by 10.7%.
We expect this precious metal outperformance to continue and to accelerate as gold and silver account for the billions of dollars that have been created out of thin air over the last few months (with no end in sight).
The rush toward gold and silver continue as people the world over are realizing that the investments that have long increased their value in times of turmoil (gold and silver) are once again the place to be.
As Michael Maloney points out in his book and mentions when he speaks "Successful investing is just about knowing cycles" . The gold and silver bull market that we are in (and Mike correctly anticipated) is automatic and natural. In the preface to his book he wrote:
"For the past 2,400 years a pattern has continually repeated in which governments debase and dilute their money supply until a point where the common psyche of the populace and the collective mind of a country begin to feel that something isn't right."
It is worth noting that this was written well before the current financial Armageddon was obvious to most.
When do you believe the "psyche of the populace" will begin to realize that something isn't right and stampede toward gold and silver?
There is no question in my mind that the bull market started back in 2001 but will go through 3 progressively larger phases. The phase where the public gets involved is the second phase and I think it is starting now.
The first phase mainly involved the smart, big money (2001 to 2008). Look at this chart. It goes back to the beginning of the cycle shift in 2001 and is current as of 7 January, 2009. Gold is in red, silver in blue, the S&P 500 in green and the Dow in magenta.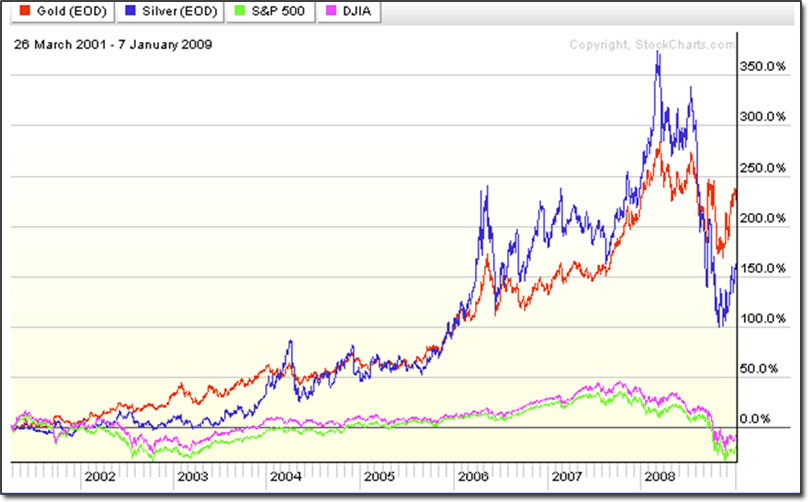 Look how old, unnoticed precious metals kicked the pants off of Wall Street! Yet it was mainly the big, smart money that profited.
Now that the average person is being affected by the crisis and is being told by the nightly news the same things that Mike has been saying for years they are starting to get involved in protecting their wealth. I believe this is the beginning of Phase II of the precious metals bull market. Phase II markets head up even faster than phase I markets.
Phase III will be the euphoria phase and is where everyone will be stampeding towards the safety of gold and silver. It is also in this phase when customers of goldsilver.com will be getting special reports letting them know what we believe to be the time to exit the precious metals market and get back into real estate and stocks. These reports could mean the difference of millions at the end.
Now, however, is not that time. Not even close. Now is the time to quit suffering in stocks and real estate and get to the investments that don't just flourish in uncertain times, but give the investor the calmness and certainty that comes from being on the correct side of the investing cycle.
To read more about the 3 phases here is a link to a past newsletter about them: Three Phases of a Bull Market by Brent Harmes
By Brent Harmes
Subscribe or Manage Your Newsletter Subscription Here | Buy Gold and Silver Online
Copyright © 2008 Brent Harmes
GoldSilver.com offers vault storage accounts at Brinks Security in Salt Lake City, Utah. The minimum investment required for vault storage account is 20 ounces of gold or 1,000 ounces of silver. For more information call us at: 702-799-9000
Disclaimer : All claims made by GoldSilver.com should be verified by the reader. Investing is not suitable for everyone and readers are urged to consult with their own independent financial advisors before making a decision. Past performance is not necessarily indicative of future results. GoldSilver.com will not be liable for any loss or damage caused by a reader's reliance on information obtained in any of our newsletters, special reports, email correspondence, or on our website. Our readers are solely responsible for their own investment decisions.
© 2005-2019 http://www.MarketOracle.co.uk - The Market Oracle is a FREE Daily Financial Markets Analysis & Forecasting online publication.

Only logged in users are allowed to post comments.
Register/ Log in