Stock Market Eroding Towards A Breakdown.....
Stock-Markets
/
Stock Index Trading
Jan 31, 2009 - 12:39 PM GMT


There have been so many head fakes in this three month lateral range that you don't get your hopes up when it looks like a more directional play is about to be in play. 805 is the number where massive support comes in to play and we have held easily above for a while. 860 was strong resistance and we did take that level out only to lose it right back and now we're headed back down again. There has simply been too many pieces of bad news from the economic data as well as earnings over the past few days to keep the bulls in charge for more than a day or so or until we get to important resistance.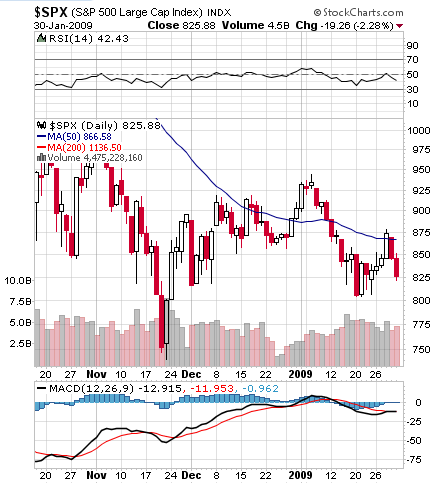 The bad stick printed on Thursday which wiped out the Presidential interference from Wednesday was more of a bearish event because it showed that even the highest form of intervention wasn't going to stop this market from its intended target, whatever that may be. We followed through to the down side today after rising early on. The sellers came in quickly after the q4 gdp report showed a decline of 3.8% instead of the more dire reports which were expecting a number closer to 6%. Reality set in and the selling began once again and the rest of the day was spent in the red, slowly but surely making its way towards that critical 805 Sp level that needs to hold if we're to avoid a test of 775 again.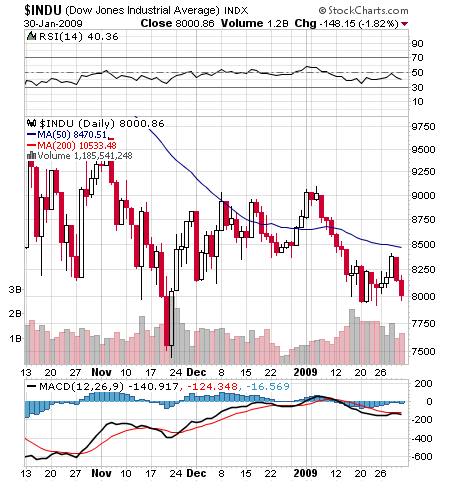 There is a lot of debate going on here about the issues of the stimulus package and who it really helps and how much of it is continued plain old pork which accomplishes nothing positive for small business and for people like us. There is also a lot of debate on going over the issue of how to implement the good bank bad bank scenario and beyond that, whether the idea of this is good at all no matter how it's implemented. Bottom line being, should it be out there in any fashion. Many seem to feel it should not, yours truly included. There is a lot of confusion and that normally is never taken well by the market. it likes clarity and certainty and this is not what we're getting at this moment in time. Whenever news about these issues came out today, and they were mostly of uncertainty, the market immediately fell back.
The transition to the new regime is under way and these things are never easy but when a new President steps in to a global recession/depression, it's going to make the transition that much more difficult. He's facing a lot of resistance from the republicans and some of his own party over these issues not to mention some very unhappy reactions from the public in general. Welcome to your new job. It seems now as if the market wants something, even if it's not very consumer friendly, because of the way it responds to any news that any one of them may not go through. A world in transition for sure.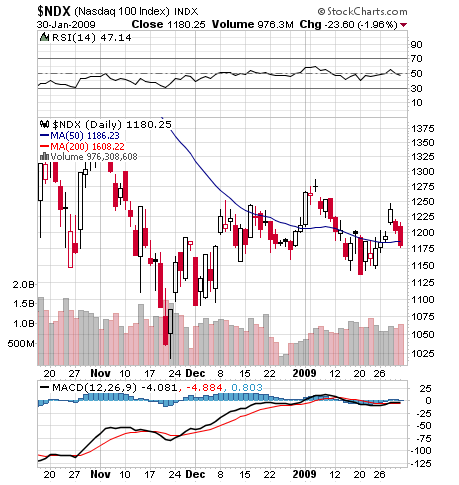 These lateral consolidations are getting old. Maturing rapidly. There has to be a real break soon either below 805 or above the confluence of resistance from 890/910. The triangle's getting tighter and tighter and thus some trend line break will take place sooner than later, we hope!! This lateral move is just too much on everyone's nerves. Look at how bearish the overall action is though. Take a stock like U.S. Steel (NYSE: X). Clean breakout over the 50 day moving average a few days ago strong volume. It looks destined for much higher prices short term after being down nearly 90% from its highs a few months back and still down roughly 80/85% from those highs.
Today it just craters right back down below those 50's just taken and it does so on strong volume to add insult to injury. Oh, and it lost those 50's on a huge gap down. Ouch!!! The bulls torched again. Another reason why it's so incredibly hard to play this market correctly. Perfect set up gets annihilated right after it makes the perfect breakout move. We need a strong move in the market so we can get more aggressive. A move lower would set up some good longer term plays. Impossible to know what is dead ahead but the market is eroding towards that key 805 Sp level.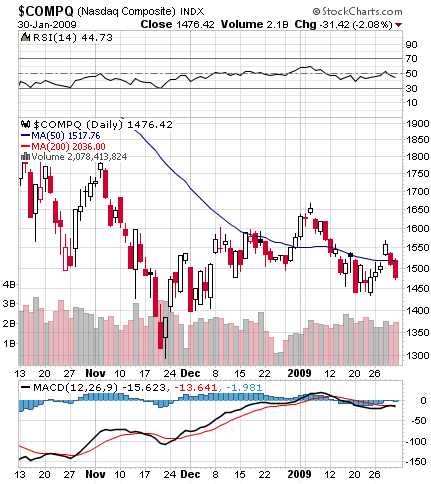 Bank Of America (NYSE: BAC) and Citigroup (NYSE: C) continue to act very badly, even after the strong moves up just a few days ago. Those gains are all gone and now have fallen even further since the good bank bad bank news. That's not what you'd expect from banks that barely hanging on to survival. That news should have set the bottom but for now things continue to fall apart for these institutions. It tells you some banks may be beyond hope or that the market doesn't expect them to survive no matter what gets passed. The banks should be following up their blast higher from a few days ago but thus far we have no follow through and that can never be construed positively. You have to always respect the message of the market and it's saying it still doesn't like what it sees for now. It's suggesting a test of 805 is not far away. Anything can change but in this moment it looks bad for the stock market short term.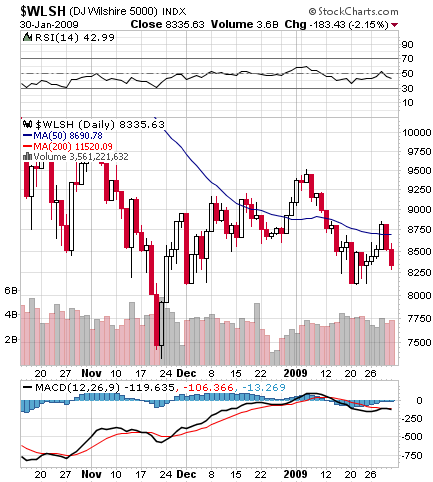 The transports ($tran) are breaking here with support at 2500, a decent ways away from here. Key stocks within the transport sector, Ups and Fdx, both broke down badly today. Long term triple and double bottom breakdowns on FedEx (NYSE: FDX) and United Parcel (NYSE: UPS), respectively. It's important to recognize these breakdowns and ask yourself how is the market going to bottom right here with these two leaders breaking key support price levels. It doesn't seem likely. transports are one of the leaders when things bottom and yet these two stocks are just making long term breakdowns. Tells you not to think about getting bullish, even down at these levels. Patience on any idea of buying for the long term at this point in time. Do what feels right to you but things are not looking good here.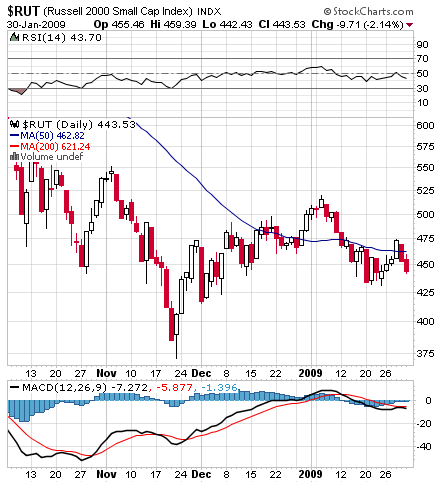 Have a fun weekend. Play with your kids if you get the chance.
Peace
By Jack Steiman
Jack Steiman is author of SwingTradeOnline.com ( www.swingtradeonline.com ). Former columnist for TheStreet.com, Jack is renowned for calling major shifts in the market, including the market bottom in mid-2002 and the market top in October 2007.
Sign up for a Free 30-Day Trial to SwingTradeOnline.com!
© 2009 SwingTradeOnline.com
Mr. Steiman's commentaries and index analysis represent his own opinions and should not be relied upon for purposes of effecting securities transactions or other investing strategies, nor should they be construed as an offer or solicitation of an offer to sell or buy any security. You should not interpret Mr. Steiman's opinions as constituting investment advice. Trades mentioned on the site are hypothetical, not actual, positions.
© 2005-2019 http://www.MarketOracle.co.uk - The Market Oracle is a FREE Daily Financial Markets Analysis & Forecasting online publication.
Comments
michael j weiner
21 Feb 09, 15:53
one of the causes of the big market drop


until you eliminate or outlaw OFF BALANCE SHEET POSITIONS all the trouble we are having with our banks will continue as well as with our major corporations




Only logged in users are allowed to post comments.
Register/ Log in