Financial Markets Analysis: Stocks Bounce, Where Next?
Stock-Markets
/
Stocks Bear Market
Feb 08, 2009 - 02:26 AM GMT


Stock Markets continued their strong rally on Friday from early week lows that had threatened to break below the recent tight trading range and target fresh bear market lows.
Where Next ?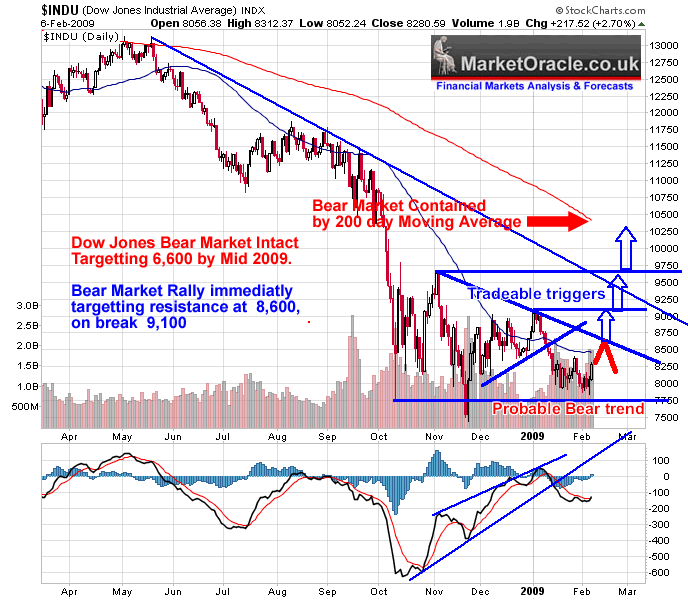 Using the Dow Jones Index as a proxy for other global indices that exhibit similar trend and patterns. Friday's powerful rally cannot be ignored as it does imply that the recent peak of 8,400 is expected to be breached early next week, however heavy resistance lies overhead all the way to 9,000. This implies that the rally will soon run out of steam probably around 8,600 and therefore target a return to the tight trading range of between 7,900 and 8,400.
The longer the market continues to trade within the trading range of of 9,100 and 7,800 the more powerful will be the eventual breakout from the range, at this time probability still strongly favors a break lower with a summer bear market target of 6,600 as of 20th Jan 09. The far less probable outcome of an upside breakout would target Dow 10,300.
Again, I need to iterate that we are in a stocks bear market and the current action is a correction within the bear market. So whilst the moves higher are tradable, they do not at this point come close to signaling an end of the stocks bear market that is expected to resume towards fresh lows this summer.
Outrageous Bank Bonuses
Meanwhile greedy culpable bankers continue to reward themselves for failure with billions of tax payers monies across the globe. In the UK the Labour governments in-action is going to cost it the next election for allowing this to happen, after-all the banking rules and contracts have already been been broken in the aid of £800 billion of liabilities with more to come, the only contracts still being held up are those that allow bankers to be rewarded for destroying the British financial system. This is totally outrageous and unforgivable.
The banks try to defend the indefensible with statements that they need to pay bonuses to attract the brightest and smartest. So smart are these people that they have destroyed the financial institutions that they worked for, any smarter and we may be looking at an Iceland style Bankrupt Britain, which therefore supports the view of dumbing down on the employees as well as the function of the banks, i.e. to focus on lending out deposited money without resorting to financial trickery to mis-price assets so as to reward bonuses for non existent profits.
The Deflation Survival Guide
This weeks special is the full 60 page ebook on the implications of Economic Deflation by the 30 year financial markets veteran Robert Pretcher. If you have not already done so, download the full ebook whilst it is still available.
Topics include:
Your stock index futures trading analyst.
By Nadeem Walayat
http://www.marketoracle.co.uk
Copyright © 2005-09 Marketoracle.co.uk (Market Oracle Ltd). All rights reserved.
Most Popular Financial Markets Analysis of the Week
1. U.S. Unemployment Government Statistics Hiding the Dismal Truth
By: Don Miller
The dismal U.S. unemployment numbers have gotten more airtime recently than Jerry Springer.
And why not?
2. Stock Market Crash 2009: Fine Tuning DJIA Target To 5,800
By: Eric_Chevrette
Before we turn our attention towards the need to do some fine tuning about the DJIA target around the end of the current bear leg with global stocks, it might be appropriate to look back and see where we do come from, especially with regard to market volatility ( VIX ).
3. United States Day of Reckoning Treasury Bond Market Collapse Underway
By: Martin Weiss
If you read just one of my Money and Markets issues this year, make sure it's this one.
You will not hear what I'm about to say from our nation's leaders. Nor will it pour forth from talking heads on Wall Street.
4. Soaring Unemployment Means No U.S. Housing Market Bottom
By: Mike_Shedlock
California Association of Realtors C.A.R. Data

The following chart is from my friend "TC" who has been monitoring California Association of Realtors (C.A.R.) and DQNews data. C.A.R. data contains resale single family residences and new homes. DQNews data contains resale single family residences and new homes
5. Mike Shedlock (Mish) Vs Peter Schiff: Analysts Clash
By: Nadeem_Walayat
Mike Shedlock last week fired a broadside attack onto Peter Schiff (Dr Doom's) record of financial forecasts for 2008, which culminated with a statement that illustrated and implied that many of Peter Schiff's clients may have actually lost between 30% to 60% of the value of their portfolios during the volatile trading and investment environment of 2008.
6. Financial and Economic Forecasts 2009, Stock Market Crash to New Lows
By: Martin Weiss
If you were shocked by last quarter's 3.8% plunge in the economy , wait till you see the tally for the current quarter!
Late last year, consumers snapped their wallets shut so quickly, and America's manufacturers were so unprepared, they couldn't stop their assembly lines fast enough.
7. Political Elite on Guard Against Global Economic Depression and Gold Safehaven
By: Gary_Dorsch
"If you want to continue to be the slaves of bankers, and pay the cost of your own slavery, then let bankers continue to create money and control credit," warned Sir Josiah Stamp, former chief of the Bank of England in 1927. Indeed, the world economy is now held hostage by an elite banking cartel, whose reckless pursuit of speculation and bloated profits, has precipitated a breakdown of the global financial system, and is plunging the world towards a "Great Depression."
8. Is the World Finally Ready to Accept the Deflationary Scenario?
By: EWI
This article is part of a syndicated series about deflation from market analyst Robert Prechter, the world's foremost expert on and proponent of the deflationary scenario. For more on deflation and how you can survive it.
9. Stock Market Trends February 2009: Bear Market Rally
By: Hans_Wagner
This is a free monthly newsletter on stock market trends to help you to learn to invest. Following the trend is a proven way to beat the market and grow your stock portfolio. Basic technical analysis provides the tools to identify and follow the market trends using the S&P 500.
10. Gold is Dead and Neitzsche had Nothing to do with it
By: Matt McAbby
"Gold kind of scares me because very often the people involved with it seem to be slightly insane." – James Montier, head of equity research, Societe Generale, London
---
Nadeem Walayat has over 20 years experience of trading derivatives, portfolio management and analysing the financial markets, including one of few who both anticipated and Beat the 1987 Crash. Nadeem's forward looking analysis specialises on the housing market and interest rates. Nadeem is the Editor of The Market Oracle, a FREE Daily Financial Markets Analysis & Forecasting online publication. We present in-depth analysis from over 250 experienced analysts on a range of views of the probable direction of the financial markets. Thus enabling our readers to arrive at an informed opinion on future market direction. http://www.marketoracle.co.uk
Disclaimer: The above is a matter of opinion provided for general information purposes only and is not intended as investment advice. Information and analysis above are derived from sources and utilising methods believed to be reliable, but we cannot accept responsibility for any trading losses you may incur as a result of this analysis. Individuals should consult with their personal financial advisors before engaging in any trading activities.
Attention Editors and Publishers! - You have permission to republish THIS article. Republished articles must include attribution to the author and links back to the http://www.marketoracle.co.uk . Please send an email to republish@marketoracle.co.uk, to include a link to the published article.
© 2005-2022 http://www.MarketOracle.co.uk - The Market Oracle is a FREE Daily Financial Markets Analysis & Forecasting online publication.

Only logged in users are allowed to post comments.
Register/ Log in