Inflation- Central Banks Making Sure It Happens Everywhere
Economics
/
Inflation
Mar 20, 2009 - 09:55 AM GMT


"Gold and the Euro just hooked up together again. But for how long depends on central-bank policy..."
SO BEN BERNANKE SAYS the United States has plunged into a deflationary depression.
Really, that's what Wednesday's Fed announcement said, shouting it loud and shouting it proud.
Because Bernanke's deflation-prevention policies have failed. So he's gone to applying the cure instead.
"The US government has a technology, called a printing press (or, today, its electronic equivalent), that allows it to produce as many US dollars as it wishes at essentially no cost."
So said the Maestro's apprentice when still merely a governor, rather than chairman, November 2002, speaking to the National Economists Club in D.C.
You may recall that Consumer Price Inflation, on the official measures at least, had just sunk to a 38-year low, hiking the cost of living barely 1.0% per year. The asset-price deflation hitting tech stock investors, meantime, had just found its floor (not that anyone knew it) some four-fifths below the peak of 31 months before.
Looked at both preventing deflation (target inflation above zero, say from 1-3% per year; ensure financial stability, by lending freely to banks whenever trouble hits; act "preemptively and more aggressively in cutting rates when inflation is already low and the fundamentals of the economy suddenly deteriorate) as well as curing it.
"Deflation is always reversible under a fiat money system," Bernanke announced, claiming that his conclusion "follows from basic economic reasoning." To wit, "a little parable may prove useful:
"Today an ounce of gold sells for $300, more or less. Now suppose that a modern alchemist solves his subject's oldest problem by finding a way to produce unlimited amounts of new gold at essentially no cost. Moreover, his invention is widely publicized and scientifically verified, and he announces his intention to begin massive production of gold within days.
"What would happen to the price of gold?"
Fast forward six-and-a-half years, and it's not gold which Ben Bernanke has produced in unlimited amounts at no cost, but US Dollars. But given his obsession with the Great Depression – and given that money was gold seven decades ago – you get the point.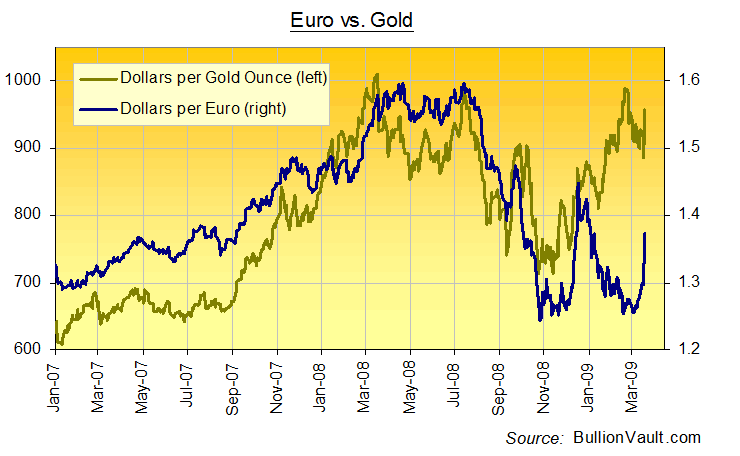 "Presumably, the potentially unlimited supply...would cause the market price...to plummet. Indeed, if the market is to any degree efficient, the price would collapse immediately after the announcement of the invention, before the alchemist had produced and marketed a single ounce."
Look at the chart, and you can see what the Fed chairman meant. It shows what he did for gold and the Euro with Wednesday's $1.25 trillion devaluation of the greenback. Both shot higher on the news. Neither has given back too much of their jump yet.
But while the Euro had already been ticking higher, the Gold Price vs. the Dollar had been falling. Looking back over the last seven year, in fact, the nine weeks starting mid-Jan. were something of an aberration. The Euro and gold moved in opposite directions. Whereas, seeing how committed to dollar devaluation the Federal Reserve clearly remains – especially now deflation avoidance has failed – both should really move together.
"As I have stressed already," Bernanke explained back in late 2002, "prevention of deflation remains preferable to having to cure it. If we do fall into deflation, however, we can take comfort that the logic of the printing press example must assert itself, and sufficient injections of money will ultimately always reverse a deflation."
Trouble is, if the Dollar falls then other currencies must rise. We've already had clear devaluations from the UK, US and Swiss authorities. The Japanese can't be far behind; they sold their own currency all through mid-decade, desperate to apply Bernanke's "deflation cure" vs. the Dollar.
Once the Bank of Japan fires up its "quantitative easing" again, that would leave only the Euro still to devalue.
Maybe gold and the single currency will soon diverge again.
By Adrian Ash
BullionVault.com
Gold price chart, no delay | Free Report: 5 Myths of the Gold Market
City correspondent for The Daily Reckoning in London and a regular contributor to MoneyWeek magazine, Adrian Ash is the editor of Gold News and head of research at www.BullionVault.com , giving you direct access to investment gold, vaulted in Zurich , on $3 spreads and 0.8% dealing fees.
(c) BullionVault 2009
Please Note: This article is to inform your thinking, not lead it. Only you can decide the best place for your money, and any decision you make will put your money at risk. Information or data included here may have already been overtaken by events – and must be verified elsewhere – should you choose to act on it.
© 2005-2019 http://www.MarketOracle.co.uk - The Market Oracle is a FREE Daily Financial Markets Analysis & Forecasting online publication.
Comments
Ajisco
24 Jun 09, 15:53
Element of Banking


define the term inflation




Only logged in users are allowed to post comments.
Register/ Log in