Coronavirus is America's "Pearl Harbour" Moment, There Will be a Reckoning With China
Politics
/
China US Conflict
Apr 06, 2020 - 03:51 PM GMT

The Coronavirus catastrophe continues to unfold which makes a mockery of all those from the President downwards who used to peddle the line that it was not much worse than the flu. Well whilst many including the President have since changed their tune, however a significant number of people continue to not take it seriously stating that the high death rate is as a consequence of lack of testing..
However, if the coronavirus was little worse than the flu then as the US has now increased testing to over 100,000 per day then the case fatality rate should be falling. But that's not what's happening as the more the US tests then the higher the death rate climbs each day and each week.
So the problem with the not much worse than the flu assumption is that the Case Fatality Rates are INCREASING WITH MORE TESTING!
The warnings from Italy since the start of March were clear of what to expect to happen in the UK and the US. Though it was assumed that with this ADVANCE WARNING those in charge would take competent preventative actions. Instead much of that precious time has been squandered by the likes of Boris Johnson and Donald Trump thus putting us on our current trend trajectory.
During February I had hoped for the best, of a competent response that would yield a case fatality rate of 0.7%. But that ship sailed long ago due to the idiots in charge and blinkered academics who lived in their own ivory towers which includes the WHO and much of the Medical profession who were unable to think outside of their small boxes.
Instead it was only by Mid March that the first medics and then the politicians following the medics started to take note that they have all FAILED ON AN EPIC SCALE, though would never admit to such and thus triggered the Governments MASS PANIC RESPONSE OF LOCKING EVERYTHING DOWN. Much as the immune system does in response to first signs of cell death in the lungs following Coronavirus infections that risks a cascade towards pneumonia, being ventilated, by which point the probability of death rises to over 80%!
TOTAL LOCKDOWNS REPRESENT GROSS FAILURE OF THE HIGHEST ORDER! For which when the dust settles there must be a reckoning of sorts starting for -
World Health Organisation- A corrupt institution in the pocket of the Chinese, NOT ONCE did they advocate halting virus infested flights from China and so allowed the virus to quickly spread so that those in charge could gloat in the eye of mass media attention, reveling in becoming household names. Whilst there is a lot of talk about China covering up the extent of their pandemic, however it should not be forgotten that the World Health Organisation is just as guilty as China as the following tweet I grabbed from mid January illustrates.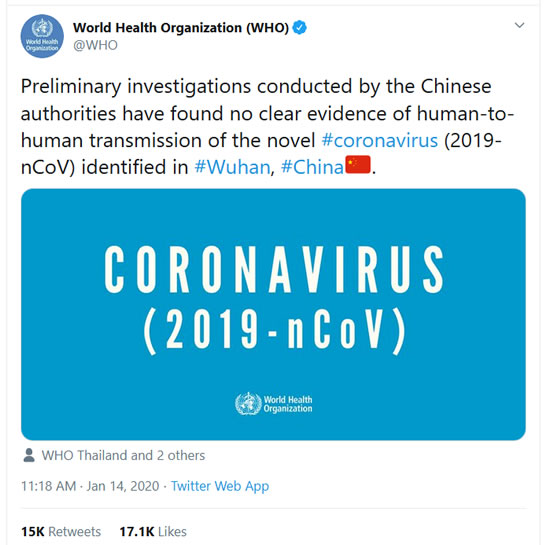 Allowing infected Chinese travelers to flood into our nations IS the PRIMARY mechanism for the seeding of this Pandemic into the UK, Europe and the US as I warned at the time in January.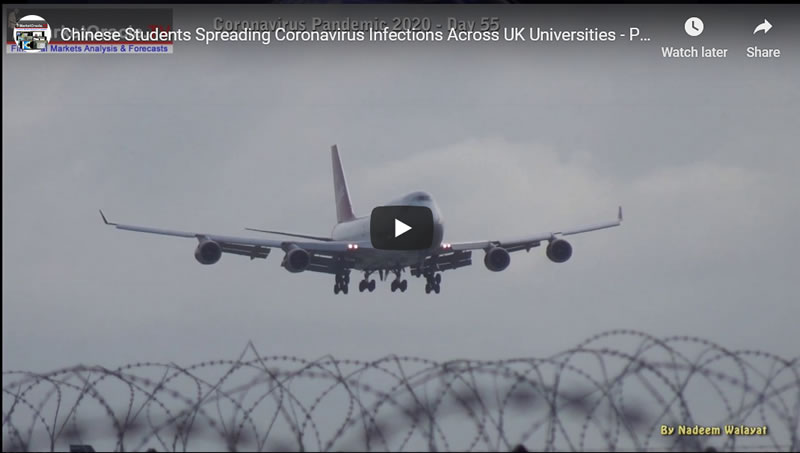 The US did act to buy some time with their travel ban of 1st of February. However then went on to squander the benefits as they failed to follow through on containment and testing which even had the CDC sending out FAKE test kits that DID NOT WORK! CRIMINAL! When the corona dust settles the FBI should investigate the CDC.
GOVERNMENT MAD SCIENTISTS - Who advocated doing nothing so that the population acquires 'herd immunity' that would have resulted in an even more catastrophic death toll than what we are about to experience. Herd Immunity meant that the UK was heading straight to hell and likely to experience over 1million deaths. Whilst for the US the number could easily have passed 4 million on route to 8 million. It was only when the various institutes of medicine did their modeling and presented their findings to the public that the blood soon drained from the faces of the likes of Boris Johnson who did an abrupt U-turn Mid March going from doing nothing to a complete lock down all in just 1 week! Which illustrates the extent to which western governments have gotten this so badly wrong.
POLITICIANS - Largely clueless morons who did not have a clue of what was going on around them, continued on as normal and even becoming some of the first to become infected in the UK after holding press conferences that included infected journalists coughing their viral payloads into their idiot faces as I warned at the time that this was happening, who subsequently went on to show symptoms 4 days later.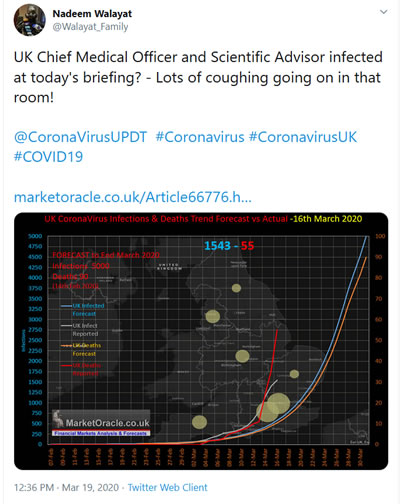 So how can they protect the nation when they cannot even protect themselves!
WAR WITH CHINA MEGA-TREND
CHINA LIED ABOUT EVERYTHING! NUMBER OF INFECTED, NUMBER OF DEATHS THAT WERE LIKELY MORE THAN FIVES TIMES THAT WHICH THEY REPORTED TO THE WORLD!
If you have been following my analysis for sometime then you will be aware that one of the key mega-trend drivers of our time is the War with China mega-trend that I set forth in the following two pieces of in-depth analysis of what I expected to follow that were posted BEFORE Trump took office, a TREND that remains firmly in progress encompassing Trade, Economic, Cyber, Market, Corporate, Territory, Military and Nuclear!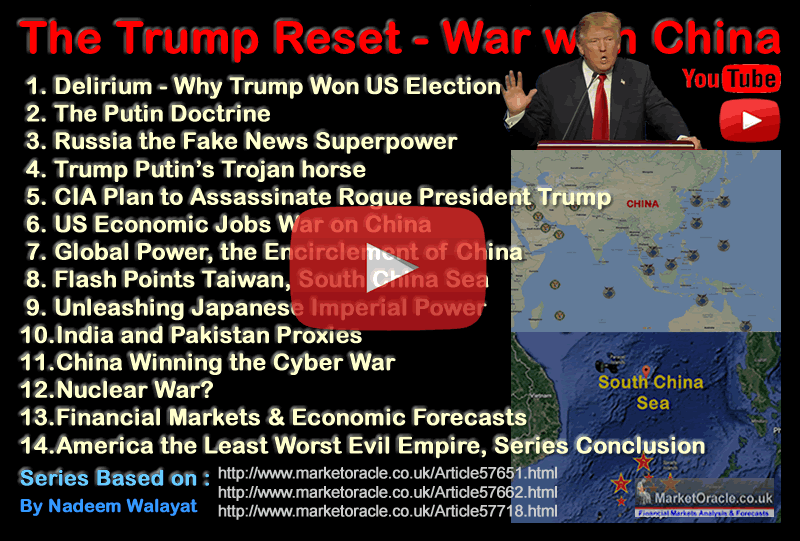 Towards which the Coronavirus crisis will act as an accelerant of as I was stating a month ago what the US is about to experience will be September 11 X10, and which as the US increasingly enters the Coronavirus storm Government Officials have started issuing warnings of a "Pearl Harbour" Moment, a September 11th.
Surgeon General Jerome Adams warned "This is going to be the hardest and the saddest week of most Americans' lives, quite frankly. This is going to be our Pearl Harbor moment, our 9/11 moment, only it's not going to be localised. It's going to be happening all over the country. And I want America to understand that."
We'll if you still have not got to grips with the magnitude of what's to transpire then understand it in these simple terms that what is about to unfold is IS going to be a LOT worse than either September 11th or Pearl Harbour, likely TEN TIMES WORSE in terms of death toll!
We all know what the consequences of September 11th and Pearl Harbour were. The US WENT TO WAR, a case of your either with us or against us. To imagine that this crisis that is ten times larger is not going to resolve in US Military interventions aimed at reigning in the emerging Chinese Empire, is not listening to history.
So In Military terms What is the US Most Likely to do?
One likely course of action would be to DEMAND the Chinese to dismantle their artificial Islands built in the South China Sea in attempts at expanding China's territorial waters far beyond it's land borders. And if the Chinese don't comply than that which I warned of several years ago could happen, namely a limited use of nuclear weapons to wipe the Islands off the face of the world as my following video from 2017 warned was the trend trajectory that the US was on against China.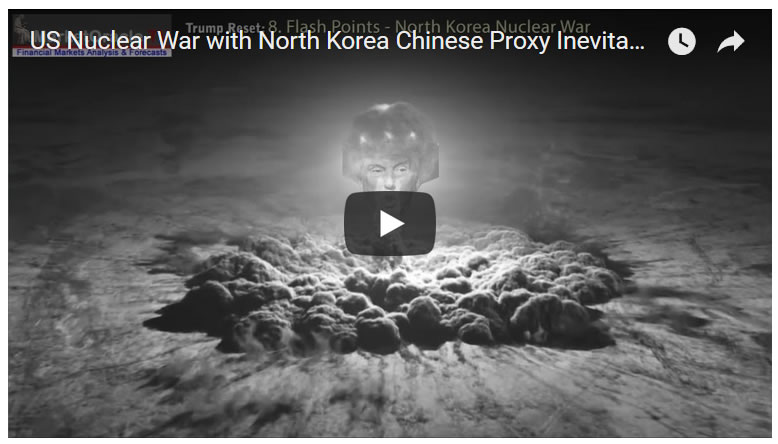 So whilst the worlds's focus today is obviously on the Coronavirus, however when the dust starts to settle there will be reckoning with China as US politicians can already be seen talking in terms of an attack against the US by a foreign power, thus we are at the very early stages of what will become a gradual ramping up of a propaganda message aimed at etching an attack on the US by China into the psyche of ordinary americans in preparations for putting the US on a war footing towards likely retaliatory action where my long standing analysis concluded one of the key military flash points are the artificial; Islands in the South China Sea as a means of containing the Emerging Chinese Totalitarian Empire.
So unless the Chinese empire see's that the US is gunning for blood and dismantles the Island's then it is highly probable that there will be a major US military intervention on the Islands that more likely than not could involve the use of tactical nuclear weapons.
Those that say it could never happen, need to read my original 2 in-depth pieces of analysis that warned of the trend trajectory from first a trade war to a tech war to a cyber war to economic warfare much of which has come to pass over the past 3-4 years, and thus the trend trajectory is firmly towards outright military conflict which includes the use of nuclear weapons.
Whilst I am sure many will be skeptical and argue that the US cannot possibly hold China to blame over the Coronavirus, we'll to remind all Iraq had NOTHING to do with September 11th, neither did it have any weapons of mass distruction but that did not stop the US using September 11th as a cover in to it's and Israel's strategic interests by engaging in a costly $2 trillion 10 year war.
Whilst today China poses a REAL THREAT to the United States Global Empire, so to imagine that the Coronavirus Catastrophe will not be used to US strategic advantage is not appreciating the fact that only the most ruthless Empires tend to survive, else they are soon replaced by emerging empires. So the US will show RUTHLESSNESS the likes of winch we have not seen since WW2, by using NUCLEAR WEAPONS AGAIN!
America's coronavirus hotspot NEW YORK with 120,000 cases and 4000 deaths is fast being replaced by New Orleans where those in charge of that city appear to have IGNORED ALL OF THE DIRE WARNINGS not just from Europe but from New York and went ahead with their street parties well into March which provided the Coronavirus maximum exposure for each infected person to infect dozens more, the consequences of which are now starting to be felt where within a matter of days New Orleans has not only caught up to New York but started to surpass it in terms of death toll.
New Orleans is a test case example of what happens when you ignore the danger of Coronavirus which given feedback from the States MANY are still doing and thus risk facing the wrath of their ignorance in not taking this virus seriously. For as I have been repeating for over a month now, THIS IS NOT THE FLU! YOU HAVE NO IMMUNITY! You may get lucky and be one of the 80% who don't end up in hospital, but those who do are facing an overwhelmed heathcare system that cannot cope with the numbers entering their doors which means the risk of death in hospital is constantly INCREASING! SO NOW IS DEFINETLY NOT THE TIME TO GET INFECTED AND END UP IN HOSPITAL!
The rest of this extensive analysis has first be made available to Patrons who support my work: UK and US Coronavirus Trend, America's "Pearl Harbour" Moment in War with China Mega-trend
UK and US Coronavirus Catastrophe Due to Government Negligence
America's "Pearl Harbour" Moment - War With China Mega-trend
US Coronavirus Infections and Deaths Trend Trajectory Current State
UK Coronavirus Infections and Deaths Trend Trajectory Current State
Stock Market Trend Implications
AI Stocks Buying Levels
WIndfall Taxes
Risk of Death
So for immediate first access to ALL of my analysis and trend forecasts then do consider becoming a Patron by supporting my work for just $3 per month. https://www.patreon.com/Nadeem_Walayat.
And ensure you are subscribed to my ALWAYS FREE newsletter for my next in-depth analysis.
Your Analyst
Nadeem Walayat
Copyright © 2005-2020 Marketoracle.co.uk (Market Oracle Ltd). All rights reserved.
Nadeem Walayat has over 30 years experience of trading derivatives, portfolio management and analysing the financial markets, including one of few who both anticipated and Beat the 1987 Crash. Nadeem's forward looking analysis focuses on UK inflation, economy, interest rates and housing market. He is the author of five ebook's in the The Inflation Mega-Trend and Stocks Stealth Bull Market series that can be downloaded for Free.

Nadeem is the Editor of The Market Oracle, a FREE Daily Financial Markets Analysis & Forecasting online publication that presents in-depth analysis from over 1000 experienced analysts on a range of views of the probable direction of the financial markets, thus enabling our readers to arrive at an informed opinion on future market direction. http://www.marketoracle.co.uk
Disclaimer: The above is a matter of opinion provided for general information purposes only and is not intended as investment advice. Information and analysis above are derived from sources and utilising methods believed to be reliable, but we cannot accept responsibility for any trading losses you may incur as a result of this analysis. Individuals should consult with their personal financial advisors before engaging in any trading activities.
© 2005-2022 http://www.MarketOracle.co.uk - The Market Oracle is a FREE Daily Financial Markets Analysis & Forecasting online publication.
Comments
R.E.B
07 Apr 20, 14:20
Over the top analysis again


Sorry Nadeem but you have lost the plot on this. US deaths have only just ticked above 10,000. Way below what was predicted. Casualty estimates are being revised down 90% on what they were. In the UK, I know people who work in the NHS and while hospitals are busy and there are city hot spots the NHS is not being overwhelmed. In fact it is well within capacity. At this point it is clear that the economic consequences of this will far outweigh the consequences of the virus. Covid 19 is here to stay, and absent a vaccine, herd immunity is the only way we will deal with it. Covid 19 will be back next year you can bet on it. Re China, I hope there is a day of reckoning. We have handed too much wealth and power already to the Chinese Communist Party and we need to deal with them. Not sure I would predict nuclear war though. I hope you are wrong on that one!



Nadeem_Walayat
08 Apr 20, 22:29
US deaths forecast


Way below who predicted?

My forecast as of 22nd March is 26,550 US deaths by end of April. Todays US tally is 13k, so likely to be 30k to 40k.




Only logged in users are allowed to post comments.
Register/ Log in