US and UK Coronavirus Containment Incompetence Resulting Catastrophic Trend Trajectories
Politics
/
Pandemic
Mar 17, 2020 - 02:16 PM GMT

The answer as to why the stock market is delivering 10% blood baths virtually every other trading day since the western world were awoken to the full spectrum horrific consequences of the Coronavirus early March, after having ignored what took place first in China and then large chunks of Asia, likely due to a false sense of superiority. Whilst I have often voiced since early February that we won't find the answers to which way stocks are likely to trend by looking at the price charts. After all back in early Feb the stock market initially shrugged off Coronavirus China news and duly marched to new all time highs! And then continued to remain largely suspended in a state of denial until the cookie started to crumble early March and true panic set in far beyond anything anyone could have imagined at the time.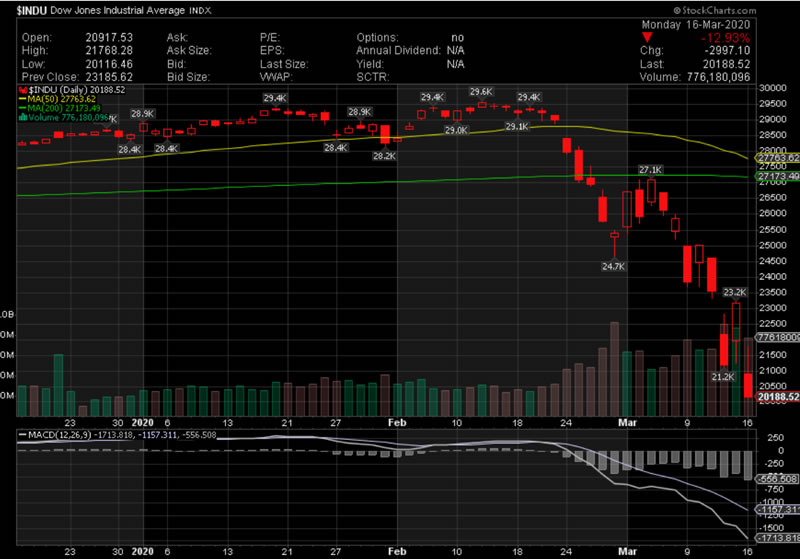 As this analysis will demonstrate the stock charts are chasing the Coronavirus trend trajectories that increasingly began screaming alarm with each passing day and more as we went from February into March with advance warnings that things are going get pretty grim into late March, whilst continuing to look for glimmers for hope that maybe the West can turn the Coronavirus tide, and thus the stock market resolve in the mother of all bounces back, we'll for the tech sector at least.
US Coronavirus Infections Parabolic Trend Forecast Update - 16th March 2020
The penny appears to have finally dropped in the US! Where even uber skeptic President Trump has finally had someone read the writing on the wall to him, with the US appearing to start to swing firmly in the right direction, though as the following graph illustrates the damage is likely already done, so the US WILL pay a heavy price for Presidential & Congressional Governmental and CDC NEGLIGENCE that borders on CRIMINAL. Where the US wasted THE WHOLE OF FEBRUARY! The US could have nipped this in the bud, but instead supreme arrogance in monitoring and capability reigned until the stock market started discounting the trend trajectories that were starting to unfold. Remember that the stock market DISCOUNTS the future, it's not going to wait for 100,000 deaths before it nose dives as we have just witnessed take place.
Will the US authorities act in time to save America from a catastrophe the likes of which are only seen in disaster movies? With the potential to be perhaps 100 times worse than September 11th! At least that was limited to just 1 day, this is going to be like a September 11th every other day in terms of economic paralysis.
In determining how bad things are and how bad they are likely to get then I turn to my trend forecast of 29th of February modeled on US competency closer to that of South Korea than China's. Forecast expectations for a trend to 13,000 infected by the end of March resulting in about 180 deaths. Which was expected to deliver a bear market of sorts resulting in buying opportunities for my Top 14 AI sector stocks (analysis towards the end of this article).
Though with each passing day and update, Increasingly became alarmed by the unfolding trend that was materialising that was many times worse than forecast primarily due to western arrogance that mature democracies were far more capable at handling a little bug than a totalitarian state such as China.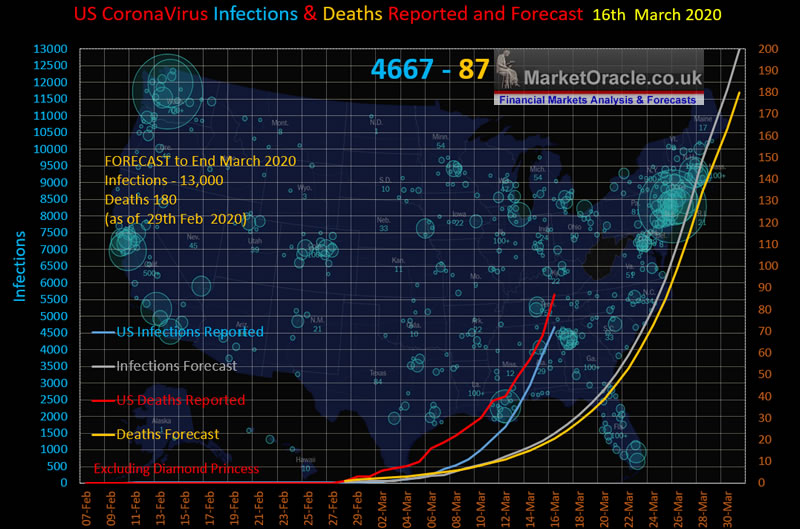 The latest data shows that both US infections (despite lack of testing) and deaths are going parabolic on a far steeper curve than forecast. With little sign that measures enacted to date are having any impact which does not bode well for April and May.
In terms of trend trajectories, US Infections of 4677 are 312% of forecast (1500) by this time, which as I warned in my last update suggested to expect over 40,000 infected by the end of this month. However what's really worrying are the number of deaths, where 87 is now 420% of my forecast of where the US should be by now were it handling the pandemic in a competent manner, which now suggests over 750 deaths are likely by the end of March! That's in just 2 weeks time! And the trajectories suggest far worse to come for April, towards which I will resolve in a trend forecast before the end of March, by which time hopefully there will be some good news as the actual trend attempts to converge towards my forecast and thus be less catastrophic than what today's trend suggests i.e. if we continue on this path then there would be more than 2 million US deaths by the end of the April! Note this is not my forecast, rather it's the current trend trajectory that will likely moderate as the US acts to quarantine and slow the spread of the virus.
UK Entering Coronavirus Mass Deaths Stage, Schools Remain Open to Spread Herd Immunity
If you thought the US was bad at handling the coronavirus despite fore warning from the experience of a string of nations including China, South Korea, and Italy then wait till you here what the Chief Scientific Advisor to the Boris Johnson Government cunning plan (sarcasm) to defeat the virus entails.
What do you think the governments solution is to Coronavirus crisis?
It's to allow the virus to INFECT 60% of the population so that they become 'immune' and thus it would become much harder for the virus to spread to the remaining 40% of the population. The Herd Immunity Protocol! Why would they do this? Because it's the cheapest and fastest way out of the Coronavirus crisis, saving lives costs time and money!
How are they going to achieve this?
Unlike most of europe, the UK is not enforcing bans on mass gatherings, just suggesting that people should avoid social contact.
This ensures that things will get far worse during April and May, as the UK now looks set to experience a death toll far greater than that of the 2100 where Italy currently stands, greater even then China's 3,213 deaths! That will be the consequences of implementing the Herd Immunity Protocol where the primarily mechanisms is through infecting Britains school children who are expected to go on to infect their parents, the assumption being that stats are good for children surviving the Wuhan flu, with usually mild symptoms, whilst their parents could get a worse illness, nevertheless if under age 50 then should also survive. It's when one starts creeping past age 60 or have comorbidities or any health issues either past or present i.e. if you used to smoke heavily that's when you start going above a 10% risk of death.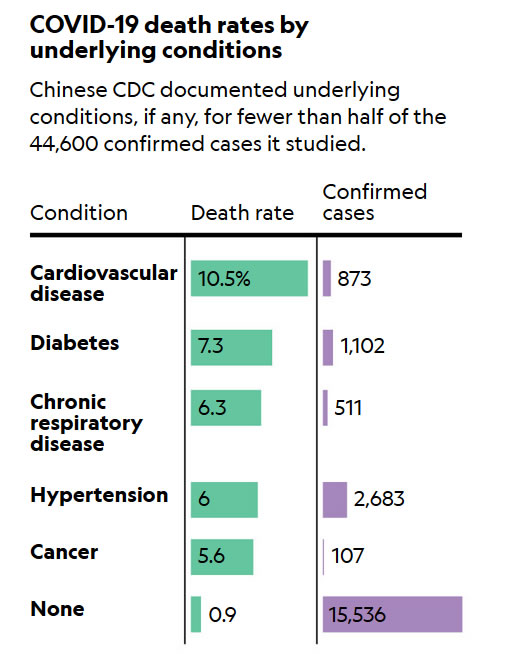 Don't believe me? Think I've gone all conspiracy theory on you all? Then watch the following video and you can hear it from the horses mouth of what the governments cunning plan is.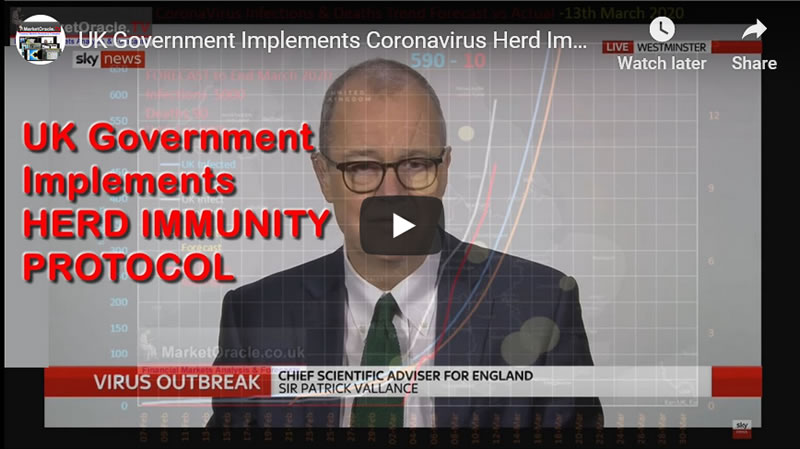 I am sure the governments PR department has had lengthy sessions with the Chief Scientific Advisor so as to better mask the governments actual plan to combat the Coronavirus.
In terms of the daily change in the number of infected, the UK appears to have pulled off a minor miracle as today's increase in the number of infected was substantially lower than yesterdays, only recording 152 new cases against a rise of 330 the day before. So has the UK pulled of a Coronavirus miracle? I'm afraid not because last Thursday the Government announced that it would STOP TESTING ALL THOSE INFECTED who were told to self isolate at home and would only be testing those who actually end up in hospital, which would estimate to be between 12% to 20% of those who are infected. This is AGAINST WHO recommendations of how to fight the pandemic, a message of TEST, TEST, TEST!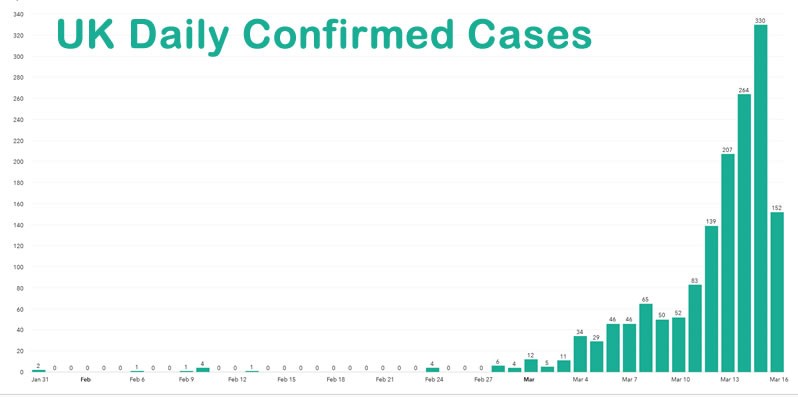 However, whilst the government can start pumping out fake infection numbers China style, unfortunately it will not be able to hide deaths. Which have leapt more than 5 fold in just the past 4 days rising from total deaths of 10 on the 12th of March to 55 today! Which translates into a case fatality rate of 3.6%, up from the 1.8% that the UK had been hovering around. Which suggests that when the dust finally settles, the probable case fatality rate should be around 1%. Which is still about 20X as deadly as the seasonal flu!
UK Coronavirus Trend forecast Update
The total number of infections continues to exceed my trend forecast, now by 268%. My original forecast as of 14th Feb 2020 was for the number of infections to target a parabolic trend to 5000 by the end of March 2020. Whilst the actual trend trajectory now suggests that the UK is heading for more than 12,000 officially recorded infected numbers by the end of March.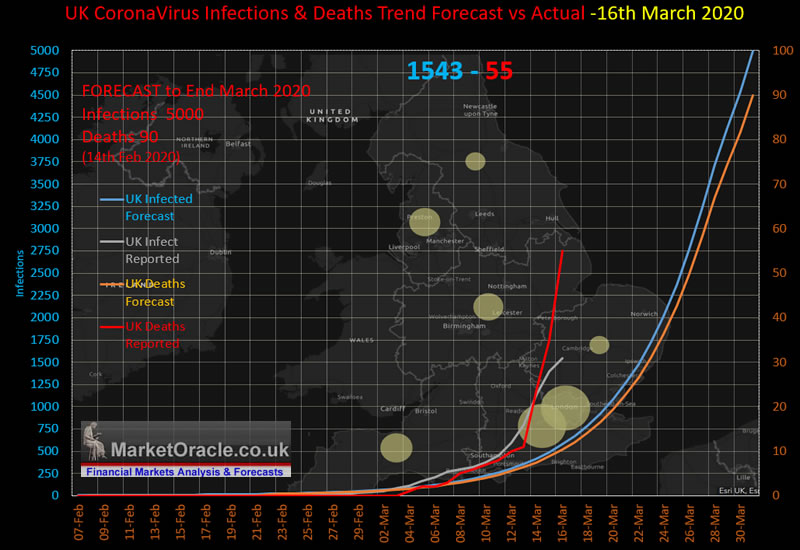 Whilst the number of deaths at 55 exceeds my trend forecast by 531%, which does not bode well for what is about to transpire that I am sure will spark much panic amongst the general population as this now implies that the UK could be heading for over 500 deaths by the end of March 2020!
How bad could things get if the government continues with it's "Herd Immunity" plan?
Even if the death rate from such actions is 1/10th the probable 1%, that would still mean of the 39 million infected about 40,000 would die and likely triple that again from all those infected during the 3 months it would take to build 60% herd immunity. Never mind the chaos of having upwards of 8 million ill trying to get any kind of treatment from the NHS which would result in even more deaths.
So it looks like by July the UK death toll could exceed all other nations put together, unless that is if the US also follows the UK's example. Which I am sure would be appealing to President Trump so as to get the Coronavirus out of the way before November's election.
Should You Send Your Child to School?
As long as one is aware that the governments objective is to get school children infected as soon as possible and then their parents so as to achieve 60% herd immunity!
So if you or your child have ANY health concerns, weakness in terms of immunity i.e. maybe you used to be a smoker, then you should NOT GAMBLE WITH YOUR LIVES AND SO STOP SENDING YOUR CHILDREN TO SCHOOL!
Thus the UK has been giving advice to the elderly and weak to self quarantine themselves for the next 3 months as the virus is encouraged to rage through the general population towards the stated goal of achieving herd immunity that undoubtedly will cost many tens of thousands if not hundreds of thousands of lives if the mad scientists advising the UK government have their way!
Trend Outside China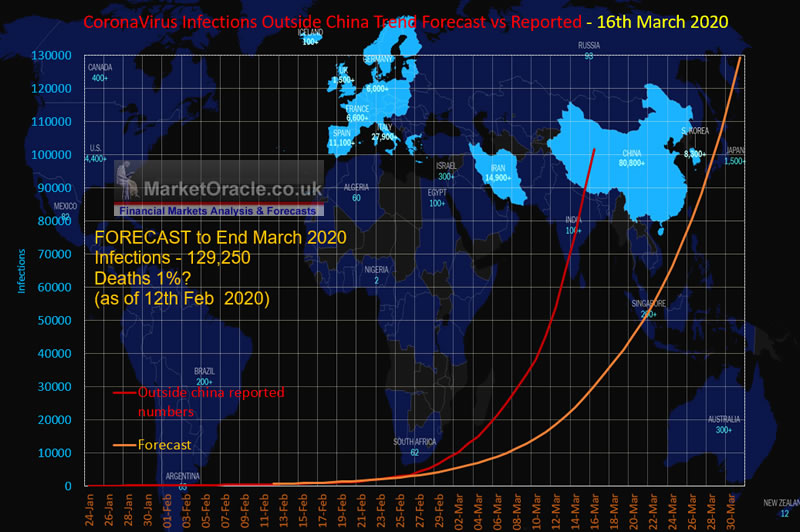 Briefly the world outside China infections continue to go parabolic, targeting triple the number of infected forecast to 388,000 by the end of March. Where 90% of the spread in infections is coming from Europe..
CoronaVirus Stocks Bear Market Trend Forecast Implications and AI Stocks Buying Levels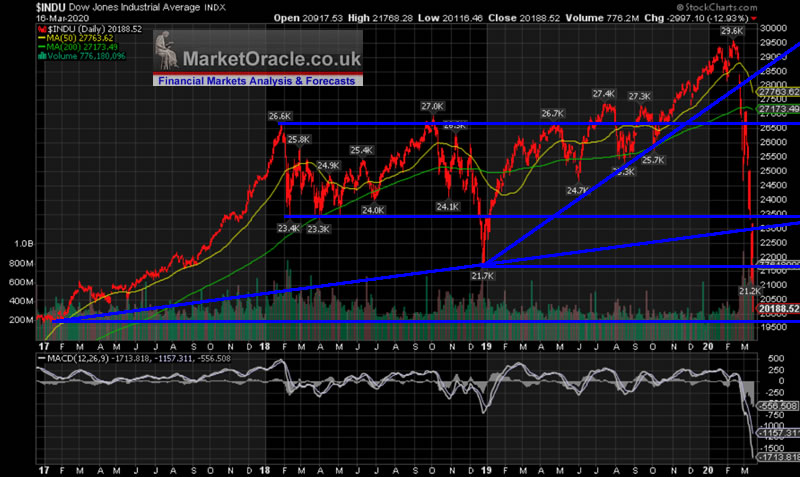 The rest of this analysis including AI stocks buying levels has first been made available to Patrons who support my work. https://www.patreon.com/posts/us-and-uk-trend-34969504
So for immediate first access to ALL of my analysis and trend forecasts then do consider becoming a Patron by supporting my work for just $3 per month. https://www.patreon.com/Nadeem_Walayat.
And ensure you are subscribed to my ALWAYS FREE newsletter for my next in-depth analysis.
Your Analyst
Nadeem Walayat
Copyright © 2005-2020 Marketoracle.co.uk (Market Oracle Ltd). All rights reserved.
Nadeem Walayat has over 30 years experience of trading derivatives, portfolio management and analysing the financial markets, including one of few who both anticipated and Beat the 1987 Crash. Nadeem's forward looking analysis focuses on UK inflation, economy, interest rates and housing market. He is the author of five ebook's in the The Inflation Mega-Trend and Stocks Stealth Bull Market series that can be downloaded for Free.

Nadeem is the Editor of The Market Oracle, a FREE Daily Financial Markets Analysis & Forecasting online publication that presents in-depth analysis from over 1000 experienced analysts on a range of views of the probable direction of the financial markets, thus enabling our readers to arrive at an informed opinion on future market direction. http://www.marketoracle.co.uk
Disclaimer: The above is a matter of opinion provided for general information purposes only and is not intended as investment advice. Information and analysis above are derived from sources and utilising methods believed to be reliable, but we cannot accept responsibility for any trading losses you may incur as a result of this analysis. Individuals should consult with their personal financial advisors before engaging in any trading activities.
© 2005-2022 http://www.MarketOracle.co.uk - The Market Oracle is a FREE Daily Financial Markets Analysis & Forecasting online publication.
Comments
Andy
18 Mar 20, 10:17
Official UK numbers are worthless


I can be 100% sure the UK numbers are complete junk. I know of at least 10 people who may have coronavirus, none of whom will ever be tested. There must be 1000s of people in a similar situation. The 55,000 number being suggested by the BBC is likely to be closer to the truth.

None of those I know have the full set of symptoms so we can't be sure. None have both a cough and a fever, however perhaps it manifests differently in different people. None of us share the same symptoms. Doctors won't see anyone, their only suggestions is paracetemol and stay home for 2 weeks.

All I can say, if we do have it, for those who are young and / or in good health it's not (yet) a big deal. Understood for those in bad health things are statistically very different.



R.E.B
18 Mar 20, 21:02
Hysterical doom mongering


You made similar predictions about how swine flu was going got wipe us all out in 2009. Sorry but you were wrong then and you are wrong now.



Nadeem_Walayat
21 Mar 20, 19:12
Coronavirus is NOT Swine Flu!


Actually the OPPOSITE IS TRUE!

http://www.marketoracle.co.uk/Article12230.html

"The mainstream press recently ran with scare mongering headlines of as many as 65,000 deaths which is set against a normal seasonal flu toll of between 6000-10000 deaths. Another significant factor is that swine flu tends to hit the young more than the elderly, so children are at much greater risk than with the usual seasonal variant."

We had Tamiflu to deal with Swine flu with pharamcies well stocked.

For this maybe Hydroxychloroquine will work but very limited stocks.

SO NO I DID NOT MAKE ANY PREDICTIONS OF SWINE FLU BEING BAD!

To the contrary!

Whilst this pandemic is running at X4 worse than forecast so NOT TO BE UNDER ESTIMATED.




Only logged in users are allowed to post comments.
Register/ Log in