World Bank Calls China an Economic Bright Spot
Economics
/
China Economy
Apr 14, 2009 - 05:26 AM GMT


The Dow has been on a mini-roll. Therefore, most investors are thrilled to see battered stock portfolios recover even a smidgen of their massive losses. The problem is that these investors aren't paying attention to what's happening elsewhere around the globe. And they may be missing out on the opportunity of the decade!


That's because the morsels of good economic news coming out of the U.S. are completely overshadowing what's happening in Asia.
China: A Bright Spot in the Region And the Global Economy
Just last week, a new report from the World Bank painted a very pretty picture about the economies of China, the world's third-biggest economy, and its Asian neighbors …
The World Bank is forecasting that the Chinese economy will grow by 6.5 percent this year and expects it to really take off in 2010.
Thanks to China's $586 billion stimulus spending plan, the World Bank is forecasting that the Chinese economy will grow by 6.5 percent this year. Could you imagine the cartwheels Bernanke and Obama would do if the U.S. economy was growing by that amount?
Things are so positive in China that the World Bank called China "a bright spot in the region and the global economy" and expects the Chinese economy to really start rocking and rolling in 2010.
Vikram Nehru, the World Bank's chief economist for its East Asia region, thinks the worst is behind China and that China has or is very close to bottoming.
He said:
"The evidence on what's happening in China seems so pervasive and seems to cross so many indicators that I think there is now a growing degree of confidence that the stimulus package in China is having impact. Purchases of inputs have soared. Even consumer confidence is up and of course everybody knows bank lending has accelerated quite significantly."
What indicators have the World Bank so enthusiastic? I bet these four new pieces of economic news got their attention:
In March, China's Purchasing Managers Index (PMI) rose for the first time in six months, signaling that manufacturing is expanding again. The PMI is a key indicator of economic health and is now at 52.4. A reading above 50 suggests expansion.
Urban fixed-asset investment in China jumped 26.5 percent to $150 billion in the first two months of 2009. China's $586 billion stimulus plan has jump started housing and railway construction.
Cement production increased by 10.3 percent in the first two months of 2009 compared to the same period a year ago.
According to the Chinese Association of Automobile Manufacturers, the Chinese bought 1.03 million vehicles in March, up 25 percent from the previous month. More impressive is the fact that this is the third month in a row that the Chinese have bought more cars than Americans, who bought 857,735 new cars in March.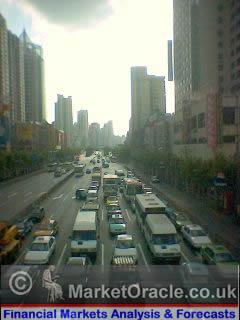 March was the third month in a row that the Chinese bought more cars than the Americans bought.
This strong growth is going to spill over to China's major Asian trade partners, too. In fact, the World Bank expects the GDP in developing East Asia to grow by 5.3 percent in 2009.
But don't think for a minute that the World Bank is across-the-board enthusiastic about all countries. It expects the economies of Malaysia, Thailand, and Cambodia to shrink this year and has an even harsher view of the U.S. and Europe.
The World Bank's Nehru cautioned:
"We are still in the middle of a perfect storm. For example over the last four months things have gone from bad to worse in many of the advanced economies."
Perfect Storm? Bad to Worse?
I Couldn't Agree More!
That's all the more reason why you should consider taking some chips off the Wall Street craps table and begin switching to a different table with better odds.
And what table would that be? If you ask me or the World Bank, the answer will be the same: Parts of Asia.
Now before you tell me that it's too hard to invest in Asian stocks, here is a list of Chinese shares that trade on the Nasdaq, American, or New York Stock Exchange.
Halter USX China Index Members
3SBio (SSRX), 51 Job (JOBS), Acorn International (ATV), Actions Semiconductor (ACTS), Advanced Battery Technologies (ABAT), AgFeed Industries (FEED), Agria Corp (GRO), AirMedia Group (AMCN), Aluminum Corp. of China (ACH), American Dairy (ADY), A-Power Energy Generation Systems (APWR), AsiaInfo Holdings (ASIA), ATA, Inc. (ATAI), Baidu.com (BIDU), BMP Sunstone Corporation (BJGP), Canadian Solar (CSIQ), CDC Corp (CHINA), China Architectural Engineering (CAEI), China Automotive Systems (CAAS), China BAK Battery (CBAK), China Digital TV Holdings (STV), China Eastern Airlines (CEA), China Finance Online (JRJC), China Fire & Security Group (CFCG), China Information Security Technology (CPBY), China Life Insurance (LFC), China Medical Technologies (CMED), China Mobile (CHL), China Natural Resources (CHNR), China Nepstar (NPD), China Petroleum and Chemical (SNP), China Precision Steel (CPSL), China Security & Surveillance Technology (CSR), China Sky One Medical (CSKI), China Southern Airlines (ZNH), China Sunergy (CSUN), China Techfaith Wireless Communication (CNTF), China Telecom Corporation (CHA), China Unicom (CHU), China Yuchai International (CYD), ChinaCast Education (CAST), ChinaEdu Corp. (CEDU), Chindex International (CHDX), Cninsure (CISG), CNOOC Ltd. (CEO), Cogo Group (COGO), Ctrip.com (CTRP), E-House (EJ), eLong (LONG), Focus Media (FMCN), Fuqi International (FUQI), Fushi International (FSIN), General Steel Holdings (GSI), Giant Interactive (GA), Global Sources (GSOL), Guangshen Railway (GSH), Gushan Environmental Energy (GU), Harbin Electric (HRBN), HLS Systems (HOLI), Home Inns (HMIN), HuaNeng Power International (HNP), JA Solar Holdings (JASO), Jinpan International (JST), KongZhong Corporation (KONG), LDK Solar (LDK), Linktone (LTON), Longtop Financial Technologies (LFT), Mindray Medical (MR), Nam Tai Electronics (NTE), Netease.com, (NTES), New Oriental Education (EDU), Noah Education Holdings (NED), Perfect World (PWRD), PetroChina (PTR), Qiao Xing Mobile (QXM), Semiconductor Manufacturing (SMI), Shanda Interactive Entertainment (SNDA), Shengdatech (SDTH), Simcere Pharmaceutical (SCR), Sina Corporation (SINA), Sinopec Shanghai Petrochemcial (SHI), Sinovac Biotech (SVA), Sohu.com (SOHU), Solarfun Power (SOLF), Suntech Power (STP), Sutor Technology Group (SUTR), The9 Limited (NCTY), Tiens Biotech (TBV), Tongjitang Chinese Medicines (TCM), Trina Solar Limited (TSL), UTStarcom (UTSI), Vimicro International (VIMC), VisionChina Media (VISN), Wonder Automotive Technology (WATG), WSP Holdings (WH), WuXi Pharma Tech (WX), Xinyuan Real Estate (XIN), Yanzhou Coal (YZC), Yingli Green Energy (YGE), Yucheng Technologies (YTEC), Zhongpin, (HOGS)
That's right — you can invest in dozens of Chinese companies without leaving the comfort of your American discount brokerage account.
What's more, the above list doesn't include the hundreds of stocks from other Asian countries that are also listed on U.S. exchanges.
Lastly, you can find Asian stocks, such as Nintendo and Komatsu, listed on the Over-the-Counter Bulletin Board (pink sheets) market.
As you can see, there's no excuse for not including some Asian spice in your portfolio. It's easy, cheap, and makes the most sense given the World Bank's prediction that parts of Asia will come out of this global recession the fastest.
Best wishes,
Tony
P.S. For the latest on the tremendous, money-making opportunities available in Asia, sign up for our new free e-zine, Uncommon Wisdom, with daily updates and recommendations to preserve and grow your wealth.
The best part? A subscription to Uncommon Wisdom won't cost you one red cent! Click here to subscribe.

This investment news is brought to you by Money and Markets . Money and Markets is a free daily investment newsletter from Martin D. Weiss and Weiss Research analysts offering the latest investing news and financial insights for the stock market, including tips and advice on investing in gold, energy and oil. Dr. Weiss is a leader in the fields of investing, interest rates, financial safety and economic forecasting. To view archives or subscribe, visit http://www.moneyandmarkets.com .
© 2005-2019 http://www.MarketOracle.co.uk - The Market Oracle is a FREE Daily Financial Markets Analysis & Forecasting online publication.

Only logged in users are allowed to post comments.
Register/ Log in