The Fallacy of Free Trade
Economics
/
Economic Theory
May 01, 2009 - 05:54 PM GMT


"The causes of wealth are something totally different from wealth itself. A person may possess wealth i.e. exchangeable value; if, however, he does not possess the power of producing objects of more value than he consumes, he will become poorer. A person may be poor, if he, however possesses the power of producing a larger amount of valuable articles than he consumes, he becomes rich.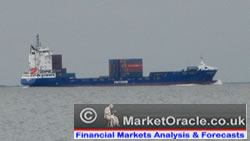 The power of producing wealth is therefore infinitely more important than wealth itself; it insures not only the possession and the increase of what has been gained, but also the replacement of what has been lost. This is still more the case with entire nations (who cannot live out of mere rentals) than with private individuals."
Freidrich List "The National System of Political Economy"
Any serious national economist who objectively reviews the reality of free trade must eventually come to the conclusion that it is ruinous to a nation. Granted it may seem to work short term in providing "cheap goods" but in the longer perspective it destroys the productive wealth-creating base of a community. The British Empire knew this fact, and while it ostensibly lauded the teachings of Adam Smith and his "Wealth of Nations", under no circumstances did it carry out Smith's doctrine in its actual trading policy. The mandarins from the East India Company, that owned and ran the Empire, had no time for economic nonsense. Whatever they produced in England could not be imported, yet it shoved lower cost goods from India and the Indies onto the new American Colonies, thus destroying fledging industry in the new territories. Again to quote List:
"England was unwilling to found settlements in Asia in order to become subservient to Asia in manufacturing industry. She strove for commercial supremacy, and found that of two countries maintaining free trade between one another, that one would be supreme which sold manufacturing goods, while that one would be subservient which could only sell agricultural produce. In her North American colonies, England had already acted on these principles in disallowing the manufacture in the colonies of even a horseshoe nail, and still more, that no horseshoe, made there, could be imported into England."
It is clear that developing home industries provides jobs, productive capacity and enhanced purchasing power. The opposite policy, advocating the destruction of industry, is ruinous to a nation or empire. When one looks at the current arrangement being entered into by the US government, vis a vis China, it is axiomatic that this policy cannot suit America as a nation and is therefore being adopted to suit a trading elite. The free trade fallacy is utterly destroying American industrial capacity, hampering technological development, ruining real jobs and undermining social stability. Until this modality of executive government is reversed it is a foregone conclusion that America, as a nation, will continue to decline.
The longer this reality is ignored the more serious the problem will become. Eventually, if it progresses too far, the system will manifest such instability that it will fail from the bottom up through bankruptcy of households, small businesses and communities. This insolvency will eventually force change at the top through lack of a viable tax base. As diagnosed by Carroll Quigley, in his "Oscar Iden Lecture Series", the end result will be a reversion to community to provide for the necessities of life. Such a trend is starting because governments are losing the respect of people. Policy makers no longer possess the rigour of honesty and rational truth: they speak in bombast and sophistry. In other words, they no longer know what they are talking about. You cannot fool everybody all of the time. Nothing focuses the mind like unemployment, sickness, homelessness and starvation.
These realities are beginning to allow Americans to become enlightened about the free trade error. More and more folk are starting to question the logic of this economic suicide with China. How can a free democracy do "business" with a tyrannical dictatorship that forces abortions on women if they have more than one child; where travel is restricted; where much labour is forced; where the environment is being despoiled; where free speech is banned and where there is no respect for spirituality and religion? This communist dictatorship is allowed provide "cheap" goods to Wal-Mart who then floods the American market, supposedly for the benefit of the American consumer. However, in essence, this model destroys all indigenous American retail and manufacturing infrastructure as no home corporation can compete with this China/Wal-Mart business/political model. The fact that no American worker can adequately provide for life, limb and family on Wal-Mart wages simply completes the travesty and inequity of the system.
This free trade model is a fallacy and until this fact is owned up to and faced down all other problems facing America pale into insignificance.
By Christopher M. Quigley
B.Sc., M.M.I.I. Grad., M.A.
http://www.wealthbuilder.ie
Mr. Quigley is 46 years of age and holds a Batchelor Degree in Management from Trinity College/College of Commerce, Dublin and is a graduate of the Marketing Institute of Ireland. He commenced investing in the Stock Market in San Francisco, California where he lived for 6 years. Now based in Dublin, Mr. Quigley actively trades utilising the principles set out in the modules above. This Wealthbuilder course has been developed over the last 9 years as a result of research, study, experience and successful application.
Disclaimer: The above is a matter of opinion provided for general information purposes only and is not intended as investment advice. Information and analysis above are derived from sources and utilising methods believed to be reliable, but we cannot accept responsibility for any trading losses you may incur as a result of this analysis. Individuals should consult with their personal financial advisors before engaging in any trading activities.
© 2005-2019 http://www.MarketOracle.co.uk - The Market Oracle is a FREE Daily Financial Markets Analysis & Forecasting online publication.
Comments
Smack MacDougal
02 May 09, 15:05
Confusion Leads to False Beliefs about Fallacies


Wealth advantage goes to the innovator who produces wanted things (wealth) in sufficient surplus to yield a profit regardless of where such things get swapped for other others, usually money of a currency.

Never should anyone confuse managed trade (what the British had during colonialism) with free trade.

Never should anyone confuse internal politics of a people, however reprehensible (the Chinese and their politics) with economics (the science of exchange of one thing for another).




Only logged in users are allowed to post comments.
Register/ Log in