Privatise the NHS and Save the UK Economy from Bankruptcy
Politics
/
Recession 2008 - 2010
May 03, 2009 - 08:54 PM GMT


The UK economy is on the fast track towards bankruptcy in that the level of borrowings is mushrooming out of control and those are the figures that the government is showing on its official balance sheet that has hidden the true extent of liabilities through accounting tricks that the government conjures to hide the truth of the dire state of the countries finances as the below graphs illustrate.
The country is suffering from a series of public spending black holes from the £800 billion and growing public sector pensions deficit to the NHS that wastes as much as 90p in ever extra £1 spent on it. The governments answer so far has been to print money and raise taxes on the rich to 50%, though basic rate tax payers should not delude themselves as come post election 2010 the basic rate tax will be heading higher towards a target of 30%, and not forgetting the semi-stealth tax of 23.8% of NI, which already brings the real tax rate for ordinary tax payers to 43.8%.
The budgetary crisis hitting Britain is most clearly illustrated by the way the Chancellor, Alistair Darling has upped his budget deficit expectations over the next 4 years from a total of £120 billion in November 2008 to £608 billion in April 2009, this is still destined to grow much higher and contrary to the political spin the debt will NEVER be repaid as I elaborated upon earlier - Labour Government Enslaves the British Tax Payer to a Decade of Paying for the Bankers Crimes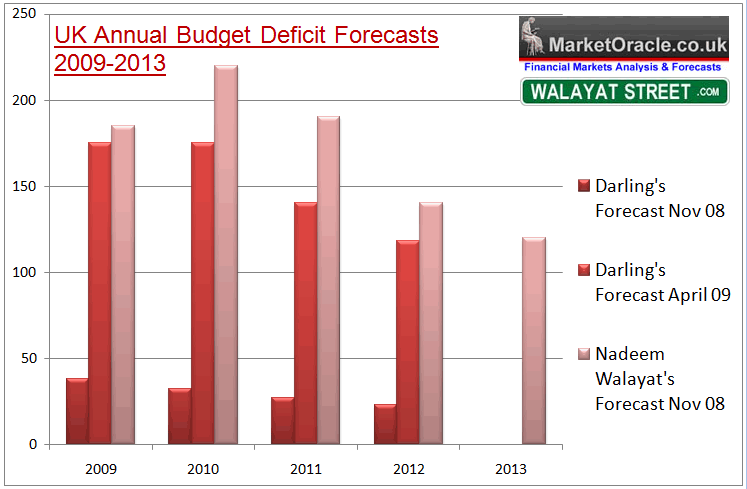 The Labour party has been on a debt fuelled spending binge that as a consequence of the bankruptcy of the financial sector has gone parabolic during the last 18 months which is destined to lift total tax payer liabilities from £1.75 trillion at the end of 2007 to £3.9 trillion by the end of 2010.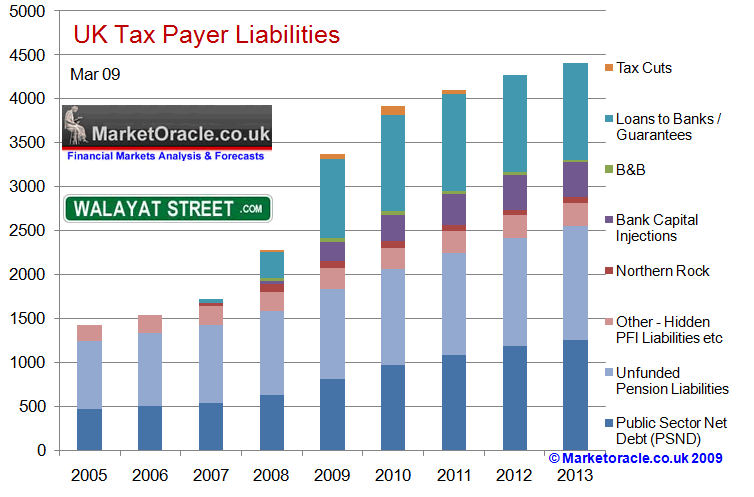 NHS Spending Black Hole
The NHS is a spending black hole that has grown to more than 10% of GDP from 3.5% of GDP in 1948 that carries more than a million passengers on its its gravy train. As mentioned before every extra £1 spent on the NHS only generates barely 10p in increased output. Britain spends 3 times the amount on the NHS per capita than most Eastern European States that still somehow manage to delivery a better health service which leaves Britain languishing at the bottom of the European Health leagues.
Incompetence, greed and waste are the operate words, NOT value for money or putting patients first as illustrated by an opinion poll amongst 156,000 NHS staff that found that patient care is not a top priority for the NHS. It is no wonder that patients in their hundreds of thousands are seeking private health screening and GP services for if the truth of the matter were told, if patients left themselves to the NHS then they would in many cases be dead before the NHS got around to calling them in for their consultations from the waiting lists. Why wait as long as 18 months for an NHS screening appointment when you can have one next week for £150? That is if the patient makes it past the 2 minute GP diagnoses sessions that are akin to GP's swiping patients in and out of their doors as credit cards to bank profits on.
GP Pay
Nothing illustrates the NHS spending black hole under the Incompetent Labour Government more then the debacle over GP Pay Contracts as the below graph illustrates. The new contracts that came into force for the year 2003-04 saw GP Pay soar during the following 3 years by as much as 35% per annum. If GP Pay had grown in line with average earnings then the current average GP salary should be £68,000 against the actual average of over £125,000.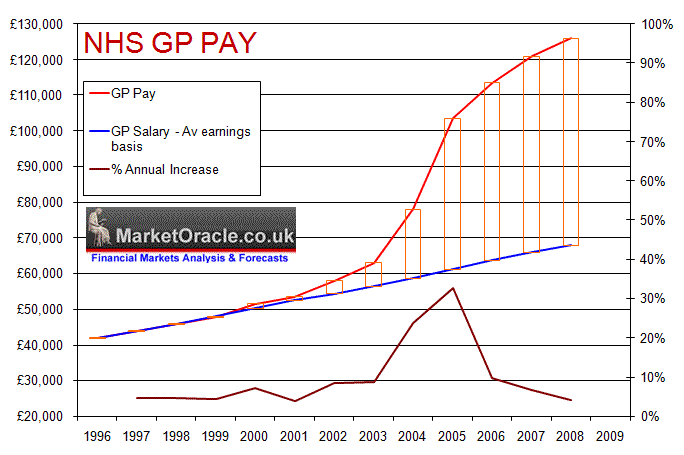 According to the National Audit Office, the number of NHS GP's has increased by 15% from 26,833 to 30,931 since 2003, this is as a consequence of the GP contracts debacle, at the same time GP's are working on average 7 hours per week less, therefore a cut in productivity of 18% on a normal working week and thus on balance resulting in little improvement in patient healthcare despite a tripling in costs, with the National Audit office reporting am actual continuous year on year loss of overall productivity.
The government has attempted to address the impact of over payment and reduction in services to the public by the implementation of Super Surgeries, which is an attempt to by-pass traditional GP surgeries that have proved inflexible and resistant to change by means of delivering health care through Poly Clinics or Super Surgeries that aim to provide all in one centre's with better management of GP's so as to deliver an improved standard of diagnoses and preventative care which is lacking under the existing system. An additional major improvement will be in the offering of longer opening times so as to meet the needs of the working population that tends to be ignored by the present GP system where working patients are required to usually take half a day or a full day off work that's IF they are able to get an appointment in the first place.
Super Surgeries aim to give the patients the real choice of GP's amongst a number of professionals under strong management guidance, rather than the current system where the GP's are left to their own devices which usually results in diffusion of responsibility amongst GP's within small family surgeries and therefore putting of competent diagnoses to the next GP, with firm management procedures in place to prevent a lax working environment from developing.
The British Medical Association (BMA) (Representing GP's) during much of 2008 fought against the implementation of super surgeries by compiling and presenting a petition of more than 1 million signatures to Downing Street against the implementation of 150 'Super Surgeries' and for existing GP Surgeries to be protected.
The Health Minister, Ben Bradshaw in response lashed out at the scare tactics accusing the BMA of "misleading and mendacious" behaviour in getting patients to sign up to the petition.
"I am not surprised the BMA has collected so many signatures, given the misleading and mendacious nature of its campaign.
"If I were to run a campaign making false claims that something terrible was about to happen, a lot of people would sign my petition too.
"We have received widespread anecdotal evidence of patients feeling pressurised to sign the petition as well as practices telling their patients blatant inaccuracies about local plans." he said.
NHS Wasting Tens of Billions Every Year.
The approximate amount of extra real terms spending per year is put at £47 billion, of which 50% has gone on pay rises and of the remaining, 20% on a series of wasted initiatives and projects such as the billions spent on a computer system that still does not work. This means that the more money that has been spent on the NHS the less productive it has become as staff (primarily doctors) lose the incentive to work more and hence cut back hours. After all if your pay was tripled for the same work, would you opt to work more or less ?
The wholesale privatisation of the the NHS could yield an estimated £250 - £300 billion, as well as the positive impact of real competition between hospitals and between GP practices rather than the old boys network that prevents GP's from competing against one another that exists today. This would put the incompetent out of business and push capital and revenues towards the more competent practices resulting in huge cost savings to the tax payer by up to 30% that ARE necessary given the budgetary crisis.
Privatisation of the NHS is but ONE of the necessary steps that next government will have to undertake to bring public spending under control as the consequences of not doing so will be for a decade or more of economic depression under a continually escalating debt mountain that the country will increasingly find painful to service in terms of interest payments.
By Nadeem Walayat
http://www.marketoracle.co.uk
Copyright © 2005-09 Marketoracle.co.uk (Market Oracle Ltd). All rights reserved.
Nadeem Walayat has over 20 years experience of trading derivatives, portfolio management and analysing the financial markets, including one of few who both anticipated and Beat the 1987 Crash. Nadeem's forward looking analysis specialises on the housing market and interest rates. Nadeem is the Editor of The Market Oracle, a FREE Daily Financial Markets Analysis & Forecasting online publication. We present in-depth analysis from over 250 experienced analysts on a range of views of the probable direction of the financial markets. Thus enabling our readers to arrive at an informed opinion on future market direction. http://www.marketoracle.co.uk
Disclaimer: The above is a matter of opinion provided for general information purposes only and is not intended as investment advice. Information and analysis above are derived from sources and utilising methods believed to be reliable, but we cannot accept responsibility for any trading losses you may incur as a result of this analysis. Individuals should consult with their personal financial advisors before engaging in any trading activities.
© 2005-2022 http://www.MarketOracle.co.uk - The Market Oracle is a FREE Daily Financial Markets Analysis & Forecasting online publication.
Comments
Jon van Alllen
05 May 09, 08:33
UK NHS and privatisation


The NHS is a "pitch black hole" that is growing like topsy and sucking in billions of extra finance that will never emerge as anything at all.

The pension costs for all public servants is horrific beyond imagination and the NHS is involved in that travesty of justice too. Final salary pension schemes should be immediately halted.

All of those on final salary schemes should be immediately removed and new pensions negotiated that are more in line with those in the productive sectors of society. The NHS is seen as some sort of golden cow that we must worship and protect at all costs... and I mean at ALL costs!

In fact we should slaughter the NHS NOW and privatise it with tax and NI payments reduced to allow people to fund insurance to cover care. WSe are all living in a fools paradise and if the public servants pension scheme is not amended within twelve months there is going to be civil unrest and disobedience from non-public servants because the government will be seen as having produced a massive beast that sucks the resources out of the productive sectors of society, ruining the future retirement prospects of productive workers who will see more clearly than ever before the profligate and unjust rewards gained by those who produce NO wealth at all.

I cannot believe how the government is sleep walking into such a situation.... Brits are becoming more aware of this stuff and will not sit back and be stoic any longer. Damn that, we will demand and FIGHT for justice in a way that this country has not seen before.



Martyn
25 May 09, 06:00
Crap GP Service


work as a Technician in the Home Counties.

My colleague and I went to a GPs practice where the GP stated that she suspected that this man was having an MI. The genlemen was a 52 year old male, overweight and former heavy smoker - so it was quite possible.

My colleague then asked her if she had done an ECG. "No." she replied "I was too busy with my other patients!

We looked around and the practice was closed - there was no one else about other than the receptionist.

Again the patient had no O2, no aspirin and no GTN.

When I asked my colleague about our options or reporting the GP (I asked him as I'm new to this and he's not) he told me that there is little that we can do. GPs are way higher up the chain than we are and who are we to question their medical treatment.



Peter Smith
07 Jul 09, 12:33
Hidden NHS subsidy


Nobody comments upon the fact the Government refuses to pay market rates to staff at grades below GP.s.

There must be a strong suspicion that GP salaries were pushed up because GP pay and MP pay are linked in the public perception (and are quite close in monetary value).

Imagine what the response would be if the car industry claimed that it could not recruit enough workers and required large scale immigration from the third world.



sarah
15 May 11, 06:59
NHS


Im pretty sure none of you are unemployed or disabled so you are able to speak so freely of getting rid of the nhs.

However you would be putting a death sentance on poor people's head's.

Clearly you have no morals.



Danielle
19 May 11, 06:56
NHS GP's


The Government should seriously take a massive chunk of money from the bankers who caused the recession and use it to lessen the rising debts. On top of that, the Gov. should cut the GPs' salary by half. They obviously can survive on the half the amount given their current salary.




Only logged in users are allowed to post comments.
Register/ Log in