Stock Market Close over S&P 875 Warrants Extreme Caution Going Forward
Stock-Markets
/
Stock Index Trading
May 04, 2009 - 12:46 AM GMT


So why the caution? Simple. The best of the rally is over with for starters. Two, you can't count a close at 877 a true breakout. When you break out you want to see the market put some distance away from the breakout level and two points on an eight hundred index does not qualify as distance. It's still very tenuous. If we can stay above 875 for another day it opens the door for a move to the January gap down at 918. This would be an area for which the market would be very tired, overbought and at extremely tough resistance.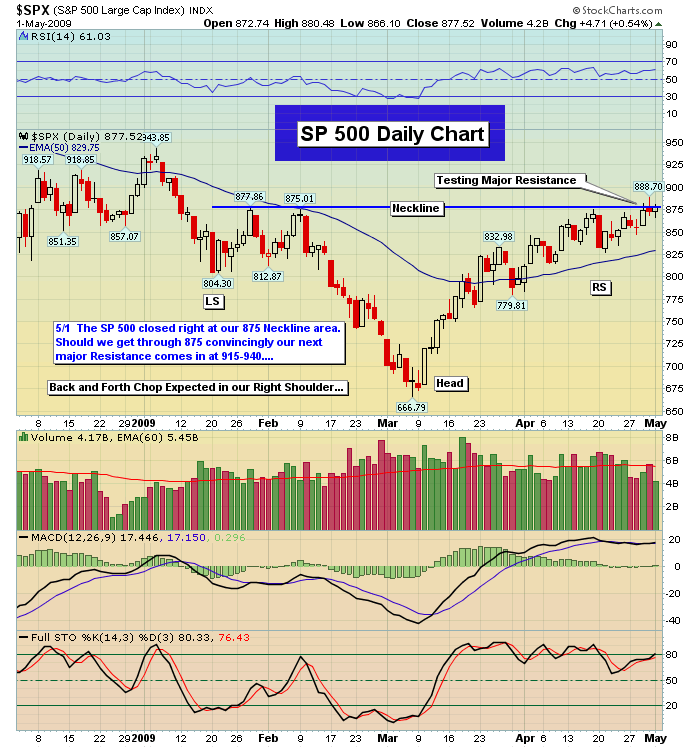 A natural place to rest and to possibly even be the top of this rally. Way too difficult and too early to tell any of that but it would be an area for which the market would need to at least consolidate. Another danger out there is that this isn't a "clean" market and by that I mean that although the market is trending higher, there are areas that are starting to look top heavy and or starting to look more bearish. There are more areas that look good but it's not clear sailing and thus when we look a the market here, stock selection is critical to our work and needs to be to yours as well.
This isn't a throw a dart market any longer. Extreme caution is the phrase. Having said that, commodities are now starting to look somewhat better. Oil looking better. The railroads look good as do the semiconductor stocks and the transports Etf -- the iShares Dow Jones Transportation Average (IYT). The good and the bad abound. The restaurant stocks as well as gold and other sectors don't look so great and the financial's are tenuous in front of the stress test. Do a lot of work before buying it or shorting it. Details are the key. The market is not easy here, even if we make our way up to 918 over the next few days and weeks.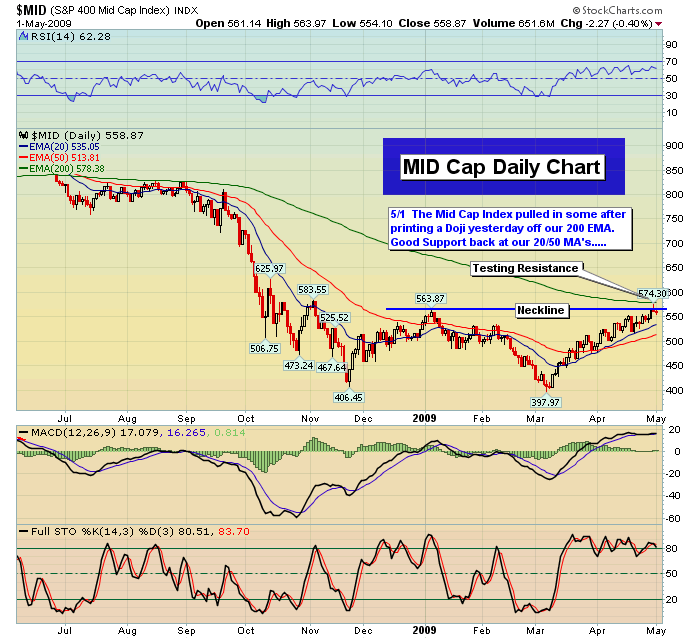 With the doji close on most of the major indexes on Thursday the odds were strong that we'd see a down day today and possibly a pretty good one. Add in the two straight failures by the bulls to get through 875 and the odds were heavily stacked against an up day of any kind today. Doji's are when an index opens and closes very close to the same level and after a run up it usually signifies a change of trend for 1-3 days. We got the early selling after moving up surprisingly early on and then the bears tried again late to take things down once they couldn't get the selling to accelerate early on. It looked good for them until the last few minutes when the bulls shot the market up thus allowing all the major indexes to close with small gains. Again, surprising that we saw anything resembling green today.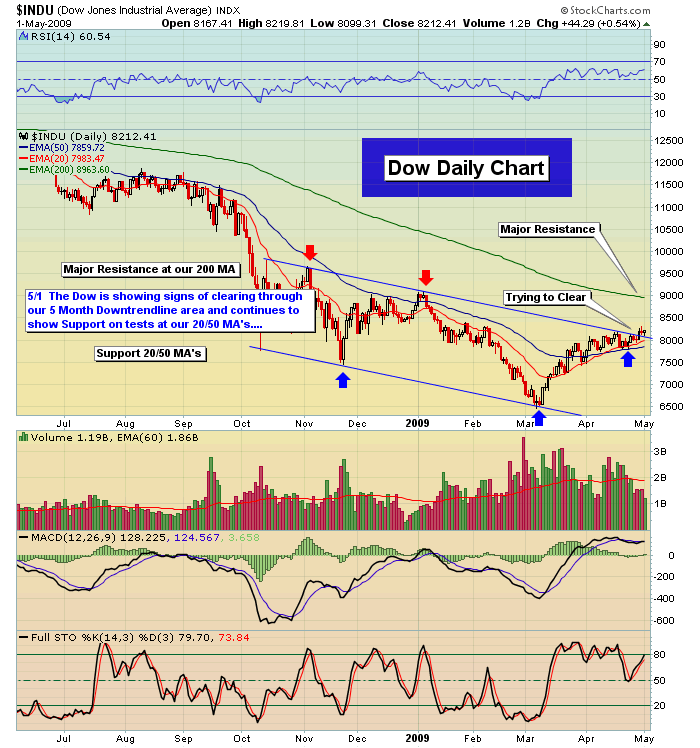 The market continues to baffle the masses. What normally takes place from amore bearish perspective is just not happening. More than interesting to say the least. The close at 877 allows the bulls to dream about 918 gaps over the weekend but don't get too excited. Nothing for sure and with the stress test on Thursday, at least that's what they're saying now, the market may stay glued to that 875 areas until it comes and goes. For now, with today's action, there are still no sell signals in place thus the overall trend remains higher.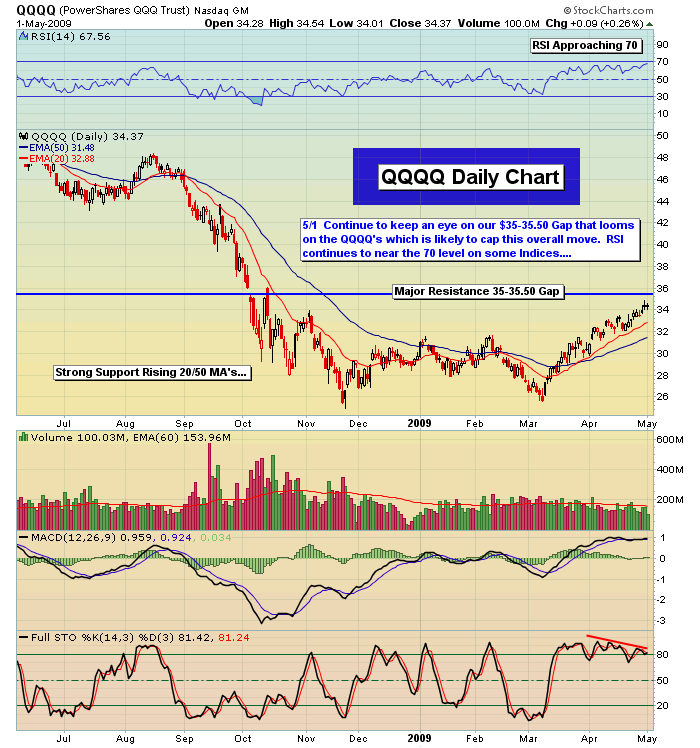 By now I can only imagine that you have learned about the frustrations of a right shoulder. The whipsaw is truly amazing. back and forth to major support and to major resistance with neither side gaining any real satisfaction. The more you trade a right shoulder the more you use cuss words out loud. The key to using a right shoulder is the following. Because the trend in place is up, you buy weakness. You buy when the short term oscillators unwind and stochastic's move down to 30, 20 or even lower. You never buy overbought conditions. You can only do that and get away with it when you have a clean breakout over 875 and you're heading up to the next key level of resistance. Watch those 30 minutes charts for clues on how to keep frustration to a minimum. If we stock over 875 on Monday the market is in business and you can buy when things aren't as oversold. I will guide of course if and when that event takes place.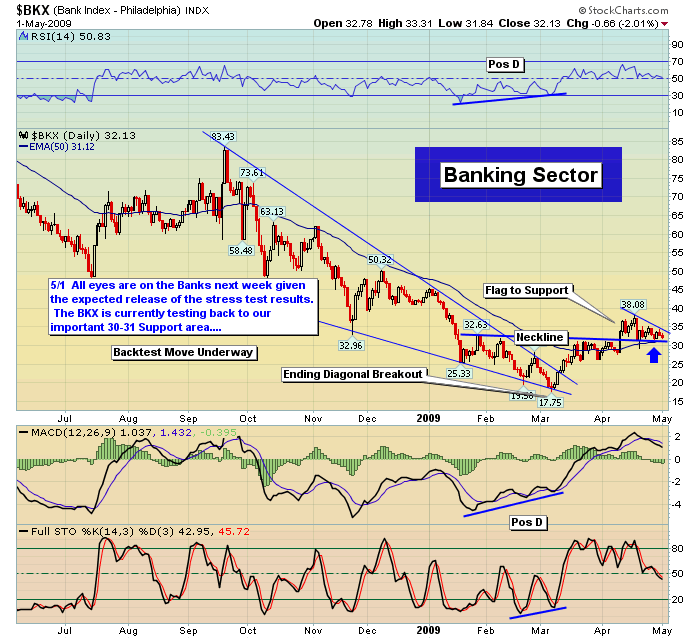 We have some light exposure -- namely,Danaher Corp. (DHR) andMillicom International Cellular S.A. (MICC) -- and will increase it somewhat if can clear with gusto that 875 level. We won't get overly aggressive, however, in front of the stress test results on Thursday and we won't get too aggressive as we get closer to 918 should that be in our future. Again, it's a matter of picking and choosing wisely and without emotion. Go easy and just keep trying to do what we have been for some time and that is to make a few dollars and be happy with gains in a very difficult environment. 848 down to 839 is still keep support and we will watch that on any future selling, whether we go there first or after we tag 918. One day at a time as always.

Peace
By Jack Steiman
Jack Steiman is author of SwingTradeOnline.com ( www.swingtradeonline.com ). Former columnist for TheStreet.com, Jack is renowned for calling major shifts in the market, including the market bottom in mid-2002 and the market top in October 2007.
Sign up for a Free 30-Day Trial to SwingTradeOnline.com!
© 2009 SwingTradeOnline.com
Mr. Steiman's commentaries and index analysis represent his own opinions and should not be relied upon for purposes of effecting securities transactions or other investing strategies, nor should they be construed as an offer or solicitation of an offer to sell or buy any security. You should not interpret Mr. Steiman's opinions as constituting investment advice. Trades mentioned on the site are hypothetical, not actual, positions.
© 2005-2019 http://www.MarketOracle.co.uk - The Market Oracle is a FREE Daily Financial Markets Analysis & Forecasting online publication.

Only logged in users are allowed to post comments.
Register/ Log in