What's Dr. Copper think about the Economy?
Economics
/
Recession 2008 - 2010
May 14, 2009 - 01:52 PM GMT


Copper prices have now fallen for five days straight, the longest losing streak since the tumultuous period in mid-December when it appeared the whole world was about to come to an end and surging demand for Treasuries pushed the ten-year yield to what can only be described as the "freakishly low" level of 2.0 percent.
Hey, look. Yields are falling again...
Often moving in the opposite direction of the trade-weighted dollar as part of the general "inflation trade", or, after the plunging prices seen over the last year, what would be better described as the "re-flation trade", the metal usually doesn't do very well when the dollar is strengthening against other currencies.
Hey, look. The dollar is surging today...
The world's most widely used metal, called Dr. Copper because it has a PhD in economics and possesses an uncanny ability to predict future expansions and contractions, now appears to be questioning its recent assessment of the economy after feeling quite optimistic for months.
That much is clear in the chart below.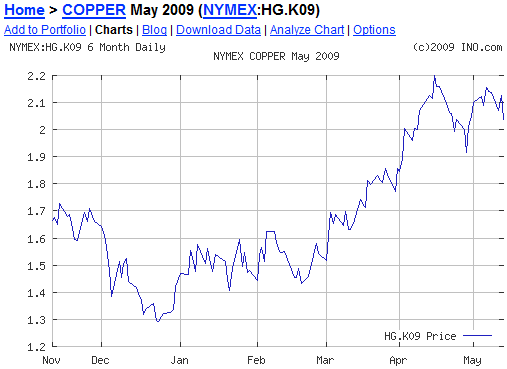 Actually, from the looks of the chart, Dr. Copper seems to have first spotted a rebound back in December but wasn't sure until mid-February, still about three weeks in advance of the same rebound being detected by equity markets in early-March.
Of course, much of the good doctor's recent outlook had to do with what's been going on in China where the government has been stockpiling the metal to be used for infrastructure projects later in the year.
Unlike the U.S., most of China's stimulus money is being spent on building stuff.
Some say that China's central bank has been involved in the copper purchases somehow and that it has fistfuls of dollars it desperately wants to exchange for something other than dollars. To be sure, that is an understandable position to take. It's nice to own more gold, a point that was made clear with the recent announcement of the doubling of their gold reserves, but you can build a lot more stuff with copper than with gold.
All of this may be confusing Dr. Copper a bit.
Up until a few weeks ago, it seemed clear that the global economy was on the mend, but there is much more uncertainty now.
The doctor will surely provide an update when one is ready.
More on this topic
Is there a bubble forming in copper? (Zero Hedge, 4/23/09)
The false Chinese driven rally in copper (Zero Hedge, 4/16/09)
What Does Dr. Copper Think About the US Economy? (The Wikinvest Daily Angle, 5/14/09)
Read more on Copper Prices at Wikinvest
By Tim Iacono
Email : mailto:tim@iaconoresearch.com
http://www.iaconoresearch.com
http://themessthatgreenspanmade.blogspot.com/
Tim Iacano is an engineer by profession, with a keen understanding of human nature, his study of economics and financial markets began in earnest in the late 1990s - this is where it has led. he is self taught and self sufficient - analyst, writer, webmaster, marketer, bill-collector, and bill-payer. This is intended to be a long-term operation where the only items that will ever be offered for sale to the public are subscriptions to his service and books that he plans to write in the years ahead.
Copyright © 2009 Iacono Research, LLC - All Rights Reserved
© 2005-2019 http://www.MarketOracle.co.uk - The Market Oracle is a FREE Daily Financial Markets Analysis & Forecasting online publication.

Only logged in users are allowed to post comments.
Register/ Log in