Gold and Silver Potential Parabolic Price Rise 2009 to 2011
Commodities
/
Gold & Silver 2009
May 17, 2009 - 01:23 PM GMT


"Surprising as it may be to most non-scientists and even to some scientists, Albert Einstein concluded in his later years that the past, present, and future all exist simultaneously. In 1952, in his book Relativity, in discussing Minkowski's Space World interpretation of his theory of relativity, Einstein writes:
"Since there exists in this four dimensional structure [space-time] no longer any sections which represent "now" objectively, the concepts of happening and becoming are indeed not completely suspended, but yet complicated. It appears therefore more natural to think of physical reality as a four dimensional existence, instead of, as hitherto, the evolution of a three dimensional existence."
"Einstein's belief in an undivided solid reality was clear to him, so much so that he completely rejected the separation we experience as the moment of now. He believed there is no true division between past and future, there is rather a single existence. His most descriptive testimony to this faith came when his lifelong friend Besso died. Einstein wrote a letter to Besso's family, saying that although Besso had preceded him in death it was of no consequence, "...for us physicists believe the separation between past, present, and future is only an illusion, although a convincing one."
From The Book: Everything Forever: Learning to See Timelessness
HOWEVER, WHEN IT COMES TO THE MARKETS: Proverbs: "Time and tide wait for no man"
All of the above is fascinating but nevertheless, this time around there is a limited amount of time to get aboard this soon to be meteoric train ride. In other words, regardless of the brilliant brainpower displayed above, "Time's a-wasting." Of course you can wait until next time around, but I don't think I have many subscribers who feel that way! I know I don't.
TAKE ANOTHER LOOK AT THESE CHARTS. THEY ARE FROM YESTERDAY'S SPECIAL REPORT. THEY ARE SHOUTING TO THOSE INVESTORS WHO HAVE NOT YET COMPLETED THEIR BUYING, "TIME'S A WASTING."
These charts compare the parabolic rise of gold to the parabolic rise of silver in the years 1979 to 1980. Thirty years later gold and silver are in similar positions. All indications are that a parabolic move is warming up and getting ready to perform on the monetary stage. It should put on quite a show. Front row seats are still available but you must "attend to the end" in order to benefit fully.
GOLD MONTHLY PARABOLIC RISE 1979 TO 1980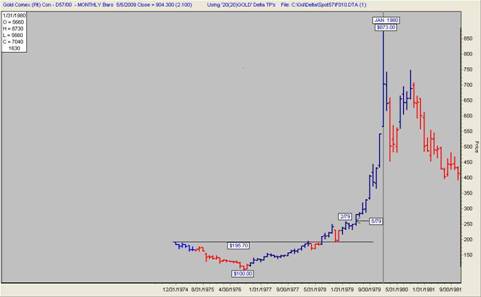 SILVER MONTHLY PARABOLIC RISE 1979 TO 1980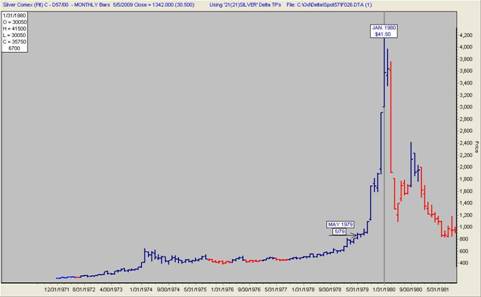 Thirty years later gold and silver are in similar positions.
GOLD MONTHLY POTENTIAL PARABOLIC RISE 2009 TO 2010/2011
SILVER MONTHLY POTENTIAL PARABOLIC RISE 2009 TO 2010/2011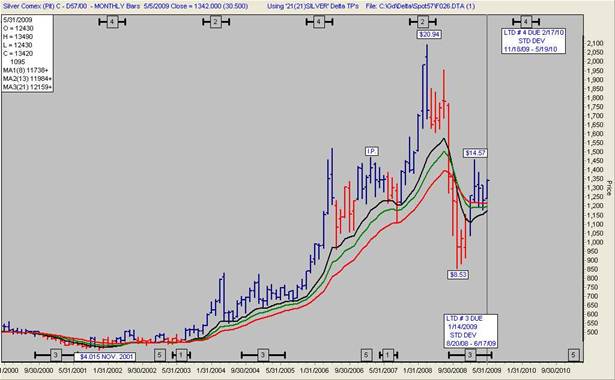 What will the stock averages be doing while gold is in a parabolic rise?
----------------------------------------------
"………the past, present, and future all exist simultaneously." A. Einstein
This is a fascinating concept, but how can it help us determine if the bear market in the stock averages is complete or ongoing? We can not see the future or predict it with certainty. We have the past and the present and that is all we have that is visible to us. So, let's take a look at the past and compare it to the present.
The last major bear market in the D. J. I. A. bottomed in December 1974 at 577.00. The previous bull market top in 1966 was 1000.00. Over an eight year period the Dow lost 42.3%.
The recent bull market in the D. J. I. A. topped in January 2000 at 11,840.00. The bottom in March of 2009 was 6,460.00. Over a nine year period the Dow lost 45.5 %.
The bear market of 1966 to 1974 lasted 8 years.
The bear market of 1966 to 1974 lost 42.3 %.
The bear market of 2000 to 2009 lasted 9 years.
The bear market of 2000 to 2009 lost 45.5%.
Both bear markets compare favorably as to time consumed and percentage of price lost. Does this mean that the current bear market bottomed in March 2009?
We have additional evidence that may help us determine whether or not the bear market has ended. The evidence takes the form of patterns and time consumed by these patterns. For a number of years I have been writing about the different corrective patterns in the S & P 500 and the D. J. I. A. First let's review the patterns and then see if they are complete. They are known market corrective patterns that have occurred in the past. What is interesting is that once these patterns have completed their corrective work a powerful bull market is called for.
A description of these patterns and specific Delta Turning points for the short, medium, and long term, are available through a subscription to
THE ROSEN MARKET TIMING LETTER
www.wilder-concepts.com/rosenletter.aspx
SUMMARY
I am very positive on the precious metals complex. However, the worst possible approach for anyone is to be overcommitted and borrow money to leverage their position. If you do that you are almost guaranteed that you will sell when the first or second violent shakeout occurs. Be assured that a parabolic rise will have violent shakeouts. The best pros, the big talkers, the wonder boys, the super duper traders down to the last person all can be shaken out by violent corrections when they are over committed. They are often overcommitted. That is what causes the violent fluctuations! Do not play their game.
A modest commitment will be in a position to make a small fortune. I do not recommend "going for broke." There is no need to do so. Those who go for broke usually succeed - at going broke.
Subscriptions to the Rosen Market Timing Letter with the Delta Turning Points for gold, silver, stock indices, dollar index, crude oil and many other items are available at: www.wilder-concepts.com/rosenletter.aspx
Ron Rosen and Alistair Gilbert
M I G H T Y I N S P I R I T
Ronald L. Rosen served in the U.S.Navy, with two combat tours Korean War. He later graduated from New York University and became a Registered Representative, stock and commodity broker with Carl M. Loeb, Rhodes & Co. and then Carter, Berlind and Weill. He retired to become private investor and is a director of the Delta Society International
Disclaimer: The contents of this letter represent the opinions of Ronald L. Rosen and Alistair Gilbert Nothing contained herein is intended as investment advice or recommendations for specific investment decisions, and you should not rely on it as such. Ronald L. Rosen and Alistair Gilbert are not registered investment advisors. Information and analysis above are derived from sources and using methods believed to be reliable, but Ronald L. Rosen and Alistair Gilbert cannot accept responsibility for any trading losses you may incur as a result of your reliance on this analysis and will not be held liable for the consequence of reliance upon any opinion or statement contained herein or any omission. Individuals should consult with their broker and personal financial advisors before engaging in any trading activities. Do your own due diligence regarding personal investment decisions.
© 2005-2019 http://www.MarketOracle.co.uk - The Market Oracle is a FREE Daily Financial Markets Analysis & Forecasting online publication.

Only logged in users are allowed to post comments.
Register/ Log in