Can A Major Stock Market Top Occur Here?
Stock-Markets
/
US Stock Markets
May 26, 2007 - 12:42 AM GMT

While the following charts are meaningless for predictive purposes, what they do tell us is we currently have a price pattern set-up eerily similar to the price pattern leading up to the January 2000 major top in the Dow Industrials .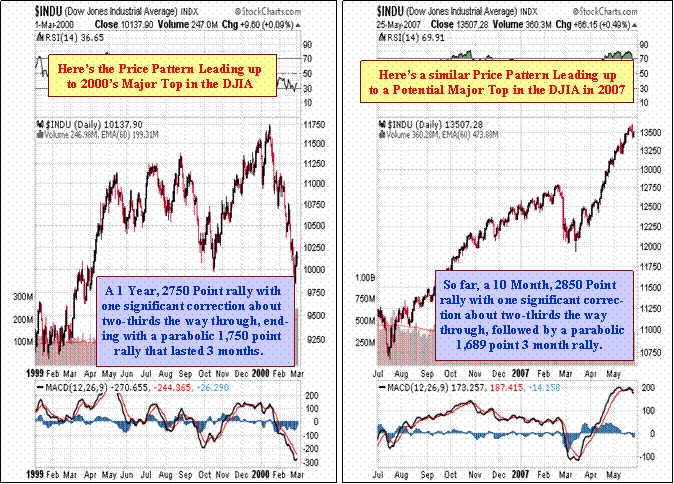 In 1999, prices staged a dramatic 2,750 point rally over a one-year period, that had folks talking about Dow 35,000, with no end in sight for the glorious bull market. To be bearish was ridiculous. However, the unthinkable happened. In January 2000, a major Bear market started, which lasted through March 2003. Just prior to this historic top on January 14th, 2000, the DJIA rose 2,750 points over a 12 month period, with a significant correction about two thirds the time and price move through this extraordinary rally. Following that correction, the Dow Industrials rose another 1,750 points in a parabolic ascension over three months.
In 2006/2007, since July 2006, we have seen a 2,850 point rally over a ten month period, which has folks talking about Dow 35,000, with no end in sight for this glorious bull market. To be bearish seems ridiculous. About two-thirds the way through this time and price move, a significant correction occurred (late February 2007), which has since been followed by another 1,689 points in a parabolic ascension over three months. The point is, there is historic precedent for a major bear market to start immediately after such a price pattern. Our Demand Power and Supply Pressure indicators will tell us when and if such a bear market decline occurs.
The answer is yes.
"These things Jesus spoke; and lifting up His eyes to heaven,
He said, "Father, the hour has come; glorify Thy Son, that the Son
may glorify Thee, even as Thou gavest Him
authority over all mankind,
that to all whom Thou has given Him, He may give eternal life."
John 17:1, 2
Our Memorial Day Specials are Good through May 31st.
Click on the Subscribe Today or Renew Today buttons at the Home Page
;@ www.technicalindicatorindex.com
For a Free 30 day Trial Subscription , go to
www.technicalindicatorindex.com and click on the button
at the upper right of the Home Page.
by Robert McHugh, Ph.D.
technicalindicatorindex.com
If you would like a Free 30 day Trial Subscription , simply go to www.technicalindicatorindex.com , and click on the FREE Trial button at the upper right of the home page. A subscription gains you access to our buy/sell signals, our Market Analysis Newsletters, Traders Corner, our model Conservative Investment Portfolio, Guest Articles, and our Archives.
Robert McHugh Ph.D. is President and CEO of Main Line Investors, Inc., a registered investment advisor in the Commonwealth of Pennsylvania, and can be reached at www.technicalindicatorindex.com. The statements, opinions, buy and sell signals, and analyses presented in this newsletter are provided as a general information and education service only. Opinions, estimates, buy and sell signals, and probabilities expressed herein constitute the judgment of the author as of the date indicated and are subject to change without notice. Nothing contained in this newsletter is intended to be, nor shall it be construed as, investment advice, nor is it to be relied upon in making any investment or other decision. Prior to making any investment decision, you are advised to consult with your broker, investment advisor or other appropriate tax or financial professional to determine the suitability of any investment. Neither Main Line Investors, Inc. nor Robert D. McHugh, Jr., Ph.D. Editor shall be responsible or have any liability for investment decisions based upon, or the results obtained from, the information provided. Copyright 2007, Main Line Investors, Inc. All Rights Reserved.
© 2005-2019 http://www.MarketOracle.co.uk - The Market Oracle is a FREE Daily Financial Markets Analysis & Forecasting online publication.
Comments
T.K.Pandian
27 May 07, 09:28
Software Slowdown?


All slowdown centering around Housing Sluggishness has not touched the Software Industry in India, Ireland,Philipines.

There are conflicting views. Slowdowns in US will increase Outsourcing to these countries. Unless, there is a surplus being generated by Corporates every Fin quarter, where there is question of software increasing or sustaining current revenues.

Rgds



T.K.Pandian (Management Consultant)
19 Aug 07, 06:50
Anticipated Subprime Crisis in Property Bubbled Countries


Respected Readers

"Subprime contagion" now experienced in US will soon be experienced in Significantly Property Bubbled Countries namely-UK,China,Ireland,Japan, Australia and Ofcourse India

Though financial Institutions and interested agencies would be unwilling to unravel this Contagion, It is definitive that Banks (Banks based in those Countries as well as other overseas branches in these countries) who lent their money to Property Buyers as well as Homebuilders, are most likely to ackowledge their delinquencies by December'07 and head towards Major Bankruptcy in Banking Sector by April'08

Global Banking Sector and its Apex Bodies,Its Credit Rating Agencies and Governmental Watchdogs are suspected to be responsible for this mess-up of poor lending practices

Global Economic Recession arising out of this global contagion is expected to last for atleast till 2011/12 preempting the size of financial losses likely to be revealed by global banking community in next One Year.

By April'2008, Magnitude of Crisis could be much beyond the size of Asian Currency Crisis in 1997

Rgds

T.K.Pandian

Management Consultant




Only logged in users are allowed to post comments.
Register/ Log in