The Bank of Montreal Follies, the Mainstream Media and More..
Commodities
/
Derivatives
May 30, 2007 - 12:07 AM GMT

These guys should take this comedy routine on the road. It was just 10 days ago that I penned a piece called, Derivative Disaster: Deriving the Truth , where I commented,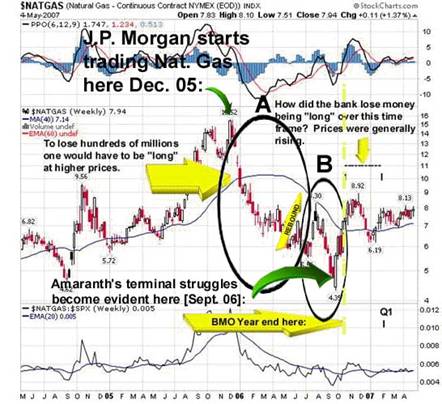 "For anyone who adheres to logic or reason - the chart above clearly shows that to incur losses trading Nat. Gas from the 'long side' of the magnitude that BMO is now reporting [680 million at last count] – one would NECESSARILY have been "LONG NATURAL GAS" through one or both of the circled steep price declines depicted on the chart above [A and/or B].
What this means is that the BMO incurred their losses BEFORE their year end. So now, shouldn't we really be asking the question, Why weren't these losses reported in Q4 when they were incurred – and in all likelihood – were still much greater than they are being admitted to now?"
Then today, May 29/07 - Canada 's Globe and Mail Newspaper reported :
TARA PERKINS
Globe and Mail Update
May 29, 2007 at 7:38 AM EDT
The Bank of Montreal [BMO-T] filed its restated first-quarter results with regulators late Monday evening, and suggested for the first time that the problems in its commodity trading division began before November of last year . [RK emphasis]
While the words "I told you so" seem so cliché – I did, didn't I?
Not the first time either.
The Mainstream Financial Press, MIA….
In the last piece I wrote regarding this sordid tale, I reported,
In an article I penned – two weeks ago – [May 7/07] I discussed the misfortunes of the Bank of Montreal [BMO] and their costly foray into Natural Gas derivatives trading. In that piece I wrote what are now some rather prophetic words in my assessment of BMO and their 450 million "charge" against 2 nd quarter earnings, when I opined;
"This means that the BMO's 'long natural gas position' was almost certainly a MUCH BIGGER LOSS – at one point in time – than they are admitting to us now.
BMO's year end is Oct. 31. I'm left wondering why they did not report a bigger loss last quarter."
Then, this week [of May 18/07], BMO announced they REALLY lost 680 million and they are now going to "restate" 1 st quarter earnings.
Amazing, eh?
The Federal Reserve has long maintained that unbridled growth of derivatives is both welcome and in fact "NECESSARY" – and that they allegedly give the financial system ' flexibility '.
Remarks by Chairman Alan Greenspan
Economic flexibility
To the National Association for Business Economics Annual Meeting, Chicago , Illinois (via satellite)
September 27, 2005
"Conceptual advances in pricing options and other complex financial products, along with improvements in computer and telecommunications technologies, have significantly lowered the costs of, and expanded the opportunities for, hedging risks that were not readily deflected in earlier decades. The new instruments of risk dispersal have enabled the largest and most sophisticated banks, in their credit-granting role, to divest themselves of much credit risk by passing it to institutions with far less leverage."
Unbridled growth and concentration of derivatives would perhaps now appear to be more consistent with market manipulations and financial Tom-Foolery.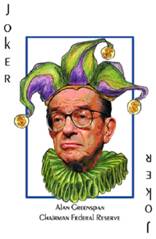 Money is being injected into the global financial system like it grows on trees. This has led DIRECTLY to speculation.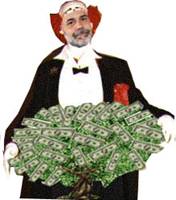 With money creation running rampant, the price of VIRTUALLY EVERYTHING [like natural gas] REAL wants to or "IS" going up in nominal [debased fiat currency] terms.
Dishonest Money and Dishonest Commerce – The Two Go Hand-in-Hand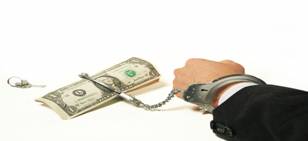 In fact, Global Trade today is being conducted with a system of increasingly dishonest – debased – fiat money. Could it be that the resulting Dishonest Commerce being thrust upon all players in an increasingly globalizing economy is NO BASIS for freedom, peace, prosperity or safety?
Could it be that Dishonest Money/Commerce is really the root of MUCH of the discord and unrest we witness daily throughout the world?
I have never known human beings to hate one another for their "freedoms" – but Dishonest Commerce [stealing] – well, that's another story altogether!
Empirically, it appears to me that certain strategic "things" are not allowed to appreciate in price as one might intuitively think they otherwise should. Is it because steep price rises in these selective commodities have historically portended future inflationary pressures – which the clowns above, coincidentally, claim are either well contained or DO NOT EXIST.
Additionally, it would now appear that market participants who speculate in these "CHOSEN COMMODITIES" – do so at more than their own risk. The message being sent to other market participants – that speculating on price rises of commodities which serve as historic stores of value will not be tolerated - COULD NOT BE CLEARER.
Isn't it interesting that when one googles, " misallocation of resources ", the results are 'peppered' with attributions to inflation.
And here we have BMO seemingly "misallocating" shareholder's capital and let's not forget good ole J.P. Morgan Chase – with their 68 TRILLION "FRANKENSTEIN" DERIVATIVES BOOK – the poster-child for misallocation of what-ever-it-is-they-are-really-doing – but let's PLEASE NOT CONFUSE THIS FOR BANKING.
If it was not before, it should now be more than abundantly clear that we have not been getting a straight line of goods about this whole sordid affair. This should be raising additional DISTURBING questions – some of which should probe the INACTION of REGULATORS and others should delve into exactly what role J.P. Morgan Chase played in this outcome.
God Rest Free Markets and Investigative Journalism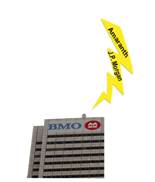 So, getting back to the plight of the BMO - for any of you who might feel that I just made a couple of "lucky calls" and might be still under the 'illusion' that we really have "FREE or FAIR MARKETS" or a "FREE PRESS" – give your collective heads a shake and wake up and smell the coffee!!
As for me, I'm going to buy a lottery ticket – because you just never know – maybe lightening can strike three times in the same place, eh?
By Rob Kirby
http://www.kirbyanalytics.com/
Rob Kirby is the editor of the Kirby Analytics Bi-weekly Online Newsletter, which provides proprietry Macroeconomic Research.
Many of Rob's published articles are archived at http://www.financialsense.com/fsu/editorials/kirby/archive.html , and edited by Mary Puplava of http://www.financialsense.com
© 2005-2019 http://www.MarketOracle.co.uk - The Market Oracle is a FREE Daily Financial Markets Analysis & Forecasting online publication.

Only logged in users are allowed to post comments.
Register/ Log in