Gold Bullish Trend Intact Despite Strong Reaction From $1000
Commodities
/
Gold & Silver 2009
Jun 14, 2009 - 12:39 PM GMT


The U.S. Dollar Index rallied for a few days but is once more showing weakness. With all that debt and printed money, how can the $ stay up there for so long? Both the $ and gold were down on the week. So much for moving in opposite directions.
GOLD : LONG TERM
Gold is sure having a hard time to overcome that $1000 (give or take a few bucks) barrier. I'm confident that it eventually will but when is anyone's guess. I mentioned last week that gold could "drop a notch or two over the next few weeks". I don't think the drop is over yet but it has not affected the long term technical situation in gold. The P&F chart is still bullish and although it too has come down "a notch or two" it still has far to go to reverse its bullish message. As for the normal charts and indicators, all is still well. Gold price is still some $40 above its long term positive sloping moving average line. The long term momentum indicator remains in its positive zone but is moving lower and has moved below its now negative sloping trigger line. As for the volume indicator, well, it is moving in a lateral direction but remains above its positive trigger line. Putting all that together, I must still maintain my BULLISH rating on the long term.
INTERMEDIATE TERM
The intermediate term is still in good shape, for now, but there are some negative signs not to be overlooked. The rally since the April low has now been decisively broken and the direction is moving to the downward side. The trend has not yet broken any of my usual indicators but it's getting close. The fact that the rally could not break through that $1000 barrier has us looking at a potential double top with the original top last February. One must not yet jump the gun and call this a double top because for a double top to be confirmed the price must move below its low point between the tops. That would be the $865 level. Until then what we have is just the potential of a double top.
Gold remains above its positive sloping moving average line but a down trend is taking shape and the moving average could be breached next week, with any further negative days. The momentum indicator is still in its positive zone but only slightly. It is rapidly moving lower and is below its negative sloping trigger line. As for the volume indicator, as mentioned above, it is tracking a lateral path but is still above its intermediate term positive trigger line. Here too I must still maintain my BULLISH rating although that is a lot closer to a point where the rating might start to weaken.
SHORT TERM
This is where we usually see the possible trend changes first. What the chart shows is a short term trend that has already turned to the down side but has not yet extended to affect the other time periods.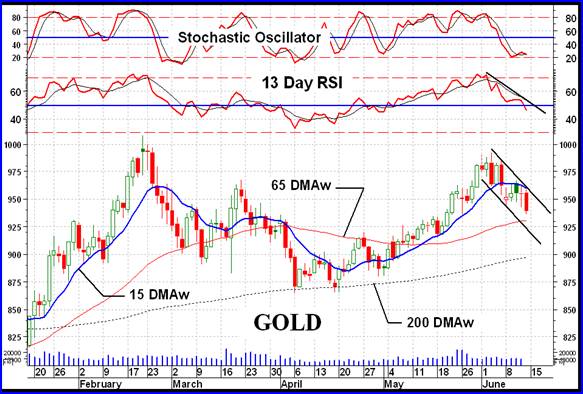 The short term trend is presently trapped in a downward sloping channel and trending lower. The price is below its negative sloping moving average line and the momentum indicator is in its negative zone below its negative trigger line. What more do we need to rate the short term as BEARISH?
Although the immediate direction is to the down side the aggressive Stochastic Oscillator is almost at its oversold zone. Although some downside may still be ahead we should not be surprised if we get some rest or short rally about here. It should be short so until the technicals perk up one should not read too much into it, should it occur.
SILVER
Them that moves up the most are liable to move down the most. So it is with silver. It has been performing quite well recently but this week it took a hit, somewhat more so than gold. Despite the hit it is still in better shape than gold. Silver has a support level at around the $14 mark to count on. That level was a resistance level for several months but once decisively through that level it now becomes a support. The intermediate term moving average line is also at that level for an additional support. The real big difference between gold and silver, at this time, is the speculative interest in the metal.
The metal plunge during last year's July to Nov period was a lot harder on silver than gold. Gold lost some 30% while silver lost some 55% during that time. Since the bottom in Nov silver has been out performing gold but you wouldn't know it from looking at a chart, unless you ran the numbers. Gold is now up about 40% from its low while silver is up double that at about 80%. But starting from a significantly lower level silver is still some distance from its previous July high while gold had almost reached its July level. Although the price is still some distance from its July high the interest by speculators has really shifted from gold to silver. The volume indicator for gold is not even at its Feb high level, least of all at its last July level. On the other hand the volume indicator for silver is zooming into new all time highs and has been doing so continuously for over a month now. This suggests that the speculative interest has really shifted for some reason. I must assume that this rest or reaction period in silver will be short lived and silver will continue its climb. For those interested in stocks rather than the metal itself, silver stocks seem to be where the action is.
PRECIOUS METAL STOCKS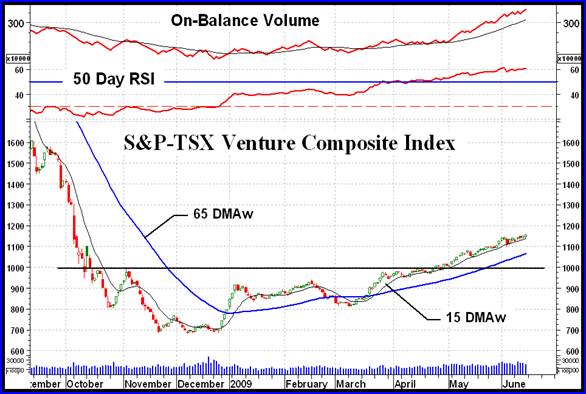 The TSX Venture Exchange, you know, the old Vancouver Stock Exchange, is where the majority of speculative precious metal stocks are traded on. I don't mean the Barrick or Newmont type but those you rarely hear about until they had risen 5 or 10 times in price. The S&P/TSX Venture Composite Index tries to capture the activity in these types of stocks. Depending upon where you go for your information, there are anywhere from 439 to 483 component stocks in this Index. The Standard and Poors has 471 and the TSX has 483 yet both have their names on the Index. I don't know why there is such a difference in the number of component stocks but it is of little concern. Because of the method of Index calculation MOST of the stocks have little or no effective influence on the Index value.
One must understand that this Index is composed of stocks from several different industries, not only the precious metals although the precious metals are an important segment of this Index. This Index may be said to highlight the speculative interest in the more speculative segment of the market. Lately, the interest has really been picking up. Since March the volume of activity in the stocks of this Index has really been improving to the point that the volume indicator is now well ahead of the price action. This is what one is looking for as an indication of where the action is been directed. Now, this looks a lot like the shift in volume activity from gold to silver but I would say that this just indicated that more and more speculators are getting comfortable with this market and therefore are going into the more speculative stocks. THIS is more of an indication that the bull still has a long way to go rather than the bull topping out. Just as an aside, the TSX SmallCap Index is also showing this same increase in speculative activity.
This S&P/TSX Venture Index was at 3372 back in early 2007 and had quite a drop to its low in Dec. It is still only at 1155 so has a long way to go to recover to its previous highs. Can one speculate that there is a long bull market ahead for the speculative stocks.
I'm working on a new Merv's Index called the Merv's Penny Arcade Index. I hope to have it available for my subscribers within the next week or two. It will include 30 gold and silver penny stocks that should be selling at less than $0.25 to be included in the Index (the component stocks and listing criteria is still fluid). As you might expect almost all of these stocks are from the S&P/TSX Venture Exchange. As one might expect, most of these stocks will probably to nothing over time (hell, many may even go to zero) but at the same time many of them are expected to be the 10 and 20 baggers of the future. I'm not yet sure if I will include this Index in the Precious Metals Indices Table but it is a consideration. It may give one an additional level of quality to review. More info will be available as I complete this Index.
Merv's Precious Metals Indices Table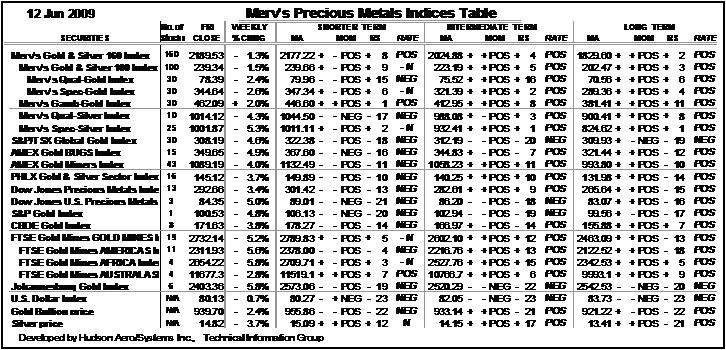 Well, that's another week finished.
By Merv Burak, CMT
Hudson Aero/Systems Inc.
Technical Information Group
for Merv's Precious Metals Central
For DAILY Uranium stock commentary and WEEKLY Uranium market update check out my new Technically Uranium with Merv blog at http://techuranium.blogspot.com .
During the day Merv practices his engineering profession as a Consulting Aerospace Engineer. Once the sun goes down and night descends upon the earth Merv dons his other hat as a Chartered Market Technician ( CMT ) and tries to decipher what's going on in the securities markets. As an underground surveyor in the gold mines of Canada 's Northwest Territories in his youth, Merv has a soft spot for the gold industry and has developed several Gold Indices reflecting different aspects of the industry. As a basically lazy individual Merv's driving focus is to KEEP IT SIMPLE .
To find out more about Merv's various Gold Indices and component stocks, please visit http://preciousmetalscentral.com . There you will find samples of the Indices and their component stocks plus other publications of interest to gold investors.
Before you invest, Always check your market timing with a Qualified Professional Market Technician
© 2005-2019 http://www.MarketOracle.co.uk - The Market Oracle is a FREE Daily Financial Markets Analysis & Forecasting online publication.

Only logged in users are allowed to post comments.
Register/ Log in