Investors Get On Board the Biotech Bandwagon with ETFs
Companies
/
Sector Analysis
Jul 30, 2009 - 02:30 PM GMT


Ron Rowland writes: The stock market isn't just a big block of stone that moves all at once. So I'm always looking for market leadership. Even in a strong market, a smaller group is almost always breaking ahead.
And right now, biotechnology stocks are moving up faster than most anything else. Just last week Human Genome Sciences (HGSI) surged more than 400 percent thanks to successful trials of a new lupus drug.
Biotechnology is a fascinating sector, one that's made (and lost) a lot of money for millions of investors in recent decades. That's why, in my opinion, you should become familiar with this industry.
What is biotechnology, anyway? Broadly speaking, it's the application of technology to biological materials — plants, animals and people. Nowadays a lot of biotechnology involves manipulating genetic material: The DNA that forms the basis for life.
The goal is to produce new and useful substances that make life better and, of course, turn a profit along the way.
Gregor Mendel — Inventor of Biotechnology
Strangely, though, the man widely called the "father of genetics" wasn't interested in profit at all. Gregor Mendel was a nineteenth-century Catholic monk from Brno, a city in what is now the Czech Republic.
Gregor Mendel's pea plants were the foundation of modern genetic science.
Born on a farm in 1822, Mendel was encouraged by colleagues to improve the abbey's gardens — a source of food for the poor as well as their own kitchens. Noticing variations in the plants, he launched a careful study to find an explanation.
Between 1856 and 1863, Mendel cultivated some 29,000 pea plants, keeping careful records to note how succeeding generations changed based on their ancestry. He published the results of his study in an academic paper that was promptly ignored by scientists of the day.
Mendel then turned his research to honeybees but found them less cooperative than pea plants. He died in 1884, probably never dreaming he would one day be called a scientific pioneer.
Modern Genetics Is Born …
Decades later, scientists rediscovered Mendel's work and replicated his results. Twentieth-century genetic research ultimately led to the discovery of DNA and attempts to manipulate the structure of life.
The industry really took off after 1980, when the U.S. Supreme Court ruled that a genetically-altered micro-organism could be patented. With the door now open to profit, private genetic research soared.
Most people associate biotech with medicine, which is indeed a big part of the industry. But there's a lot more, too …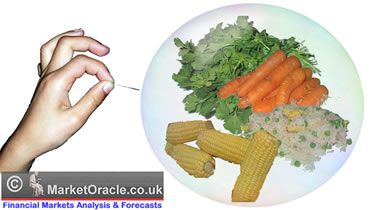 Biotechnology has revolutionized the agriculture business.
Biotechnology has revolutionized the agriculture business, leading to higher-yielding crops and more efficient animal husbandry.
Bio-fuels, based on plants like corn or animal by-products, could someday supplement, or even replace, our dependence on oil and natural gas.
Genetic testing can help identify people who are vulnerable to certain diseases so they can take precautions.
Gene therapy involves the replacement or repair of defective genes and may lead to a cure for cancer and many other diseases.
Pharmaceuticals produced through genetic research can be highly targeted toward specific conditions and are often more effective than traditional medications.
Scientists around the world are racing to make the next big biotechnology breakthrough. The winners: Consumers like you and me … we'll enjoy better health, tastier food, and lower costs for things we buy every day.
Investing in Biotech With ETFs …
How can you make money in biotech? Well, you could bet on any of the tiny stocks that claim to have a sure-fire winning discovery. But most of the time these bets don't work out. You can easily lose your shirt, in fact.
A better way is to bet on the entire sector — and exchange traded funds (ETFs) are a great way to do it. Currently there are six biotech ETFs. Each has its own particular portfolio methodology. Here's the full list:
iShares Nasdaq Biotechnology (IBB)
SPDR S&P Biotech (XBI)
Biotechnology HOLDRs (BBH)
First Trust Amex Biotechnology Trust (FBT)
PowerShares Dynamic Biotech & Genome (PBE)
PowerShares Global Biotech (PBTQ)
Which should you buy if you want to get involved in biotech? That's your decision. All these ETFs have advantages and disadvantages. I'll give you a couple of pointers, though.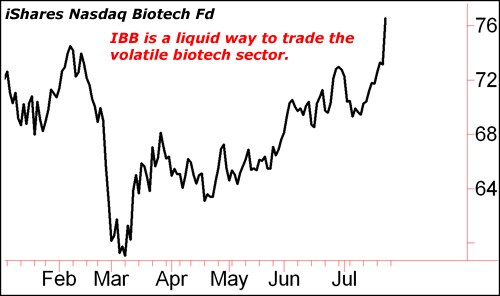 Source: TradeStation
If you intend to trade actively, trying to capture the biotech sector's short-term dips and rallies, IBB is the most liquid ETF in this space.
If you are investing for the long term, XBI has a good mixture of solid large-cap biotech stocks with promising small companies.
Remember: This is a volatile sector. Biotech stocks can make sharp moves in either direction in the blink of an eye. So don't trade with money you can't afford to lose.
If you're willing to speculate, though, biotechnology can spell opportunity both now and in the future. Do your homework, and you can unlock the potential.
Best wishes,
Ron
his investment news is brought to you by Money and Markets . Money and Markets is a free daily investment newsletter from Martin D. Weiss and Weiss Research analysts offering the latest investing news and financial insights for the stock market, including tips and advice on investing in gold, energy and oil. Dr. Weiss is a leader in the fields of investing, interest rates, financial safety and economic forecasting. To view archives or subscribe, visit http://www.moneyandmarkets.com .
© 2005-2019 http://www.MarketOracle.co.uk - The Market Oracle is a FREE Daily Financial Markets Analysis & Forecasting online publication.
Comments
DNA Biotechnology
04 May 10, 09:42
DNA Biotechnology


Your blog is really Excellent. it inspires the reader who has that great desire to lead a better and happier life. Thanks for sharing this information and hope to read more from you..




Only logged in users are allowed to post comments.
Register/ Log in