Investing in Financial Chaos Record Gold Growth!
Commodities
/
Gold & Silver 2009
Aug 20, 2009 - 02:49 AM GMT


Are you worried about your investment portfolio because of last year's poor returns and are you now wondering what to do going forward? If you are concerned, you are not alone. Investors are so terrified of the markets they are willing to put their money into bonds and receive next to no interest, just so they don't continue to lose their investments principle. In today's investing environment fear and confusion is understandable; but is it necessary? We don't think so. At investmentscore.com we do our best to simplify our investment strategy to increase our probability of success. How?


In our opinion, timing the major, multi-decade market moves is everything!
We recognize that markets are cyclical and not linear. We do not favor or prefer one major investment asset class over another. In our eyes, Commodities are not better than Stocks and Stocks are not better than Commodities. What asset class is relatively undervalued and what asset class is relatively overvalued is of significant concern to us. The chart below illustrates how one investment purchased in 1970 followed by one trade in 1980 and one trade in 2000 could grow that initial investment by 173,214%.
Example: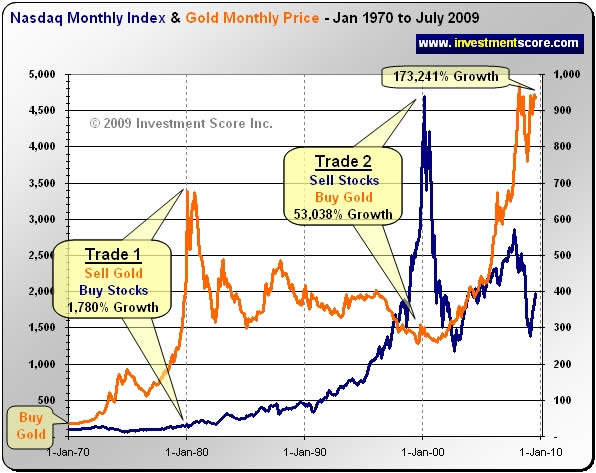 This 173,241% return did not require an outrageously lucky stock pick but instead we simply calculated our return from the price increase of gold and the value of a stock index. To better illustrate this growth we created the charts below.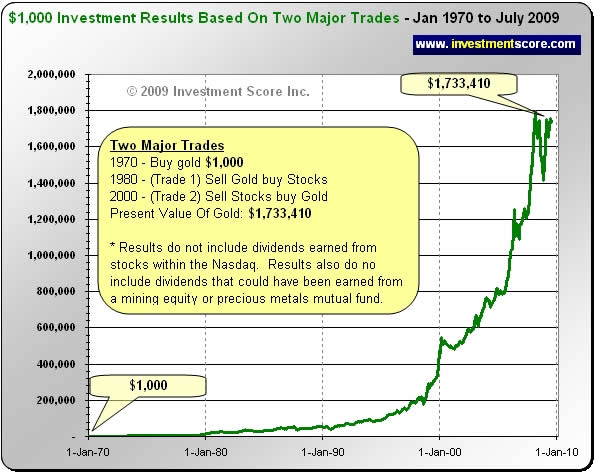 The next chart illustrates the difference between a 'buy and hold' strategy versus our 'two trade' strategy. An investor who traded their original $1,000 investment between asset classes two times in thirty eight years turned their capital into a whopping $1,733,410. An investor who bought and held a $1,000 gold investment ended up with $25,900 while a $1,000 Nasdaq investment turned out to be worth $19,523. This means that an investor that managed to avoid the multi decade bear markets by making two trades in thirty eight years did as much as 88 times better than a "buy-and-hold" investor.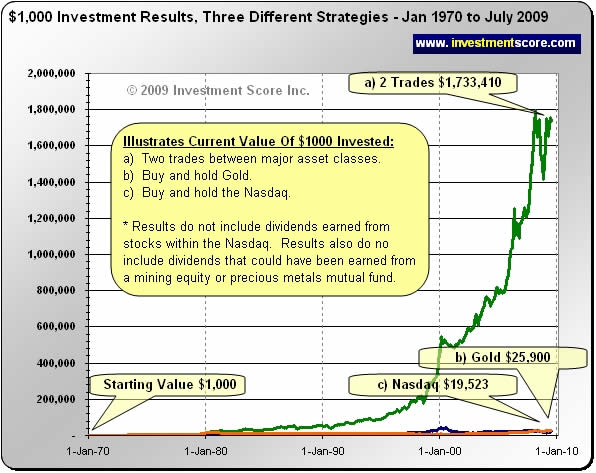 Key Questions:

Is it realistic to expect to trade the major trends perfectly? No.
Does it make sense to try to catch a portion of these multi decade mega trends by taking profits in an overvalued asset class and buying into an undervalued asset class? We think so.
Knowing that markets are cyclical, does it make sense to try to time a mega bull market trend instead of riding a market through a multi decade bear market? We think so.
Is it possible to identify, within reason, when one asset class is undervalued or overvalued relative to another asset class? We believe it is and this is exactly what we try to do.
It is our opinion that indentifying and timing a major bull market move of a major asset class is one of the most important strategies of investing. We believe the saying, 'A rising tide lifts all boats' is very fitting for the financial markets. We believe that when money is flowing towards an undervalued major asset class, the majority of securities within that asset class will rise and some will rise significantly. Of course there will be ups and downs along the way, but in our opinion picking the major asset class that has money flowing into it is more important than picking the correct stock.

For example, in 1995 Nortel Networks was a technology stock that rose from around $60 per share to over $1,200 per share by 2000. After Nortel's peak it fell earlier this year to a low of $0.09 as it headed into bankruptcy. Now investors who bought Nortel at $60 and road the stock to $1,200 probably thought they were brilliant investors who bought a solid company. Many of those same investors probably believed so strongly in their stock picking abilities that they bought more shares of Nortel all the way down its path to bankruptcy.

So the question we ask ourselves is, 'did the share price of Nortel rise to extreme levels because it was a fundamentally solid company or did Nortel's shares appreciate because it was benefitting from the capital flowing into that sector?' Of course the answer is probably more complex than our simplified version, but we would argue that like many baseless 'dot com' companies around that time, Nortel's stock appreciated to extreme levels because of the money flowing into that asset class.

We would also ask the question: In the years leading up to 2000 were there signs of a market top that Nortel investors could have responded to? Could investors have seen evidence of the bubble building in technology stocks or more recently could investors have seen evidence of the housing bubble? We think there were signs of a growing bubble and we think investors should learn from these turning points in major markets.

So how does this knowledge affect our investments today? These major bull market moves will fluctuate up and down but overall they tend to gradually trend higher. As an investor, knowing if your investments are within a long term major bull market trend may help you weather the uncertain and confusing volatility. Recognizing when you are investing within a cyclical market that is in a bull market trend can help you identify and anticipate the signs of a start, middle and end. Looking for signs of an end of a bull market will help you see signs of a bubble. Having this new sense of awareness will help you plan for an exit strategy which will not only help you to hang onto your profit, but it may also multiply it in a new bull market. As we wrote earlier, we believe that 'Timing the major, multi-decade market moves is everything!'

Currently we believe commodities are in a major bull market trend and we believe stocks are in a major bear market trend. At investmentscore.com we have developed some Proprietary Long Term Monthly Timing Signals that help us identify long term trends by weighing major asset classes against one another. We are constantly monitoring the markets for any sign of a long term trend in a major asset class starting or ending. Once we identify a long term trend we then try to determine lower risk opportunities to add to or lighten up on our positions. Although it is outside of the scope of this article, in future writings we plan to explain how an investor may identify a market bubble in more detail.

If you found this article interesting we encourage you to visit our website at www.investmentscore.com to learn more about our strategies and sign up for our free newsletter. We also ask that you forward our article on to others that you think could benefit from this information.

By Michael Kilback
Investmentscore.com
Investmentscore.com is the home of the Investment Scoring & Timing Newsletter. Through our custom built, Scoring and Timing Charts , we offer a one of a kind perspective on the markets.

Our newsletter service was founded on revolutionary insight yet simple principles. Our contrarian views help us remain focused on locating undervalued assets based on major macro market moves. Instead of comparing a single market to a continuously moving currency, we directly compare multiple major markets to one another. We expect this direct market to market comparison will help us locate the beginning and end of major bull markets and thereby capitalize on the largest, most profitable trades. We pride ourselves on cutting through the "noise" of popular opinion, media hype, investing myths, standard over used analysis tools and other distractions and try to offer a unique, clear perspective for investing.
Disclaimer: No content provided as part of the Investment Score Inc. information constitutes a recommendation that any particular security, portfolio of securities, transaction or investment strategy is suitable for any specific person. None of the information providers, including the staff of Investment Score Inc. or their affiliates will advise you personally concerning the nature, potential, value or suitability or any particular security, portfolio of securities, transaction, investment strategy or other matter. Investment Score Inc. its officers, directors, employees, affiliates, suppliers, advertisers and agents may or may not own precious metals investments at any given time. To the extent any of the content published as part of the Investment Score Inc. information may be deemed to be investment advice, such information is impersonal and not tailored to the investment needs of any specific person. Investment Score Inc. does not claim any of the information provided is complete, absolute and/or exact. Investment Score Inc. its officers, directors, employees, affiliates, suppliers, advertisers and agents are not qualified investment advisers. It is recommended investors conduct their own due diligence on any investment including seeking professional advice from a certified investment adviser before entering into any transaction. The performance data is supplied by sources believed to be reliable, that the calculations herein are made using such data, and that such calculations are not guaranteed by these sources, the information providers, or any other person or entity, and may not be complete. From time to time, reference may be made in our information materials to prior articles and opinions we have provided. These references may be selective, may reference only a portion of an article or recommendation, and are likely not to be current. As markets change continuously, previously provided information and data may not be current and should not be relied upon.
© 2005-2019 http://www.MarketOracle.co.uk - The Market Oracle is a FREE Daily Financial Markets Analysis & Forecasting online publication.

Only logged in users are allowed to post comments.
Register/ Log in