The Love Of Money, Lehman The Bank That Bust The World -BBC2 Thursday 9pm
Politics
/
Credit Crisis 2008
Sep 09, 2009 - 08:11 AM GMT


Last September, the collapse of Lehman Brothers tipped the world into the greatest financial crisis for 80 years. Now, one year on, in the first part of a major three-part series on the crash, the BBC offers the definitive account of what happened.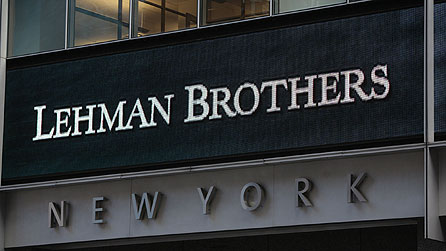 An unrivalled cast of contributors including national leaders, finance ministers and CEOs describe their tense negotiations in New York and London as Lehman Brothers headed towards bankruptcy.
How and why did Lehman Brothers go bust – in a bankruptcy 10 times bigger than Enron? Why did its collapse start the earthquake that sent shockwaves through the financial markets? With the help of eyewitness accounts from people such as current US Secretary of the Treasury Tim Geithner, former Merrill Lynch CEO John Thain and Lehman's insiders, The Love Of Money tells the gripping story of a catastrophic financial meltdown. Harvey Miller, Lehman's bankruptcy lawyer, says: "We really were in almost an adversarial situation."
In September 2008, with the world reeling from the credit crunch, the US Authorities summoned Wall Street bosses to an emergency meeting at the New York Federal Reserve. Over one extraordinary weekend, these so-called "masters of the universe" argued about what should be done to save the ailing Lehman Brothers bank.
A series of catastrophic investments in property and the exposure of its sub-prime liabilities had left the bank debt-ridden and with few creditors.
British bank Barclays saw an opportunity to buy the stricken bank. The programme hears from Prime Minister Gordon Brown, Chancellor Alistair Darling, Chairman of Barclays Bob Diamond and the FSA's Hector Sants as fevered transatlantic negotiations went on through the night. It also examines the claim it was the British Government that, in the end, blocked Barclays' takeover.
The programme includes never-before-seen footage shot inside Lehmans in the weeks leading up to the demise of the bank. It shows Lehman's boss, Dick Fuld, struggling to keep his empire going as the sharks begin to circle. Weaving together personal testimony and analysis, the programme delivers a portrait of a man and an institution under intolerable pressure.
Finally, when all other avenues had been exhausted, the bank filed for bankruptcy amid emotional scenes as employees saw their lives, reputations and livelihoods shredded in the biggest bankruptcy of modern times.
(9.00pm, Thursday 10 September, BBC Two)
PH
© 2005-2019 http://www.MarketOracle.co.uk - The Market Oracle is a FREE Daily Financial Markets Analysis & Forecasting online publication.

Only logged in users are allowed to post comments.
Register/ Log in