Australian Gold Stocks Exciting Performance
Commodities
/
Gold & Silver 2009
Sep 21, 2009 - 09:53 AM GMT


It has been a very exciting few weeks in the Australian Gold Sector since we announced a fresh break out. Before I go on I feel it is necessary to put this in context so I am providing a clear educational account of this event with perspective. Within the big picture this recent gold share price rise is only a small part of a follow through rally which commenced in the October to November lows of 2008. That period was in essence a "bear trap".
Bear traps are common in mania formations and this is certainly what is gradually forming in the precious metals and global gold stock sectors including Australia at this time. That is right – were gradually shaping up to what will become a mania and this equals exceptional opportunity.
This is extremely good news for new investors coming into the gold sector. These investors will be looking to make back losses they have suffered over the previous two years in other asset classes. Here is their opportunity and also yet another opportunity for seasoned gold stock investors to take advantage yet again of these conditions. Dr Jean – Paul Rodrigue's produced the following chart on "bubbles" and I have adapted some comments of my own over the top in blue. This is a fantastic chart and well worth some of your attention.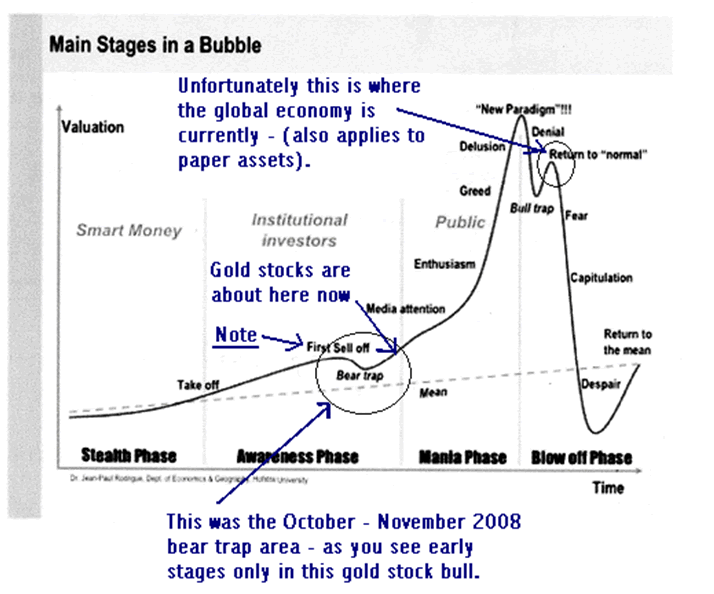 According to my research we are only around 8 years into this latest 17 year tangible asset cycle and as you can see the chart above confirms this if my theory is correct. The circle in the middle of the chart is at the end of the awareness phase. Sure we have seen some sell offs in the gold stocks however none as drastic as the sell off in late 2008 and this is why I have singled it out as the likely "First Sell Off" relating to the position indicated above.
As gold breaks the US$1,000 mark decisively in the coming days or weeks the media will ramp up their coverage more and more. This has already begun – public debate about gold seems to be increasing whereas in past years it was largely ignored. Public awareness and participation will now increase as the mania phase begins within the context of this cycle.
I have also circled the "Return to Normal" phase above and for very good reason. Paper assets run the alternate 17 year cycle while gold stocks tend to do poorly while they are running. Paper assets topped out around 2000 as the precious metals complex began to awaken from a long slumber. As you can see by the chart above the early moves in these bubbles are small by comparison to the later price surge so you can assume the best (by far) is yet to come.
The very best thing about this current gold bull is that gold is still cheap in inflation adjusted terms and silver is even cheaper – stupendously cheap. Anybody reading this article should invest time and attention into the archival articles on this subject but I want to point out where we are so that some nerves might be calmed about the so called high gold price at US$1,000. This also backs up my own investment thesis on this subject as covered in this and other articles.
Gold is now pushing up at recent historic highs as we go into the latest G20 Summit. In future we will all look back the US$1,000 level and it will look like the US$300, US$350, US$450 and US$700 levels did today. If you adjust the US$850 1980 gold peak for today's dollars you will need to reach between US$2,500 and US$6,000 to reach that old benchmark in terms of today's dollars. This variation depends on what inflation numbers you accept as accurate over the last 29 years.
I do not envy the politicians in the US and around the world that have recently "inherited" this complex set of problems. The most they can really do is to try to minimize the damage and find a "muddle" way through because we are in uncharted waters.
They did achieve some short term success (to their credit) in throwing money at the problem in order to avert the total collapse they were staring at late last year. This may sound simplistic but unfortunately they continue to try to fix all things economic, in the total absence of water, by throwing petrol on the fire. Spend, spend, and spend – what an interesting idea! Spend your way out of debt – wow that is a desperate move and you think things are "Back to Normal"?
So the most they can do is try to keep as many people off the bread lines as they can and try to stop an implosion of the banking & corporate sectors and perhaps they succeeded for now. Government and corporations will have to compete for limited lending capacity from the banks.
The securitization markets just are not there and neither is the consumer who has basically "borrowed up" the last few years of the intangible asset bubble. The consumer also held things together through the early years of this precious metal cycle. The consequence of the lack of a securitization market – the banks can't shift assets off their balance sheets so their game is now limited to say the least.
The Good Fight
The most I can do as a web site editor and gold commentator is to encourage the "good fight" as Bill Murphy calls it (GATA fame if you are new to the gold community). Investors still have a way out if they have some capital to play with.
All investors should own some physical metal of their own in their own local safety deposit box or on account at various facilities. There is also scope – especially now – to leverage up some excellent gains in gold and precious metals equities. This is and will continue to be a global trend and the smart money is diversified in these types of investments across the stronger, or is that less vulnerable economies (it is a matter or relative strength and relative risk).
Who knows you may even get rich if you can liquidate that property portfolio with any remaining equity and invest in the right gold stocks. We have seen spectacular gains since late last year and in the past few weeks as Australian gold stocks play catch up.
Australian Gold Stocks
Last 5 weeks – top 5 largest Australian based pure gold producers up between 18.2% and 27.5%. Remember this is in only 5 weeks! Same story for the following figures – show this to your friends and see if they approve of your smart investment decisions.
Top 7 (selected by GoldOz) producers in order; up 97.5%, up 68.6%, up 51.6%, up 46.4%, up 30.7%, up 30.5% and lastly up 20.7%. We had the number 2 and 3 top performers featured in a special report in our Gold Members Fundamental Performance file which is now reviewed and upgraded in the site for subscribers only. Important factors are all listed in the product and the full news and data is in another area.
Drilling news and good old fashioned organic growth fueled the strongest rises. These stocks are selling for ridiculous prices at present and the truck should be backed up and loaded. Somebody give me a train to load - if only I had the capacity! My excitement over the past month or two was not misplaced.
I also listed the worst performers from my selection over the past 5 weeks with some comments on why they under performed relative to the other gainers. A couple just had to have a spell after going up 4x and 8x their former stupidly low value. One other is just too cheap and only went up 8.8% - shocking performance J (joking) but it was in the relatively poorer performers list. Awesome value is there if you know how to look and this is our job to teach you as we fight the good fight in our own way.
One of the other poorer performers in the list is in some real trouble though and posted a 31% loss – the only loser in my lists. If it can over come difficult ground conditions and recover it could be a cracker but high risk. I have seen several companies go under in this boom so it is a danger that has to be factored. We will know at the right time if it is recovering because we put out a weekly chart set with well over 100 charts for our Members.
The bottom line is – get on board the train it is leaving the station and you don't want to miss out. There are some fully valued stocks at this gold price level so choice is as important as ever. As gold rises the valuations rise faster and the gains will be fantastic. We are now getting a small brief breather in our XGD after it rose from 4614 to 5712 in 4 weeks. This is another chance to get set do you want to join us?
Good trading / investing.
Regards,
Neil Charnock
GoldOz is currently developing a Member area and has added further resources for free access. We have stepped up our research and stand by to assist investors from all walks of life. We sell an updating PDF service on ASX gold stocks from only $AUD35 for 3 months – the feedback is grateful and enthusiastic because we are highlighting companies that have growth potential and offering professional coverage of the sector. GoldOz web site is a growing dynamic resource for investors interested in PGE, silver and gold companies listed in Australia , brokers, bullion dealers and other services.
Neil Charnock is not a registered investment advisor. He is a private investor who, in addition to his essay publication offerings, has now assembled a highly experienced panel to assist in the presentation of various research information services. The opinions and statements made in the above publication are the result of extensive research and are believed to be accurate and from reliable sources. The contents are his current opinion only, further more conditions may cause these opinions to change without notice. The insights herein published are made solely for international and educational purposes. The contents in this publication are not to be construed as solicitation or recommendation to be used for formulation of investment decisions in any type of market whatsoever. WARNING share market investment or speculation is a high risk activity. Investors enter such activity at their own risk and must conduct their own due diligence to research and verify all aspects of any investment decision, if necessary seeking competent professional assistance.
© 2005-2019 http://www.MarketOracle.co.uk - The Market Oracle is a FREE Daily Financial Markets Analysis & Forecasting online publication.

Only logged in users are allowed to post comments.
Register/ Log in