China Wealth Expansion Driving Agri-Food's Mega-trend
Commodities
/
Agricultural Commodities
Sep 21, 2009 - 04:09 PM GMT


Bump and grind economic numbers might suggest that the Western economies, including the U.S., have seen the worst of the economic slide. Despite that appearance of an economic bottom, that the economic policies of the Obama Regime are a failure, and will continue to be a failure, is now increasingly obvious. When nations like China and India are demonstrating superior economic performance perhaps the time has come to either, one, jettison the bumbling economic policies of the Obama Regime, or, two, look elsewhere for opportunities.
Western economies made two attempts at economic witchcraft, the internet/technology stock bubble and then the housing/mortgage bubble. Both of these attempts at financial free lunches failed miserably. Neither was grounded in either sound business fundamentals or reasonable financial concepts. Both were get rich quick schemes, encouraged by the inbred economics community incapable of thought beyond a power point lecture.
The reason that the economic policies of the Obama Regime will continue to be failures is that economic growth, of an organic and sustaining kind, are either discouraged or not encouraged. Simply throwing money obtained by selling debt into the wind will not encourage sustainable economic growth. In contrast, China has encouraged the expansion of wealth, resulting in economic growth. One model, China, works, while the other does not.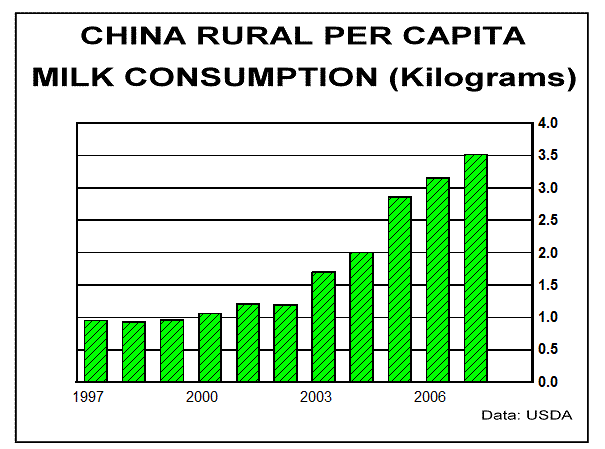 Name a product that has experienced almost 250% growth in demand in the last five years of available data. In our first chart this week is plotted per capita consumption of milk by rural dwellers in China. By the way, rural inhabitants are slightly more than half the population. Urban consumption of milk in China, on a per capita basis, has been flat for the past few years. However, that comes after a tripling of per capita consumption in the cities. U.S. consumption of milk is five times that of Chinese urban dwellers, and their consumption is five times that of rural consumers. The potential for growth in Chinese milk consumption alone makes social networking web sites look like stagnant pools.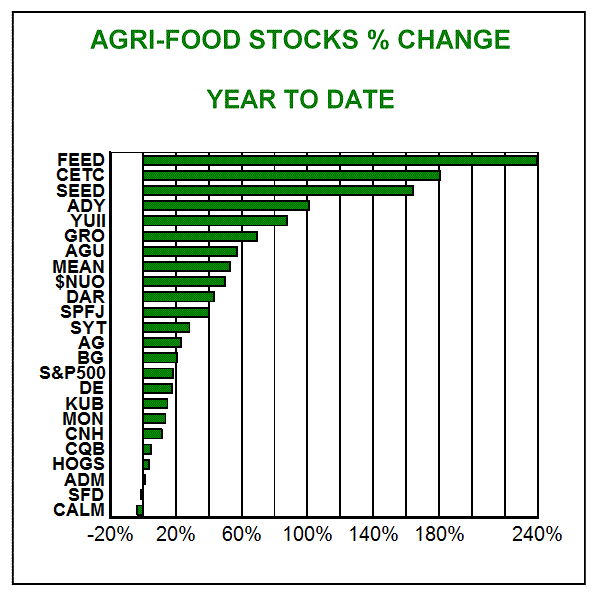 While some investors still seem to be chasing those dead cats bouncing in the form of banking and housing stocks, companies linked to the growth, today's and tomorrow's, in China seem to be doing well. Our second chart, above, is the year to date performance of a selection of Agri-Food stocks. While this appreciation might be over done in the short run, those companies tied to the China of tomorrow have done nicely. Some might be appropriate for investors looking forward rather than backwards, or simply dreaming of yet undelivered change.
As the world turns toward serving China today, and India tomorrow, the world's economic system is being "rewired" to accommodate the needs of those customers. While frivolous economic policies flow out of Washington, D.C., some investors not waiting for real change there. They are now making first round moves for tomorrow. Can you name two green grass investments of $200 million, or more, being made in the U.S.?
Well, one of those is the first grain export terminal to be built in the U.S. in more than twenty years, per Commodity News for Tomorrow, 18 September 2009. At present and in the past, grain from the upper Midwestern U.S. would flow south to New Orleans for export shipment. In 2011 when the terminal is completed, the grain will flow west by rail to the port, and then further westward to satisfy Chinese and Asian demand, Per that article,
"Grain exports rose 20% to reach a record 6.4 million metric tons at the Port of Seattle in 2008. For comparison, U.S. Department of Agriculture said exports of U.S. corn, wheat, and soybeans rose only 10% in 2008.(5)"
Name something that grew 10% or 20% in the U.S. in 2008. Yes, foreclosures and bad loans did. We really mean something worthwhile and desirable. And by the way, when those grains are flowing westward, what will be flowing eastward? The answer is simple: Money! The builders of this terminal are Bunge North America, ITOCHU and STX Pan Ocean.
Yes, we know that the wonderful move in the price of Gold over the past few weeks is making you feel wealthier, and clearly smarter than many investors. Over the past ten years your return on Gold has far exceeded that earned by those that turned their wealth over to the Street. But, you need to keep looking forward. Agri-Food investments may be today where Gold was ten years ago. Why not let 1.3 billion Chinese consumers work for you? To begin your research use this link: http://home.att.net/~nwschmidt/Order_AgriValueRECENT.html
We are also pleased to announce that 3rd Annual U.S. Agricultural Land As An Investment Portfolio Consideration, 2009 was recently released. This work is the definitive annual study of the role of U.S. agricultural land in an investment portfolio. It is a rigorous statistical analysis suitable for the sophisticated investor. The 60 page PDF file is delivered via email, and is available at the following link: http://home.att.net/~nwschmidt/OrderAgriLand2009.html
By Ned W Schmidt CFA, CEBS
AGRI-FOOD THOUGHTS is from Ned W. Schmidt,CFA,CEBS, publisher of The Agri-Food Value View , a monthly exploration of the Agri-Food grand cycle being created by China, India, and Eco-energy. To receive the most recent issue of this publication, use this link: http://home.att.net/~nwschmidt/Order_AgriValue.html
Copyright © 2009 Ned W. Schmidt - All Rights Reserved
© 2005-2019 http://www.MarketOracle.co.uk - The Market Oracle is a FREE Daily Financial Markets Analysis & Forecasting online publication.

Only logged in users are allowed to post comments.
Register/ Log in