Silver, the U.S. Dollar and the Two American Citizenships
Commodities
/
Gold & Silver 2009
Oct 09, 2009 - 06:36 AM GMT


"To me, the most ominous flaw in our constitutional set-up is the fact that the federal government does not have control over money and credit and does not have control of corporations. It is therefore not really sovereign. And it is not really responsible, because it is now controlled by these two groups, corporations, and those who control the flows of money. …….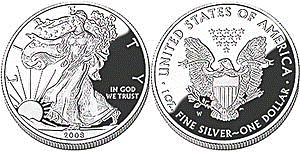 Now I come to my last statement. I regret ending on what is, I suppose, such a pessimistic note-- I'm not personally pessimistic. The final result will be that the American people will ultimately prefer communities. They will cop out or opt out of the system. Today everything is a bureaucratic structure, and brainwashed people who are not personalities are trained to fit into this bureaucratic structure and say it is a great life--although I would assume that many on their death beds must feel otherwise.
The process of coping out will take a long time, but notice: we are already coping out of military service on a wholesale basis; we are already copping out of voting on a large scale basis. I heard an estimate tonight that the President will probably be chosen by forty percent of the people eligible to vote for the forth time in sixteen years. People are also copping out by refusing to pay any attention to newspapers or to what's going on in the world, and by increasing emphasis on the growth of localism, what is happening in their own neighbourhoods……….
Now I want to say good night. Do not be pessimistic. Life goes on; life is fun. And if a civilization crashes, it deserves to. When Rome fell, the Christian answer was, "Create our own communities."
Oscar Iden Lecture Number 3 of 3
"The State of Individuals"
Prof. Carroll Quigley
Georgetown University
Georgetown 1978
As a European looking at the American economic and political scene I find it fascinating to see Prof. Carroll Quigley's prophecy from the Oscar Iden Lectures in 1978 come to pass. It is generally accepted today that astute and aware citizens obtain their information from the internet and private news groups. Any review of these mediums will alert one to the fact that nearly half of the States of the Union have powerful committees actively working on opting out of the Federal system. It is my humble opinion that as the monetary crisis deepens this movement will grow in momentum. This trend for renewed local sovereignty seems to be taking off exponentially and as in the movie "Network" it would seem: "people are as mad as hell and will not take it anymore."
Upon researching this phenomenon deeper it would appear that more and more Americans are beginning to have a legal epiphany and realize that most of them actually have two citizenships. http://deoxy.org/lib/2us.htm .They are citizens of their respective republics, were they were born, in addition to being citizens of the "Federal" Union. Amazingly increasing numbers of Americans are applying for US passports asserting their citizenship of their home republics and rejecting their option of recognizing the Federal State, which in American jurisprudence relates solely to the District of Columbia and territories. This issue has become a powder-keg because it appears that the I.R.S. has no constitutional power outside the Federal Area and if you are not a Federal citizen, but simply an American citizen of one of the 50 American states, the I.R.S. has no actual jurisdiction over you under common law. Once this "secret" becomes mainstream the Federal dollar is as good a dead. No collectable taxes equals no Federal Reserve dollar.
As people around the World begin to comprehend the magnitude of this legal conundrum it can only have serious implications for the future value of the dollar and the price of silver and gold. Should the I.R.S. lose its mandate to collect taxes from American" Continental" citizens the system will demand an immediate solution. It is hard to see how this situation will work out favourably to the greenback. This is why, I reckon, smart state legislators are preparing options now. If the Federal Dollar is in a death spiral it is better to have a home State replacement ready to go. They know that the mainstream media will not report this growing movement and thus intelligent lawmakers are quietly developing their own networks of informative action. As Quigley predicted in 1978 these networks are becoming the framework for future political power. According to his theory, power comes from the ability to get things done, period, and as the Federal system morphs into debt paralysis any parallel "State" system that is effective will become the basis of all new political power-broking.
From a distance to me America is undergoing a revolution as we speak. Anybody who thinks this "recessionary" crisis is normal is not informed. It will be fascinating to see how the genius of American creativity will fashion a solution. Even Canute could not hold back the sea, for the tide, though gradual, was too awesome in power once it started to move. America is in pain and citizens demand action. The tide of a resolution is forming on the ground in State capitals where increasingly Federal officers are being ignored and shunned, but don't expect to read about this in the "Federal money" media.
Silver dollars anyone?
By Christopher M. Quigley
B.Sc., M.M.I.I. Grad., M.A.
http://www.wealthbuilder.ie
Mr. Quigley is 46 years of age and holds a Batchelor Degree in Management from Trinity College/College of Commerce, Dublin and is a graduate of the Marketing Institute of Ireland. He commenced investing in the Stock Market in San Francisco, California where he lived for 6 years. Now based in Dublin, Mr. Quigley actively trades utilising the principles set out in the modules above. This Wealthbuilder course has been developed over the last 9 years as a result of research, study, experience and successful application.
Disclaimer: The above is a matter of opinion provided for general information purposes only and is not intended as investment advice. Information and analysis above are derived from sources and utilising methods believed to be reliable, but we cannot accept responsibility for any trading losses you may incur as a result of this analysis. Individuals should consult with their personal financial advisors before engaging in any trading activities.
© 2005-2019 http://www.MarketOracle.co.uk - The Market Oracle is a FREE Daily Financial Markets Analysis & Forecasting online publication.

Only logged in users are allowed to post comments.
Register/ Log in