Roubini Hates Gold, He Was Wrong On The Dow (So Far), Wrong Again?
Commodities
/
Gold & Silver 2009
Oct 24, 2009 - 04:37 AM GMT


I was a huge fan of Professor Roubini until on 14th March he declared that the rally was a dead cat sucker bounce, at that point I realised that alas; everyone is human. On reflection perhaps he was also wrong about the current account deficit "causing" the crunch, my view is that was just a sideshow. But that's history; and big picture he got to the right answer in Technicolor before anyone else.
Anyway I saw this (http://finance.yahoo.com/.. ) the other day and my spirits started to lift – classic "Old Coke" doing the "train-a-left-the-station" routine:
This is what he said::
"I don't believe in gold. Gold can go up for only two reasons. [One is] inflation, and we are in a world where there are massive amounts of deflation because of a glut of capacity, and demand is weak, and there's slack in the labor markets with unemployment peeking above 10 percent in all the advanced economies. So there's no inflation, and there's not going to be for the time being.
The only other case in which gold can go higher with deflation is if you have Armageddon, if you have another depression. But we've avoided that tail risk as well. So all the gold bugs who say gold is going to go to $1,500, $2,000, they're just speaking nonsense. Without inflation, or without a depression, there's nowhere for gold to go. Yeah, it can go above $1,000, but it can't move up 20-30 percent unless we end up in a world of inflation or another depression. I don't see either of those being likely for the time being. Maybe three or four years from now, yes. But not anytime soon".
My view:
I don't exactly agree with Roubini, although I agree with him on deflation, just I don't buy the idea that it's inflation (in particular) that drives gold prices (http://www.marketoracle.co.uk/Article12165.html ); but I agree with his conclusion, and it's good to know that there is at least one other person in the world who doesn't buy the idea of gold breaking out and heading towards heaven (I was getting pretty lonely actually).
I think that gold is a bubble fuelled by excess liquidity and wonky valuations that you tend to get at the top of every bubble (remember the weird explanations of how to value a Dot.com stock at the top of that bubble)
The latest I heard is that it's all about lack of confidence in government, well the peak of that "lack of confidence" was February/March 2009; and what happened to gold then? It dropped.
The best predictor of the gold price since 1971 was the price of oil (74% R-Squared on an annual basis), by that measure at $75 a barrel the price of gold should be $750, which means now it's a bubble, which means if it comes down and oil doesn't go up, then it could drop to $600.
This is oil against gold (annual averages)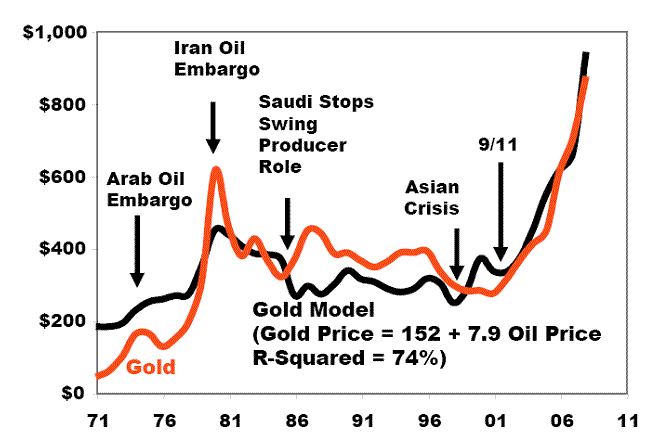 So if that argument works then what's going to happen to oil? This is what Professor Roubini had to say in June:
"Speaking at the Reuters Investment Outlook Summit on Tuesday, Roubini painted an economic backdrop of deflationary risks and warned that if oil keeps climbing toward the US$100 level it would deal an "economic shock" similar to the one last seen in 2008.
He said crude oil prices rose "too high too soon," from below US$32 a barrel in December to US$73 last week."
Well I don't agree with him on that, I think the fundamental is $75 (http://www.marketoracle.co.uk/Article14197.html ) and I've been saying that since June (http://www.marketoracle.co.uk/Article10998.html )
But I think he's right to be concerned that the "wall of liquidity" (i.e. the 78% of Goldman Sachs profits in the past nine months thanks to cheap money from the Fed), could easily create another bubble in oil.
If oil goes up to $100 (and if that's what the Fed plus the "stimulus" caused then someone should be shot), then the "right" price for gold will be $950.
But I think if that happens the US Government should start selling oil from the Strategic Petroleum Reserve, because that will be a pure act of war (by Goldman Sachs and their cronies), waged against USA, straight up terrorism, there is no other word for it.
By Andrew Butter
Andrew Butter is managing partner of ABMC, an investment advisory firm, based in Dubai ( hbutter@eim.ae ), that he setup in 1999, and is has been involved advising on large scale real estate investments, mainly in Dubai.
© 2009 Copyright Andrew Butter- All Rights Reserved
Disclaimer: The above is a matter of opinion provided for general information purposes only and is not intended as investment advice. Information and analysis above are derived from sources and utilising methods believed to be reliable, but we cannot accept responsibility for any losses you may incur as a result of this analysis. Individuals should consult with their personal financial advisors.
© 2005-2019 http://www.MarketOracle.co.uk - The Market Oracle is a FREE Daily Financial Markets Analysis & Forecasting online publication.

Only logged in users are allowed to post comments.
Register/ Log in