The Political Economy Postponing Providence
Economics
/
Economic Stimulus
Nov 02, 2009 - 12:29 PM GMT


That's the game – postponing providence – putting off the inevitable until the next guy's shift. This is the cache of our political economy, as with all other comparables before it, now maturing into rot. All dominant cultures recede this way of course, dying from within as it were. And the American Empire is no different, with its hollowed out economy, markets, and values. Despite the obvious signs of this decay, most people continue to deny and ignore the inevitable, however acceleration of collapse will continue to challenge such fancy, eventually becoming self-evident to even the less endowed.
The following is an excerpt from commentary that originally appeared at Treasure Chests for the benefit of subscribers on Tuesday, October 20th, 2009.
This is how stock market crashes are set-up of course, with the public plodding along merrily, postponing their true providence with full might, until the boom drops and reality reappears. Furthermore, it's important to understand it's not just our price fixing and overindulgent bureaucracy that is to blame for this, as all those who do nothing to return us to a more honest living are to blame as well, with increasing numbers continually looking for handouts and hush-money. It appears we have reached our critical mass in this regard however, as warned last year with the sudden and dramatic swoon in the stock market, our omnipresent measure of wealth and financial well-being having so many now dependent on continued strength.
In fact, it would be safe to say the US (and world due to its dependence on American consumers) is totally dependent on its paper economy now, which is why the bureaucracy endeavors to preserve it with such vigor, using all means of trickery, deceit, and subterfuge to maintain the fantasy, having exported the manufacturing (real) economy to cheap labor in China for decades now. The storyline was American no longer needed these jobs because a better educated work force would get higher paying jobs in other sectors. And for a while, this worked like a charm, with increasing wages matched against lower cost goods coming out of Asia fuelling the greatest boom mankind has ever known.
As with all boom – bust economies however, the aftermath of such folly can be quite profound, with the primary determinant here being just how much alcohol was consumed on the binge. In this case, that being our now heavily integrated fiat currency based global economic experiment, the prognosis is not good, with volatility in the various associated markets (stock, bond, commodity, currency) equivalent to convulsions of a dying patient. You see our bankers, who need continued economic growth somewhere in order to keep fiat money expanding, have run out of markets to exploit in this regard. What's more, in exploiting the largest population bases (China / India) now, with the lion's share of growth already spent, the only way to keep the numbers growing faster on aggregate is to inflate prices.
And this is where we are right now, with China attempting to carry the entire globe via accelerating money supply growth. This of course creates problems with rising prices and over consumption, which will exact a price in the bust, where we are going next. After an initial liquidity related sell-off, this will keep commodity prices firmer through a contraction than would have otherwise been the case. What's worse, this condition could be exacerbated by some degree of accelerated inflation again (in response to the next round of economic troubles), with hyperinflation not out of the question. The good news is physical gold market constraints should finally be enough to blow up the gold cartel, unleashing the metal of kings as a true barometer of the economy's financial health – that being terminal. At least more people would finally know.
Prior to this however, and based on a return to 'business as usual' for our bureaucracy and business elite, more aggressively exploiting a placated public all the time, the unraveling will come again, first in the stock market (this time around) by surprise. (We are likely at this point now.) This is because credit spreads are so heavily managed, like gold, and are now incapable of sending out the appropriate warning signs ahead of time. They will likely react in the correct fashion once it's evident the markets are in trouble again and work to constrict credit, however don't expect to get a warning shot across the bow here with the Feds massaging these measures in an attempt to keep the economy's boat afloat. Again, this is what crashes are all about, however we are not predicting one here, just preparing for round two of the larger degree cycle related second wave of the 'credit crunch', due to be self-evident again by next summer.
Moving into the charts now, after the above warning to 'get safe' with your investments, it appears bank stocks have decided to stop rising despite continued strength in the broads, which should be considered a potential warning shot across the bow. Highlighting this risk, and a subject that will be discussed in further detail in Thursday's report, is the fact US index open interest put / call ratios collapsed as of reporting last Friday, at options expiry. Now, this does not mean the bears can't return, which is why we will give it a few days before speaking further on the subject, however the possibility of the bears finally being exhausted going into the period of seasonal strength that starts about now has been heightened because of this, bring my seasonal inversion hypothesis into prominence. What's more, and in continuing to focus on indicators that still work, my work tells me the Gold / Silver Ratio has the potential to make an important bottom any day now as well. (See Figure 1)
Figure 1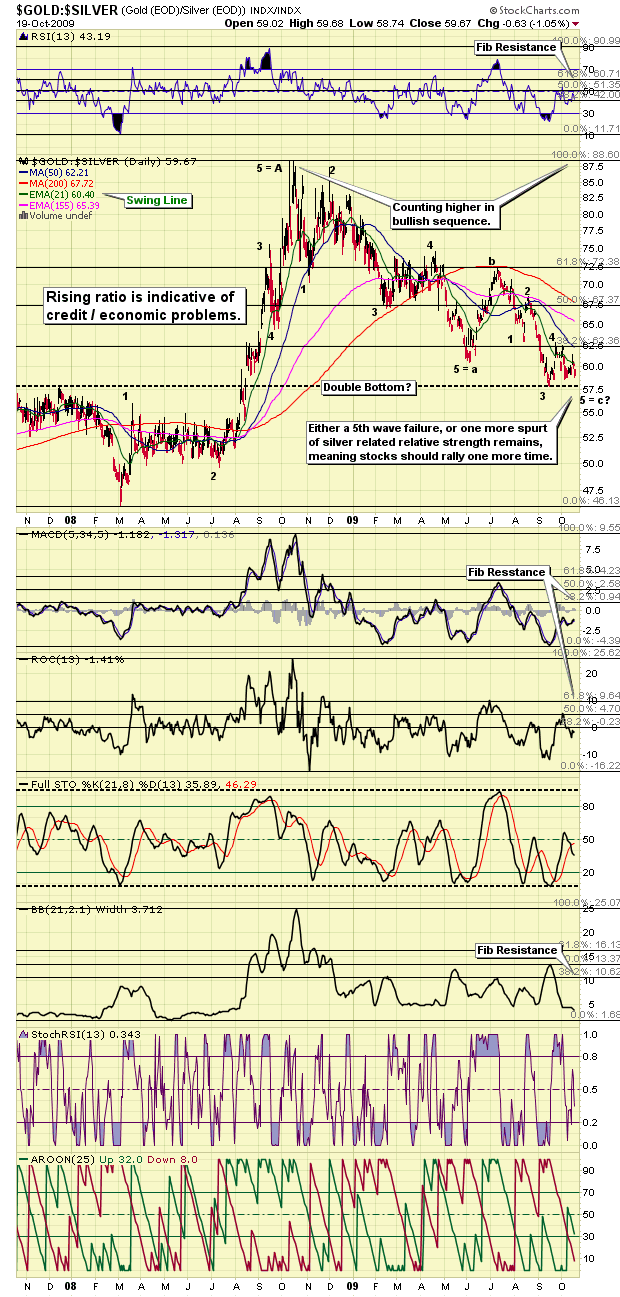 So, in the absence of 'working credit spreads' to warn us of impending / reaccelerating financial peril, we have our core battery of ratios telling us that in spite of this, extreme caution is warranted at this time. Going past this, I am taking things one step further for aggressive traders within our ranks and issuing a 'sell advisory', with corresponding short selling suggestions via the ETF's now updated in our Short Portfolio, which can be found under the Portfolios button off the main page. Moreover, it should be noted we have officially gone 'bearish' across all time frames now including 'short term', which is also updated. In the larger picture, you should also know the other portfolios will be reactivated at the appropriate time, that being when sustainable growth metrics return to respective sectors, which will not be anytime soon. This is because the dollar ($) could rally well into next year in round two of the credit crunch, as indicated below. (See Figure 2)
Figure 2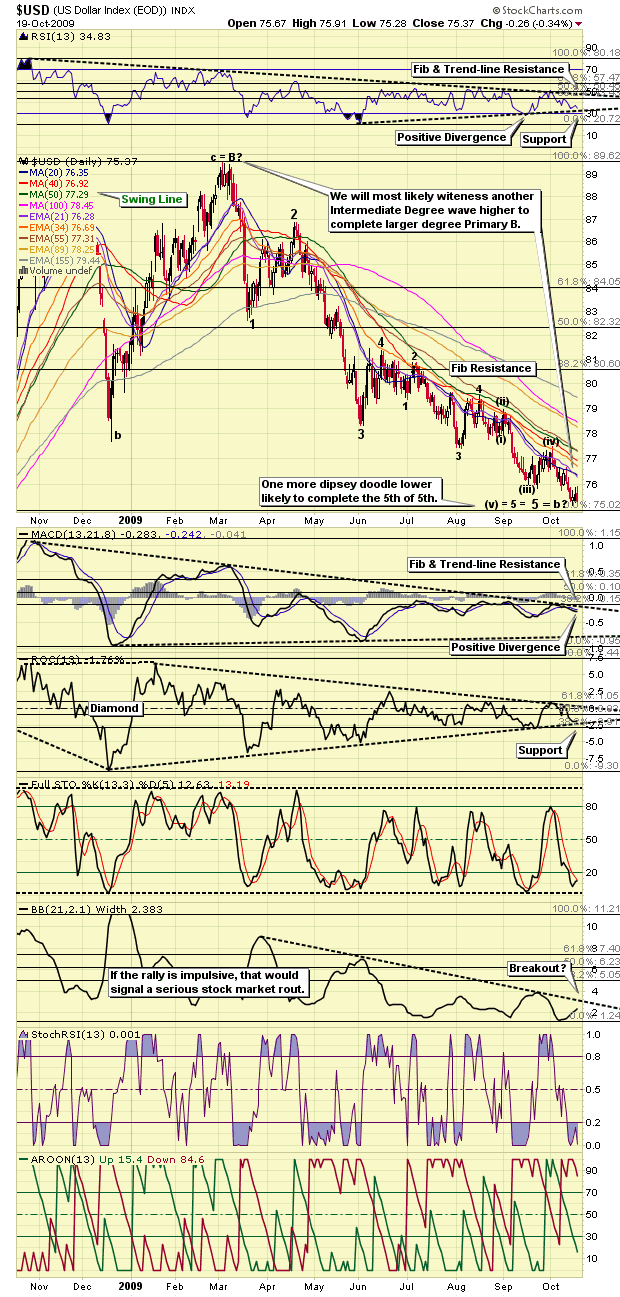 Unfortunately we cannot carry on past this point, as the remainder of this analysis is reserved for our subscribers. Of course if the above is the kind of analysis you are looking for this is easily remedied by visiting our continually improved web site to discover more about how our service can help you in not only this regard, but also in achieving your financial goals. For your information, our newly reconstructed site includes such improvements as automated subscriptions, improvements to trend identifying / professionally annotated charts, to the more detailed quote pages exclusively designed for independent investors who like to stay on top of things. Here, in addition to improving our advisory service, our aim is to also provide a resource center, one where you have access to well presented 'key' information concerning the markets we cover.
And if you have any questions, comments, or criticisms regarding the above, please feel free to drop us a line. We very much enjoy hearing from you on these matters.
Good investing all.
By Captain Hook
http://www.treasurechestsinfo.com/
Treasure Chests is a market timing service specializing in value-based position trading in the precious metals and equity markets with an orientation geared to identifying intermediate-term swing trading opportunities. Specific opportunities are identified utilizing a combination of fundamental, technical, and inter-market analysis. This style of investing has proven very successful for wealthy and sophisticated investors, as it reduces risk and enhances returns when the methodology is applied effectively. Those interested in discovering more about how the strategies described above can enhance your wealth should visit our web site at Treasure Chests
Disclaimer: The above is a matter of opinion and is not intended as investment advice. Information and analysis above are derived from sources and utilizing methods believed reliable, but we cannot accept responsibility for any trading losses you may incur as a result of this analysis. Comments within the text should not be construed as specific recommendations to buy or sell securities. Individuals should consult with their broker and personal financial advisors before engaging in any trading activities, as we are not registered brokers or advisors. Certain statements included herein may constitute "forward-looking statements" with the meaning of certain securities legislative measures. Such forward-looking statements involve known and unknown risks, uncertainties and other factors that may cause the actual results, performance or achievements of the above mentioned companies, and / or industry results, to be materially different from any future results, performance or achievements expressed or implied by such forward-looking statements. Do your own due diligence.
Copyright © 2009 treasurechests.info Inc. All rights reserved.
Unless otherwise indicated, all materials on these pages are copyrighted by treasurechests.info Inc. No part of these pages, either text or image may be used for any purpose other than personal use. Therefore, reproduction, modification, storage in a retrieval system or retransmission, in any form or by any means, electronic, mechanical or otherwise, for reasons other than personal use, is strictly prohibited without prior written permission.
© 2005-2019 http://www.MarketOracle.co.uk - The Market Oracle is a FREE Daily Financial Markets Analysis & Forecasting online publication.

Only logged in users are allowed to post comments.
Register/ Log in