Gold Bugs Madness 
Commodities
/
Gold & Silver 2009
Nov 10, 2009 - 06:32 AM GMT


"Lord, what fools these mortals be" A Midsummer Nights Dream Act 3, scene 2, 110–115
Shakespeare
"Shakespeare's judgment seems to be that love is a form of madness that prompts the lover to act in very foolish ways, indeed. As Duke Theseus says, lovers, like madmen and poets, are fantasists, "of imagination all compact [composed]" (Act 5, scene 1, 8)." www.enotes.com/shakespeare
Could it be that gold bugs are mostly lovers? Could their love of gold be a form of madness? Are they so in love with gold that all they see in their immediate future is $3,000, $5,000, $6,000 an ounce of gold or more? As lovers of gold could they be like madmen and poets and fantasists? I don't know if gold bugs are truly madmen and poets and fantasists. However, it does appear that they totally refuse to acknowledge the reality of the very high probability that their technical enemy has circled their position and may soon initiate them into the world of "lover's remorse."
The time may arrive when the object of their affection, gold, may be begging for the return of their love. I suspect that time will arrive when gold has once again been deserted by her former lovers. When gold is lying fallow she is most lovable. One could hardly say that in this year of our Lord, 2009, gold is lying fallow. Quite the opposite is true.

This chart and the overall corrective pattern and corrective triangle shown are as close to perfection as we can ever hope to see. They call for an imminent top to be followed by a severe sell-off.
"Triangles nearly always occur in positions prior to the final wave in the pattern of one larger degree, i.e., as wave B in an A-B-C." E. W. P.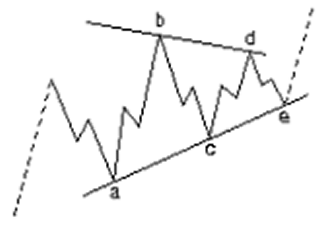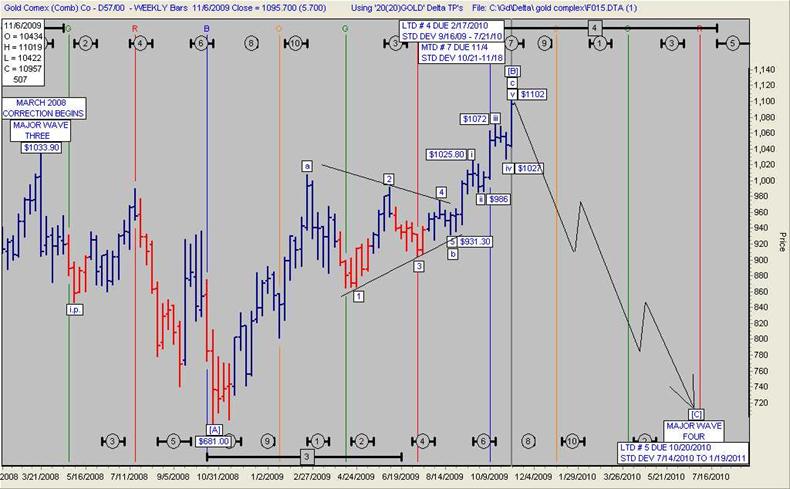 "Far more common, however, is the variety called an expanded flat, which contains a price extreme beyond that of the preceding impulse wave. In expanded flats, wave B of the 3-3-5 pattern terminates beyond the starting level of wave A, and wave C ends more substantially beyond the ending level of wave A." E. W. P.
Once again, this chart with an expanded flat corrective pattern is as close to perfection as we can ever hope to see.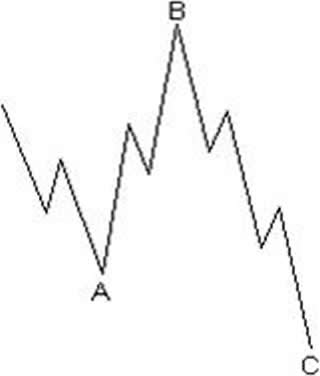 I feel very confident that there are many gold bugs saying that Ron Rosen is the fool for not rushing in. "He and his followers have already been left at the starting gate." After all the many years, actually decades, that I have witnessed starting gates, including golden starting gates, forming and then opening, I can say without hesitation that the gold charts posted in this report not only do not look like starting gates, they look like the edge of a precipice with the bottom far, far below. However, once the bottom is reached, the fireworks will finally begin. At the bottom the precious metals complex should be at bargain levels. They will truly represent, "bargains of a lifetime." As for this moment in time,
Click here ……v General Quarters, all hands man your battle stations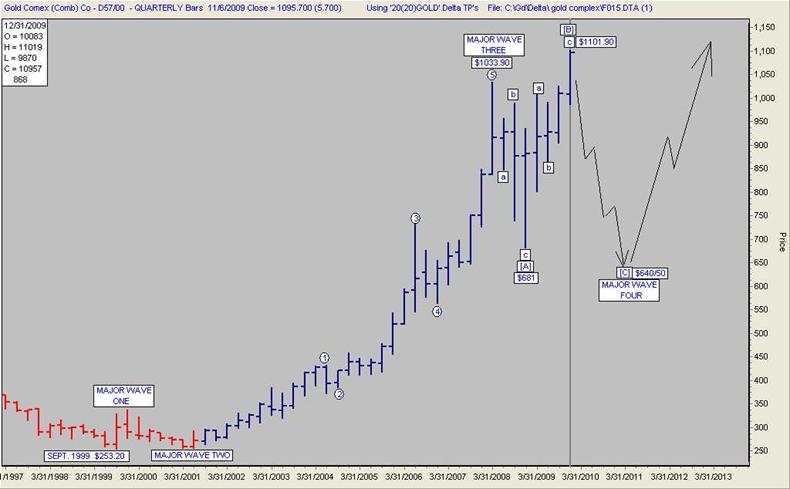 Subscriptions to the Rosen Market Timing Letter with the Delta Turning Points for gold, silver, stock indices, dollar index, crude oil and many other items are available at: www.wilder-concepts.com/rosenletter.aspx
By Ron Rosen
M I G H T Y I N S P I R I T
Ronald L. Rosen served in the U.S.Navy, with two combat tours Korean War. He later graduated from New York University and became a Registered Representative, stock and commodity broker with Carl M. Loeb, Rhodes & Co. and then Carter, Berlind and Weill. He retired to become private investor and is a director of the Delta Society International
Disclaimer: The contents of this letter represent the opinions of Ronald L. Rosen and Alistair Gilbert Nothing contained herein is intended as investment advice or recommendations for specific investment decisions, and you should not rely on it as such. Ronald L. Rosen and Alistair Gilbert are not registered investment advisors. Information and analysis above are derived from sources and using methods believed to be reliable, but Ronald L. Rosen and Alistair Gilbert cannot accept responsibility for any trading losses you may incur as a result of your reliance on this analysis and will not be held liable for the consequence of reliance upon any opinion or statement contained herein or any omission. Individuals should consult with their broker and personal financial advisors before engaging in any trading activities. Do your own due diligence regarding personal investment decisions.
© 2005-2019 http://www.MarketOracle.co.uk - The Market Oracle is a FREE Daily Financial Markets Analysis & Forecasting online publication.
Comments
truthhurtsss
10 Nov 09, 19:06
Elliott newsletter and broken clocks


After today, I am convinced that many, many(I shall not condemn all Elliottician, at least not Alf Field!)Elliott Wave newsletter writers are like broken clocks. In case you have not hear of the saying, "Even broken clocks will tell the time correct twice a day". Repeat a forecast long enough and it will come true eventually. (Sounds familiar? What about "Repeat a lie long enough and it will begin to sound like the truth?.

Look at Elliott Wave International's forecast of a Depression stock market crash from decades back and, maybe, finally they are right. Even then, was that crash they were predicting the one from 2001? Or 2008? Or 2010? Oh well, broken clocks will tell the correct time one day.......

What about the above forecast that has been around for a while? And now I don't see that mantra that was omnipresent previously: "Time is more important than price; when time is up price will reverse"?? So where is that importance in the timing??



richie
11 Nov 09, 03:39
Gold bull started in 2001


Rosen's EW counts are wrong - the gold bull started in 2001 not 1999. We are in major wave 3 not major wave 4.



truthhurtsss
12 Nov 09, 05:03
Timing of corrections


If you want Market Timing, today will likely see the commencement of a substantial correction in Gold, USD and possibly DOW/S&P.

I say correction because the technical structure of my proprietary indicators say that the main trend is not over. Of course I have learned that nothing is set in stone and nothing is impossible. Trading/investment is about probable outcomes.

I'm not trying to be a smart Alec and all those readers who disagree with another view are not fools as an egoistic person would be wont to say .........

This piece is to point out that often it takes a greater fool to call another a fool..... Have a laugh.




Only logged in users are allowed to post comments.
Register/ Log in