Gold Rebounds After Friday's Plunge, Where Next?
Commodities
/
Gold & Silver 2009
Nov 29, 2009 - 07:50 AM GMT


It looked like a rough time on Friday but gold rebounded and in the end it wasn't all that bad. Where does that leave us now?
GOLD LONG TERM
Although the week was a good one, even with a day's holiday, the long term momentum indicator continues to give some concern. As mentioned last week, concern is one thing but what's happening is another. Although there is concern for the loss of strength shown by the momentum indicator the direction of action continues to be upward. For now everything still looks good but we should not forget the warning from the diminishing momentum.
The price of gold closed the week well above its long term positive sloping moving average line. The momentum indicator, although not as strong as it was in the previous 2008 move into new highs, is still strong and moving higher inside its positive zone. It continues to trend above its positive sloping trigger line. The volume indicator is very strong and going gang-busters on the up side. It remains well above its long term positive trigger line. On the long term the rating remains BULLISH.
INTERMEDIATE TERM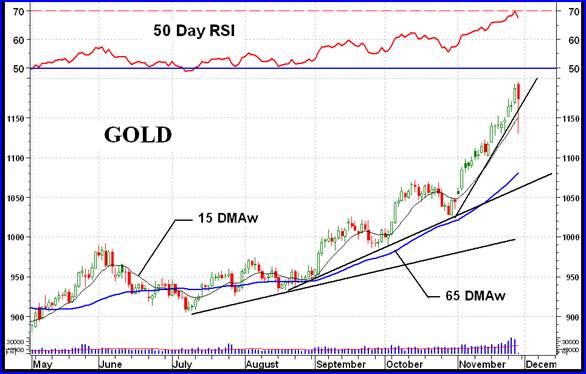 Since the bottom in July gold has been on a roll. Every so often I can draw three trend lines whose trend is accelerating as we move further to the right. These I call Accelerating FAN trend lines and are bearish in nature. This third FAN trend line is often referred to as a "blow-off" stage. A close below the third FAN trend line usually signals the end of that trend with lower prices ahead. We almost had that situation on Friday but a late rally closed the price still above the line. It goes without saying that the price cannot continue in a steep climb as it has been for the past month. Something gotta give and unfortunately it will most likely be the price, to somewhat lower levels for a while, once it breaks down.
In the mean time gold remains above its positive moving average line. Momentum remains very positive and almost entered its overbought zone. It is still above its positive trigger line (not shown). It is at a very high level that often precedes declines. As with the long term, the volume continues strong and remains above its positive trigger line. For now the intermediate term rating remains BULLISH.
SHORT TERM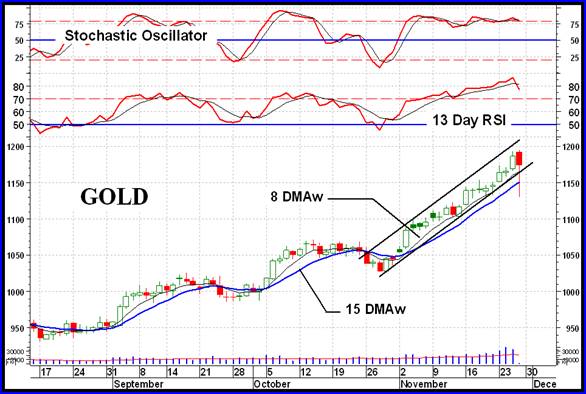 The past month has seen the price of gold in a very strong up trend. The momentum indicator (an indicator of price strength) had moved deep inside its overbought zone but has not dropped below the overbought line. Once below that line (70%) it would be the sign that the short term trend is over and one can expect lower prices. It doesn't always happen that way but the odds are in that direction. The momentum indicator has already dropped below its trigger line and Friday's action was volatile enough to turn the trigger line downwards. The price remains above its positive moving average line. The daily volume action has been quite positive during the upside trend in price. The speculative interest seems to be most definitely to the up side. This speculative interest could, however, turn suddenly. All in all, the short term rating remains BULLISH. The very short term moving average line remains above the short term line continuing to confirm the bull.
As for the direction of least resistance, that's a difficult one. Although the price remains above its very short term moving average line AND the trend remains inside that upward trending channel the Stochastic Oscillator is not yet signaling a turn around. Close but not yet confirmed. The SO remains straddling its overbought line. It would not take much to push it below the line for a negative trend signal. For the next day or so I think I'll go with the lateral trend as most possible, although things do look like they want to trend lower.
SILVER
Silver had a worse week versus gold. While gold climbed higher during most of the week silver just seemed to take a rest. Friday was a bummer but silver did recover somewhat. Silver looks to be in a more topping pattern than gold and may be the leading indicator of what may be happening to gold. The momentum indicator is much more advanced in its negative divergence trend than gold's momentum is. Although the volume is still very much on the up side and the daily volume is quite high (encouraging) I would be very surprised if silver made much more headway before taking a good rest or possibly even a short down turn. It has met its initial projected values although there are still a couple ahead (to $24.00 and then on to $32.50). For now I would remain very cautious as far as silver was concerned.
PRECIOUS METAL STOCKS
When the week was finished we ended with very little movement in the various gold and silver Indices. In general the Merv's Indices were up a fraction of a percent while the major North American Indices were down a fraction of a percent. My technical ratings for the stocks in my universe of 160 stocks is still very bullish with BULLISH ratings of 61% for the short term, 67% for the intermediate term and 81% for the long term. Looking at the various sectors I see that it is the quality stocks with the higher ratings while the more speculative stocks are somewhat lower in overall ratings. More room for the speculatives to gain altitude. The Merv's Penny Arcade Index is continuing to be interesting. I look to this Index to be the first to top out and reverse into a bear market. The other Indices should follow later. At the present the Penny Arcade Index continues to make new all time highs but the momentum indicator continues to show weakness and continues to show a bearish negative divergence. The MACD momentum indicator is still moving into higher territory but it's the RSI momentum that I follow and it remains below its previous high even as the Index is into new highs. Just a warning at this time. Should the Index turn around and go into a bear trend that would then cause us to start looking at exit points in our other speculations.
MERV'S PRECIOUS METALS INDICES TABLE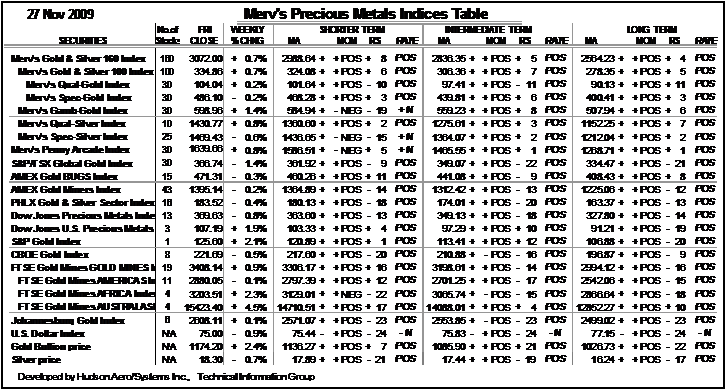 Well, I think I'll call it a another week.
By Merv Burak, CMT
Hudson Aero/Systems Inc.
Technical Information Group
for Merv's Precious Metals Central
For DAILY Uranium stock commentary and WEEKLY Uranium market update check out my new Technically Uranium with Merv blog at http://techuranium.blogspot.com .
During the day Merv practices his engineering profession as a Consulting Aerospace Engineer. Once the sun goes down and night descends upon the earth Merv dons his other hat as a Chartered Market Technician ( CMT ) and tries to decipher what's going on in the securities markets. As an underground surveyor in the gold mines of Canada 's Northwest Territories in his youth, Merv has a soft spot for the gold industry and has developed several Gold Indices reflecting different aspects of the industry. As a basically lazy individual Merv's driving focus is to KEEP IT SIMPLE .
To find out more about Merv's various Gold Indices and component stocks, please visit http://preciousmetalscentral.com . There you will find samples of the Indices and their component stocks plus other publications of interest to gold investors.
Before you invest, Always check your market timing with a Qualified Professional Market Technician
© 2005-2019 http://www.MarketOracle.co.uk - The Market Oracle is a FREE Daily Financial Markets Analysis & Forecasting online publication.

Only logged in users are allowed to post comments.
Register/ Log in