Stock Market Remains in Buy Mode Going into Year End
Stock-Markets
/
Stock Index Trading
Dec 29, 2009 - 08:29 AM GMT


It's a time for reflection...

First of all, I'd like to wish you all a happy holiday season. For those of you who have been with me for a decade now, we sure have shared some interesting times, both good and bad, as we try to analyze this living entity we call the market.
For those of you who haven't been with me that long, hold on to your hat, as the markets always make trading interesting, and never easy... And when it does come easily, it should make you a little more cautious - or at least feel a little uneasy. And that's where we are today - I'll be putting my annual forecast together over the next few days and publishing it this weekend. I basically look at all cycles that extend into 2010, overlay them, and develop a call. We'll also look at past calls as we do every year.
In addition to being a trader, I am also a business owner, a newsletter publisher always looking to bring investors and traders more options and better information. I've been exactly where you are, on the learning curve from investor to trader and the services we provide are geared towards helping you along that path - the life long education we call trading.
This year we added a new trader to our team, Jeff Neal, who has the added benefit of having interviewed hundreds of the worlds best traders. He brings his insight to you in a service called Jeff Neal's Stock Trader. If you haven't given it a try, I'd consider doing so. Just for trying the service, you'll get a copy of his eBook where he brings you the insight from those top trader interviews.
Performance has also been significant this year, with Angelo Campione, editor of Advantage Credit Spreads, putting together a banner year returning over 70% and experiencing only one loss in his 12 trades in 2010 for -2.5%.
Bill West, editor of Fat Pitch ETF Advisory has also cranked. In addition to starting the year off with a streak of winning his first 20 of 21 trades, he's finishing the year 8 for 8, with his current 8 trades being profitable and getting ready to be closed.
And not to be out done, Mark McMillan, editor of the McMillan Portfolio has also had a banner year, and is now providing his index trading service on a daily basis - this is a system that's returned significant returns over the past few years and now he provides it daily to his subscribers.
To me a good year is when we give good advice to our readers - so I'd consider 2009 to be a banner year and I appreciate all who have made it possible.
For 2010, we're looking to add a covered call service as well as a new day trading service with Jeff Neal featuring the single most profitable day trade that's so easy to execute, that in less than an hour a day, you can generate significant returns. If you're interested in giving either of these services a try, let me know, as we'll be rolling them out on a limited basis soon.
If there's anything else you would like to see, please let me know. As the president of Investment Research Group, it's my goal to serve you and provide you with the services you need to make your life easier - as we all know time is the most valuable commodity of all and that's why my services never regurgitate the financial noise that you hear on most media channels - noise only gets in the way of you being a successful investor or trader. Eliminate the noise, clear the bias, get good independent advice and trade successfully.
So let me hear from you, good or bad, and here's to a good 2010 (regardless of what the market does).
Jay D - On to today's article...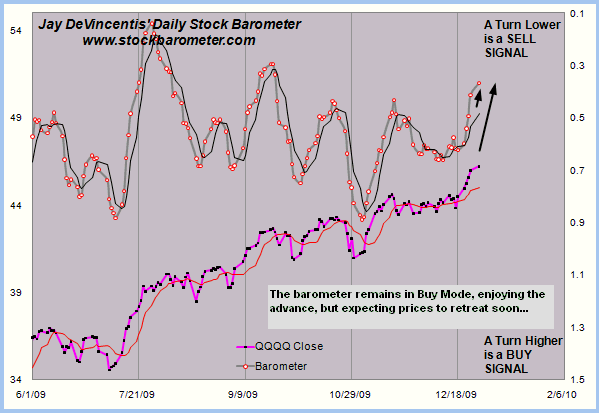 Stock Barometer Analysis
The Barometer remains in Buy Mode.
The Stock Barometer is my proprietary market timing system. The direction, slope and level of the Stock Barometer determine our outlook. For example, if the barometer line is moving down, we are in Sell Mode. A Buy or Sell Signal is triggered when the indicator clearly changes direction. Trend and support can override the barometer signals.
Stock Barometer Cycle Time
Tuesday is day 5 in our UP Cycle.
The Stock Barometer signals follow 5, 8, 13, 21 and sometimes 34 day Fibonacci cycles that balance with 'normal' market cycles. Knowing where you are in the current market cycle is important in deciding how long you expect to maintain a position.
Potential Cycle Reversal Dates
2009 Potential Reversal Dates: 1/20, 2/11, 3/7, 3/15, 4/8, 4/16, 4/27, 5/7, 6/8, 7/2, 7/17, 9/14, 10/2, 10/10, 10/24, 11/12, 11/30, 12/9, 12/21, 12/29. We publish these dates up to 2 months in advance.
We see a move higher into 12/29. We'll be looking for the market to move lower and start analyzing our 2010 cycle data to form some key reversal dates...
My Additional timing work is based on numerous cycles and has resulted in the above potential reversal dates. These are not to be confused with the barometer signals or cycle times. However, due to their past accuracy I post the dates here.
2008 Potential Reversal Dates: 12/31, 1/11, 2/1, 2/13, 3/6, 4/5, 4/22, 5/23, 6/6, 6/27, 7/13, 9/2, 10/3, 10/22, 11/10, 12/11. 2007 Potential Reversal Dates: 1/10, 1/14, 1/27, 1/31, 2/3, 2/17, 3/10, 3/24, 4/21, 5/6, 6/15, 8/29, 10/19, 11/29, 12/13, 12/23, 12/31, 1/11/08. 2006 potential reversal dates: 1/16, 1/30, 2/25, 3/19, 4/8, 5/8, 5/19, 6/6(20), 7/24, 8/20, 8/29, 9/15, 10/11, 11/28. 2005 Potential reversal dates: 12/27, 1/25, 2/16, 3/4, 3/14, 3/29, 4/5, 4/19, 5/2, 6/3, 6/10, 7/13, 7/28, 8/12, 8/30-31, 9/22, 10/4, 11/15, 11/20, 12/16.
Spread Indicators
Use the following spread/momentum indicators to assist in your trading of the QQQQ, GLD, USD, USO and TLT. They are tuned to deliver signals in line with the Stock Barometer and we use them only in determining our overall outlook for the market and for pinpointing market reversals. The level, direction, and position to the zero line are keys in these indicators. For example, direction determines mode and a buy signal 'above zero' is more bullish than a buy signal 'below zero'.
QQQQ Spread Indicator (NASDAQ:QQQQ)
The QQQQ Spread Indicator will yield its own buy and sell signals that may be different from the Stock Barometer. It's meant to give us an idea of the next turn in the market.
Gold Spread Indicator (AMEX:GLD)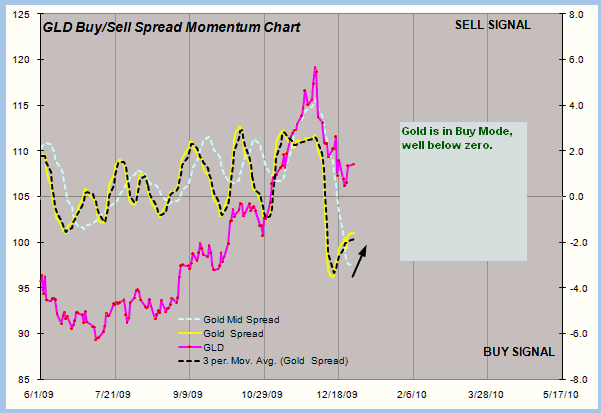 Want to trade Gold? Use our signals with the Gold ETF AMEX:GLD. Gold gives us a general gage to the overall health of the US Economy and the markets.
US Dollar Index Spread Indicator (INDEX:DXY)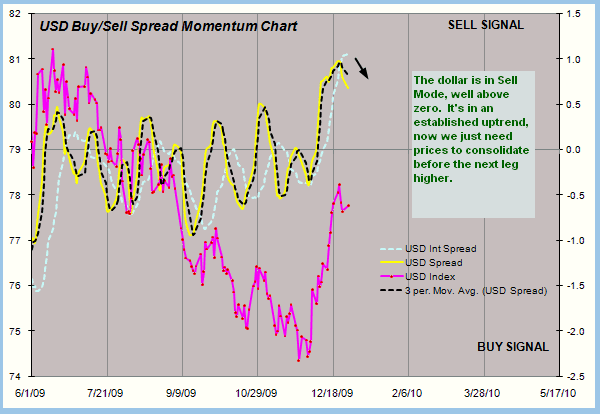 Want to trade the US Dollar? Use our signals with the Power Shares AMEX:UUP: US Dollar Index Bullish Fund and AMEX:UDN: US Dollar Index Bearish Fund.
Bonds Spread Indicator (AMEX:TLT)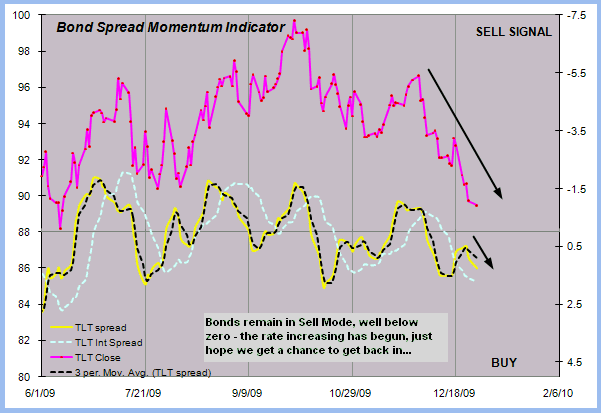 Want to trade Bonds? Use our signals with Lehman's 20 year ETF AMEX:TLT. The direction of bonds has an impact on the stock market. Normally, as bonds go down, stocks will go up and as bonds go up, stocks will go down.

OIL Spread Indicator (AMEX:USO)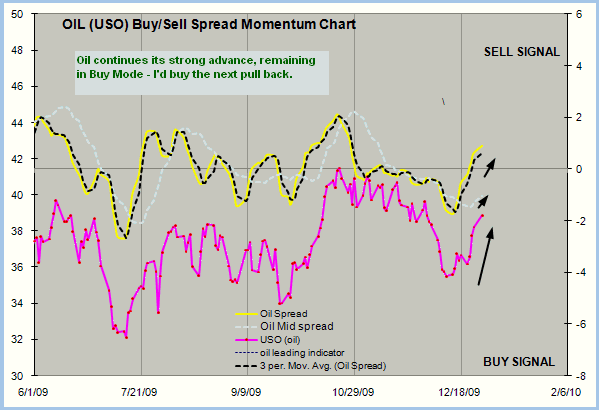 Want to trade OIL? Use our signals with AMEX:USO, the OIL ETF. We look at the price of oil as its level and direction has an impact on the stock market.
Supporting Secondary Indicator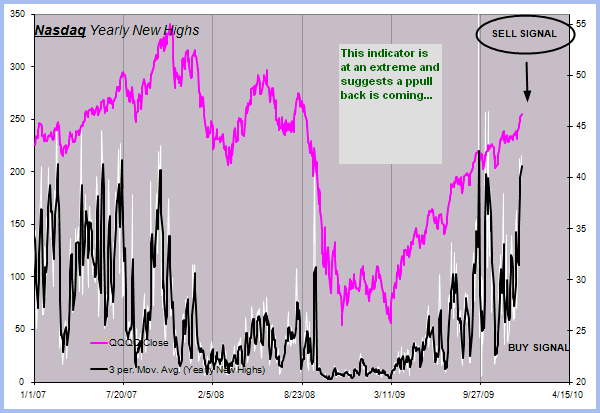 We daily monitor hundreds of popular and proprietary technical indicators that break down market internals, sentiment and money flow to give us unique insight into the market. We feature at least one here each day in support of our current outlook.
Summary of Daily Outlook
We remain in Buy Mode, looking for a move higher into year end. Technically we're there, so I'd expect a top to come in soon.
As the market goes through it's waves of buying and selling and more and more stocks move to new highs, to not making new highs, this chart shows that relative movement. While it's extended, it's not an exact measure - so we have some year end market manipulation going on, which is fine with us since we're long. But it will end. The only thing I'd say is that when it ends, it can end strong, so be cautious here.
If you have any questions or comments, email me at Jay@stockbarometer.com.
Regards,
By Jay DeVincentis
---
Stock Barometer Premier Membership Receive 5 Newsletters, including the Daily Stock Barometer, Stock Options Speculator, QQQQ/Rydex Trader, Market Chat & Explosive Stock Alert FOR ONE LOW PRICE.
---
Important Disclosure
Futures, Options, Mutual Fund, ETF and Equity trading have large potential rewards, but also large potential risk. You must be aware of the risks and be willing to accept them in order to invest in these markets. Don't trade with money you can't afford to lose. This is neither a solicitation nor an offer to buy/sell Futures, Options, Mutual Funds or Equities. No representation is being made that any account will or is likely to achieve profits or losses similar to those discussed on this Web site. The past performance of any trading system or methodology is not necessarily indicative of future results.
Performance results are hypothetical. Hypothetical or simulated performance results have certain inherent limitations. Unlike an actual performance record, simulated results do not represent actual trading. Also, since the trades have not actually been executed, the results may have under- or over-compensated for the impact, if any, of certain market factors, such as a lack of liquidity. Simulated trading programs in general are also subject to the fact that they are designed with the benefit of hindsight. No representation is being made that any account will or is likely to achieve profits or losses similar to those shown.
Investment Research Group and all individuals affiliated with Investment Research Group assume no responsibilities for your trading and investment results.
Investment Research Group (IRG), as a publisher of a financial newsletter of general and regular circulation, cannot tender individual investment advice. Only a registered broker or investment adviser may advise you individually on the suitability and performance of your portfolio or specific investments.
In making any investment decision, you will rely solely on your own review and examination of the fact and records relating to such investments. Past performance of our recommendations is not an indication of future performance. The publisher shall have no liability of whatever nature in respect of any claims, damages, loss, or expense arising out of or in connection with the reliance by you on the contents of our Web site, any promotion, published material, alert, or update.
For a complete understanding of the risks associated with trading, see our Risk Disclosure.
© 2009 Copyright Jay DeVincentis - All Rights Reserved
Disclaimer: The above is a matter of opinion provided for general information purposes only and is not intended as investment advice. Information and analysis above are derived from sources and utilising methods believed to be reliable, but we cannot accept responsibility for any losses you may incur as a result of this analysis. Individuals should consult with their personal financial advisors.
© 2005-2019 http://www.MarketOracle.co.uk - The Market Oracle is a FREE Daily Financial Markets Analysis & Forecasting online publication.

Only logged in users are allowed to post comments.
Register/ Log in