U.S. Citizens Healthcare Reform Lucky Escape from Making Britain's NHS Mistake
Politics
/
NHS
Jan 02, 2010 - 03:05 AM GMT


The proposed healthcare bill appears to ensure that Americans have managed to retain their free market based health care system that will now be subsidised by the Federal Government. Whilst a far from perfect system of health care, however what has been prevented is the U.S. making the same mistake of creating their own version of the NHS, where 70p of every extra £1 spent on it disappears down the NHS spending black hole that now seriously risks bankrupting Britain.
U.S. Healthcare Reforms Summary
Cost $81billion per year (£54 billion)
Private insurer run Subsidised Health insurance scheme expanded to 30 million uninsured Americans.
Small Firms tax credits
British NHS Out of Control Spending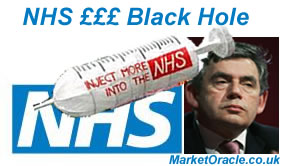 The Labour government despite tripling the NHS budget / GP Pay over the past 10 years to £120 billion ($198 billion) has resulted in a continuous fall in productivity over the past 6 years or so, and is only now in the final few months of its government for electioneering making announcements to implement reforms necessary to drag the NHS into the 21st century with a view to putting the patient first for the first time since its creation.
The NHS in its present form is a funding black hole with falling productivity that is sucking in ever increasing amounts of cash in real terms. Real reforms are urgently required otherwise Britain will be heading for a health service crisis as the GDP share of health spending continues to expand from 3.5% in 1948 to 10% today to above 13% by 2020, all without any real improvement in patient healthcare.
Politicians Scared of NHS Voter Army
The onslaught of Brit's running to the defence of the NHS against US attacks during the Obama healthcare reform debates must have left many american's wondering what the hells going on, perhaps the NHS is far better than they were led to believe?. However what is missing from the equation is the fact that some 1.2 million people in Britain ride the NHS gravy train and hence have a vested interest in the continuance of this sacred cow funding black hole that continues to exert a sizeable political force that political parties have little choice but to pander towards to ensure electoral success.
Hence despite the huge NHS budget, both major UK political parties have pledged to not only not cut the NHS budget but also to grow the budget as part of a number of "ring fenced" spending departments. Which begs the question where will the necessary 10% of budget cuts come from ?
MP's Blame Greedy NHS GP's for Expense Claims Abuse
British MP's were humiliated during May and June across all parties as public outrage and indignation oat the abuse of the MP expenses system with MP's responding with how MP pay has failed to keep pace with that of NHS GP's which is one of the key reasons as to why they had resorted to what amounts to legalised theft from the electorate.
MP - NHS GP Pay Comparison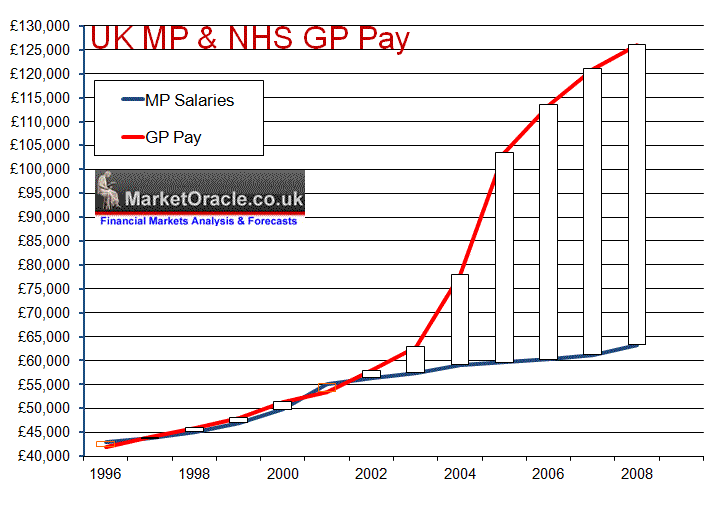 When Labour came to power in 1997 average MP pay was £43,722 against average NHS GP pay of £44,000, so both were inline with one another at that time. However as the above graph clearly illustrates in 2003 something started to go seriously wrong with GP Pay which took off into the stratosphere as GP's decided to award themselves pay hikes of more than 30% per annum at tax payers expense that has lifted average GP pay to £126,000 per annum against £64,000 for MP's.
How could this happen, unfortunately this was as a consequence of the now infamous GP contracts where basically devious greedy GP's hoodwinked gullible incompetent Labour government health ministers into signing upto contracts which were meant to deliver greater value for money for the tax payer but were designed to do the opposite and resulted in GP's pay doubling whilst at the same time cutting back on hours worked. This was not only a total fiasco for the nations health and finances but also ignited jealousy amongst MP's that directly led to the adoption of the policy of claiming expenses to the maximum so as to fill the ever widening gap between MP's and NHS GP's, as MP's could NOT get away with awarding themselves pay hikes of 30% per annum without losing their seats at the next general election in response to voter outcry, therefore across the board systematic abuse of expenses started to take place which basically means real average MP pay is currently approx £98,000 per annum.
Systemic Ms-diagnoses of Patients
Another report in a long line of studies into the lack of GP competence suggests that 15% of GP consultations result in misdiagnoses, where patients with serious illnesses are systemically brushed aside with near worthless shoulder shrug diagnoses, again the answer is to bring market forces to bear onto GP practices so as to ensure that there exists a real incentive for GP's to do a good job rather than go through the motions of performing General Practice which also extends to hospitals and other medical institutions where lack of competition feed the culture of disinterest in performing competent diagnoses.
Doctors were making mistakes in up to 15 per cent of cases because they were too quick to judge patients' symptoms, they said, while others were reluctant to ask more senior colleagues for help.
While in most cases the misdiagnosis did not result in the patient suffering serious harm, a sizeable number of the millions of NHS patients were likely to suffer significant health problems as a result, according to figures. It was said that the number of misdiagnoses was "just the tip of the iceberg", with many people still reluctant to report mistakes by their doctors.
There was a call for better reporting methods to ensure that each misdiagnosis was recorded and monitored properly.
A Health Service Needs Market Forces
A recent BBC opinion poll on the NHS revealed that 66% of the population fears deadly NHS infections which claims thousands of lives every year because of failure of basic hygiene measures. As many as 1/3rd of people polled would avoid surgery in an NHS hospital for fear of getting an infection. The NHS routinely KILLs tens of thousands unnecessarily every year, with the number estimated for 2009 put at 35,000 with many more thousands disabled.
It may now be lost in the mists of time but there was a missed opportunity during the Thatcher years with regards market orientated reforms of the NHS with a view to putting the patient first, unfortunately of the two remaining objectives for reform during Margaret Thatcher's third term of either reform of the NHS or local government taxation, Margaret Thatcher sought to reform local government taxation by means of the community charge which became to be known as the poll tax and resulted in the downfall of her premiership. Had she chosen reform of the NHS then how things may have turned out differently for both her premiership and for the healthcare of Britain.
It is a fundamental truth of today's NHS that the patient does NOT come first, this was made clear in an opinion poll amongst 156,000 NHS staff that found that patient care is not a top priority for the NHS.
The British government having so far only paid lip service to market orientated reforms and that mostly on the supply side rather than demand side. True market reforms have never been an real option as that would in effect put the power in the patients hands rather than the doctors / consultants. The NHS needs to resemble the private market place where the GP or hospital have to compete to attract patients through a record of delivering good competent healthcare. The medical profession in response to such suggestions state that the patient is incapable of making the decision of choosing who is best to treat them. Instead today patients with serious illnesses have to do far, far more than consult a few league tables and GP / hospital reviews to get competent healthcare, routinely patients have to fight tooth and nail to get effective medical treatment that is denied to all but those with the loudest voices and persistence despite their serious illnesses.
Patients are demanding of a more competent and professional health service as the patient is more or less left out of the decision making loop. The key to successful reform of the NHS is to introduce market forces into the NHS, where the money follows the patient right from GP surgeries to hospitals. Thus the healthcare provider is forced to provide competent / good healthcare otherwise the patient will go elsewhere. More so in that GP surgeries / medical institutions reviews and rankings will funnel patients and therefore money towards the better providers of healthcare, and that in essence is the benefit of patient driven market forces. Rather than the present day system where GP surgeries and facilities are maintained whether or not they provide effective healthcare.
Necessary 21st Century NHS Reforms :
In conclusion the Money must walk with the patient to ensure that the patient receives competent healthcare, as under the current system there exists little if no incentive to put the patient first which is borne out time and time again in analysis, reports and polling amongst NHS frontline staff. The current system is designed to to yield the most money for the least amount of work as we have witnessed with the GP contracts.
Therefore a form of health insurance / credit card system MUST be implemented where the Patient CHOOSES which hospital or GP surgery to PURCHASE healthcare from regardless of whether it be a government run NHS institution or a privately run hospital as analysis consistently suggests there exists a huge discrepancy in the quality of GP services between affluent areas of the country and deprived areas which has contributed to a 20 year gap in life expectancy (UK Swine Flu Pandemic NHS Online Service to Bypass Inept GP Surgeries), only then will the patient come first and receive the treatment that they deserve rather than the current half way house that costs more and repeatedly fails to deliver the price of which is unnecessary illness and early deaths.
The next Conservative government has the opportunity to bring about radical free market reform of the NHS by the ultimate means of privatisation where hospitals, and GP surgeries would have to COMPETE for patients and those that are incompetent would lose all of their patients to the more competent healthcare providers instead of the current system that increasingly resolves towards the lowest common denominator as patient survey after patient survey illustrate (Sheffield NHS GP Surgery League Table, The Best and Worst).
By Nadeem Walayat
http://www.marketoracle.co.uk
Copyright © 2005-09 Marketoracle.co.uk (Market Oracle Ltd). All rights reserved.
Nadeem Walayat has over 20 years experience of trading derivatives, portfolio management and analysing the financial markets, including one of few who both anticipated and Beat the 1987 Crash. Nadeem's forward looking analysis specialises on the housing market and interest rates. Nadeem is the Editor of The Market Oracle, a FREE Daily Financial Markets Analysis & Forecasting online publication. We present in-depth analysis from over 500 experienced analysts on a range of views of the probable direction of the financial markets. Thus enabling our readers to arrive at an informed opinion on future market direction. http://www.marketoracle.co.uk
Disclaimer: The above is a matter of opinion provided for general information purposes only and is not intended as investment advice. Information and analysis above are derived from sources and utilising methods believed to be reliable, but we cannot accept responsibility for any trading losses you may incur as a result of this analysis. Individuals should consult with their personal financial advisors before engaging in any trading activities.
© 2005-2022 http://www.MarketOracle.co.uk - The Market Oracle is a FREE Daily Financial Markets Analysis & Forecasting online publication.

Only logged in users are allowed to post comments.
Register/ Log in