Forget Deflation this is Stagflation
Economics
/
Spain
Jan 20, 2010 - 02:12 PM GMT


Well, this is a pretty pass. Deflation in all things except inflation...
THEY WERE SUPPOSED to avert depression. The Bank of England continues to tout their "success".
But it looks like the best that money-printing and zero rates might now deliver is '70s-style stagflation, plus '30s-style wealth destruction and a glacé cherry on top.
Giving Britain its "stag" – as in stagnation – are economic output, wages, capital investment, real estate prices and now, perhaps, a return of the bear market in London shares. Whether or not GDP shows an uptick for the end of 2009, this is the deepest British recession since 1931. Business investment sank to a 6-year low on the last quarterly data, and the number of people out of work for 12 months or more has risen by two-thirds since Northern Rock was bailed out, breaking the dam of bail-outs worldwide in late 2007.
Stepping in with a very 21st century version of drowning, not waving, "The number of people in part-time employment increased by 99,000 to reach a record high of 7.71 million" between Sept. and November '09, says the Office for National Statistics. "There were 1.03 million employees and self-employed people working part-time because they could not find a full-time job...the highest figure since records for this series began in 1992."
Growth in the money supply, meantime – while not quite negative, as in the technical definition of deflation – has slumped to a 5-year low. But not without the Bank of England's best efforts, remember...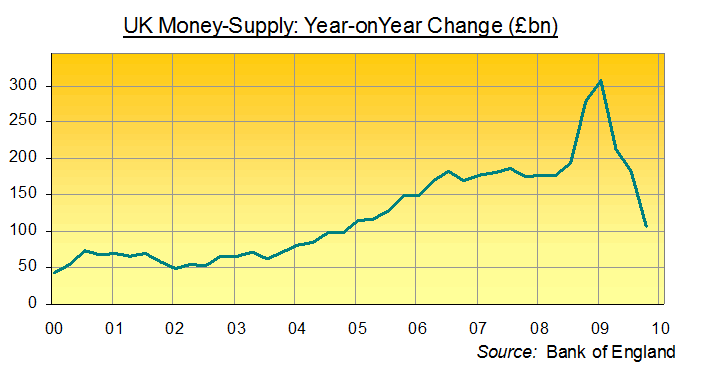 Giving us a whole heap of "flation" to add to our "stag", interest rates at 0.5% – plus quantitative easing of £200 billion...almost entirely used to finance the government's record peace-time deficit – just saw the cost of living jump at its fastest pace ever on the UK's official measure.
Recession AND inflation? Wasn't deflation in all things except the cost of living supposed to be impossible...in the same way that "pass through" from Sterling's fastest-ever decline on the currency market wasn't supposed to show up in prices but only in export sales...?
High Street inflation on the Consumer Price Index leapt last month from 1.9% to 2.9% year-on-year. The older, more trusted Retail Price Index has now reversed its 4% slump of late 2008 to stand near new all-time record highs, while the RPI excluding mortgage costs (neatly slashed on the official data, if not by High Street lenders) rose 3.8% from a year before in December, returning to levels last seen during the commodity-price surge starting in 2006.
Exclude house prices, in fact – only half-way through their typical post-bubble slump – and UK inflation just reached a two-decade high outside the oil-price spike of summer '08. UK wages, in contrast, crept 0.7% higher in the year to November, the latest official data claim, but the average hides the horror. Because in the private sector – as opposed to the printing-press fueled state sector – wages actually fell, shrinking 1.0% on average for the 12 months to December from a year earlier.
Now factor in the cost of living for workers not closing a house-purchase last year (i.e. almost everyone), and that handed a net loss of purchasing power of almost five pence in the Pound to workers outside the state.
Things are equally gruesome for those folk trying to save for retirement or drawing an income from what they put by in the past. The cost of living in Britain has now doubled inside 21 years, and for the second-half of this "Great Moderation", bank savings rates struggled to stay ahead of inflation. Thus the latest data only confirm what savers and retirees buying gold guessed back when the financial crisis began.
Their getting killed might not save the housing market, nor yet save the banks. But the Bank of England is happy to slit their throats regardless.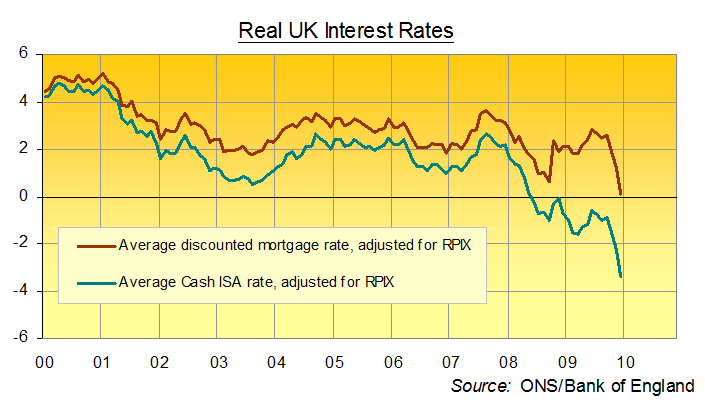 Monetary policy did nothing for Britain's housing-market turnover in 2009. The number of new house-buyer loans was unchanged from 2008, holding 60% below the approvals peak of 2006.
But with the rate of inflation jumping last month – and set to jump again after VAT returned to 17.5% on New Year's Day – the average discount mortgage (if you can get one...which you can't) is now, at last, cost-free when you account for the cost of living. Tax-free cash ISA accounts, in contrast, have been paying less than zero after inflation since June 2008.
Expect policy to continue favoring home-buyers and spending over retirees and savers...even as home-buyers and spenders suffer net deflation in their incomes. Everyone loses as we revert to all bust and no boom, baked into the crust by parliament's Keynesian consensus and the Bank of England's executive faith in the power of money-supply inflation to redeem the economy.
The Old Lady created twice as many Pounds in the last 10 months as the entire UK money-supply grew by in the first 11 months of 2009, the excess going to overseas bond-holders to finance the government's record peace-time deficit. Naturally, the value of Sterling has dropped as its supply has swollen, both against other currencies and gold bullion. But any hope that the new inflation data might see cash savers benefit from rising interest rates – let alone the end to quantitative easing scheduled for next month – looks premature.
Swap Sterling for gold...? It worked for nine years last decade, and that was before stagflation struck...back before the Bank of England began printing money to finance the state, and looking for all the world like it's actively bidding to destroy the Pound.
By Adrian Ash
BullionVault.com
Gold price chart, no delay | Free Report: 5 Myths of the Gold Market
Formerly City correspondent for The Daily Reckoning in London and a regular contributor to MoneyWeek magazine, Adrian Ash is the editor of Gold News and head of research at www.BullionVault.com , giving you direct access to investment gold, vaulted in Zurich , on $3 spreads and 0.8% dealing fees.
(c) BullionVault 2010
Please Note: This article is to inform your thinking, not lead it. Only you can decide the best place for your money, and any decision you make will put your money at risk. Information or data included here may have already been overtaken by events – and must be verified elsewhere – should you choose to act on it.
© 2005-2019 http://www.MarketOracle.co.uk - The Market Oracle is a FREE Daily Financial Markets Analysis & Forecasting online publication.

Only logged in users are allowed to post comments.
Register/ Log in