Commodity Investing 2010, Palladium Still Shines
Commodities
/
Gold and Silver 2010
Feb 19, 2010 - 02:53 PM GMT


Palladium had the most tumultuous decade of all the precious metals. Although it's hard to imagine today, it started the century more expensive than platinum. While gold and silver were languishing in 2000, palladium was soaring. During the technology bubble, a perceived shortage of tantalum caused producers of cell phones and other electronic gadgets to switch to palladium which was then much cheaper. As the price zoomed, Ford feared that it would not get enough of the element from Russia. The corporation bought large quantities in panic, pushing the price over US$1000.
However, Russia continued to unload its stockpile of palladium that it accumulated in the 1970s and 1980s under the Soviets. The cell phone dilemma was resolved by a switch to silver alloys. Palladium's price crashed back to earth due to a sudden surplus, which led to a loss of $1 billion for Ford. The bottom finally formed in the spring of 2003 at approximately $150, but palladium took more than two years to begin a lasting uptrend due to heavy Russian destocking.
Palladium found $400 formidable resistance until the South African power crisis hit in January 2008. As I discussed in my article "Lights Out in South Africa," government officials announced a "national emergency" as the instability in the power grid threatened collapse of the network. The publicly owned utility Eskom ordered the largest mines to close, and cut power to millions of homes and businesses, an emergency tactic they call "load shedding." The mines had to stop work for five days, and then agree to cut back 10% of their usual power demands. As many palladium deposits are located over a mile below the surface, miners delayed sending workers down shafts until at least 90% power was guaranteed, further slowing production. The market panicked, and palladium took off sharply on fears of long term supply disruption, spiking to $600 per ounce.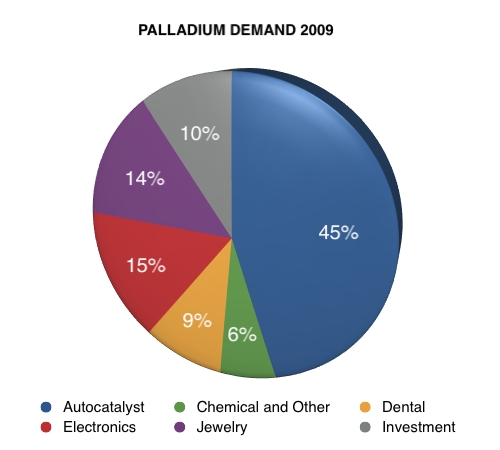 However, the trend changed in early March as the South African government announced it would increase power to the mining companies. Palladium chopped sideways for a few months, and then plummeted during the general commodity selloff in July 2008, as markets ranging from corn to gold to crude oil suffered corrections. Once the technicals turned negative, momentum traders rode the price down to an unsustainably low $160 that December.
Palladium did rebound impressively in 2009, more than doubling its price. An important industrial commodity, the white metal tracked copper very closely in 2009 as global economic fears eased. In addition, some of palladium's appreciation was fueled by the anticipation of a new "physically backed" ETF in the US, PALL. As this ETF was approved in January, has the palladium rally run out of gas?
A unique element
Although many analysts are negative on palladium's future, I believe it has many properties that will support a move to higher prices. Palladium is one of the platinum group metals (PGMs) that includes platinum, ruthenium, rhodium, osmium, and iridium. Ruthenium, iridium, and osmium are cheaper, but palladium is easier to fabricate with the lowest melting point of the PGMs. It's also the least dense, and has better resistance to oxidation and corrosion.
Palladium is a multipurpose metal, but its most common use is as a catalyst. The metal is essential in the production of polyester, nitric acid used in fertilizers, and high octane gasoline. The Wacker Process also requires palladium to catalyze ethanol production.
Approximately 45% of the demand for the metal comes from the autocatalyst market. The palladium alloys inside catalytic converters remove sulfur, nitrous oxide, hydrocarbons, and particulates. As the demand for cars grows in the developing world at the same time as concern about pollution, the autocatalysts will continue to be a growth market. This should compensate for increased recycling, and plans to lower amounts of metal used in production.
Palladium can also remove other unwanted chemicals. Johnson Matthey is researching using palladium to scrub toxic heavy metals like mercury and arsenic from coal in the gasification process. It's also being studied for use in water purification to remove volatile organic compounds like tetrachloroethylene.
As palladium is hypoallergenic, it has many medical applications. Dentists use it in inlays, crowns and bridges. It's well tolerated by the body in artificial joints. The radioactive isotope palladium-103 is formed into "seeds" and injected into the prostate to treat cancer. This promising technology is also being tested for use in breast cancer therapy.
Jewelers are increasingly switching to palladium, especially in China and Japan. It's lighter and harder than gold, cheaper than platinum, and tarnish free.
Palladium is an excellent metal for electronic applications. It's a great conductor in multi-layer ceramic capacitors and in plating for connectors. Palladium wire creates a rich sound in high end stereo systems as well.
Palladium has the unique property of being able to absorb up to 900 times its weight in hydrogen at room temperature and normal pressure. This allows for safer storage of hydrogen gas than in a pressurized container. This hydrogen gas along with oxygen can be used to power fuel cells. These power systems use a palladium membrane which purifies hydrogen. Only the pure element diffuses through leaving other contaminants behind. This allows the fuel cell to work better. It is already used on a small scale in cars, airports, and office buildings, among other locations.
This white metal gained headlines in 1989 with the announcement by Pons and Fleischmann of fusion at room temperatures using a palladium cathode. After initial acclaim, their work was rejected for many years, as other experimenters were unable to replicate their results. However, more recent studies have found evidence for nuclear fusion without the need for high temperatures or pressure, which is a potentially huge source of demand for palladium.
Hard to get?
Palladium is a fairly rare metal, with global production a tenth the size of silver mining. It can be found in ores with other platinum group metals, but frequently palladium is a byproduct of nickel mining. This makes increasing supply more difficult. In fact, the US Geological Survey estimated that global production declined 4.4% last year, as some mines like Lac des Iles in Ontario were shuttered for the entirety of 2009.
Another complication is the geographic concentration of palladium deposits. According to the US Geological Survey, Russia is the source of over 40% of the metal, with South Africa a close second. Canada and the US supply almost all the remainder. Any significant increase in production will have to originate in these countries.
South Africa's mining problems are well documented. This nation is nottraining enough mining engineers and technical staff to keep up with growth or the loss of mining professionals through emigration. The ruling African National Congress party repeatedly discusses nationalizing South Africa's mines, inhibiting capital investment.
The nation has ten times the palladium reserves of Russia, but it cannot tap these resources without a reliable power grid. Despite a vigorous public relations campaign, the reality remains that South Africa added less than 5% to its generation capacity in 2009, and won't see any appreciable increase until 2013. For that reason, Rio Tinto cancelled their plans to build an aluminum smelter in Coega.
Primary mine supply of palladium doesn't satisfy global demand, so one important source of supply is reuse. However, incentives such as "Cash for Clunkers" in the US and the subsidy in Germany to scrap older cars has ended, shutting off a large supply of recycled vehicles. In addition, new purchases of jewelry, electronics and cars in the developing world are unlikely to join the recycling stream anytime soon.
Metal stockpiles were a major source of palladium supply during the last decade. Yet, this situation has changed rapidly over the past few years. Ford owned a large overhang of palladium that is now gone, and the US sold the last of its excess metal.
Most of the surplus originated in Russia, and as recently as 2008 Johnson Matthey estimated that over 13% of global palladium was supplied by this national stockpile. The company's analysts assumed that Russia would sell approximately 960,000 ounces in 2009, the same amount as the previous year, causing a surplus of 655,000 ounces. However, credible sources such as Mining Weekly and Bloomberg assert that the Russian stocks are nearly depleted, and it's unlikely that any sales occurred in 2009. If JM's other data is correct, the market has already slipped into deficit. This deficit should continue in 2010, as the ramp up of shuttered mines is expected to lag the rate of economic recovery.
Shiny profits
Although palladium rose 117% in 2009, I believe it is still undervalued. Much of last year's appreciation was necessary just to catch up to its sister metal platinum. The average platinum to palladium ratio from 1992 through 2008 was 2.79:1. However this ratio was skewed by the bubble in 2001, so a sustainable level is probably around 3:1. Although this ratio has decreased over the past year, it's still at 3.56:1 which argues for a palladium price of $512, about $74 more than spot today. Naturally, if platinum appreciates further in 2010 due to its own strong fundamental drivers, it would justify an even higher price for palladium.
Technically, palladium is correcting its long term move from $160 to $474.50 and it may go a bit lower from here. However, there is good support at the .786 Fibonacci level around $407, which is also the 50 day moving average. In 2007, palladium built a lot of support at the $390 level, and the 100 day moving average is not far behind at $372. Even in a panic, I don't see the metal significantly penetrating the .618 Fibonacci level at $354.
Palladium's fundamentals, on the other hand, are rapidly improving. Production continues to be hampered by the ongoing power crisis in South Africa, supplier of more than 40% of the element. Demand is growing as manufacturers substitute palladium for more expensive metals. Asian countries, especially China, are buying more electronics and jewelry that increasingly use palladium. Global demand is increasing for the smallest cars which tend to be gasoline powered, benefiting palladium demand at the expense of platinum.
Investment demand is growing rapidly. It wasn't considered significant in 2002, and last year was estimated to consume 10% of the supply. While I am skeptical about the actual bullion holdings of PALL, as of February 14, all the palladium funds combined reported holdings of 47.92 tonnes – almost 1.7 million ounces. This totals more than 23% of 2009's estimated global supply, and almost 28% if no Russian sales occurred. In addition PALL grew more in a month than the UK fund accumulated in two years.
I believe the most important factor for palladium is the disappearance of the Russian stockpile. The huge overhang plaguing the metal during the past decade is effectively gone, and I don't believe the market is fully cognizant of this fact. Once traders realize that palladium is now in a supply deficit, I believe we will see another price explosion.
by Jennifer Barry

Global Asset Strategist

http://www.globalassetstrategist.com
Copyright 2010 Jennifer Barry
Hello, I'm Jennifer Barry and I want to help you not only preserve your wealth, but add to your nest egg. How can I do this? I investigate the financial universe for undervalued assets you can invest in. Then I write about them in my monthly newsletter, Global Asset Strategist.
Disclaimer: Precious metals, commodity stocks, futures, and associated investments can be very volatile. Prices may rise and fall quickly and unpredictably. It may take months or years to see a significant profit. The owners and employees of Global Asset Strategist own some or all of the investments profiled in the newsletter, and will benefit from a price increase. We will disclose our ownership position when we recommend an asset and if we sell any investments previously recommended. We don't receive any compensation from companies for profiling any stock. Information published on this website and/or in the newsletter comes from sources thought to be reliable. This information may not be complete or correct. Global Asset Strategist does not employ licensed financial advisors, and does not give investment advice. Suggestions to buy or sell any asset listed are based on the opinions of Jennifer Barry only. Please conduct your own research before making any purchases, and don't spend more than you can afford. We recommend that you consult a trusted financial advisor who understands your individual situation before committing any capital.
© 2005-2019 http://www.MarketOracle.co.uk - The Market Oracle is a FREE Daily Financial Markets Analysis & Forecasting online publication.

Only logged in users are allowed to post comments.
Register/ Log in