UK Savings, Banking and Mortgage Account Updates
Personal_Finance
/
UK Banking
Aug 09, 2007 - 10:20 AM GMT

Moneyfacts.co.uk team comments on:
o HSBC fee free mortgage
o Rising overdraft rates
o Savings –base rate effect finally over
HSBC fee free mortgage
Julia Harris, Mortgage Expert at Moneyfacts.co.uk – the money search engine, comments:"With so much bad publicity surrounding rising arrangement fees and unfair exit charges and with many borrowers struggling to find the upfront costs needed to move home and find a new mortgage deal, its no wonder lenders are launching no fee mortgage deals. But, as with every thing you don't get something for nothing, and while the fees may be zero, the lender will make up the costs by way of higher rates.
"HSBC has relaunched its fee free deals this week, but has failed to mention that the rates on most of these deals have also risen over the last week, so it's robbing Peter to pay Paul.
"The fee free deals offered by HSBC are far from market leading and the same features can be found on more competitive deals.
"Also if you compare the free fee and two year fixed rate (with fee) deals which HSBC offer, the deal including the fee comes out trumps on a mortgage of £130K or £200K, and is only £14 more expensive than the fee free deal at £110K.

"HSBC doesn't normally charge exit fees or higher lending charges, and on the fee deal mentioned above the valuation fee is free. In reality the only freebies you are actually receiving are the booking fee, completion fee and conduct fees.
"Fee free deals can offer the helping hand many first time buyers need, but they must do their homework to calculate the cost of the deal. Remember, most lenders will allow you to add the fees to your loan, which with a competitive interest rate can work out a better deal.
Rising Overdraft Rates
Samantha Owens, Head of Personal Finance at Moneyfacts.co.uk – the money search engine, comments:
"Following the base rate rises of the last year a number of current account providers increased their overdraft rates, and the July rise has seen this trend continue.
"The changes are normally delayed until the start of the following month, and so far we have seen five providers increase rates by up to 0.30%
o Clydesdale Bank – authorised rates up 0.27%
o Cumberland BS – authorised rates up 0.25%
o HSBC - authorised rates up 0.20%
o Lloyds TSB - authorised rates up by up to 0.30%
o Yorkshire Bank - authorised rates up 0.27%
"With some authorised rates ranging as high as 20%, if you are someone who is regularly in the red, it's worth shopping around for the best deal. Alliance & Leicester currently offers the best deal, with 12 months at 0%, followed by the lowest revert to rate on the market of 5.9% EAR.
"As long as you have operated your account within the agreed limit and meet the requirement of the new provider there is no reason why you can't switch current accounts while you are overdrawn. In some cases providers will agree to match your existing limit as part of the switcher package.
Savings – base rate effect finally over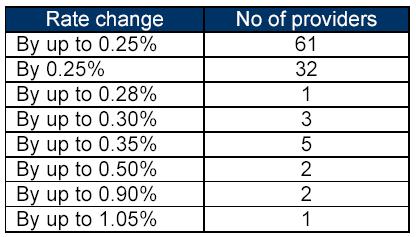 Rachel Thrussell, Head of Savings at Moneyfacts.co.uk – the money search engine, comments:"Almost five weeks after the last base rate increase providers are still changing their rates. The July rise has been particularly slow to filer through. Perhaps providers were holding fire until after the August MPC meeting before their final decisions were made.
"Changing interest rates can be a costly time for providers, needing to amend their systems, publish new rates, change their marketing literature and informing their customers.
"82% of providers opted for either up to 0.25% or the full 0.25% increase, while the rest chose to increase some accounts or tiers by slightly more. However seven providers are either still to announce or will not be passing on the rate rise.
"Now that rates have settled down it's the perfect time to review your savings and perhaps switch providers. There are some great deals to be found some over 6%, but with the average rate nearer 4%, too many savers are still receiving a poor deal."
www.moneyfacts.co.uk - The Money Search Engine
© 2005-2019 http://www.MarketOracle.co.uk - The Market Oracle is a FREE Daily Financial Markets Analysis & Forecasting online publication.

Only logged in users are allowed to post comments.
Register/ Log in