Iceland Votes No to Repaying Icesave Debt to Britain and Netherlands
Politics
/
Credit Crisis 2010
Mar 09, 2010 - 03:10 PM GMT


People in Iceland have rejected their government's pledge to repay a debt of more than US$5 billion left by the collapse of Icesave Internet bank. 93 per cent of people voted "no" in a referendum.
Less than two per cent supported the repayment of the debt, which is due to be paid to the UK and Dutch governments, which had compensated the investors who had lost money.
Andrew Gavin Marshall from the Center for Research on Globalization says the public should not have to shoulder the burden of mistakes made by banks.
"The bailout would be for roughly US$5.4 billion, which would go to the Dutch and the British depositors in Icesave, which was the largest online bank that went under," Marshall says. "And this is basically asking the Icelandic people to pay for the bad debts of their bankers and the bad regulations of their government. And it's sort of endemic of this corporatist economic undertaking that is going on around the world, where the private debt has become a public obligation. So you privatize profit and you socialize the risk."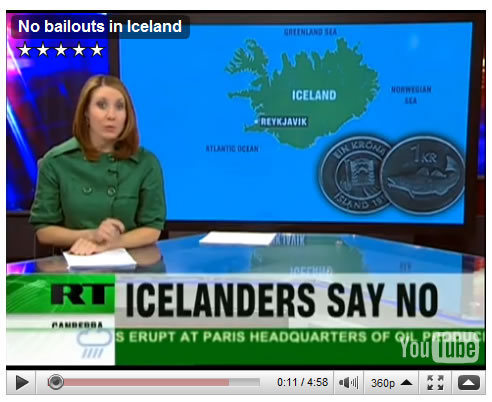 Andrew G. Marshall is a Research Associate of the Centre for Research on Globalization (CRG). He is currently studying Political Economy and History at Simon Fraser University.
Andrew G. Marshall is a frequent contributor to Global Research.
Global Research Articles by Andrew G. Marshall
© Copyright Andrew G. Marshall , Global Research, 2010
Disclaimer: The views expressed in this article are the sole responsibility of the author and do not necessarily reflect those of the Centre for Research on Globalization. The contents of this article are of sole responsibility of the author(s). The Centre for Research on Globalization will not be responsible or liable for any inaccurate or incorrect statements contained in this article.
© 2005-2019 http://www.MarketOracle.co.uk - The Market Oracle is a FREE Daily Financial Markets Analysis & Forecasting online publication.
Comments
JPvB
10 Mar 10, 09:42
Souvereign debt default.


Hmm.

Basically this a souvereign debt default, as the Iceland Gouvernment guaranteed the first 20.000 EUR of deposits in icelandic banks.

They did this so that their banks had access to EU countries. Unfortunately they were "a mite" lax in their oversight on these same banks, and now refuse to honour their pledge.

The old: "you broke it, you bought it" seems to "you broke it, the neighbour has to pay for it"

I expect this to have some severe repercussions for Iceland.



JPvB
10 Mar 10, 09:45
Investors...


Btw, the "investors" angle surely distorts the perception.

As Iceland was only liable for the first 20.000 EUR, most of the real investors will be left out in the cold anyway.

Those who get hammered now are those who found a nice 5% interest savings account for their money.

The real hardcore "mom and pap" type of "investor"



Nadeem_Walayat
10 Mar 10, 22:34
Iceland Votes No


Financial markets will also vote no whenever Iceland seeks to borrow money. Why should anyone lend a country money that it will not repay ?



Maarten
11 Mar 10, 03:22
Foreigner's risk


I don't really see why Icelanders (who, BTW had NO say in what their countries banks were doing) should be on the hook for FOREIGN investments. If you were to put $10,000,000 in the bank of Fiji, do you seriously think Fijians should cough up for you if that "investment" goes belly up? The citizens could do NOTHING to stop you investing that money, their banks from taking it, and subsequently bankrupting themselves - yet they are now somehow responsible for these speculative losses???



JPvB
12 Mar 10, 01:43
Reply to Maarten


Well Maarten,

That depends, if the fijian gouvernment promises to guarantee that 10 million (btw nice exaggeration, only by a factor 50) then yes. The "people of Fiji" have committed themselves through their representatives.

Now some cases may be said that dictatorial regimes do not represent their people, but Iceland is not such a regimes, but a democraticaly elected gouvernment. As such they de facto and de jure represent their people.

As such Icelanders had their say in what the banks were doing, as their regulator, The National Bank, had duty of oversight and regulation over their banks. And the national bank is under oversight of the gouvernment.

Suppose you have a dog, and your child/wife/etc goes walking the dog. The dog gets of the leash somehow and attacks a mailman. Now do you think for one moment that you are not liable for the damages? "Because i had no say in what the dog was doing?"

Any judge will rightly point out that:

a) it was your dog

b) it was your appointed overseer (i.e. dogwalker)

So you should have educated the dog -> i.e. behavour school

and/or educated the overseer -> how to treat dogs.

Similarly here.

Even worse, the icelandic gouvernment could have NOT signed an agreement in which they guaranteed the first 20K of saving deposits. But then their banks would not have had access to the EU.

So the icelandic gouvernment chose to sign to such guarantee so that their banks could play. And now they choose to renege on their word and signature.

Oh returning on your 10 million: so iceland was only liable for the first 2%. The next 2% was Dutch/UK (though i am not sure about the UK guarantee level) liability and the rest would own risk. so a 96% exposure. But then someone that has 10 million to invest should be wiser than run such a risk.

That first 20k can justifiably be soon more as "savings" than "investment".

Savings for things like: "Suppose my washing machine breaks down. I'll need a new/other care in a few years"

Then there is another aspect. At least in the Netherlands, these savers did not deposit their money in a foreign bank.

They deposited money in a dutch branch of a foreign bank.

The difference may seem small, but in reality is huge.

For example had they had to bring their money to iceland, no problem would have existed.




Only logged in users are allowed to post comments.
Register/ Log in