Killing You with Drugs: Legally
Companies
/
Healthcare Sector
Apr 14, 2010 - 05:08 PM GMT


Is there any reason why Pfizer shares are down today?
Just yesterday, shares were trading at ~ $17.30. Today, with the DJIA up by 0.7%, Pfizer is down by nearly 1%.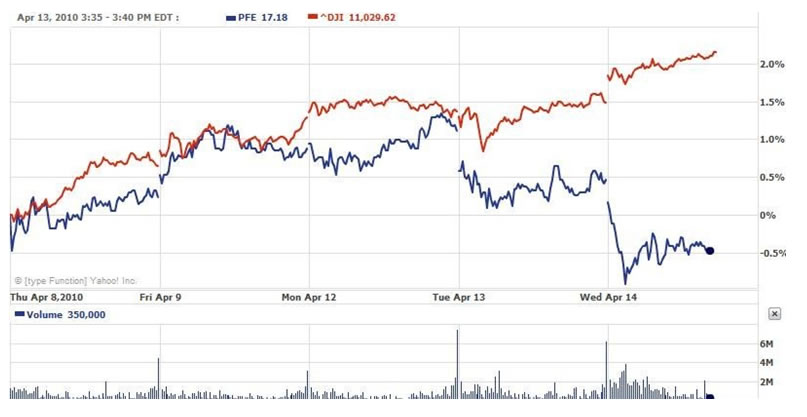 A clue to this sell-off MIGHT be due to the anticipation by investors of increasing pressure to change the way drugs are prescribed. This could also trigger several lawsuits down the road.
Recently, another study was published in the Journal of the American Medical Association discussing elevated suicide risks associated with the use of anticonvulsant drugs. Anticonvulsants have been approved by the FDA for people diagnosed with epilepsy.
Of course, this is not the first study showing anticonvulsants raised the risk of suicide.
In 2008, the FDA required all anticonvulsant drugs to have a warning label that disclosed a two-fold increased risk of suicide. However, warning labels are rarely effective. They simply enable drug companies to continue to sell what many experts feel to be dangerous drugs, while having the safeguard of a disclaimer.
When patients receive a prescription for a drug to address a medical condition, they assume it's a safe drug; otherwise, it wouldn't be approved for use. And their doctor certainly wouldn't prescribe it if it weren't safe, would he?
According to DEA and FDA regulations, physicians are free to prescribe any drug for any condition they see fit, known as off-label use. As a result of off-label usage, anticonvulsants are prescribed for many different medical conditions like bipolar disorder, pain and migraine headaches. As you might imagine, in some cases, off-label use has accounted for a big chunk of drug sales.
The class of drugs prescribed most by physicians for off-label uses are the antipsychotics (Prozac, Xanax, Zyprexa, etc). The FDA has approved these drugs to treat a variety of neurologic conditions such as depression and bipolar disease. However, drug companies have used many methods to get physicians to prescribe them for a wide range of off-label uses.
Over a span of several years, researchers have published numerous studies showing an increased risk of suicide in patients taking antipsychotics, specifically with Prozac and Zyprexa. However, drug makers have fought back, publishing their own cherry-picked studies. In fact, many drug makers have suppressed or destroyed research findings. This has been well-documented.
Antipsychotics are now used to treat a variety of medical conditions that have not been approved for use by the FDA.
Drug makers are only permitted to market the drugs for FDA-approved conditions. But they have gotten around this loop-hole using a variety of soft-dollar arrangements to physicians, such as speaking fees to promote off-label uses, consulting fees, vacation getaways, and research grants for physicians who play the game. This has been going on for many years if not decades.
The Reuters article mentions a recent guilty plea by Pfizer associated with marketing unapproved uses of the epilepsy drug Neurontin (also known as Neurotonin). But the reporter fails to mention that this was not the only time Pfizer had been sued for marketing off-label uses of the drug. In fact, the biggest case occurred in 2004.
I discussed the 2004 Neurotin case in America's Healthcare Solution…
"Physicians are free to prescribe drugs as they see fit for conditions not specified by the official FDA-approved use. So it's a less expensive and more effective strategy to manipulate or bribe physicians to prescribe drugs for unapproved (off-label) uses…
Several studies have shown that physicians who are seen by drug reps more often tend to prescribe medications for things they would not normally be prescribed for (off-label use). They also tend to prescribe the most expensive (typically newer) drugs because drug reps convince them they are better, which is not necessarily the case. In fact, the longer a drug has been on the market, the safer it is…
The big blockbuster drugs aren't restricted to one medical condition. The real pay day comes from drugs that get additional indications for use. For instance, drug companies have been able to convince the FDA that anti-depressants are also effective for migraines, social phobia, anxiety disorders, smoking cessation, pre-menstrual syndrome, sleep disorders, and many other "medical conditions.
Furthermore, physicians can prescribe any drug they want for any use based on their "professional discretion," referred to as off-label uses. This loophole has contributed to unnecessary illness and deaths, as well as hefty drug industry profits, and in some cases bigger physician bank accounts…
There have already been numerous suicides linked to the use of anti-depressants. Astonishingly, drug makers had prior evidence of increased suicide risk, but hid the data. It is very likely that tens of thousands of unnecessary deaths due to prescription drug side effects have gone unnoticed. This has largely been a consequence of the corrupt and poorly structured drug safety reporting system, controlled primarily by the pharmaceutical industry…
(In 2004) The company (Pfizer) was ordered to pay $430 million in penalties to settle charges that its Warner-Lambert unit inappropriately promoted its blockbuster epilepsy drug Neurontin for unapproved uses.
Pfizer was alleged to have paid physicians to attend presentations that focused on the promotion of "off-label" uses for Neurontin, such as bipolar disorder, pain, migraine headaches, and drug and alcohol withdrawal. In this tit-for-tat arrangement, physicians were rewarded with all-expense paid trips to Hawaii, Florida, and the 1996 Olympic Games. At least one physician received $308,000 to push off-label uses when speaking to physicians at medical conferences.
Since these activities began in 1995, Neurontin sales soared from $97 million to $2.7 billion annually by 2003. Some estimates indicate that as much as 90% of all Neurontin prescriptions were for off-label uses. Unfortunately, this is not an isolated case. The illegal promotion of off-label drug use is still a big problem…
Can drug companies curb costs while adding more benefit to healthcare? Certainly. But as it stands today, they don't have to. They serve as the financing arm of the FDA, while holding many physicians in their hip pocket.
So how do we fix this?
Off-label uses should be banned. It simply makes no sense to afford physicians the authority to prescribe drugs for conditions for which they have not been approved. It is absolutely ridiculous."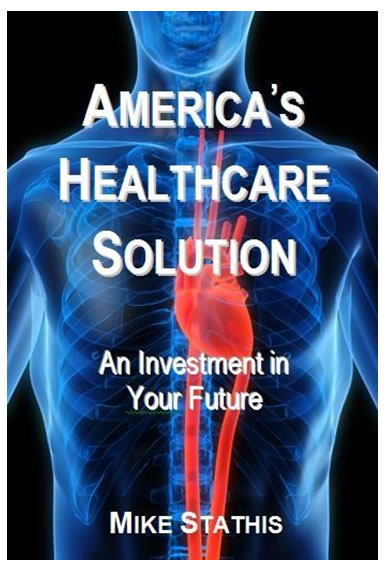 By Mike Stathis

www.avaresearch.com
Copyright © 2009. All Rights Reserved. Mike Stathis.
Mike Stathis is the Managing Principal of Apex Venture Advisors , a business and investment intelligence firm serving the needs of venture firms, corporations and hedge funds on a variety of projects. Mike's work in the private markets includes valuation analysis, deal structuring, and business strategy. In the public markets he has assisted hedge funds with investment strategy, valuation analysis, market forecasting, risk management, and distressed securities analysis. Prior to Apex Advisors, Mike worked at UBS and Bear Stearns, focusing on asset management and merchant banking.
The accuracy of his predictions and insights detailed in the 2006 release of America's Financial Apocalypse and Cashing in on the Real Estate Bubble have positioned him as one of America's most insightful and creative financial minds. These books serve as proof that he remains well ahead of the curve, as he continues to position his clients with a unique competitive advantage. His first book, The Startup Company Bible for Entrepreneurs has become required reading for high-tech entrepreneurs, and is used in several business schools as a required text for completion of the MBA program.
Restrictions Against Reproduction: No part of this publication may be reproduced, stored in a retrieval system, or transmitted in any form or by any means, electronic, mechanical, photocopying, recording, scanning, or otherwise, except as permitted under Section 107 or 108 of the 1976 United States Copyright Act, without the prior written permission of the copyright owner and the Publisher. These articles and commentaries cannot be reposted or used in any publications for which there is any revenue generated directly or indirectly. These articles cannot be used to enhance the viewer appeal of any website, including any ad revenue on the website, other than those sites for which specific written permission has been granted. Any such violations are unlawful and violators will be prosecuted in accordance with these laws.
Requests to the Publisher for permission or further information should be sent to info@apexva.com
Books Published

"America's Financial Apocalypse" (Condensed Version) http://www.amazon.com/...
"Cashing in on the Real Estate Bubble" http://www.amazon.com/...
"The Startup Company Bible for Entrepreneurs" http://www.amazon.com...
Disclaimer: All investment commentaries and recommendations herein have been presented for educational purposes, are generic and not meant to serve as individual investment advice, and should not be taken as such. Readers should consult their registered financial representative to determine the suitability of all investment strategies discussed. Without a consideration of each investor's financial profile. The investment strategies herein do not apply to 401(k), IRA or any other tax-deferred retirement accounts due to the limitations of these investment vehicles.
© 2005-2019 http://www.MarketOracle.co.uk - The Market Oracle is a FREE Daily Financial Markets Analysis & Forecasting online publication.
Comments
Daniel Haszard
15 Apr 10, 13:40
Zyprexa off label promotion


Eli Lilly has made 40 billion on 10 dollar a pill Zyprexa and it was way oversold and caused diabetes and in some cases sudden death. Zyprexa was pushed by Lilly Drug Reps.

They called it the "Five at Five" (5 mg at 5 pm to keep nursing home patients subdued and sleepy) and "VIVA ZYPREXA" (Zyprexa for everybody) campaigns to off label market Eli Lilly Zyprexa as a fix for unapproved usage.I am a living example of Zyprexa gone/done wrong was given it 1996-2000 off-label for PTSD got sudden high blood sugar A1C 14.7 in January 2000.The stuff was worthless for my condition PTSD and cost me thousands in co-pays gave me diabetes.

--

Daniel Haszard



Thomas Jones
15 Apr 10, 19:44
Killing you with drugs: legally


We can only wonder if Mr. Stathis is aware how many people remain alive only by virtue of their off-label prescriptions. Or, to put it another way, how many people Mr. Stathis' prescription would kill.

This is the second article by Mr. Stathis that I have read (the other financial) in which we see a fine level of journalism until some sort of conclusion seems to be called-for. Then, unfortunately, that conclusion is in either case worst-of-all-possible-worlds, completely whacked.

Should the student in a microbiology class miss the identification of a single microbe he receives an 'F.' That is how microbiology students are graded, because: miss one microbe, and the patient is dead.

Sometimes, even one mistake is too many. Unfortunately, this is the kind of mistake to which Mr. Stathis seems especially prone.




Only logged in users are allowed to post comments.
Register/ Log in