China Prepares to Dump US Dollars
Currencies
/
US Dollar
Aug 20, 2007 - 09:24 AM GMT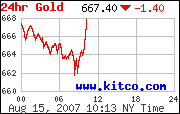 The following is a good 6 dollar spike occurring in the middle of the week. Though too many are concerned with gold not breaking 700 already gold still continues to consolidate, gain steam, and become stronger still.
Now the title of this article is a pretty lofty accusation. We have heard this as a possibility countless, countless times but it has always been just a rumor. Is the possibility still just a rumor?
"China's "nuclear option" to dump the dollar is real" "…China, not the Federal Reserve, controls US interest rates by its decision to purchase, hold, or dump US Treasury bonds…" "…Washington does not have hegemony over Chinese policy, and if matters go from push to shove, Washington can expect financial turmoil." " China has many markets and can afford to lose the US market easier than the US can afford to lose the American brand names on Wal-Mart's shelves that are made in China ." Click
Now just what would be the real cost should China stay true to their threat to dump U.S. dollars?
"Now let's consider the cost to China of dumping dollars or Treasuries compared to the cost that the US is trying to impose on China ." "…consider that if China were to increase the value of the Yuan by 30 percent, the value of China 's dollar holdings would decline by 30 percent. It would have the same effect on China 's pocketbook as dumping dollars and Treasuries in the markets" "By dumping dollars, China expands its entry into other markets and accumulates more foreign currencies from trade surpluses." "As is usually the case, the harm we suffer is inflicted by Washington ." Click
China has a carefully controlled socialist government that strictly controls any "official" statements coming from China . When China does want to send out a serious government endorsed statement it uses analysts and researchers to make a statement directed on the world stage and for all the world to take in – especially the United States. So what have the Chinese reported to us recently that has American politicians, including Fed Chairman Ben S. Bernake , quacking in their shoes?
"China threatens 'nuclear option' of dollar sales" "The Chinese government has begun a concerted campaign of economic threats against the United States, hinting that it may liquidate its vast holding of US treasuries if Washington imposes trade sanctions to force a Yuan revaluation." "…such action could trigger a dollar crash at a time when the US currency is already breaking down through historic support levels." "… Beijing had the power to set off a dollar collapse if it chooses to do so." "The words are alarming and unambiguous. This carries a clear political threat and could have very serious consequences at a time when the credit markets are already afraid of contagion from the subprime troubles…" Click
We see the economic storm building in intensity and this is no joke or imagination. Both the Fed and the rest of the world are presently injecting massive never before sums of billions of dollars to keep the world wide financial system door open. But right in the middle of this storm China , cool as a pickle, makes a threat it is thinking about selling an appreciable sum of those 1.333 trillion U.S. dollars it holds.
" China steps up currency fight by 'absurd' threat to sell $US [dollars]" "A Chinese Government researcher has issued a veiled threat to US policymakers not to get too tough in insisting the Chinese Yuan should appreciate. The researcher, He Fan, told the state-run China Daily that China had accumulated "a large sum of US dollars" and that its holdings contributed "a great deal to maintaining the position of the US dollar as an international currency". If the Yuan's exchange rate against the dollar did not remain stable, said Mr He, who works at the China Academy of Social Sciences, China could be forced to take strong action. China has $US1.33 trillion ($1.55 trillion) in foreign exchange reserves, with $US407 billion in US Treasuries, the second largest after Japan . A substantial sell-off of the reserves could spark a recession in the US economy, financial analysts said." "Mr He's statements were an apparent response to the US Senate Finance Committee, which last month approved legislation aimed at pressing for faster appreciation of the Yuan." Click
Now is that not bravado and guts or what? If we look at all of this as a poker game played on the world stage I would say China believes itself to have the winning hand. You still think this is a joke? That is because you do not read enough. An astute reader can very quickly substantiate these allegations as real and with meat on their bones.
"Several U.S. senators have renewed calls in recent weeks to punish Beijing if it does not let the currency, the Yuan, rise in value." Click
This is not an idle joke or saber rattling to increase readership. This is very real my friends. A very serious financial crisis is occurring right before our face and what intrigues me is that there is not a major effort to hide these events. The Fed Chairman is loudly and publicly stating the huge sums of liquidity he is injecting in our financial system. Now that is either supreme confidence and bravado or a sense of hopelessness that the crap is soon to hit the fan and there will be no way to hide its consequences. I'll let you decide.
"The dollar continued its decline in global currency markets yesterday, intensifying worries among some economists that mounting U.S. budget and trade deficits could send the U.S. currency into a tailspin." "The decline rekindled the fears of some analysts that the dollar could be headed for a severe sell-off…" "…foreigners might dump U.S. holdings." "…it would erode U.S. living standards below what they would be by making imported goods more expensive." Click
Folks, I really do not believe this to be a veiled threat. I firmly believe China is going to exercise a controlled dumping of U.S. dollars. When a new power comes on the scene it is quite normal for the fresh power to flex its muscle and to show its superiority.
"Hi David, good article." "VAE VICTUS"-Woe to the vanquished. Brennus leader of the Celts demanded a ransom from Rome, to be paid in gold. The Romans complained directly to Brennus that the measures were counterfeit, upon which Brennus drew his sword and threw it on the scales, exclaiming "vae victus!", for the conquered have no rights." "VAE VICTUS, AMERICANUM!! And bring out more gold." Sean M.
Read the following below and wag your tail.
"An investment adviser halted withdrawals Tuesday, prompting unfounded fears that the credit crunch had started to touch money-market funds. But problems in the subprime mortgage market continue to take their toll on small lenders." Click
Yeah. Right. How do you like those "unfounded" fears that the credit crunch has started to touch money market funds?" We haven't even seen the beginning of what all this financial mortgage crisis will obliterate. But gold remains strong and is getting only stronger.
"The Nymex metals market was the lone bright point Friday. Gold recovered from its losses of a day earlier as investors rushed back to that traditional haven amid the uncertainty in other markets." 'The market is starting to look at gold and silver as a place to maintain some value…" Click
Gold Letter, Inc. reviews gold, silver, uranium and other resource stocks under valued and poised to rise in this time of increased demand for all resources. Natural resources and related contrarian stocks will only escalate in value as the world continues to experience unprecedented population growth. Gold Letter's 10 best performing stocks are up over 2,000% and GL's top 55 performing stocks are up over 500%. Close to 90% of all Gold Letter's recommendations since inception in January, 2003 are up over 250%. GL charts are computer generated and updated every hour while markets are open.
Click here to order Gold Letter
"The Worldwatch Institute, an organization that focuses on environmental, social and economic trends, says the current rate of global demand for resources is unsustainable." Click
Send me an email!
By David Vaughn
Gold Letter, Inc.
David4054@charter.net
The publisher and its affiliates, officers, directors and owner may actively trade in investments discussed in this newsletter. They may have positions in the securities recommended and may increase or decrease such positions without notice. The publisher is not a registered investment advisor. Subscribers should not view this publication as offering personalized legal, tax, accounting or investment-related advice. The news and editorial viewpoints, and other information on the investments discussed herein are obtained from sources deemed reliable, but their accuracy is not guaranteed. © Copyright 2007, Gold Letter Inc.
© 2005-2019 http://www.MarketOracle.co.uk - The Market Oracle is a FREE Daily Financial Markets Analysis & Forecasting online publication.
Comments
blue bird
07 Jun 10, 18:16
this might happen one day ...


China knows well itself and the adversaries. As long as China's economy will increase, they will stay in the status quo, but when the china's economy growth will level at 3 percent increase or so, then will be the time to be worried. Unfortunately this will happen one day, and they will have nothing to lose but to win ….

Keep well in mind that, not long ago they were communists, and still remember the saying:

The proletarians have nothing to lose but their chains. They have a world to win. ...




Only logged in users are allowed to post comments.
Register/ Log in