Monday Monetary Madness - Financial Markets Ewwwwro!
Stock-Markets
/
Financial Markets 2010
May 17, 2010 - 10:43 AM GMT


Wow, nobody wants those Euros!
Of course, that kind of makes me want them as the Euro collapsed to $1.223 last night and we moved into "crazy oversold" territory. Just 3 years ago supermodel Gisele Bundchen (left) INSISTED on being paid only in Euros (classic sign of a top!). It's not like we're going to run in and buy Euros but I think $25 is plenty on EUO so we're done with those for now and they are up another $2 from when we were already thrilled with them on May 5th. That was the same post in which I said about oil "that bubble may be popping too" and we're down from $85 then to $72 this morning and we touched $70 this morning which is our 20% retrace from our April $87 highs.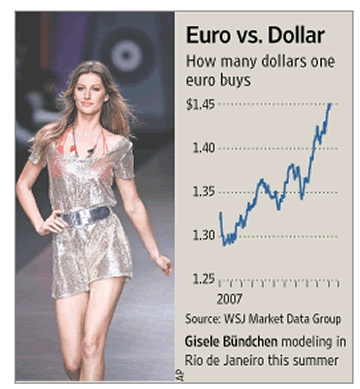 Unfortunately, I can only tell you what is going to happen and how to profit from it, I can't fix things (well I could but they don't listen to me) although I may be attending next month's New York Forum, where business leaders, hedge fund managers, sovereign wealth fund managers and private equity funds (in other words "THEY") will get together and decide "YOUR" future. I am not selling out, this is not really the same "THEY" as the Gang of 12, this is the bottom 90% of the top 0.1% trying to make an actual difference in that very unique way that pushy New Yorkers are able to do (did you see how we're taking over the Supreme Court by the way?).
So I spent the weekend talking to people about how to FIX the problems that plague this planet and I am encouraged by the fact that there are, in fact, ways to improve our situation but, of course, we are held back by lack of government willpower to make the hard choices and do the right things instead of this global "chicken in every pot" nonsense that predominates global politics. There are good people who are trying to do good things and some of those people even work in Washington, surprisingly enough, but that town is in the worst gridlock since Newt's revolution back in 1995, which ended 40 years of tyrannical Democratic Rule and prosperity.

Back then the Republican "Contract with America" promised us term limits, job creation and wage enhancements, a balanced budget law, and restrictions on American military activity in foreign wars. That helped to usher in a decade of Republican rule and I don't even have to consult the records to know that all these problems must have been solved as promised since Fox News is already telling us what a failure the Democrats are for not getting us out of the multiple foreign wars, massive unemployment, low wages and out of control budgets since they took responsibility for it 18 months ago. I'm sorry but I have to get that off my chest after talking with some Washington people who could not be more frustrated by the still unlimited-term Republicans who have filibustered over 150 votes in 18 months (87%) meaning, even if the Democrats have a great solution to a problem, it will never see the light of day.
So why do we waste our time? Because we are hopeful and we love our country and want to do what we can to make it a better place. After all, as Sarah Palin says: "We're All Arizonans Now!" "I think for most American people the reaction to this would be, 'Why haven't the police already been doing that?" Palin said.

China has picked up Palin's nationalistic torch and is putting the screws to foreign companies with their own "Buy Chinese" campaign. Foreign executives in China find themselves increasingly at odds with Chinese officials over these measures, which Westerners view as protectionist and intended to give an edge to Chinese companies. Surveys by Western chambers of commerce of executives show growing disenchantment over the past year and a sense that doing business in China, never easy, is growing harder.

I have to stop here and ask if ANYONE (other than Bernanke) has actually studied the causes of the Great Depression as we seem to be following that game plan to the letter. Oddly enough, Uncle Ben is touring the country giving college students a lecture on (and I kid you not) "The Economics of Happiness." I have long suspected that Ben is so fascinated with the Great Depression that he's actually trying to create a new one so he can study it first hand. Just a suspicion but if ALL the evidence fits….
In our "Weekend Reading - Now What?", I discussed with members the very strange and very bearish statements coming out of the EU leadership this weekend and Mr. Murdoch's UK Telegraph tells us that: "Jean-Claude Trichet tells us the world faced a second Lehman crash in the days and hours before EU leaders launched their €720bn (£612bn) defense fund. If the European Central Bank's president is correct, we are in trouble. The EU-IMF package is already unraveling. What will the West do for its next trick?"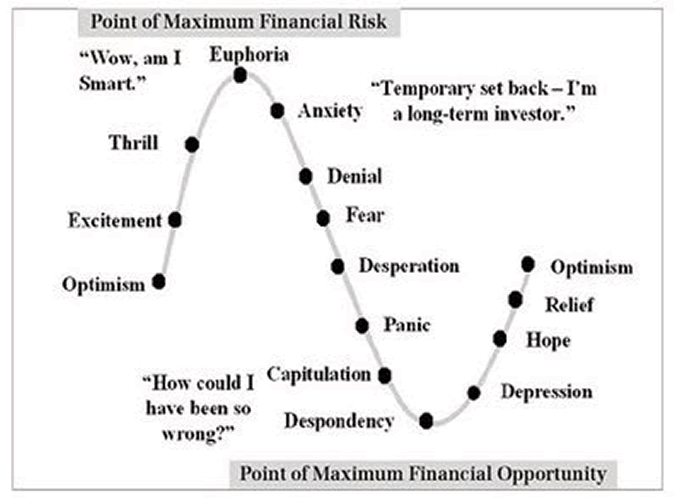 To me, this is getting to be overkill. A week after the EU bailout the action is a failure because a bunch of Billionaires who own all of the media outlets tell you so? Could these be the same Billionaires who had record short positions on the Euro a few weeks ago? That would just be a coincidence, I'm sure. Again, I am not saying things are great, maybe not even good, but I am saying we've flipped much more bullish last week (as opposed to not bullish at all!) and I think this move down, though based on some fundamentals, is now a bit overdone.
So let's be careful out there. This morning (in this weekend post's comments) we discussed a DXD spread that's 100% in the money and still can give you a 4,000% gain by October if the market doesn't go up and breaks even around Dow 11,500 - THAT'S A GOOD HEDGE! You can take a hedge like that for $500 and protect $20,000 worth of losses, which then allows us to do a little bargain hunting with the assumption that 10,200 should hold up, even if we do turn lower.
Let's be careful out there but don't let the bastards get you down - the global economy does have some bright spots and things are still fixable and the people trying to stampede you out of your stocks know that better than anyone.
By Phil
Philip R. Davis is a founder of Phil's Stock World (www.philstockworld.com), a stock and options trading site that teaches the art of options trading to newcomers and devises advanced strategies for expert traders. Mr. Davis is a serial entrepreneur, having founded software company Accu-Title, a real estate title insurance software solution, and is also the President of the Delphi Consulting Corp., an M&A consulting firm that helps large and small companies obtain funding and close deals. He was also the founder of Accu-Search, a property data corporation that was sold to DataTrace in 2004 and Personality Plus, a precursor to eHarmony.com. Phil was a former editor of a UMass/Amherst humor magazine and it shows in his writing -- which is filled with colorful commentary along with very specific ideas on stock option purchases (Phil rarely holds actual stocks). Visit: Phil's Stock World (www.philstockworld.com)
© 2010 Copyright PhilStockWorld - All Rights Reserved Disclaimer: The above is a matter of opinion provided for general information purposes only and is not intended as investment advice. Information and analysis above are derived from sources and utilising methods believed to be reliable, but we cannot accept responsibility for any losses you may incur as a result of this analysis. Individuals should consult with their personal financial advisors.
© 2005-2019 http://www.MarketOracle.co.uk - The Market Oracle is a FREE Daily Financial Markets Analysis & Forecasting online publication.

Only logged in users are allowed to post comments.
Register/ Log in