Gold Inflation Proof Deflation Hedge
Commodities
/
Gold and Silver 2010
May 21, 2010 - 12:46 PM GMT


Knowing how governments will respond to deflation, the case for inflation-proof gold looks increasingly clear to cautious wealth...
USELESS for pretty much everything except storing wealth (its economic value is social, not industrial), gold acts as inflation-proof money when investors need it most – right in the middle of an asset-price deflation.
At least, that's how people choosing to buy gold amid today's global deflation in risk assets see it. Why else do you think German coin and small-bar dealers are being emptied, even at 5% (and worse) premiums to "melt" value? Why else did gold-hoarding deliver secure, rising purchasing power amid the Great Depression of the 1930s...?
Given central banks' default response to any level of financial stress, it's a unique and appealing attribute. Because rather than leaving cash hoarders alone, sub-zero real rates of interest – plus the ever-present threat of massive devaluation – force sleepless nights on cautious savers. (The risk of banking collapse is an extra, but non-government-inspired threat.)
So when there's a dash for cash, it's little wonder that "worried wealth" finds gold better even than Dollars. Because gold cannot be inflated, nor destroyed. And it has 5,000 years of human use as a secure store of value behind it.
Yes, this month's flight from everything into cash (which still means US Dollars worldwide) has knocked the gold price 6% off its recent record high vs. the greenback. But compared with all other assets bar Treasuries, however, gold shows phenomenal strength so far. Oil is down 20%. Platinum is 15% off. Aussie Dollars have dropped 10%, despite paying 450 basis points above cash deposits at the US Fed.
And should the slump continue, investment demand for physical gold is likely to put a floor under gold prices much sooner than other "risk assets" find their floor, just as it did during the Lehmans Crash.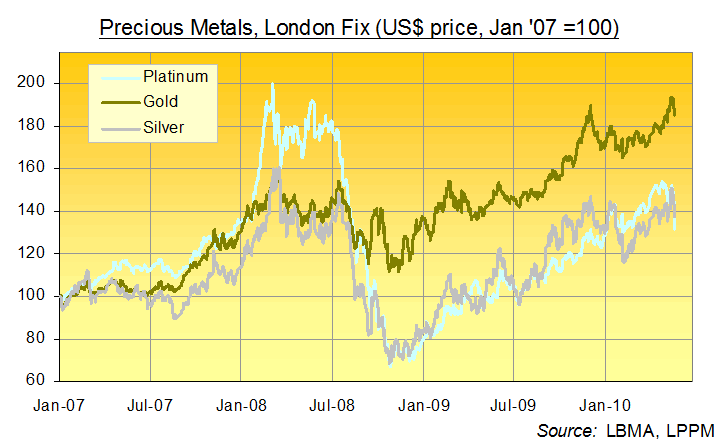 Amid financial stress, physical gold hoarding creates a source of deep and widening demand that no other asset class enjoys. Not even silver comes close, because institutional and high-net worth buyers would rather get gold's significantly deeper wholesale liquidity and much lower storage costs.
Indeed, it's hard to class all "precious metals" together – in terms of price behavior – when the inevitable hits the fan.
Gold, unlike platinum and silver, commands a "safe haven" premium that industrial commodities can't – a critical point when credit dries up and risk assets are converted back into cash.
Compare gold's price-action with any other raw material, in whatever currency. When confidence and economic demand sink, gold attracts capital. Whereas crude oil, copper, soybeans, even silver and platinum...they're all vulnerable to risk aversion, because their bull markets tend to rely on economic growth, whether or not it's fed by money-supply inflation.
Gold, in short, is not merely the "inflation play" that most analysts and journalists think (if, indeed, they're thinking at all). Hoarding physical metal may not seem a "sophisticated" reaction to current events. Hedging your move into cash may not even outperform an all-Dollar position, short or long term. But it is perfectly normal, historically evidenced, and sane response.
It also remains a minority sport at present.
By Adrian Ash
BullionVault.com
Gold price chart, no delay | Free Report: 5 Myths of the Gold Market
Formerly City correspondent for The Daily Reckoning in London and a regular contributor to MoneyWeek magazine, Adrian Ash is the editor of Gold News and head of research at www.BullionVault.com , giving you direct access to investment gold, vaulted in Zurich , on $3 spreads and 0.8% dealing fees.
(c) BullionVault 2010
Please Note: This article is to inform your thinking, not lead it. Only you can decide the best place for your money, and any decision you make will put your money at risk. Information or data included here may have already been overtaken by events – and must be verified elsewhere – should you choose to act on it.
© 2005-2019 http://www.MarketOracle.co.uk - The Market Oracle is a FREE Daily Financial Markets Analysis & Forecasting online publication.

Only logged in users are allowed to post comments.
Register/ Log in