Navigating Treacherous US Housing and Mortgage Markets
Housing-Market
/
US Housing
Aug 31, 2007 - 11:00 AM GMT

Mike Larson writes:I've written a lot about the housing and mortgage crises, and what they mean to your investments. But I'd wager that many of you are homeowners with mortgages, too.
Some of you may even be trying to buy or sell residential property right now. And if you're like me, you probably know of at least one or two folks having financial troubles because of the housing crisis.
The tentacles of this thing are long indeed — and they'll be reaching into our lives for some time. After all …
Existing home sales have dropped about 20% from their peak.
New home sales have declined 37%.
The inventory of existing homes for sale hit a record high of 4.59 million units in July, and new home inventory is also sky high.
Median home prices, as measured by the National Association of Realtors, have dropped from year-ago levels for a record 12 months in a row.
Separately, research firms S&P and Case-Shiller say prices dropped 3.2% in the second quarter, the biggest decline since they started collecting data in 1987.
A home builder optimism index just fell to its lowest level since 1991, and a measure of home construction activity just hit to a 10-year low.
So today, I want to share …
My Top Five Real Estate Pointers For Buyers, Sellers, and Borrowers
#1. If you're selling your home, be realistic about current market conditions and price your property aggressively.
I just talked about the seriousness of the recent home sales decline. It's a fact of life you have to deal with if you're a home seller. My advice is to research "comps," or sales of homes comparable to yours, and price below them.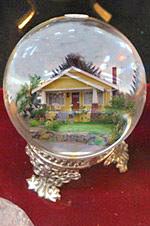 You no longer need a crystal ball to see that housing is in for a rough patch …
This is especially important now. More than 140 lenders have gone under completely, cut back on operations, or tightened loan qualification standards. That means your potential customers have less buying power. Moreover, with the spring selling season behind us, sales are bound to experience a seasonal slowdown between now and the end of the year.
#2. If you're in the market to buy a home, play hardball.
This is a strong buyer's market. That means you can make offers below the seller's asking price and seek concessions, such as help with closing costs.
You can be especially aggressive with a property that's been on the market for many months. Be on the lookout for properties that have been pulled off the market only to be re-listed, too.
Sometimes sellers will use this technique to make their properties seem "fresh." Your real estate agent should be able to provide you with an accurate sales and listing history of any property you're considering.
#3. Consider buying property at auction.
More home sellers are turning to the auction method of unloading homes, condos, and town houses. According to the National Auctioneers Association, residential real estate auctions are the fastest-growing part of the auction market. Sales volume jumped 12.5% last year to $16 billion, leaving it up more than 39% since 2003.
Right now, auction prices are running anywhere from 70% to 85% of original list prices. That means you can find bargains if you play your cards right. Just make sure you do your research.
Also keep in mind there are two main types of auctions: reserve auctions and absolute auctions. In a reserve auction, the seller sets an unannounced price below which the property will not sell. In an absolute auction, the seller will sell regardless of how low the winning bid comes in.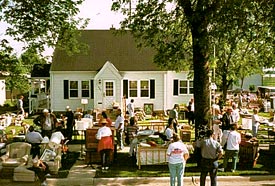 If you're looking for a real estate bargain, consider auctions.
#4. If you have poor credit, now is a bad time to buy.
Lenders are extremely frightened of poor credit risks right now. So even if you can get financing, it will likely cost you too much.
If you have damaged credit, or little to no money for a down payment, and you don't have to buy now, your best bet may be to wait. In the meantime, focus on paying down your outstanding debts in a timely fashion to rebuild your credit, and save for a bigger down payment.
#5. Contact your lender if you face an imminent reset date on your adjustable-rate or interest-only mortgage.
We're entering the peak period for rate and payment adjustments on all the higher-risk loans that were originated in 2004, 2005, and 2006.
Over the next several months, roughly $40 billion to $50 billion in Adjustable Rate Mortgages will hit their rate reset dates EACH MONTH, according to Credit Suisse.
The good news? Federal regulators are encouraging lenders to be flexible. If you're facing one of these imminent increases in your interest rate or monthly payment, your lender may be willing to restructure your existing loan to avoid driving you into foreclosure.
If you can't afford your loan anyway, and can't sell your home on your own, then discuss the possibility of a "short sale" with your lender. That's when you sell your property for less than you owe and your lender forgives the difference. Keep in mind there may be some tax consequences — cancelled debt can be considered "income" by the Internal Revenue Service, meaning you may owe taxes on it.
Remember, lenders hate foreclosures as much as borrowers. They don't want to get into the real estate business … it costs them too much time and money. So if you're in a sticky situation, don't be afraid to ask them for help. The worst they can say is no.
The Bottom Line: You Have Options No Matter What the Situation …
As I pointed out in my recent white paper — " How Federal Regulators, Lenders, and Wall Street Created America's Housing Crisis: Nine Proposals for a Long-Term Recovery " — there is no easy solution to today's mammoth mortgage problems.
However, there are steps that consumers can take to minimize the financial pain they experience. And there are smart ways for home buyers and sellers to navigate today's post-bubble housing market.
Speaking of the market, I expect it to remain tough for some time. We likely won't see a lasting recovery in housing until at least late 2008, and possibly into 2009. So keep that in mind when making your buying, selling, and borrowing decisions.
Until next time,
By Mike Larson
This investment news is brought to you by Money and Markets . Money and Markets is a free daily investment newsletter from Martin D. Weiss and Weiss Research analysts offering the latest investing news and financial insights for the stock market, including tips and advice on investing in gold, energy and oil. Dr. Weiss is a leader in the fields of investing, interest rates, financial safety and economic forecasting. To view archives or subscribe, visit http://www.moneyandmarkets.com .
© 2005-2019 http://www.MarketOracle.co.uk - The Market Oracle is a FREE Daily Financial Markets Analysis & Forecasting online publication.

Only logged in users are allowed to post comments.
Register/ Log in