Get Your Gold and Silver Coins Now
Commodities
/
Gold and Silver 2010
May 28, 2010 - 08:26 AM GMT


Wall Street is busy telling us "Crisis Averted." Average investors don't think so. How do I know? Because sales of gold and silver coins are SOARING!
I'm not just talking about Europe. Sure, the euro seems to be in a doom dive and may even be headed for oblivion. So you can't blame the Europeans for lining up to buy gold bullion and coins.
No, I'm talking about right here in the U.S. of A. Despite the parade of reassuring smiles on the TV, average investors know that something is wrong. That's why sales of gold and silver bullion coins are exploding. This month, sales of gold coins by the U.S. Mint have risen to their highest levels since December 2008. And the month isn't even over yet!
Through May 24th, the U.S. Mint has sold 158,000 one-ounce 2010 American Eagle bullion coins, according to the agency's website. This is already more than double the full-month total of 65,000 for May 2009.
This trend has been in place all year. The U.S. Mint's website shows that one-ounce Eagle gold bullion coin sales for the year to date have reached 489,500, up 18% from 413,200 as of the end of May 2009.
The bullion coin sales are motivated by fear, not greed. Gold is typically viewed as a store of value during times of economic and political upheaval.
Silver sales are rip-roaring, too. For the month to date, the Mint has sold 3,500,000 of the one ounce American Silver Eagles. This marks the third time during 2010 that monthly silver bullion sales have exceeded 3 million ounces.
If sales keep up at this pace, the Mint will run out of bullion coins again, like it did last year. Oh, sure, it will get around to minting more eventually. But for investors anxious to add to their coin stockpiles, that wait can be nerve-wracking. Especially if you have a nervous eye on Europe.
Let's talk about Europe for a minute, because it might be a glimpse of our future. In Europe, a debt crisis in some of the weaker European nations has transformed into a crisis of confidence in the euro currency. Now, many Europeans wonder if their currency will be around next year.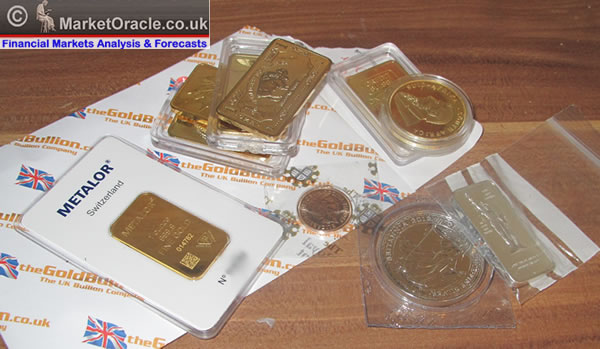 Gold and silver coins are selling faster than the Mint can produce them!
The rush for gold is most visible in Germany, the economic heart of the euro zone and the richest country in the euro bloc. Germans are lining up to buy gold coins. As a result, the rand refinery in South Africa, which sells to many European gold dealers, often 2,000 gold krugerrands at a time, reported that it received a single order from one German bank for 30,000 coins. Another bank requested 15,000 coins.
German investors are notoriously afraid of inflation. While few are old enough to remember the hyperinflation that wrecked Germany during the Weimar Republic in the 1920s, the episode remains etched into the national psyche. And as the euro crisis played out, archive film from the period ran on the TV news.
Should the Europeans be scared? Yes!
The problem isn't just Greece. The total debt of the so-called PIIGS nations (Portugal, Ireland, Italy, Greece and Spain) is a staggering $3.9 trillion. The PIIGS have about $600 billion in funding needs this year alone according to Bank of America. Total financing needs for the PIIGS over the course of the next three years is nearly $2 trillion.
More debt means another crisis around the corner. Eventually, we could see A) the financial breakup of Europe or B) Greece and the other PIIGS renouncing the euro and going back to their own currencies.
That's why European citizens are voting with their pocketbooks and rushing to exchange euros for a currency with real value — gold! That's one reason why gold rocketed to new highs recently.
It's Not Just the Euro Anymore
Europe is just the tip of the iceberg. ALL fiat, or paper, currencies are coming under scrutiny. Governments can print paper currencies at will. And investors are starting to realize that governments will have to print a lot to cover the debts that have come due after 30 years of wasteful spending.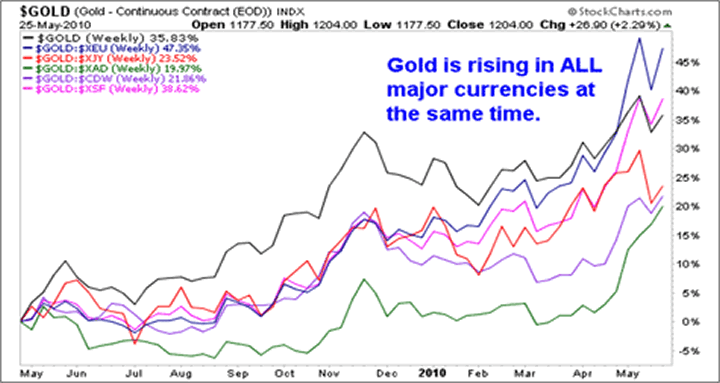 That's one reason why gold is rising in all paper currencies.
Here are three more reasons you should be aware of …
ETFs are buying gold hand over fist. Investment demand for gold slumped in the first quarter of the year, according to new stats from the World Gold Council. But that has changed in a big way this month. Exchange-traded products backed by bullion added 41.7 metric tons in the week to May 14, according to data from UBS and Bloomberg. Not only was that the most in 14 months. That was also more than the world's gold mines produce in a week! And that doesn't leave any to fill demand from central banks … consumers … mints … or industry.
Gold is still cheap. Gold is still at half the peak set in 1980, after adjusting for inflation. Then, prices rose to $850, equal to $2,266 today, according to a calculator on the website of the Federal Reserve Bank of Minneapolis.
We've hit peak gold. Supply from mines peaked in 2001, and has fallen in five of the last eight years, according to industry trackers at GFMS. Companies have to dig deeper to find smaller ore bodies of lesser grades.
So, put these things together, and forces are lining up for gold to go to my next target of $1,450 an ounce.
Keep Your Eye on Silver
Silver is poised to outperform gold. In fact, it's doing it already. Take a look at this chart …
You can see that while the S&P 500 has lost ground over the past three months, silver and gold have both gained. In fact, silver has gained the most. Sure, both metals are off their highs. But I think they're going back to their old highs and beyond.
My target on silver is $29 in the next 12 months. That's more than a 60% move higher. I'm NOT expecting the same kind of move in the S&P 500. So I know where I want to invest my money. Select precious metal stocks … and gold and silver coins!
The Latest Crisis to Hit Greece
Along with every other trouble under the sun, Greece is now facing a gold coin crisis. Desperate Greeks are lining up to pay sky-high prices for black market gold coins. Writing for Gold Coin News, Patrick Heller tells us …
Since 1965, the Greek government has imposed restrictions on trading British Sovereign gold coins (gold content .2354 oz). Despite those restrictions, the Bank of Greece reports that it is selling an average of more than 700 coins per day to worried Greeks.
In the first four months of 2010, the Greek central bank sold more than 50,000 sovereigns at its main downtown Athens office. Bank officials estimate that at least 100,000 other coins changed hands on the black market. The Bank of Greece has received as much as $409 per coin, which works out to a price of more than $1,700 per ounce of gold! Prices paid on the black market are reckoned to be even higher.
A popular spot for street vendors to sell their coins is near the Athens Stock Exchange. There the traders wait for citizens to bring payments received from unloading their paper assets like stocks and bonds.
So pity the poor Greeks. Now pity us, because there are individual U.S. states, like California, Illinois and Florida that are in worse financial shape than Greece.
Sure, Uncle Sam will probably bail out the states … for now. But the Federal government just passed the $13 trillion debt threshold. That's …
13 times greater than it was in 1980
27 times larger than our 1973 national debt, which broke the back of the gold standard
Nearly 52 times larger than our national debt in 1947
And that's just the official debt. Private sector debt adds up to much, much more.
In short, while the U.S. dollar is strong, that's only because the euro is so weak. Eventually, the debt crisis will probably come home to roost here in the U.S. When that happens, you'll want to own gold and silver.
But wise investors aren't waiting — they're already buying gold and silver coins now. We could run headlong into another coin shortage. What will that do to coin premiums?
Here's What to Do
My recommendation would be to start picking up gold and silver bullion coins now. You don't have to rush in, and you don't want to put all your cash in bullion. This is just for a small portion of your wealth — it's insurance against the unthinkable.
The way to do it is just buy what you can afford — pick up new coins every week or month — and average into a position.
We haven't seen the top in gold or silver — not even close. Joe and Jane Main Street aren't clued in yet. We aren't seeing people line up around the block like is happening in Europe right now. When that finally happens, WATCH OUT — that's when you could see gold and silver REALLY take off.
All the best,
Sean
P.S. If you're wondering how to buy gold and silver coins online, but don't know how to do it, you might want to check out the latest issue of my Crisis Profit Hunter newsletter, which is shipping out today! In the "Survive and Thrive" section, I give you the names and contact information for five reputable online gold and silver merchants — and I also tell you two you should stay away from. PLUS, I detail comparative shipping costs, explain how to calculate the premium on gold coins, and give you four expert tips for gold bullion buyers.
PLUS, I have two gold recommendations in the same issue!
Now, for a very short time, I'm offering a special subscription price — just $89 for one year. If you haven't already signed up already, don't waste another minute — get your subscription to Crisis Profit Hunter TODAY!
This investment news is brought to you by Uncommon Wisdom. Uncommon Wisdom is a free daily investment newsletter from Weiss Research analysts offering the latest investing news and financial insights for the stock market, precious metals, natural resources, Asian and South American markets. From time to time, the authors of Uncommon Wisdom also cover other topics they feel can contribute to making you healthy, wealthy and wise. To view archives or subscribe, visit http://www.uncommonwisdomdaily.com.
© 2005-2019 http://www.MarketOracle.co.uk - The Market Oracle is a FREE Daily Financial Markets Analysis & Forecasting online publication.

Only logged in users are allowed to post comments.
Register/ Log in